How to Estimate Your Car Insurance Costs with Our Coverage Calculator
How to Estimate Your Car Insurance
You can receive an estimate on how much your car insurance would be using our car insurance calculator, without entering your personal information.
Car Insurance Coverage Calculator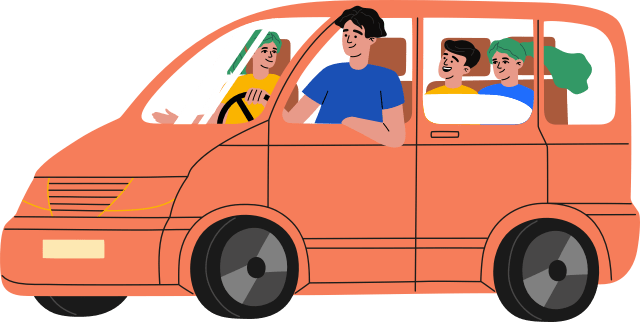 Answer 3 quick questions to get your personalized car insurance estimate.
Car payments
Your net worth
?
A good rule of thumb is to buy enough bodily injury liability insurance per accident to cover your net worth. That will ensure your assets are covered in the event someone sustains major and costly injuries in an accident you've caused.
This tool is designed to be informational and educational only and when used alone should not be relied upon as an accurate indication of your auto insurance needs. The results provided are average auto insurance costs in your state and are limited by the accuracy of the information you provide. ValuePenguin does not warrant or guarantee any recommendations provided by this tool.
Each state sets requirements for the amount of car insurance you need. But beyond that, the amount of coverage you should actually choose also depends on your budget, your car's value and a trade-off between how much to pay in car insurance premiums and the level of protection you prefer to have.
Your car insurance needs might change if you experience a life event. Perhaps you've moved to a new state or you've finished paying off a financed vehicle. You should regularly review your auto insurance coverage to determine if you need to increase your policy or if you're paying for unnecessary coverage. You should also compare quotes from multiple insurers in order to find the best price for your coverage.
Compare Auto Insurance Quotes in Your Area
How to estimate car insurance costs
Each state requires drivers to carry a certain level of coverage before legally operating a car on the road. While car insurance requirements vary state by state, the most commonly required coverages are bodily injury liability, property damage liability, uninsured/underinsured bodily injury liability and personal injury protection (PIP).
The most expensive insurance protections are bodily injury liability, comprehensive coverage and collision coverage. Bodily injury liability coverage is expensive because it reimburses other drivers for medical costs, lost wages and legal fees that result from an accident. Comprehensive and collision coverage, which are included in a full coverage insurance policy, are costly because they protect you from the cost of damage to your own car for incidents on and off the road.
Before deciding which insurance protections to add, you should know the approximate costs. Here are the average annual costs of common coverages broken down by their limits or deductibles:
Limit/deductible per person

Limit/deductible per accident

Bodily injury liability
$50,000
$100,000
$458
$100,000
$300,000
$541
$250,000
$500,000
$704
Property damage liability
$25,000
$297
$50,000
$314
$100,000
$319
Comprehensive/collision coverage
$1,000 deductible
$929
$500 deductible
$1,188
Uninsured/underinsured motorist bodily injury coverage
$50,000
$100,000
$116
$100,000
$300,000
$168
$250,000
$500,000
$249
Since a full coverage policy costs approximately $1,000 per year, you should evaluate your individual needs and use our calculator to see if adding it is worthwhile.
How much auto insurance do you need?
How much car insurance you need depends on your state's minimum required coverage. You can check your state's auto insurance requirement using the calculator above.
Minimum coverage requirements vary by state, but most jurisdictions require:
$20,000–$25,000 of bodily injury liability insurance per person
$40,000–$50,000 of bodily injury liability insurance per accident
$10,000–$20,000 of property damage liability insurance
Some states also require drivers to carry uninsured motorist coverage or personal injury protection insurance, although this is not the norm. For your baseline estimate, we recommend beginning with your state's minimum required insurance. Then evaluate your needs and consider adding higher coverage amounts — and possibly additional coverage types — to ensure you have adequate protection.
How much car insurance should you get?
The ideal amount of auto insurance coverage will vary depending on your needs and driving background. You can use the calculator to get a rough estimate of how much your expected payment might be for car insurance. It does not require personal information to use.
Below is a quick summary explaining the purpose of each coverage type and our recommendations:
Coverage types:
According to the Insurance Information Institute, the average claim for property damage liability was approximately $3,638 in 2017, while the average claim for bodily injury liability was about $15,270. The average collision claim was $3,425, and the average comprehensive claim was $1,817.
Meeting the minimum liability requirements may be sufficient to cover the costs of a small or average accident. However, it won't be enough to offset the monetary strain of a major accident, potentially costing you thousands of dollars out of pocket. We recommend that you obtain additional coverage if you desire to offset this risk and can afford it.
What factors are used to calculate your car insurance cost?
Insurance companies calculate your car insurance rate based on a number of factors. For instance, age and accident history are used to determine your "riskiness" as a driver. If you are a young person or a driver with an accident history, your auto insurance quotes will be more costly than those of someone who is older or has a clean driving record.
| | How does it impact your insurance rate? |
| --- | --- |
| Your age | Drivers under 30, as well as new drivers, are statistically more likely to have accidents than older drivers. If you are a teenager, or someone being added to your policy is a teenager, don't be surprised if your rates increase. |
| Driving history | A history of accidents or traffic violations will cause your rates to increase since you pose a heightened claim risk to the insurer. Conversely, if you have an excellent driving history, you might enjoy a discount on your rates compared with other drivers of your age and in your location. |
| Marital status and number of dependents | Married couples tend to have fewer accidents, which can mean slightly lower rates unless one of the drivers has a poor driving history. On the other hand, having dependents means more people to insure. |
| The year, make and model of your car | Generally, the more expensive your vehicle is, the more it'll cost to insure because parts for an expensive car are more costly to replace or fix than those of a cheap car. Insurance also tends to cost more on newer vehicles compared to older ones. The color of your car does not affect insurance rates. |
| The amount of mileage you plan to put on the car | The more you drive your car, the higher your premiums will be since increased driving time translates to increased opportunities for an accident. |
| The types and limits of the coverage you choose | Additional types of coverage and higher limits will increase your premiums in exchange for broader protection. |
| The size of your deductibles | Higher deductibles will lower your monthly premiums, but you'll have to pay more out of pocket before your policy kicks in. |
| Your location | The city and state you live in will have a large influence on your insurance rates — in fact, costs can change depending on your street. Rural areas tend to have a much lower risk of minor accidents, vandalism and theft than urban areas, so city drivers should expect higher rates. Additionally, some states — such as California and West Virginia — tend to have higher car insurance rates on average. |
| Your credit history | If you have a poor credit history, insurance companies might consider you less likely to keep up with your monthly premiums, and less responsible overall, so they may increase your premiums. |
How can you save money on auto insurance?
Finding inexpensive car insurance rates can be difficult if you have a risky driver profile or live in a state with higher coverage requirements. Drivers should consider completing the following steps to receive the most affordable insurance premium possible:
Compare quotes from various companies. The difference between the cheapest and most expensive insurance company can range in the thousands of dollars, annually. This makes it imperative for drivers to shop around and compare rates. You should receive quotes from large insurers like State Farm and Geico in addition to smaller companies like Erie and Farm Bureau.
Look for discounts. Most insurers, especially large companies like Geico or State Farm, have a lengthy list of discounts available. These discounts add up, and you may already qualify for a number of them.
If you live with other drivers, consider a multi-car policy. It is cheaper to add another person to your insurance plan than to have two separate policies. You can share a multi-car policy with anyone you live with.
Bundle with other insurance you have. Most major insurance companies offer the option of bundling your home or renters insurance with your auto insurance. Opting for a bundle deal will result in a discount on your total premiums.
If your driver profile has changed since you initially received your insurance estimate, you should send your updated information to your insurer to see if you qualify for a cheaper quote. Your credit score, marital status and number of dependents are all factors that affect your insurance rates. Improving your credit score or staying accident-free might help you get a more inexpensive quote.
Frequently asked questions
How much will my car insurance cost?
The average cost of minimum coverage car insurance in the United States is $876 per year, or $73 per month. However, your rates will vary based on where you live, what kind of car you have and your driving history.
How do I calculate the cost of car insurance?
The best way to calculate the cost of car insurance is to use ValuePenguin's quote calculator tool, which will estimate how much you'll pay for multiple insurers. You can also use our estimator tool to get a quick sample without typing in all of your information.
How much car insurance do I need?
At the very minimum, you need enough car insurance to meet the minimum legal requirements in your state. However, we often recommend that most drivers buy additional coverage based on their loan terms, the value of their car and how often they drive.
How much should I be spending on auto insurance?
How much you should spend on insurance depends on what coverages you need, where you live and your driving history. But the average price of insurance nationwide is $876 per year for a minimum coverage policy.
What kinds of insurance should I get?
Almost every state requires that you get liability insurance that pays for bodily injuries to other people and property damage. Many states require personal injury protection as well, which pays for your own injuries in a crash. We also recommend comprehensive and collision coverage if your car is worth more than $5,000 or if you would have trouble replacing it if it was destroyed.