State Farm Auto Insurance Review
State Farm Auto Insurance Review
Strong auto insurance company with a large national agent network, but has regional differences in affordability and customer satisfaction
Get a Quote
Get a Quote
Good for
Customers who live in the midwest and southwest U.S.
Customers who'd like a more local and personalized experience
Bad for
Drivers who are independent and want an online experience only
Drivers prioritizing the absolute cheapest rates at the expense of service
Find the Cheapest Insurance Quotes in Your Area
State Farm is the nation's largest auto insurer, but we find its service and pricing best for drivers living in the midwest region, and mediocre for those on the coast. Despite having a network of over 18,000 agents--its defining characteristic--State Farm still demonstrates an unevenness of quality in terms of costs and claims handling. In this review we analyze State Farm on its affordability, claims handling, coverage options, shopping experience and discount programs.
In This Review
State Farm Review: Strong on Agents, Mediocre on Price and Service
We recommend State Farm as a great car insurance company for drivers living in the midwestern states because it gets excellent customer service ratings there while ranking as one of the more affordable insurers in the region. We've typically found that coverage at insurers with agents cost more due to the higher personal service, but State Farm bucks this trend in the midwest. For example, it ranks among the cheaper insurers in places like Nebraska and Kansas for the sample driver we used. If price is your number one concern however, GEICO and Erie offer lower quotes more consistently.
For the rest of the nation, State Farm scores just average for claims handling. Some parts of the country like Florida reported below average service, while other parts like Nebraska report exceptional service. When dissatisfied, customers have complained about a long drawn out process and their settlement. The affordability of quotes from State Farm also changes from state to state, as we show in the map above.
Despite the regional variations, State Farm is still a strong contender as a national insurer. At 18,000 agents, State Farm has the largest agent network that auto insurance customers across the country can access. It is a stark contrast from other large insurers--particularly GEICO and Progressive--who have fewer agents dedicated to individual accounts. Building a strong relationship with your agent makes it more likely you will get the right amount of coverage and have one person to always contact for insurance questions. An overview of how State Farm compares based on our rankings is in the table below:
| Company | Affordability | Claims Satisfaction | Coverage | Shopping | Discounts | Total |
| --- | --- | --- | --- | --- | --- | --- |
| State Farm | 4 | 2 | 5 | 5 | 5 | 3.5 |
| GEICO | 5 | 3 | 4 | 5 | 4 | 4.0 |
| Allstate | 2 | 4 | 5 | 4 | 5 | 3.0 |
| Progressive | 5 | 3 | 4 | 5 | 5 | 4.0 |
| Erie | 5 | 5 | 5 | 5 | 4 | 5.0 |
State Farm Auto Insurance Quote Comparison
State Farm is generally slightly cheaper than average when it comes to price, based on quotes we obtained for our profiled motorist. State Farm was the fifth lowest in 17% of cities we surveyed, fourth lowest in 15% and third lowest in 14% for our sample 30 year old driver. State Farm was the overall most affordable in about 3.4% of cities, nearly one tenth of the cities where GEICO ranked as the least expensive.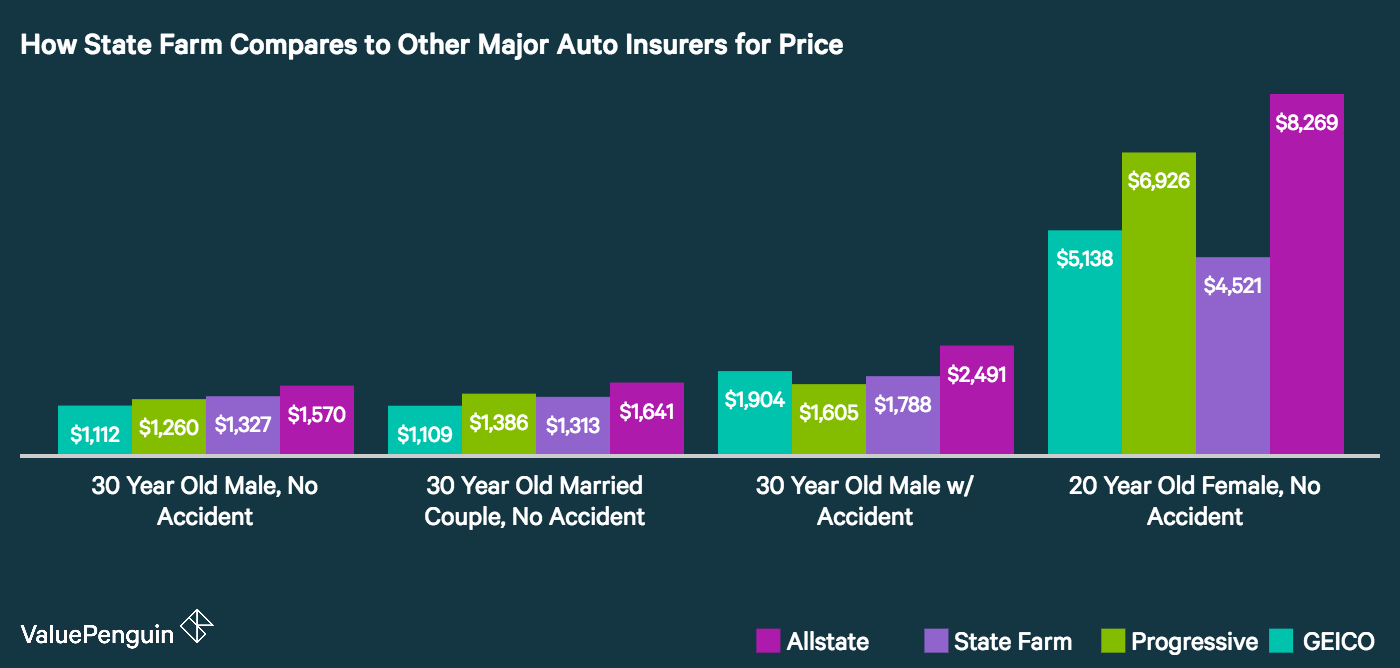 Find the Cheapest Auto Insurance Quotes in Your Area
We did find that State Farm had an advantage for younger drivers compared to the other major insurers. For a young 20 year old female, State Farm had lower pricing than all of the other major insurers, even besting GEICO by nearly $600. You can see how State Farm's average quotes compares to the four different driving profiles in our graph above.
As we mention above, State Farm's price will vary state to state. Rates tend to be more affordable in the central states, like Arkansas, Mississippi and Oklahoma. On both coasts however, prices tend to increase, and State Farm becomes middle of the road for price. Michigan and Alabama are particularly expensive for State Farm. Interestingly enough, State Farm is the largest auto insurer in Alabama.
State Farms's Car Insurance Rate Hikes
State Farm had an average cumulative rate hike of 18.6% between 2012 and 2017 on auto insurance, which was slightly lower than the national average of about 22%. Like other major insurers, the company imposed their steepest hikes in 2016. State Farm however has posted the largest losses of any of the major auto insurers in the past seven years. If profits for the company continue to shrink, State Farm may hike premiums more steeply on its customers in the next few years.
| Year | GEICO | Progressive | State Farm | Allstate |
| --- | --- | --- | --- | --- |
| 2012 | 2.2% | 4.5% | 1.1% | 2.7% |
| 2013 | 2.6% | 0.7% | 2.4% | 1.6% |
| 2014 | 2.9% | 2.0% | 2.8% | 2.8% |
| 2015 | 5.2% | 0.4% | 2.3% | 3.9% |
| 2016 | 3.0% | 2.3% | 5.1% | 5.9% |
State Farm Claims Satisfaction Review
Despite their slogan being "Like a good neighbor, State Farm is there", its customers generally describe the insurer as having mediocre to below average claims handling. The 2016 J.D. Power survey of claims handling amongst the nation's 25 largest auto insurers ranked State Farm as having the 7th worst. It was the worst ranking amongst the big four auto insurers, and paled in comparison to the best ranked company, The Hartford. You can see the national ranking breakdown below:
| Company | Initial Claim Reporting | Service | Appraisal | Repair | Rental Car | Settlement |
| --- | --- | --- | --- | --- | --- | --- |
| State Farm | 3 | 3 | 3 | 3 | 2 | 3 |
| GEICO | 3 | 3 | 3 | 3 | 3 | 3 |
| Allstate | 3 | 3 | 3 | 3 | 4 | 3 |
| The Hartford | 5 | 5 | 4 | 5 | 4 | 5 |
As we say above though, claims satisfaction with State Farm varies based on geography. Their claims handling vastly improves in the central states like Nebraska, Kansas, Missouri, etc. Texans and Californians also get above average claims handling from State Farm. Florida on the other hand scores scores below average. Considering our analysis that it is middle of the road for price, and bottom of the rankings for satisfaction, Floridians may do well to consider other options. It is noteworthy that the cheapest states for State Farm are also its best for customer satisfaction.
Complaints
In addition to the J.D. Power rankings, we also looked at NAIC complaint data for State Farm. It turns out customers tend to complain about State Farm much more than other companies. In fact, State Farm has a closed complaint rate over 3x as high as the national median for other auto insurance companies after accounting for size. When it came to claims handling, most State Farm customers complained about delays. A significant number of customers also complained that their settlement was unsatisfactory. The part of the process that received relatively the fewest complaints was how State Farm's adjusters would handle each claim.
State Farm Coverage Options
State Farm provides you with all the basic coverages you need, with a couple notable extra coverages. The most noteworthy are the rideshare endorsement which Uber and Lyft drivers can purchase to make sure they are fully covered. Other special coverages are roadside assistance and rental reimbursement insurance. State Farm is not nearly as extensive as companies like Erie however, where customers get extra protection for their pets, locksmith services, and personal items coverage.
| Coverage | Does State Farm Have It? |
| --- | --- |
| Liability | |
| Physical Damage | |
| Uninsured Motorist | |
| Roadside | |
| Rideshare | |
| Rental Reimbursement | |
| Gap Insurance* | |
| Pet Damage | X |
| Locksmith Services | X |
| Mechanical Breakdown Coverage | X |
*Pay Off Protector Plan
Rideshare Endorsement
State Farm offers an endorsement which rideshare drivers can purchase in addition to their policy so they remain insured in all stages of rideshare driving. The endorsement will give you comprehensive, collision, PIP/MedPay and uninsured motorist coverage the entire time your app is on. State Farm will only cover the liability portion for the phase of the journey where your app is on and you are looking, but have not found, a passenger, letting the rideshare company's insurance to cover you in the other phases.
While that may not seem significant, it can be troublesome should you get into an accident in those phases. You would have to deal with their James River or Steadfast (insurers for Uber and Lyft, respectively) who have less than stellar track records when dealing with claims. Being able to deal directly with your insurer would be vastly more ideal in those situations. For that reason we would have to give an advantage to GEICO's and Erie's rideshare policies which give you coverage throughout every phase of the journey.
Unfortunately, Erie and GEICO do not sell rideshare policies in California so, State Farm may be the best choice if you drive in the Golden State. In the map below you can see all the states where you can buy State Farm rideshare insurance:
Arkansas, Nevada, Illinois, Vermont and Wyoming will not be available until the summer of 2017.
Buying a State Farm Auto Policy
State Farm places greater emphasis on its agents for selling policies than other companies like GEICO and Progressive who offer policies directly online without ever needing to speak to agent. Even if you start a quote online with State Farm, it gets passed on to an agent, and you will have to speak with them either in person or over the phone to close the policy.
Generally it takes less than 10 minutes if you already know all the information regarding your car, and driving record. State Farm does not have as many tools to help with the process like GEICO's chatbot or Facebook autofill option. Once you finish, you get three coverages options ranging from basic to premium coverage--though you can customize whichever you like. Once you find the policy you like, you send the quote over to an agent who will then contact you to finalize it. You can start a quote by putting your zip code in one of the boxes above.
Many State Farm agents sell just State Farm insurance, so you will not be able to buy other insurers' products. If you are unsure of how much coverage you should have, or have many questions about your policy, we'd recommend you talk to an agent in person.
Discounts Offered by State Farm
State Farm's discounts place strong emphasis on drivers who stay accident free, as well as pursue means of keeping their driving skills sharp. The company has two main discount programs called the Steer Clear and Drive Safe and Save Programs in addition to other traditional discounts offered by most other companies.
| Discount | Amount | Discounted Coverage |
| --- | --- | --- |
| Steer Clear | Up to 15% | Main coverages |
| Drive Safe and Save | 5% to 50% | Main Coverages |
| Loyalty Discount | Up to 22% after 6 years | Main Coverages |
| Mature Driver | 5% | Main Coverages |
| Anti-Lock Brake | 5% | Main Coverages* |
| Anti-Theft | Up to 25% | Comprehensive |
| Day Time Running Lights | 3% | Main coverages |
| Three Year Accident Free | Up to 26% if accident free for six years | Most Coverages |
| Passive Restraint Discount | Up to 40% | PIP or MedPay |
| Accident Prevention Course | Up to 10% | Main Coverages |
| Good Student | 25% | Main Coverages |
| Multi-Car | Up to 25% | Most Coverages |
| Bundle | 17% w/ Home Insurance Policy | Main Coverages |
| New Car Discount | Up to 34% | MedPay |
*Main Coverages include BI, PD, Coll, Comp and PIP/MedPay excludes UIM
Steer Clear
The Steer Clear program by State Farm is designed for drivers under 25 years of age (and new drivers with less than 3 years driving experience) to brush up on their driver education. Drivers who complete the program are eligible for a discount of up to 15% off their premium. If you are under the age of 19, to qualify you must complete 20 supervised trips with an licensed driver over the age of 25, as well as watch a safety DVD. If you are between 19 and 24, you are only required to take five trips and are not required to watch the DVD. You will have a trip log that records any significant events that may happen on the trips. If you go each trip without a violation or accident, you pass the course. For more information, you can go here.
Drive Safe and Save
Drive Safe and Save is meant to reward drivers who don't put many miles on their car. To connect with the service, you can contact your agent or enroll online. You need your car to either have OnStar or SYNCH, or you can download the Drive Safe and Save mobile app in order for it to keep track of your mileage through GPS. State Farm also claims to collect data on "basic driving characteristics" though they do not specify what those are. They also say though your rates will never go up with the program so long as you are not severely driving over the mileage which you listed on your policy. When you enroll you automatically qualify for a 5% discount but can get up to 50% depending on how often you drive, and how safe you drive.
Where is State Farm Available?
State Farm is licensed in every state, and writes new premiums in 49 of the 50 states, having recently stopped writing new policies in the state of Rhode Island. If you have a policy in Rhode Island though you can still receive full service from the company. The top five states for State Farm premiums closely mimic the states with the highest populations.
| State | # of State Farm Policies in 2017 |
| --- | --- |
| California | 2,147,000 |
| Texas | 1,895,000 |
| Florida | 1,598,000 |
| Illinois | 1,104,000 |
| Ohio | 1,066,000 |
Methodology
Our score for State Farm was derived by our assessment of the company's affordability, claims handling, coverage, shopping experience and discounts. Affordability and claims handling were weighed out of 30 points, coverage out of 20 points, and shopping and discounts out of 10 points for a total of 100.
Sources
National Association of Insurance Commissioners
J.D. Power Claims Satisfaction
Statefarm.com


Comments and Questions