Progressive Auto Insurance Review
Strong car insurance company with affordable rates and solid claims handling experience
Good for
Drivers who've had one (or no) accident on their recent record
Customers who drive with their pet in the car
Bad for
People who'd like one point of contact with their insurer
Progressive Auto Insurance Review
Strong car insurance company with affordable rates and solid claims handling experience
Good for
Drivers who've had one (or no) accident on their recent record
Customers who drive with their pet in the car
Bad for
People who'd like one point of contact with their insurer
Progressive Auto Insurance Review
Good for
Drivers who've had one (or no) accident on their recent record
Customers who drive with their pet in the car
Bad for
People who'd like one point of contact with their insurer
Find the Cheapest Insurance Quotes in Your Area
Progressive customers can get good value for what they pay. We've found their customer service and satisfaction to be about average, but customers won't have to pay top dollar for it either. In this review we analyze Progressive on its affordability, claims handling, coverage options, shopping experience and discount programs, and see how it compares to others.
In This Review
Progressive Auto Insurance Review: Good Value for Price and Service
We would recommend Progressive only if it is one of the most affordable options in your area. It's affordable for drivers with good records, but not always the cheapest. Progressive's service is standard, but for what it charges, you would get good value for your auto insurance. We've found that the insurer is more sympathetic about past accidents when quoting our sample drivers, and customer satisfaction with claims handling is lower in the northeast and eastern midwest.
Drivers with accidents on their record may find lower rates at Progressive compared to other insurers. We compared quotes nationally and found Progressive had one of the most lenient surcharges after an accident. For example, while Progressive is usually more expensive than GEICO for drivers with clean records, we found it was far more affordable than GEICO for drivers with accidents.
| Profile | Progressive | GEICO | Allstate | State Farm |
| --- | --- | --- | --- | --- |
| 30 Year Old Male, No Accident | $1,260 | $1,112 | $1,570 | $1,327 |
| 30 Year Old Male w/ Accident | $1,605 | $1,904 | $2,491 | $1,788 |
If you live in the northeast and eastern part of the midwest, you may find claims handling to be somewhat lacking. Customers in states like New York, New Jersey, and Ohio have reported that Progressive claims handling is below average in a JD Power study. In no part of the country is Progressive service exceptional, but in those regions customers may find most other companies to provide better service.
Progressive heavily markets features like the SnapShot and Name Your Price tool, and while they do not make Progressive a better product, they are worthwhile in reducing your pricing further. If you do not drive often, the SnapShot can save around $130 per year. The Name Your Price tool is also effective at making sure you have the right amounts of coverage.
| Company | Affordability | Claims Satisfaction | Coverage | Shopping | Discounts | Total |
| --- | --- | --- | --- | --- | --- | --- |
| Progressive | 5 | 3 | 4 | 5 | 5 | 4.0 |
| State Farm | 4 | 2 | 5 | 5 | 5 | 3.5 |
| GEICO | 5 | 3 | 4 | 5 | 4 | 4.0 |
| Allstate | 2 | 4 | 5 | 4 | 5 | 3.0 |
| Erie | 5 | 5 | 5 | 5 | 4 | 5.0 |
Progressive Auto Insurance Quote Comparison
At Progressive you are likely to get a great price for auto insurance. Based on sample drivers we used, Progressive was usually a little more expensive than GEICO, but less expensive than State Farm, Allstate and most other insurers. Overall, we found Progressive to be the most affordable insurance company in about 17% of over 2,220 cities we surveyed, and the top three most affordable in nearly 50% of those cities.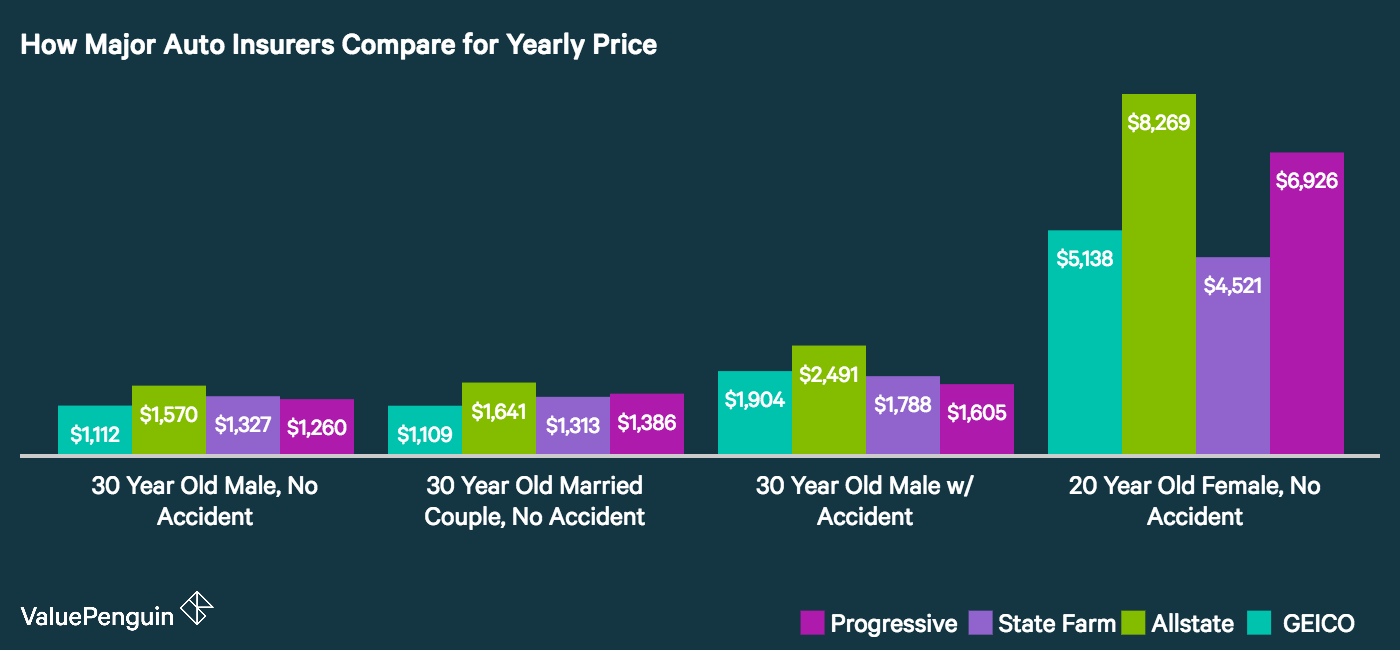 Find the Cheapest Auto Insurance Quotes in Your Area
Progressive did turn out to be the one of the most affordable when it came to drivers with accidents on their record. It raised rates the least, and the total rate was drastically lower than what we found at GEICO, Allstate or State Farm. If you are shopping for insurance with an accident, we'd highly recommend Progressive as a great option for getting an affordable rate.
Progressive's Car Insurance Rate Hikes
Progressive is one of the few companies that preemptively predicted a need for auto insurance rates to increase in the year following 2012. In that year, they raised rates the most of any of the major insurers, but have since raised them at a slower rate, and below average year after year. In total, Progressive's cumulative rate increase is far lower than the other large auto insurers.
| Year | GEICO | Progressive | State Farm | Allstate |
| --- | --- | --- | --- | --- |
| 2012 | 2.2% | 4.5% | 1.1% | 2.7% |
| 2013 | 2.6% | 0.7% | 2.4% | 1.6% |
| 2014 | 2.9% | 2.0% | 2.8% | 2.8% |
| 2015 | 5.2% | 0.4% | 2.3% | 3.9% |
| 2016 | 3.0% | 2.3% | 5.1% | 5.9% |
Progressive Claims Satisfaction Review
Based on our research, Progressive is about average when it comes to claims handling. According to J.D. Power, which ranked the nation's 28 largest auto insurers on claims satisfaction, Progressive was the 14th best. That's better than GEICO and State Farm, who were ranked 17th and 21st respectively. Its customers seem to agree that the appraisal process, as well as rental car reimbursement are above average services provided by the company. The Hartford was the highest rated company for auto insurance. Here's how Progressive compares to the other major insurers as well as the Hartford below.
| Company | Initial Claim Reporting | Service | Appraisal | Repair | Rental Car | Settlement |
| --- | --- | --- | --- | --- | --- | --- |
| Progressive | 3 | 3 | 4 | 3 | 4 | 3 |
| State Farm | 3 | 3 | 3 | 3 | 2 | 3 |
| GEICO | 3 | 3 | 3 | 3 | 3 | 3 |
| The Hartford | 5 | 5 | 4 | 5 | 4 | 5 |
In addition to the J.D. Power rankings, we also looked at NAIC complaint data for Progressive. For the company's size, Progressive receives a slightly above average amount of complaints compared to other insurers. Customers mostly complain about delays in the claims process as well as being unsatisfied with their settlement. A smaller, but still significant, amount of customers have filed complaints involving a denied claim as well.
Regional variation for Progressive is not as great as it is for other companies like State Farm and GEICO. While all three score average to below average nationwide, State Farm and GEICO had regions where they were the best for claims handling. In the northeast and southwest however, Progressive gets below average scores for claims handling. In those regions, it is likely better to go with State Farm, which scores higher.
Progressive Coverage Options
Progressive offers the all of the standard auto insurance coverages in addition to extra coverages you won't find at most companies like spare parts coverage as well as pet damage protection. If you are a rideshare driver for Uber, Lyft, etc. Progressive also offers rideshare insurance, though it is currently only available in Texas and Pennsylvania. You can get coverage in more states with GEICO and State Farm for rideshare insurance.
| Coverage | Does Progressive Have It? |
| --- | --- |
| Liability | |
| Physical Damage | |
| Uninsured Motorist | |
| Roadside | |
| Rideshare | |
| Rental Reimbursement | |
| Gap Insurance* | |
| Pet Damage | |
| Locksmith Services | X |
| Custom Parts and Replacement | |
Pet Damage
If your dog or cat is injured in a car accident, Progressive will front any vet bills. It's a unique and rare protection that we don't find offered by a lot of auto insurance companies. The coverage is part of your collision insurance, so you would have to pay the associated deductible for you to file a claim. If you have a pet, you likely have pet insurance anyway, but the deductible for Progressive's Pet Damage may be smaller than the deductible on your pet insurance policy, which could save you some money out of pocket.
Custom Parts and Replacement
Progressive also provides $1,000 of coverage for accessories and custom parts like stereos, navigation systems, tv equipment, etc., under each of the collision and comprehensive parts of your policy. Additional coverage may be available based on your needs. Most other insurance companies don't do this, and you'd have to be insured under a homeowners or renters insurance policy. Since most drivers may not have any custom car parts or modifications, this may not be a broadly applicable coverage.
Buying a Progressive Auto Policy
Progressive offers an easy shopping experience for people who would rather buy their policy online over through an agent. Most customers opt to start and buy their quote online without ever needing to speak to an agent. If you would prefer to speak to an agent, or have an agent that is attached to your account, Progressive would be a good option since it lets independent agents sell their policies.
If you buy online, it generally takes less than 10 minutes if you already know all the information regarding your car, and driving record. Before you finalize your quote, Progressive will give you the option to add its Snapshot device to your policy. We'll speak more about the program below. You will also be allowed to add a home, apartment, or other vehicles to insure if you wish to bundle with other types of insurance policies that Progressive offers.
Progressive Name Your Price Tool
Once you finish Progressive has its "Name Your Price Tool", one of the more heavily marketed features the company offers. No, you cannot actually declare how much you would like to pay, but you can give a price and Progressive will best try to match it. The top of the page will have a slider between two amounts usually a couple hundred dollars apart. You can slide it until you achieve the coverage amount that Progressive recommends. There will also be three tabs that give you "basic","choice" and "recommended" coverage if you do not wish to play with the slider. How much you ultimately pay however comes down to watch coverages you want, and the limits they afford you. Should your budget allow it though, we highly recommend getting limits high enough to cover the assets you have.
Discounts Offered by Progressive
Progressive offers the standard discounts most large auto insurers offer. It lacks the specialized discounts that GEICO has for military members and federal workers, which is why we usually refer those drivers to GEICO rather than Progressive. Progressive does set itself apart though by having the SnapShot program, which is arguably the most established and well-known driving habit tracker program of any of the auto insurance companies.
| Discount | Amount | Discounted Coverage |
| --- | --- | --- |
| Anti-theft devices | 2% to 20% | Comprehensive |
| Mature Drivers Course | 5% | Total Premium |
| Multi-Car Policy | 10 to 30% | Main Coverages* |
| Multi-Policy Credit (bundling) | Up to 20% | Main Coverages* |
| Persistency Credit | 2 to 3% | Total Premium |
| Snapshot Safe Drivers | up to 30% | Main Coverages* |
| Good Student | 10% | Total Premium |
| Away-at-School Student | 10% | Total Premium |
| Home Owner | up to 17% | Main Coverages* |
*Main Coverages include BI, PD, Coll, Comp, PIP/MedPay and UIM
Progressive SnapShot
Another one of Progressive's heavily marketed products, the SnapShot is a device (and now mobile app) that tracks your driving habits for the purpose of getting you a discount. You can sign up for the program when you start your policy or anytime you like in the middle of an existing policy. You can either plug in the SnapShot device into your car's diagnostic port, or download the mobile app to your phone (if that feature is available in your state). Progressive will then track your mileage, braking habits (do you brake hard or soft), and even the time of day you drive.
Drivers who exhibit low mileage, easy breaking, and drive during less risky times of the day will get discounts up to 30% on their premium. In the program's early days, drivers would sometimes have their rates go up because of poor driving habits. As it stands now though, you can only get a discount from the program. If it turns out your driving habits are unfavorable, then you just won't receive the discount. Drivers have received a discount averaging $130 upon completion of the program, which typically takes six months.
Where is Progressive Available?
Progressive is available in all states and Washington DC. Everywhere in the country you may go online to buy a policy, or find an agent nearby. Below you can see the states with the most Progressive policies.
| State | # of Progressive Policies in 2017 |
| --- | --- |
| Texas | 780,000 |
| California | 737,000 |
| Florida | 575,000 |
| New York | 441,000 |
| Illinois | 409,500 |
Methodology
Our score for Progressive was derived by our assessment of the company's affordability, claims handling, coverage, shopping experience and discounts. Affordability and claims handling were weighed out of 30 points, coverage out of 20 points, and shopping and discounts out of 10 points for a total of 100.
Sources
National Association of Insurance Commissioners
J.D. Power Claims Satisfaction
Progressive.com


Comments and Questions