Progressive car insurance rates are generally competitive and slightly cheaper than market, but if you're a safe driver with low annual mileage, then the Snapshot® program might get you even more savings. The best part is that Snapshot can be tried for thirty days to estimate savings. In addition to its leading usage-based insurance program, there are other perks to being Progressive policyholders; as an example, its concierge service at Progressive Service Centers aims to be a carefree option for its insured drivers when it comes to claims and repairs. 
Features we like best about Progressive:
Attentive and responsive customer service
Reasonably priced rates for the level of service and convenience
Up to 30% discount for safe drivers with Progressive's Snapshot device
Considerations about Progressive:
For families with teen drivers, Progressive will charge a fee for putting them on your policy as a non-driver
Mixed reviews on the effectiveness of their Snapshot usage-based program
Table of Contents:
Progressive Auto Insurance Premiums Comparison
To compare Progressive with two other major car insurance providers, GEICO and Allstate, we've used sample rates for several drivers in our California auto insurance study. Overall, Progressive has the most competitive prices across most driver profiles, with the exception of married couple in their 60s. 
| | | | |
| --- | --- | --- | --- |
| Driver Profile | Progressive | GEICO | Allstate |
| Single Man, age 31 | $712 | $775 | $881 |
| Single Woman, age 31 | 692 | 762 | 894 |
| Married Couple, late 20s | 912 | 1,132 | 1,212 |
| Married Couple, mid 60s | 835 | 768 | 726 |
Progressive vs. GEICO: compared to a leading direct auto insurance provider, GEICO, Progressive's quotes are actually cheaper for most of our sample drivers' in California. In particular, the young married couples we analyzed saved around 19% when they insured with Progressive. Even better, Progressive offers quotes through both online quoting system and independent agents. However, for more mature married drivers in the Golden State, Progressive turned out to be on the higher side of the rates, and insuring with GEICO may likely be easier on the budget. 
Progressive vs. Allstate: when compared with our top auto insurer with agents, Allstate, Progressive quotes in California also came up ahead. Our drivers' Progressive quotes were 22% lower than Allstate's proposed rates. While both companies have well-reviewed agent services, consumers may want to consider the different customer experience they care most about. Progressive may be the better choice if you are looking for a more seamless claims and auto repair experience. Note that, however, for married drivers above the age 60, we found Allstate's rates more preferable than Progressive's. 
Our Progressive Auto Insurance Review
In our review of Progressive's auto insurance, we'll discuss features we think make Progressive's coverage and post-purchase services unique. We'll also cover its state-of-the-art usage-based insurance program and comprehensive auto claim service centers.
Progressive Coverage Map
In terms of geographical coverage, Progressive provides auto insurance coverage in all 50 states and DC.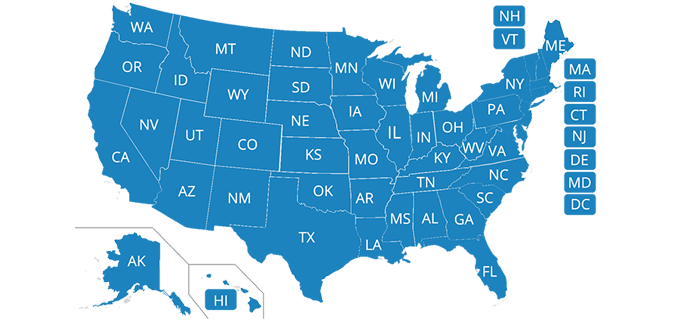 Progressive Auto Insurance Policy Features
Progressive has one of the most flexible payment options we've seen. With this insurer, policyholders can actually dictate the due date for their payments. We think this is a great feature that makes life easier for Progressive customers. Whether drivers like to line up all of their bills to be paid at the same time, or coincide their premium payments with their paychecks, Progressive has them covered. 
One unique feature we've seen with Progressive is its pet injury coverage. As a free and thoughtful addition to collision coverage, pets injured inside a car during an accident will get their veterinary bill covered up to $1,000 by Progressive. This applies specifically to injury sustained inside a car accident - it is not pet insurance. Pet insurance is protection for your pets' general injuries or illnesses.
Car Insurance Savings with Snapshot®
According to Progressive customer service representatives, safe drivers can save up to 30%, with most people seeing savings of 8 - 16% on their car insurance. The way the Snapshot insurance program works is through inserting a monitoring device into a vehicle's diagnostic port. It tracks: miles driven, driving between midnight and 4 A.M., the number of times brakes get slammed (which uses your speed). Motorists who drive their cars less than fifty miles a day should qualify. Driving between midnight and four in the morning is a disadvantage because there are higher risks of accidents related to drunk driving. Speed gets tracked to determine hard braking, an important factor in safe driving.
Most drivers are concerned that Snapshot has the potential to track their location. The device does not use GPS, and is location-blind, assures Progressive.
If consumers decide to switch to Progressive, the device stays in for four to five more months (also free) to calculate the renewal rate. Otherwise, send the Snapshot back within a few weeks to avoid a $50 charge for the device. Note: the Snapshot is not available in Alaska, California, Hawaii, Indiana, North Carolina, and Tennessee. The discount applies to the standard liability coverage, as well as collision and comprehensive protection.
Concierge Service at Progressive Service Centers
Progressive is one of the few insurers we have seen that offers a complete one stop shop experience for its auto claims and repair services (another is Travelers). Basically, instead of breaking the customer's process of claims and repair into multiple locations and different specialists, policyholders can drop off their vehicles at one of Progressive's Service Centers. Progressive representatives there will largely handle everything that has to be taken care of. Policyholders drop their vehicle off, then wait to be notified when the repair is done and their car is ready to be picked up. 
In most cases a collision and/or a comprehensive coverage on your policy is required for you to use this service. Nevertheless, according to Progressive, with these Service Centers, policyholders are able to get their car back to normal 2 days faster than going through their own choice of repair shop.
Industry Ratings of Progressive 
| | |
| --- | --- |
| Metric | Rating |
| A.M. Best | A+ |
| JD Power & Associates Rating | 3 out of 5 (About Average) |
| NAIC | 0.89 (Better than Average) |
How to File a Claim with Progressive
There are two ways to file Progressive claims: online and through the phone. For Progressive policyholders who have registered their policies online and activated their online account (this can be done through the login link below), reporting a claim online is probably the most convenient way to manage it afterwards. For all third-party claims, call one of the two claim phone numbers we've listed below, and follow the instructions to get to a claims representative.
Report a Progressive Claim Online Login: https://www.progressive.com/claims/
Telephone Number: 1 (800) 776 - 4737 or 1 (800) 272 – 4499 
Press 1, then 0
Press 1 for new claims
Press 1 for glass-only claims, or 2 for all other car accidents and damages
For all other customer service inquiries: 1 800-776-4737
Speak to a Person: Press 0
To track a filed Progressive Claim Online, click here.
Progressive Car Insurance Discounts
We have seen a wide range of auto insurance discounts with Progressive. Discount types usually vary by state (sometimes even the discount amounts vary too). Below is a table of the most commonly seen Progressive discounts that you can expect to take advantage of!
Table of Auto Insurance Discounts at Progressive
| | | |
| --- | --- | --- |
| Discount Type | Discounted Coverage | Discount % |
| Anti-theft devices | Comp | 2 - 20 |
| Mature Drivers Course | All | 0.05 |
| Multi-Car Policy | BI, PD, Coll, Comp, MED/PIP, UM, SUM | 10 - 28 |
| Multi-Policy Credit (bundling) | BI, PD, Coll, Comp, MED/PIP, UM, SUM | 0.1 |
| Persistency Credit | All | 2 to 3 |
| Snapshot Safe Drivers | BI, PD, Coll, Comp, MED/PIP, UM, SUM | up to 30 |
| Good Student | All | 10 |
| Away-at-School Student | All | 10 |
| Home Owner | BI, PD, Coll, Comp, MED/PIP, UM, SUM | up to 17 |
Other Progressive Personal Insurance: Progressive Home Advantage® 
If you are also a homeowner, you can also consider bundling your home insurance policy with Progressive for discounts. Progressive partners with other independent home insurance companies to provide the homeowners insurance services, including underwriting and claims. If you do decide to look into the PHA® Program, we suggest that you get a quote online or through phone – while Progressive makes its bundling program available directly to consumers in 49 states and DC, only agencies in 26 states and DC will be able to give you this option.
About Progressive Corporation
Progressive Corporation began offering auto insurance coverage in 1937, and has introduced the first drive-in claims service, the first installment payment package, and the first website launch out of the major car insurance companies. While quotes can be obtained online, the insurer also has a network of 30,000 independent agents. They have 10 million policies in force.
Progressive ranked as the 4th largest auto insurance company in the U.S. in 2013. With $3.9B in direct premiums underwritten, Progressive held nearly 8% of the total private passenger auto insurance market.
Company Website: www.progressive.com
Comments and Questions