GEICO is one of the most affordable auto insurers in the U.S. - especially for drivers without accidents - that offers an easy online buying experience and plenty of accessible discounts. The claims process and the overall customer service of GEICO has mixed reviews, but if savings is the most important factor, we've found that GEICO fits the bill.
In This Review
GEICO Review: Great for Price, Just Average for Customer Service
Very few insurers come close to GEICO's national availability, low prices and easy online shopping. We looked at GEICO's quotes for different types of drivers based on age, driving record and marital status, and found that GEICO had the lowest rates in 60% of 2,000+ cities we surveyed--especially for safe drivers. Drivers with a recent accident can find GEICO to be the third most expensive insurer. Here's how it stacks up to the major insurers:
| Profile | GEICO | Allstate | State Farm | Progressive |
| --- | --- | --- | --- | --- |
| 30 Year Old Male, No Accident | $1,112 | $1,570 | $1,327 | $1,260 |
| 20 Year Old Female, no accident | $5,138 | $8,269 | $4,521 | $6,926 |
| 30 Year Old Married Couple, No Accident | $1,109 | $1,641 | $1,313 | $1,386 |
| 30 Year Old Male w/ Accident | $1,904 | $2,491 | $1,788 | $1,605 |
In terms of claims handling, GEICO is mediocre. GEICO's advantage of lower costs translates into fewer agents and employees, which can adversely impact claims handling. Common complaints for GEICO include a slow turnaround between the accident and car repair. If you prefer more personalized service or one point of contact when dealing with claims, consider companies like State Farm or Allstate, which have stronger agent networks.
GEICO's coverage and policy offerings are better than most. It offers standard coverages, and more specialized options like rideshare insurance, mechanical breakdown insurance and rental reimbursement insurance. There are a few services that GEICO doesn't offer like gap insurance that would be useful to the thousands of drivers that lease their vehicle. The following table shows our scores for GEICO versus other major insurers.
| Company | Affordability | Claims Satisfaction | Coverage | Shopping | Discounts |
| --- | --- | --- | --- | --- | --- |
| GEICO | 5 | 3 | 4 | 5 | 4 |
| State Farm | 4 | 2 | 5 | 5 | 5 |
| Allstate | 2 | 4 | 5 | 4 | 5 |
| Progressive | 5 | 3 | 4 | 5 | 5 |
| Erie | 5 | 5 | 5 | 5 | 4 |
GEICO Auto Insurance Quote Comparison
We would highly recommend GEICO if you have a clean driving record, and are looking to save money for either basic liability or full coverage. GEICO is a top three most affordable car insurers in 61% of 2,220 cities we surveyed, but only for safe drivers. When we got quotes for a driver with one accident, rates shot up 1.7x, a bit above the average of 1.5x amongst the 25 largest auto insurers. When it came to insuring those with accidents, Progressive and State Farm had cheaper rates than GEICO. Below you can see how GEICO quotes can compare for different types of drivers: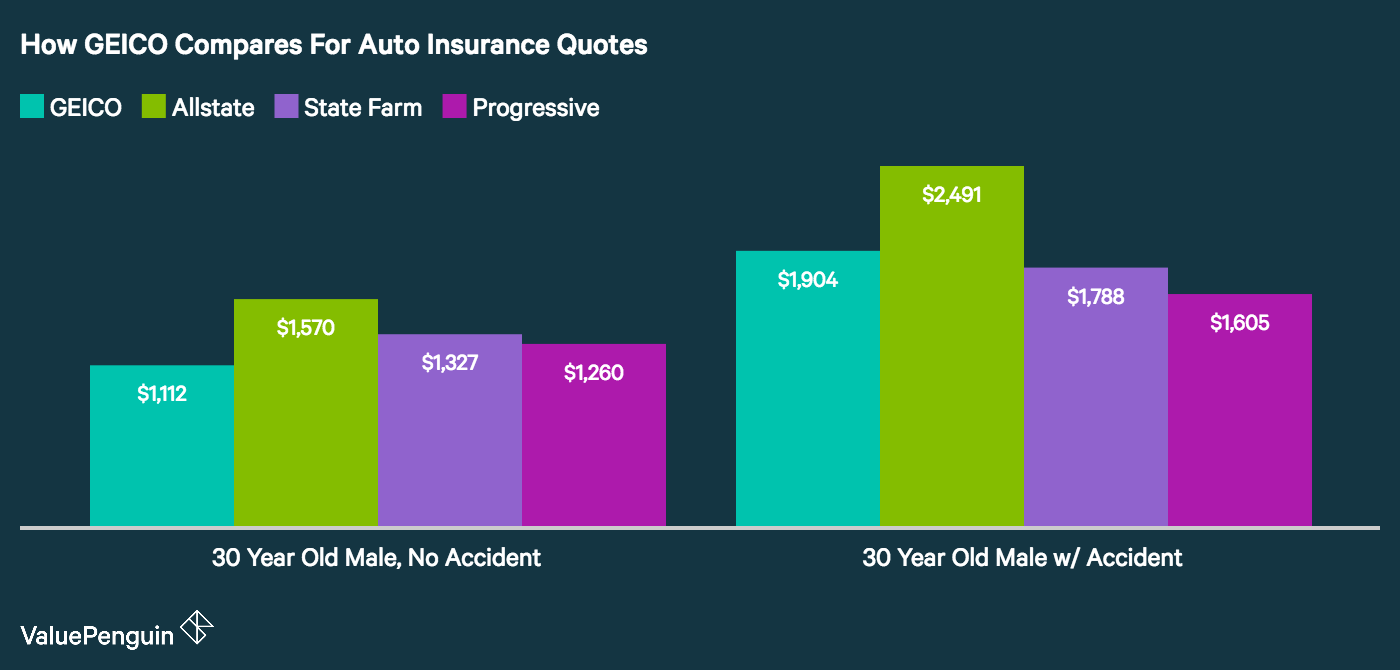 Find the Cheapest Auto Insurance Quotes in Your Area
There are two smaller, more regional, companies that drivers should consider if available because they frequently compete with GEICO for the title of cheapest: Grange Insurance Association and Erie. Erie is only available in 11 states (IL, IN, KY, MD, NC, NY, PA, TN, VA, WV, WI) and Grange in six (CA, CO, ID, OR, WA, WY). We found Erie to cost our 30 year old male driver about $977 per year and Grange $944 per year compared to GEICO's $1,112. In the states Erie operates, it was the cheapest insurer in about 19% of cities, and Grange had the lowest quotes in 47% of cities, particularly in Washington and Colorado.
GEICO's Car Insurance Rate Hikes
Since 2012, GEICO has cumulatively raised its rates by about 19.5% nationally - that's 1.3% over the national average and the third highest amongst the big four insurers. Premiums have been hiked for every major auto insurer across the country--even for drivers without claims--due to a uptick in accidents and inclement weather. GEICO maintained low rate increases until 2015 when it raised them by nearly 6% nationally.
| Year | GEICO | Progressive | State Farm | Allstate |
| --- | --- | --- | --- | --- |
| 2012 | 2.2% | 4.5% | 1.1% | 2.7% |
| 2013 | 2.6% | 0.7% | 2.4% | 1.6% |
| 2014 | 2.9% | 2.0% | 2.8% | 2.8% |
| 2015 | 5.2% | 0.4% | 2.3% | 3.9% |
| 2016 | 3.0% | 2.3% | 5.1% | 5.9% |
GEICO Claims Satisfaction Review
GEICO claims that 97% of its customers are satisfied with the company, but other reviews generally paint GEICO's claims handling as average to below average. J.D. Power's 2016 survey of 28 major auto insurance companies found GEICO to rank 17th best for handling claims. Policyholders scored GEICO as average for five of the six factors--the repair process was the one below average mark. The other major four auto insurers were not much better: Allstate was 10th best, Progressive was 14th best and State Farm was 21st best. The Hartford (AARP to some) took the top spot in 2016.
| Company | Initial Claim Reporting | Service | Appraisal | Repair | Rental Car | Settlement |
| --- | --- | --- | --- | --- | --- | --- |
| GEICO | 3 | 3 | 3 | 3 | 3 | 3 |
| State Farm | 3 | 3 | 3 | 3 | 2 | 3 |
| Allstate | 3 | 3 | 3 | 3 | 4 | 3 |
| The Hartford | 5 | 5 | 4 | 5 | 4 | 5 |
Ultimately, we believe that GEICO's strength--its pricing--ends up cutting into its claims handling. GEICO keeps costs low in part due to its smaller network of agents and workers. GEICO gets much of its business online with most customers never needing to involve an agent. To be fair, when we consider the fact that GEICO is the second largest auto insurer with customers in all 50 states, it's expected that there are going to be a few who do not have the smoothest claims process.
It is noteworthy that GEICO's customer experience with claim service fluctuate depending where in the country you are. In New York, where GEICO is the largest insurer, policyholders gave them the highest marks for the claims process, scoring 5/5 stars in five of the six categories. In Texas, where there are 1.7 million GEICO policy holders, customers gave GEICO below average marks for the claims process.
| Geography | GEICO Claims Rating /5 |
| --- | --- |
| New York | 5 |
| Florida | 4 |
| California | 3 |
| Northwest | 3 |
| New England | 3 |
| Central | 3 |
| North Central | 3 |
| Southwest | 3 |
| Mid-Atlantic | 2 |
| Texas | 2 |
Complaints
For riskier drivers with accidents and incidents on their record, your experience with GEICO may be slightly worse than drivers with clean records. We determined this by looking at the complaints report from the NAIC for the company's three main underwriting arms: GEICO General, GEICO Indemnity and GEICO Casualty. GEICO General and Indemnity gets the safest drivers while GEICO Casualty gets drivers with accidents and incidents.
The NAIC reports that GEICO General and Indemnity gets a below average amount of complaints, while GEICO Casualty above average. This reinforces the point we make above that GEICO may not be the best company for those with accidents on their record. Your rates will be much higher, and based on the NAIC complaint history, you may be less than satisfied with a company that already has a mediocre track record of claims handling.
GEICO Coverage Options
GEICO offers all of the standard auto insurance coverage permitted in each state, in addition to more niche coverage like rideshare insurance for drivers, mechanical breakdown coverage, and roadside assistance. Below is a quick summary of their major policy coverages:
| Coverage | Does GEICO Have It? |
| --- | --- |
| Liability | |
| Physical Damage | |
| Uninsured Motorist | |
| Roadside | |
| MBI | |
| Rental Reimbursement | |
Rental Reimbursement Coverage
One of the more important extra coverages GEICO offers is to provide a backup rental car when your vehicle is in the shop. GEICO is rare in that it has a direct partnership with Enterprise Rent-A-Car, which directly bills GEICO, making things highly convenient for you. GEICO allows you to rent with other companies as well, but on a reimbursement basis. Coverage from GEICO will not include the cost of gas, mileage or additional coverage, or any security deposit required by the rental company. As we mention above, J.D. Power gives GEICO a below average score for GEICO's handling of rental car reimbursement. To avoid any hassle, we recommend taking advantage of the Enterprise Rent-a-Car partnership so your charges can be billed directly to GEICO thus avoiding having to bring receipts for reimbursement.
Rideshare Insurance
GEICO is the only major company that offers a full policy for rideshare drivers, called a hybrid commercial and private auto policy. Most other companies have add-ons or endorsements you can purchase, but GEICO's hybrid plan would be your main policy for both driving leisurely and for business. It claims on their website that most drivers qualify for the insurance, but we had a mixed experience. When we went to apply for a quote--using the same profile we the quotes above--we were denied a quote for "not meeting their underwriting standards". GEICO did not give further specification. Our profile driver was from Texas and was driving for Uber approximately three days a week, 20 miles per day. Before you settle on GEICO for rideshare insurance, check if the policy is even offered in your state. We discovered that the insurer sold the hybrid policy in a majority of states, but some notable exclusions were New York and California.
MBI Insurance
Mechanical breakdown coverage is only offered by a few companies, and GEICO is one of them. To qualify for MBI at GEICO, your car needs to be less than 15 months old, and have less than 15,000 miles on the odometer. A warranty covers common breakdowns with a new car. The advantage of the MBI however is that it may cover breakdowns that don't match the specific descriptions laid out in a warranty. MBI plans also last longer than warranties, which are usually for three years. Unfortunately, you have to buy MBI coverage while the warranty is still in force, in anticipation of its eventual termination. GEICO's MBI plans are good for periods of six to seven years, or 100,000 miles, whatever comes first.
Buying a GEICO Auto Policy
Can 15 minutes or less really save you on your car insurance? In most cases yes. Buying a policy with GEICO is fairly straightforward, and can be done in less than 15 minutes. Even for new drivers or for those new to insurance, we like that GEICO does a good job of guiding you through the process.
There are two ways to get a quote with GEICO: online or on the phone. We would recommend you do the online option as it is a simple process that asks for your information, details on your car, and your past driving and insurance history. If you have Facebook, you can even link your quote with your account and have it autofilled for many categories, saving you even more time. Along the way if anything confuses you, or you are unsure what certain things mean, there is a chatbot called "Kate" that will assist you with questions. The service is fairly robust, and should answer most of your questions.
When you are done filling in the information you will receive a 6-month and 1-month cost for your policy. At the bottom of the page you can see the breakdown costs for each individual coverage. It is here you can opt to purchase roadside assistance, or rental reimbursement coverage. If you are unsure of how much coverage you should have, GEICO has a "coverage calculator" that is a great tool to determine your coverage limits based on your situation.
Finally you can buy your quote and have it in force that same day. This is a stark contrast to most other auto insurers, which diverts you to one of their agents after starting the quote online.
Discounts Offered by GEICO
Most of the discounts GEICO offers are common among other large insurers like Allstate, Progressive and State Farm. Where GEICO distinguishes itself however is discounts for military personnel and government workers. GEICO began as a program for government workers, and has not forgotten those roots. The table below shows you all the discounts GEICO offers:
| Discount | Amount | Discounted Coverage |
| --- | --- | --- |
| Air Bag | Up to 40% for full front seat airbags | PIP or MedPay |
| Anti-Lock Brake | 7% | Most Coverages* |
| Anti-Theft | Up to 25% | Comprehensive |
| Day Time Running Lights | 1% | BI, PD, PIP, MedPay, Coll |
| Five Year Accident Free | Up to 26% | Most Coverages |
| Passive Restraint Discount | Up to 30% | PIP or MedPay |
| Seat Belt User | 15% | PIP or MedPay |
| Defensive Driving Course | 5% to 10% | Total Premium |
| Good Student | 10% for females, 15% for males | Most Coverages |
| Military Discounts | Up to 15% | Total Premium |
| Federal Employee Discount | Up to 8% | Total Premium |
| Sponsored Group Discount | 3% | Total Premium |
| Multi-Car | Up to 25% | Most Coverages |
| Bundle | 3% | Most Coverages |
| New Car Discount | 5%,15% | Collision, Comprehensive respectively |
| Electronic Payment Discount | 3% | Total Premium |
*Most Coverages include BI, PD, Coll, Comp and PIP/MedPay excludes UIM
If you are an active or retired GS-7 or above federal employee you qualify for GEICO's "Eagle Discount" which can get you up to 8% off your premiums. GEICO also has a smaller 3% discount for people who belong to certain alumni associations, fraternities, or other federal groups. You cannot combine these discounts with the Eagle discount even if you qualify for both.
GEICO is also pro-military in terms of the discounts it offers to active duty and retired members. GEICO offers up to a 15% discount for those who were or are in the military, regardless of their active status. In California, that discount comes out to an average savings of about $200 per year. You also can receive an additional discounts through GEICO if you are part of any of the following military organizations:
Association of the U.S. Army (AUSA)
Fleet Reserve Association (FRA)
National Infantry Association (NIA)
Where is GEICO Available?
GEICO is the second largest auto insurer in the country and is available in all 50 states. If you're from Michigan however, it will be harder for you to find a quote. While GEICO does business in the state, you can only start a quote by emailing Michigan@geico.com and asking for an application. The table below shows the states with the most GEICO customers:
| State | # of GEICO Policies in 2017 |
| --- | --- |
| Texas | 1,709,000 |
| California | 1,676,000 |
| New York | 1,402,000 |
| Florida | 1,297,000 |
| Pennsylvania | 878,000 |
Methodology
Our score for GEICO was derived by our assessment of the company's affordability, claims handling, coverage, shopping experience and discounts. Affordability and claims handling were weighed out of 30 points, coverage out of 20 points, and shopping and discounts out of 10 points for a total of 100.
Sources
National Association of Insurance Commissioners
J.D. Power Claims Satisfaction
GEICO Website

Comments and Questions