Best Car Insurance Rates in Boston
One of the oldest cities in the country and the largest in Massachusetts, Boston is a city teeming with history and tradition. Although the city's residents utilize Beantown's highly-effective mass transit system (the "T") many citizens still find themselves behind the wheel of their car on a daily basis. Because of this, our analysts wanted to assess which neighborhoods in Boston had the most expensive insurance policies and which offered the cheapest. Keep reading to see what we found:
Cheapest Car Insurance in Boston
Car insurance prices throughout Boston's neighborhoods averaged $1,795 per year. The most affordable area was $241 (13%) less than average while the most expensive neighborhood was $414 (25%) more than average.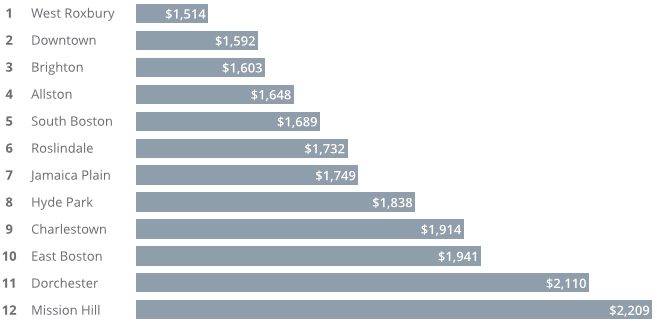 Most Expensive Neighborhoods
Boston's most expensive areas to insure a vehicle are situated nearer to the downtown area where the population density is higher and auto accidents more likely. Oddly enough, however, Downtown Boston is an exception and those who live there seem to pay much less than those who live just outside the downtown area.
Mission Hill
Home to almost 20,000 residents, the Mission Hill neighborhood is considered one of the best places to live in Massachusetts. Living here means you're only steps away from many places of interest including Fenway Park and Northeastern University. However, those who own a vehicle in Mission Hill will be paying the highest auto insurance rates of anyone in the city. Average annual rates for the area came in at $2,209 or $184 per month.
Dorchester/Mattapan
The 2nd most expensive neighborhood for auto insurance in Boston, Dorchester is also the city's largest with over 100,000 people living in the area. But, the downside to living in such a highly populated area is the congestion leads to higher auto insurance prices. In this case, average annual premiums are $2,110 or 18% higher than the Boston city average.
Least Expensive Neighborhoods
Showing that car insurance rates in downtown city centers aren't ALWAYS more expensive than living further from the urban core, the two most affordable neighborhoods for auto coverage in Boston are a mix of urban and more suburban.
West Roxbury
Sitting roughly 9 miles to the southwest of downtown Boston, West Roxbury is the furthest point west that's still considered to be inside Boston city-limits. Described as a family-friendly community with a suburban feel, it's no wonder why West Roxbury has the cheapest car insurance rates in Boston at $1,514 per year or $126 monthly.
Downtown
Typically, downtown areas in most major cities tend to be the most expensive areas to buy car insurance. But based on our 2014 study, downtown Boston has insurance rates that are typically reserved for outer boroughs and suburbs! Auto insurance premiums downtown run 11% cheaper than the city average with most residents paying around $1,592 per year to cover their vehicle.
Map of Boston
The map of Boston below displays the location of each neighborhood we included in our study. The areas are listed from least expensive (#1 - West Roxbury) to most expensive (#12 - Mission Hill.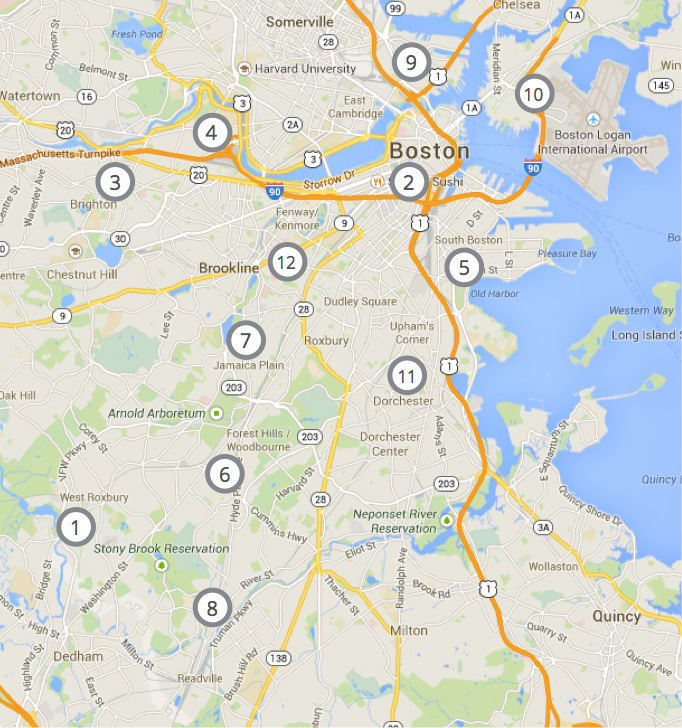 Best Car Insurance Rates in Boston
Our study looked at 14 auto insurers that operate in the Boston area. Average annual premiums ranged from just over $1,000 to an outrageous $4,935, reinforcing what we always say which is to make sure you get multiple quotes before purchasing a policy!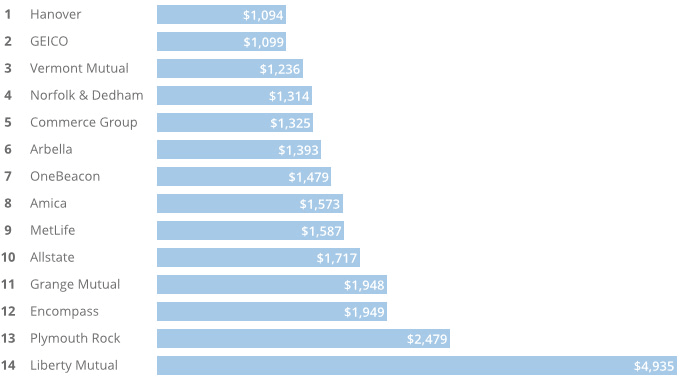 Most Expensive Insurer in Boston
Liberty Mutual - By quite a distance, Liberty Mutual was the most expensive auto insurance company we looked at in the Boston metro area. With an average annual rate of $4,935 was more than 4x as expensive as the city's most affordable insurance company.
Cheapest Auto Insurance Company in Boston
Hanover Insurance - This Massachusetts based insurer seems to treat its fellow statesmen quite well! Hanover had the most affordable rates in Boston at $1,094 per year on average. If you're interested in looking at another option GEICO's rates were also quite favorable on a neighborhood to neighborhood basis with an average rate of $1,099 annually.
Auto Theft Statistics in Massachusetts
Car theft rates in Boston fell right in the middle of the 7 cities we analyzed in Massachusetts. With 263 cars stolen per 100,000 automobiles, Boston's crime rate was double that of neighboring Cambridge but only half of the nearly 500 per 100,000 car thefts found in the state capital of Springfield.
| | | | |
| --- | --- | --- | --- |
| City | Population | Car Thefts | Thefts per 100,000 |
| Springfield | 153,060 |  760 | 496.5 |
| New Bedford | 95,072 |  301 | 316.6 |
| Lowell | 106,519 |  295 | 276.9 |
| Boston | 617,594 |  1,624 | 263.0 |
| Worcester | 181,045 |  465 | 256.8 |
| Brockton | 93,810 |  210 | 223.9 |
| Cambridge | 105,162 |  107 | 101.7 |
The Methodology
Car insurance premiums were for a 30 year old male driving a 2010 Toyota Camry that is owned. The automobile is primarily used for the purpose of commuting. Insurance coverage is slightly above the state minimum. Our hypothetical driver logs anywhere between 10,000-15,000 miles each year and no accidents or violation of record in the last 5 years. The auto insurance companies we surveyed were: GEICO, Commerce Group, Hanover, Norfolk & Dedham, OneBeacon, Arbella, Amica, MetLife, Vermont Mutual, Allstate, National Grange Mutual, Encompass, Plymouth Rock, and Liberty Mutual.
Surveyed auto insurance costs in Boston are for illustrative purposes only and actual quotes will vary based on your physical residence, driving history, and many other factors.
Comments and Questions