Who Has the Cheapest Homeowners Insurance Quotes In California?
Find the Cheapest Insurance Quotes in Your Area
The Golden State is no stranger to disaster. Earthquakes, floods, droughts, wildfires and the occasional hurricane might lead one to think homeowners insurance in California would be extremely expensive. We found the average price in California for a homeowners policy to be $762 per year for a home worth $250,000 and $2,099 for homes worth $750,000. We've researched and compared 50 homeowners insurance companies for you. Read on below to see what insurance companies may be the best and cheapest in your city. When you are ready, put in your zip code on top to get a quote of your own.
The Cheapest Homeowners Insurance in California
While there are over 50 companies in California, we identified 12 of the best homeowner insurance companies with great track records of customer service and repute, and collected their average pricing for a home worth $250,000 and $750,000. We found that Mercury was the cheapest homeowner insurance companies for both the less and more expensive homes. On average, Mercury provided a yearly quote of $437 and $1,042 for both homes. Travelers and Safeco were also amongst the most affordable home insurers. The graph below reflects prices for the $250,000 home.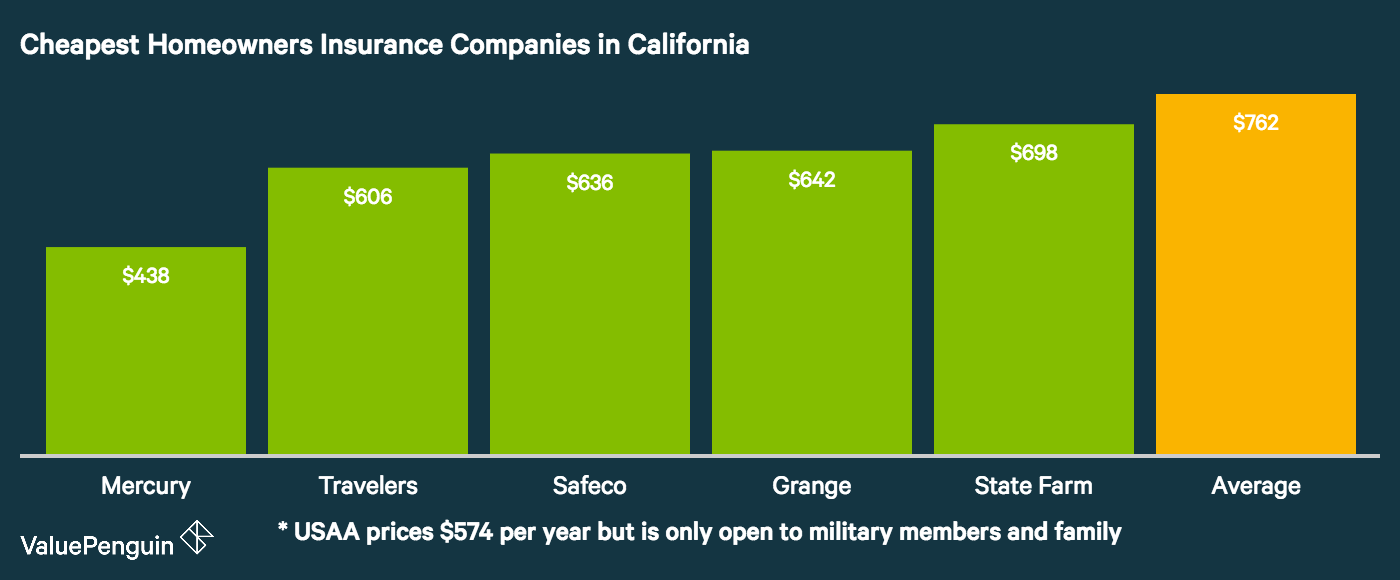 Find the Cheapest Insurance Quotes in Your Area
For a full list of the companies we surveyed you may read the table below. Since the homeowners market in California is so diverse, certain companies may be better at accommodating certain circumstances than others - that's why we urge consumers to compare at least three quotes to get good rates.
Cheapest Homeowners Insurance Companies in California ($250k home)
Mercury: $438
USAA: $574
Travelers: $606
Safeco: $636
Grange: $642
State Farm: $698
Cheapest Homeowners Insurance Companies in California ($750k home)
Mercury: $1,042
Travelers: $1,516
Safeco: $1,554
Grange: $1,709
Nationwide: $2,083
The Best Homeowners Insurance Companies in California
Determining the "best" company is a bit difficult, and should be more nuanced. Instead we will define companies that are best for different circumstances. Using data from the J.D. Power 2016 study, as well as our own research, here are the companies we found to be better than the rest in each category.
| Company | Best for... |
| --- | --- |
| Amica | claims, agent interaction and policy offerings |
| Mercury | price, local service and custom policies to accommodate Californians |
| USAA | military members and family |
| State Farm | largest company with lots of agents and fair pricing |
Amica
According to J.D. Power, Amica is in a league of its own when it comes to homeowners insurance. For 15 straight years the company has won the award for best home insurance company. Ranking with top marks across categories such as claims handling, customer interaction, policy offerings, and not to mention very competitive pricing, Amica would likely be a great choice for most Californians. A possible draw back of the company is that they generally will not insure farms, ranches, or old homes. If you need to cover one of those properties, you may need to look elsewhere.
Mercury
Mercury insurance is California-based, and claim to know the needs of Californians and their homes. As we discussed above, Mercury offers the cheapest pricing of the companies we explored, with policies nearly half as expensive as the state average. J.D. Power does not talk about Mercury as highly as it does Amica though. For the same categories in in which Amica ranks highly, Mercury is only mediocre. It is important to remember though that the J.D. Power study is a national study. Mercury has many offices and agents in California, so Californians may experience a better relationship with the company than customers in other states.
USAA
USAA tends to be one of the cheapest insurance companies. The brand is only open however to military members and their families. The company generally maintains a strong record of customer service for its members across all of it's insurance products including car insurance. USAA may be great for military members, especially if they want to bundle their home and auto policies together.
The Cost of Homeowners Insurance in California Cities
As is the case of renters and auto insurance, home insurance prices change city to city. San Franciscans have to deal with more earthquakes, while those in other parts of the state will deal with flooding, landslides, and wildfires. The point being, certain cities are more prone to disaster than others, so their average price will reflect that. Here are some of California's largest cities and how they rank for homeowners insurance.
Homeowners Insurance in Los Angeles
Los Angeles has homeowners rates several hundred dollars greater than the state average we found. Considering Los Angeles has been called a "top 10 world city for disasters" it shouldn't be a surprise that homeowner insurance rates will be higher here than most other cities in the Golden State. Homeowners should look toward Mercury, Grange Insurance and State Farm for the cheapest rates.
Homeowners Insurance in San Francisco
San Francisco is another area that can be frequented by natural perils that may destroy a home. San Franciscans do enjoy an average price significantly lower than Los Angelinos however. A $250,000 home policy averaged about $876 per year. The cheapest companies were Mercury, Travelers and Safeco.
Homeowners Insurance in San Diego
The state's largest southern city, homeowner insurance rates in San Diego tend to be slightly above the state average, but significantly less expensive than Los Angeles. The city average was about $718 per year, with the top three companies being Mercury, Travelers and Safeco. Rates at Mercury were nearly half as expensive as the city average.
Homeowners Insurance in Oakland
The cross-river neighbor to San Francisco, Oakland is only $2 more expensive, or $878 per year, for a homeowners policy worth $250,000. Like in the cities we discuss above, Mercury, Travelers and Safeco were the cheapest insurers a homeowner could go with.
Santa Maria, CA
Santa Maria has some of the best home insurance rates in California. This city of 100,000 residents is located in Santa Barbara County, sometimes referred to as "Wine Country". True to the area's nickname, Santa Maria produces over 20 different varieties of wine annually. The Santa Maria Valley has also been a filming site for some of Hollywood's biggest blockbusters, including the Pirates of the Caribbean. If you take a look at the homeowners insurance premiums you may think you had a little too much to drink – though, in reality, costs here are low. For our benchmark property, the average cost of insuring a home in Santa Maria was $573 annually – 23% better than the typical California home.
San Luis Obispo, CA
San Luis Obispo is a city of 45,000 residents, located on the Central Coast. The city is the home of the Madonna Inn – a motel made famous by its eccentricity. Throughout the year, San Luis Obispo celebrates a number of different festivals, including the Mozart festival, the San Luis Obispo International Film Festival, and the Plein Air Festival. These events bring various performers and artists to the city, in order to entertain the residents and visitors. Outside of festivals, those in San Luis Obispo can feast their eyes on the city's low home insurance premiums. The sample home in our study averaged an annual homeowners insurance price of $580 – making it the second cheapest in the state.
Lompoc, CA
Lompoc, a city in Santa Barbara County, had the third lowest home insurance rates in California. The Vandenberg Air Force Base is located in the city, and is a major component of its economy. More recently, Lompoc's economy has also been positively impacted by a mini-tourism boom. Visitors to Lompoc might be enticed to stay permanently, when they see the low costs of insuring a home in the city. The property we examined in this study averaged an insurance price of $585 per year.
Santa Barbara, CA
Santa Barbara, the county seat and namesake of Santa Barbara County, is a popular tourist and resort destination along the Central Coast of California. The county as a whole generates an estimated $1.4 billion from tourists each year. Outside of this industry, the University of California, Santa Barbara is located here – it serves as the city's top employer. Home insurance rates in Santa Barbara are among the best in all of California. Our benchmark home was typically quoted $598, which is 23% more affordable than the statewide average.
Paso Robles, CA
Rounding off our list of cheapest homeowners insurance prices in California is Paso Robles. The city traces its origins back to 1889. All the way through the 1980s, Paso Robles had fewer than 10,000 residents.  It experienced a population boom in the 1990s, and today the city houses over 30,000 inhabitants. One thing which isn't growing in Paso Robles is the price of home insurance. The average price of a homeowners insurance policy here, for our model property, was $605 annually.
Compton, CA
Located south of downtown Los Angeles, Compton is a city of almost 100,000 people. Compton is one of the oldest cities in California – it was the 8th city to be incorporated into the Union back in 1888. More recently, Compton has been known to many around the world as the birthplace of Gangsta Rap. Many recording artists from the genre came "Straight Outta Compton", including N.WA., Dr. Dre, and Kendrick Lamar. Our study revealed home insurance rates in Compton to be well above the state norm. The mean cost of insuring a home for $200,000 in this city would typically cost $958.
Palmdale, CA
Our study revealed Palmdale to have the third highest home insurance prices in all of California. The average 1-year homeowners policy, for our benchmark home, cost $950 – 23% more expensive than the typical California rate. A large sector of Palmdale's economy is centered on the aerospace industry. Lockheed Martin and Northrop Grumman, two aerospace and defense technology companies, serve as the city's biggest employers. Between the two, close to 6,000 residents work there.
Lancaster, CA
Lancaster is a charter city with a population of almost 170,000. It is part of a twin city complex, along with Palmdale – another city on our list of most expensive places for homeowners insurance in California. To that end, Lancaster has similarly priced home insurance policies as Palmdale. The average price for standard coverage, spanning a year, is $945. Lancaster has been the home of many famous residents, including Golden Globe winning actress Judy Garland.
Average Cost of Homeowners Insurance in California: by City
Across the cities and towns we surveyed, we found the average price of homeowners insurance in California to be $762 for a $250,000 home. However, significant variation existed from city-to-city. Below you will find all the cities in our study, listed from cheapest to most expensive. The number to the right of each city represents its average annual premium.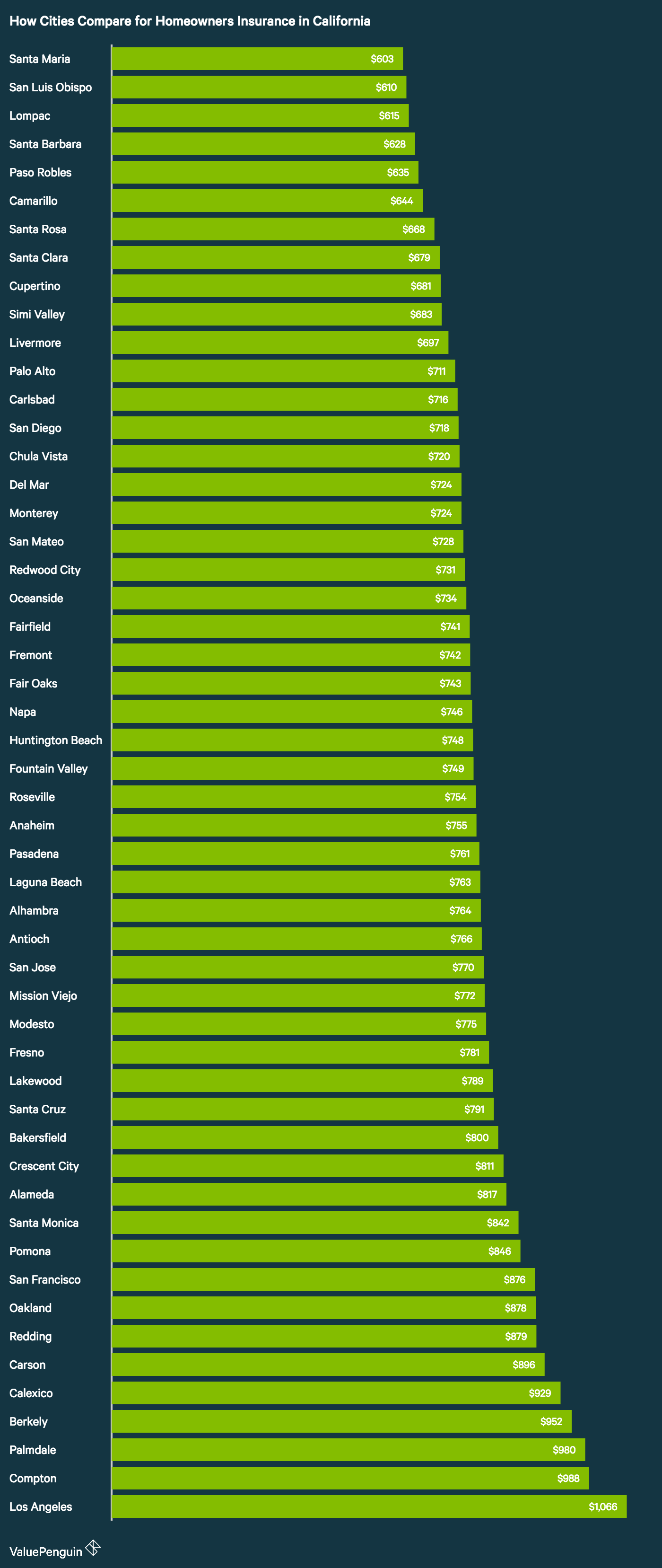 Should You Have Earthquake Insurance in California?
Californians should most likely have earthquake insurance if they live in a high risk area. Areas in the Bay Area and along the coast of the state are within the San Andreas fault line which produces numerous earthquakes every year. Scientists are also warning that the state is due for a large scale earthquake within the next 50 years. Still, only 17% of Californians actually have earthquake insurance. Companies do not include earthquake damage in a standard homeowners policy, so if your home were to be damaged in an earthquake with any of the policies we talk about above, you wouldn't be covered.
How Much Does Earthquake Insurance Cost in California?
We compiled a few quotes for the same type of household but for an earthquake insurance policy. We found that the average earthquake policy in some of California's largest cities could be $728, which would nearly double the premiums you pay to cover your home. We found some companies to be a bit cheaper however. As well, some companies like State Farm and Farmers do not offer earthquake policies themselves but go through the California Earthquake Authority. You should compare whether going with any of the following companies will be less or more expensive than going with a CEA policy.
| Company | Yearly Rate for Earthquake Insurance |
| --- | --- |
| Horace Mann | $374 |
| AIG | $375 |
| Grange | $465 |
| Amica | $609 |
| Travelers | $639 |
How We Got Our Numbers
We got the prices for both the homeowners and earthquake quotes from the California Insurance website where they have an interactive tool to find insurance quotes for homes in certain cities. Our prices reflect numbers for a $250,000 and $750,000 home that was built 7 to 15 years ago. To get our data on the companies themselves, we used the J.D. Power 2016 study on home insurance companies, as well as our own personal qualitative research.
| | | | |
| --- | --- | --- | --- |
| Rank | City | Average Premium | vs State Average |
| 181 | Adelanto | $852 | 10% |
| 134 | Alameda | $787 | 2% |
| 80 | Alhambra | $734 | -5% |
| 106 | Altadena | $757 | -2% |
| 180 | Alturas | $851 | 10% |
| 70 | Anaheim | $725 | -6% |
| 84 | Antioch | $736 | -5% |
| 142 | Azusa | $796 | 3% |
| 117 | Bakersfield | $770 | 0% |
| 113 | Baldwin Park | $764 | -1% |
| 153 | Banning | $810 | 5% |
| 182 | Barstow | $857 | 11% |
| 203 | Bell | $891 | 15% |
| 138 | Bellflower | $790 | 2% |
| 200 | Berkeley | $890 | 15% |
| 208 | Big Bear Lake | $898 | 16% |
| 154 | Bishop | $811 | 5% |
| 37 | Buena Park | $702 | -9% |
| 185 | Burbank | $862 | 11% |
| 210 | Calexico | $899 | 16% |
| 7 | Camarillo | $614 | -21% |
| 14 | Campbell | $654 | -15% |
| 213 | Canoga Park | $906 | 17% |
| 179 | Canyon Country | $850 | 10% |
| 19 | Carlsbad | $686 | -11% |
| 65 | Carmichael | $721 | -7% |
| 187 | Carson | $866 | 12% |
| 195 | Cathedral City | $883 | 14% |
| 125 | Cerritos | $781 | 1% |
| 205 | Chatsworth | $893 | 15% |
| 148 | Chico | $808 | 4% |
| 126 | Chino | $781 | 1% |
| 114 | Chino Hills | $767 | -1% |
| 20 | Chula Vista | $690 | -11% |
| 88 | Clovis | $740 | -4% |
| 145 | Colton | $800 | 3% |
| 164 | Colusa | $827 | 7% |
| 221 | Compton | $958 | 24% |
| 38 | Concord | $703 | -9% |
| 144 | Corona | $799 | 3% |
| 48 | Costa Mesa | $711 | -8% |
| 124 | Crescent City | $781 | 1% |
| 172 | Culver City | $837 | 8% |
| 12 | Cupertino | $651 | -16% |
| 36 | Daly City | $702 | -9% |
| 21 | Davis | $693 | -10% |
| 22 | Del Mar | $694 | -10% |
| 132 | Delano | $786 | 2% |
| 198 | Desert Hot Springs | $887 | 15% |
| 28 | El Cajon | $698 | -10% |
| 202 | El Centro | $890 | 15% |
| 94 | El Segundo | $744 | -4% |
| 26 | Encinitas | $696 | -10% |
| 45 | Escondido | $708 | -8% |
| 107 | Eureka | $758 | -2% |
| 53 | Fair Oaks | $713 | -8% |
| 49 | Fairfield | $711 | -8% |
| 89 | Fallbrook | $740 | -4% |
| 31 | Folsom | $699 | -10% |
| 140 | Fontana | $793 | 3% |
| 63 | Fountain Valley | $719 | -7% |
| 51 | Fremont | $712 | -8% |
| 102 | Fresno | $751 | -3% |
| 25 | Fullerton | $695 | -10% |
| 62 | Garden Grove | $719 | -7% |
| 184 | Gardena | $860 | 11% |
| 161 | Glendale | $825 | 7% |
| 123 | Glendora | $780 | 1% |
| 167 | Grass Valley | $834 | 8% |
| 93 | Hanford | $744 | -4% |
| 186 | Hawthorne | $863 | 12% |
| 104 | Hayward | $754 | -3% |
| 135 | Hemet | $789 | 2% |
| 150 | Hesperia | $808 | 4% |
| 73 | Hollister | $727 | -6% |
| 61 | Huntington Beach | $718 | -7% |
| 214 | Huntington Park | $907 | 17% |
| 189 | Indio | $870 | 13% |
| 216 | Inglewood | $920 | 19% |
| 60 | Irvine | $717 | -7% |
| 174 | Jamestown | $840 | 9% |
| 39 | La Habra | $704 | -9% |
| 128 | La Puente | $782 | 1% |
| 79 | Laguna Beach | $733 | -5% |
| 85 | Laguna Niguel | $737 | -5% |
| 165 | Lake Elsinore | $832 | 8% |
| 76 | Lake Forest | $730 | -6% |
| 178 | Lakeport | $850 | 10% |
| 56 | Lakeside | $716 | -7% |
| 109 | Lakewood | $759 | -2% |
| 219 | Lancaster | $945 | 22% |
| 211 | Lewiston | $900 | 16% |
| 116 | Lincoln | $768 | -1% |
| 15 | Livermore | $667 | -14% |
| 3 | Lompoc | $585 | -24% |
| 98 | Long Beach | $749 | -3% |
| 222 | Los Angeles | $1,067 | 24% |
| 191 | Loyalton | $875 | 13% |
| 118 | Madera | $771 | 0% |
| 175 | Mammoth Lakes | $840 | 9% |
| 159 | Mariposa | $823 | 6% |
| 207 | Markleeville | $897 | 16% |
| 162 | Marysville | $825 | 7% |
| 108 | Mckinleyville | $758 | -2% |
| 74 | Merced | $728 | -6% |
| 96 | Mill Valley | $748 | -3% |
| 91 | Mission Viejo | $742 | -4% |
| 95 | Modesto | $745 | -4% |
| 99 | Monrovia | $749 | -3% |
| 121 | Montebello | $776 | 0% |
| 23 | Monterey | $694 | -10% |
| 100 | Monterey Park | $749 | -3% |
| 149 | Moreno Valley | $808 | 4% |
| 137 | Murrieta | $790 | 2% |
| 57 | Napa | $716 | -7% |
| 24 | National City | $694 | -10% |
| 54 | Newport Beach | $714 | -8% |
| 215 | Northridge | $910 | 18% |
| 158 | Norwalk | $818 | 6% |
| 194 | Oakland | $882 | 14% |
| 40 | Oceanside | $704 | -9% |
| 127 | Ontario | $782 | 1% |
| 41 | Orange | $705 | -9% |
| 169 | Orland | $836 | 8% |
| 6 | Oxnard | $606 | -22% |
| 188 | Pacific Palisades | $866 | 12% |
| 42 | Pacifica | $706 | -9% |
| 209 | Pacoima | $898 | 16% |
| 220 | Palmdale | $950 | 23% |
| 17 | Palo Alto | $681 | -12% |
| 90 | Palos Verdes Peninsula | $741 | -4% |
| 197 | Panorama City | $886 | 15% |
| 77 | Pasadena | $731 | -5% |
| 5 | Paso Robles | $605 | -22% |
| 166 | Perris | $833 | 8% |
| 18 | Petaluma | $681 | -12% |
| 141 | Pico Rivera | $794 | 3% |
| 192 | Pioneer | $877 | 13% |
| 46 | Placentia | $710 | -8% |
| 151 | Placerville | $808 | 4% |
| 157 | Pomona | $816 | 6% |
| 218 | Porter Ranch | $932 | 20% |
| 83 | Porterville | $736 | -5% |
| 52 | Poway | $712 | -8% |
| 193 | Quincy | $878 | 13% |
| 115 | Ramona | $767 | -1% |
| 120 | Rancho Cucamonga | $774 | 0% |
| 87 | Rancho Palos Verdes | $739 | -4% |
| 173 | Red Bluff | $838 | 8% |
| 177 | Redding | $849 | 10% |
| 122 | Redlands | $777 | 0% |
| 78 | Redondo Beach | $732 | -5% |
| 33 | Redwood City | $701 | -9% |
| 103 | Reedley | $751 | -3% |
| 217 | Reseda | $921 | 19% |
| 111 | Richmond | $761 | -2% |
| 119 | Ridgecrest | $772 | 0% |
| 131 | Riverside | $785 | 2% |
| 105 | Rosemead | $754 | -3% |
| 67 | Roseville | $724 | -6% |
| 196 | Running Springs | $886 | 15% |
| 82 | Sacramento | $532 | -5% |
| 34 | Salinas | $701 | -9% |
| 163 | San Bernardino | $826 | 7% |
| 81 | San Clemente | $734 | -5% |
| 16 | San Diego | $728 | -12% |
| 204 | San Francisco | $876 | 15% |
| 44 | San Jose | $708 | -8% |
| 2 | San Luis Obispo | $580 | -25% |
| 43 | San Marcos | $706 | -9% |
| 29 | San Mateo | $698 | -10% |
| 152 | San Pedro | $810 | 5% |
| 86 | San Rafael | $738 | -5% |
| 75 | Santa Ana | $729 | -6% |
| 4 | Santa Barbara | $598 | -23% |
| 10 | Santa Clara | $649 | -16% |
| 170 | Santa Clarita | $836 | 8% |
| 110 | Santa Cruz | $761 | -2% |
| 1 | Santa Maria | $573 | -26% |
| 155 | Santa Monica | $812 | 5% |
| 8 | Santa Rosa | $638 | -17% |
| 27 | Seaside | $697 | -10% |
| 13 | Simi Valley | $653 | -16% |
| 176 | Sonora | $842 | 9% |
| 201 | South Gate | $890 | 15% |
| 160 | South Lake Tahoe | $824 | 7% |
| 35 | Spring Valley | $702 | -9% |
| 68 | Stanton | $725 | -6% |
| 97 | Stockton | $749 | -3% |
| 64 | Suisun City | $720 | -7% |
| 11 | Sunnyvale | $651 | -16% |
| 190 | Susanville | $873 | 13% |
| 212 | Sylmar | $905 | 17% |
| 130 | Temecula | $784 | 1% |
| 71 | Temple City | $726 | -6% |
| 9 | Thousand Oaks | $642 | -17% |
| 72 | Torrance | $726 | -6% |
| 101 | Tracy | $750 | -3% |
| 69 | Turlock | $725 | -6% |
| 47 | Tustin | $710 | -8% |
| 168 | Twentynine Palms | $836 | 8% |
| 129 | Ukiah | $783 | 1% |
| 92 | Union City | $742 | -4% |
| 136 | Upland | $789 | 2% |
| 50 | Vacaville | $712 | -8% |
| 58 | Vallejo | $716 | -7% |
| 171 | Valley Springs | $836 | 8% |
| 206 | Van Nuys | $895 | 16% |
| 146 | Victorville | $806 | 4% |
| 66 | Visalia | $721 | -7% |
| 32 | Walnut Creek | $699 | -10% |
| 139 | Wasco | $791 | 2% |
| 112 | Watsonville | $764 | -1% |
| 133 | West Covina | $787 | 2% |
| 59 | Westminster | $716 | -7% |
| 143 | Willits | $797 | 3% |
| 30 | Woodland | $698 | -10% |
| 199 | Woodland Hills | $890 | 15% |
| 55 | Yorba Linda | $714 | -8% |
| 183 | Yreka | $857 | 11% |
| 147 | Yuba City | $806 | 4% |
| 156 | Yucaipa | $815 | 5% |
Comments and Questions