Who Has The Cheapest Car Insurance Rates In Tampa?
Nicknamed the 'Cigar City', Tampa is known for its warm climate and beachy lifestyle. While they do have public transportation downtown in the form of The TECO Line Streetcar, the majority of residents in Tampa get around town using their automobile. And if you're insuring your vehicle in the Tampa, FL area you'll be incurring one of the most expensive insurance rates in the state...second only to Jacksonville and Miami. 
The study we conducted shows the disparity between rates in different parts of the Tampa area. Depending on which part of town you live in and what company you decide to insure your car with, the insurance premiums can vary widely. Because of this we always recommend that consumer shop around for multiple quotes. Below you can begin shopping for your auto insurance by entering your zip code and finding the best rates in the Tampa area, or you can continue reading the study for a deeper look into the cost of car insurance in Tampa, FL.
Cost of Car Insurance in Select Tampa Neighborhoods
We sampled 3 different zip codes/areas of the Tampa metro area to give our readers a good indication of what they might expect from rates in their part of town. Included in the study were New Tampa (33647), Downtown Tampa (33605), and South Tampa (33611). While this doesn't comprise each and every zip code in the city, rates in and around these areas will be similar and can be used as a proxy for rates in your town. Here's a look at average car insurance rates in Tampa for each area:

The correlation between larger and denser urban areas being more expensive holds true in Tampa as residents in the Downtown area pays a 15-18% premium versus both New Tampa and South Tampa.
New Tampa Car Insurance Rates
New Tampa is a 24 sq/mi area in the northern part of the city, and according to the City of Tampa, has accounted for over 50% of Tampa's growth in recent years. In regards to its auto insurance premiums, residents of areas in and around New Tampa are looking at an average annual insurance premium of $1,675 on their automobiles. If you're a 30 year-old, single male you can expect your average premium to range between $68 and $226 per month, married couples at 60 years are looking at rates of $79 to $191 monthly, and 21 year-old, single females can expect to pay between $100 and $293.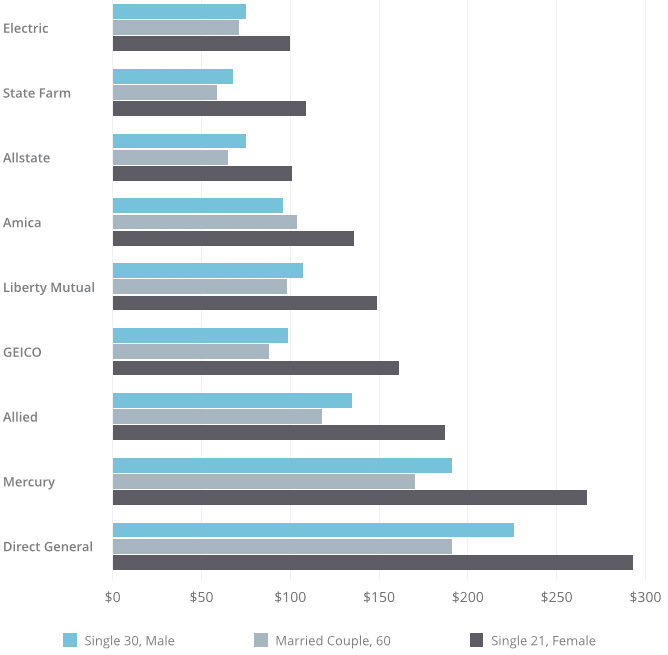 Downtown Tampa Car Insurance Rates
Tampa's flourishing business district is home to around 7,000 residents despite it's small size (0.8 sq/mi). City-dwellers living downtown can expect the highest car insurance rates for any part of the city at an average of $1,924 per year or $160 per month. 30 year-old, single men can expect monthly premiums between $79 and $259 per month, a married couple in their 60's will pay between $71 and $216 monthly, and young, single female will have the largest premium variation and can expect to pay between $100 and $332 each month.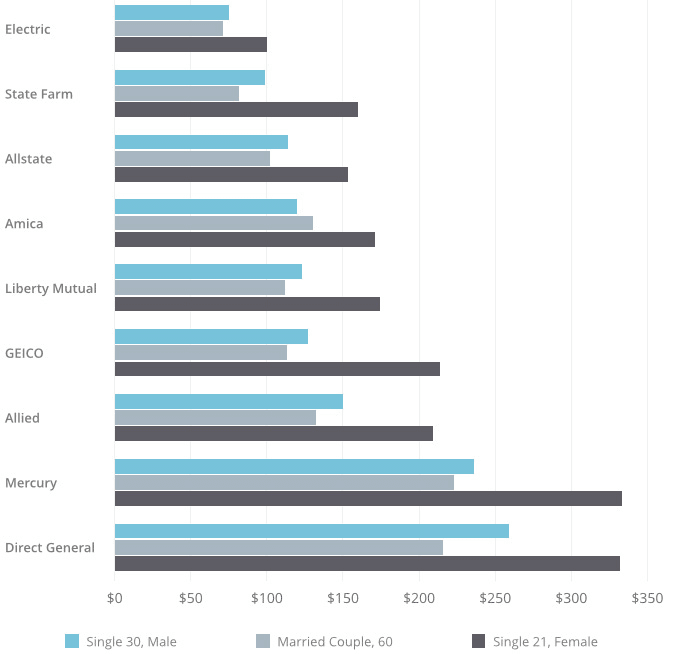 South Tampa
Bordered by Tampa Bay to the east and Hillsborough Bay to the west, South Tampa's insurance rates are more expensive than New Tampa but significantly cheaper than those in Downtown Tampa. The average insurance rate across demographics for South Tampa is $1,605 per year or $133 per month. 30 y/o single males will pay somewhere between $75 and $210, married 60 year olds will pay in the range of $71 to $175 per month, and 21 year old females can expect to shell out $100 to $270 each month.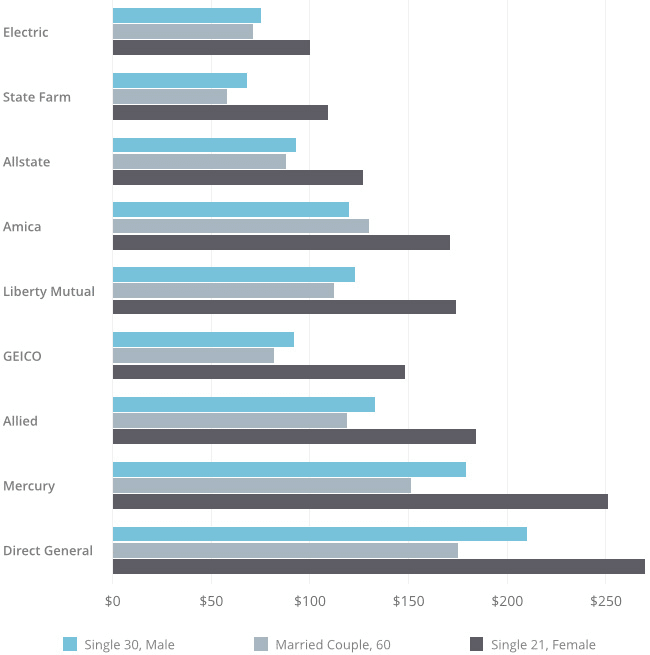 Cheapest Auto Insurance Companies in Tampa
Based on our data, the three best auto insurers with the lowest premiums were Electric Insurance, State Farm and Allstate. Rates were sampled across all three demographics (Single Male, 30; Married Couple, 60; and Single Female, 21). The average annual insurance premium across demographics for these three inexpensive insurers in Tampa was $1,096.
Most Expensive Insurer in Tampa
On the other end of the spectrum are the three most expensive auto insurers we sampled for the Tampa area. From most expensive to least expensive they are, Direct General, Mercury Inurance and Allied Insurance. Like we did with all rates, samples were taken across all three demographics mentioned above. The average annual insurance premium across demographics for the three priciest auto insurers was $2,462.
Best Auto Insurance Rates in Tampa by Company
| | | |
| --- | --- | --- |
| Rank | Company | Annual Premium |
| 1 | Electric Insurance | $984 |
| 2 | State Farm | $1,083 |
| 3 | Allstate | $1,224 |
| 4 | GEICO | $1,499 |
| 5 | Liberty Mutual | $1,563 |
| 6 | Amica | $1,571 |
| 7 | Allied Insurance | $1,823 |
| 8 | Mercury Insurance | $2,668 |
| 9 | Direct General | $2,896 |
Above rates are annual averages from the three demographic profiles we sampled
Average Cost of Tampa Auto Insurance by Demographic
Earlier, we looked at the average cost of insurance across all demographics in each of our three areas in Tampa. Now let's take a look at the average car insurance rates city-wide across the three separate demographics we've been sampling. It's clear than young, single women will be paying more than the other age groups. Their annual premium is 55% higher than an older married couple would pay and 40% higher than a 30 year old single male can expect to spend.

Motor Vehicle Theft in Tampa
Motor vehicle theft is always a concern for car owners regardless of where you live. Obviously in urban areas the odds of having your car stolen is greater than in gated communities, for example, but theft is a real and persistent threat nonetheless. In Tampa, the FBI reports that there were 838 motor vehicle thefts in 2010. Given Tampa's 2010 population of 347,830 residents, this works out to be 2.41 vehicle thefts per 1,000 residents. The average theft figure per thousand residents across the entire state of Florida is 2.67 making Tampa slightly safer in regards to auto thefts. Let's take a look at how other Florida cities fared in the table below:
| | | | |
| --- | --- | --- | --- |
| City | Population | Car Thefts | Thefts per 1,000 |
| Jacksonville | 822,414 | 1,973  | 2.40  |
| Miami | 440,482  | 2,449  | 5.56  |
| Tampa | 347,830  | 838  | 2.41  |
| St. Petersburg | 243,666  | 1,236  | 5.07  |
| Orlando | 240,222  | 1,193  | 4.97  |
As the graph shows, compared to other large cities in the state of Florida, Tampa's car theft numbers are rather impressive. They are less than half of what the auto crime statistics are in Miami, St. Petersburg, and Orlando.
Methodology
Sample auto insurance rates were obtained for three driver profiles from 9 underwriters that operate in the city of Tampa, FL.
Insurance policies were sample with the mandatory minimum liability limits for Tampa of $10k / $20k Bodily Injury and $10k Property Damage. Further, the rates were obtained assuming a driver is currently insured, has excellent credit, has no tickets or accidents in the past 5 years, and drives 10-15,000 miles per year.
Our demographic profiles include a 30 year-old male who is single, a 60 year-old married couple, and a 21 year-old single female, all driving a 2010 Ford Taurus.
Surveyed auto insurance costs in Tampa are for illustrative purposes only. Consumers' actual quotes will differ based on their physical residence, driving history, vehicle, and other factors.
Comments and Questions