Best Car Insurance Rates in Jacksonville
Jacksonville is the largest city (by area) in the entire country meaning residents are used to driving in order to get around town. So to help determine what auto insurance costs in your part neighborhood we analyzed rates across Jacksonville and have presented our findings below. As you'll see, even on a city level rates can vary just based on which neighborhood you live in!
Cost of Car Insurance in Select Jacksonville Neighborhoods
Our research into the car insurance prices in Jacksonville looked at 11 neighborhoods scattered throughout the city. In our study we included the following neighborhoods: Arlington, Avondale, Downtown, Eastside, Mandarin, Northside, Northwest, Ortega, San Marco, Southside, and Westside. The average car insurance rate in Jacksonville was $1,281. With only $105 separating the cheapest and most expensive cities, Jacksonville had some of the most consistent rates that we've seen in any US city.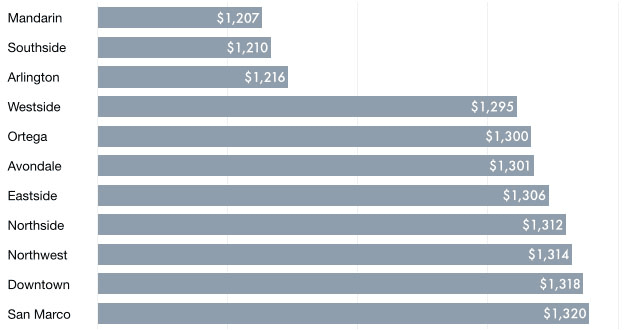 Find the Cheapest Auto Insurance Quotes in Your Area
Most Expensive Areas
San Marco
Located across the St. John's River just south of downtown Jacksonville, San Marco had the most expensive car insurance premiums of any city we looked at in the area. Annual premiums were around $1,320 which works out to $110 per month.
Downtown
Jacksonville's business district, the downtown area sits on the northern banks of the St. John's River. Like most downtown areas, Downtown Jacksonville is the most population dense area in the city and it's insurance rates reflect that. Citizens living downtown will pay $1,318 per year on average for auto coverage.
Least Expensive Areas
Mandarin
Thirty minutes south of downtown Jacksonville is where you'll find the quaint town of Mandarin, FL (named after the orange). Mandarin had the cheapest auto insurance rates of any neighborhood in Jacksonville that we looked at. Annual rates were more than $100 cheaper than San Marco at $1,207 per year.
Southside
Also known as South Jacksonville, Southside is one of the larger areas in all of Jacksonville. Car insurance premiums in Southside were the 2nd cheapest in the city, only a few dollars more expensive than in Mandarin. 
Map of Neighborhoods
Our map shows you where Jacksonville's neighborhoods stack up and where they're located. Number one is the cheapest part of town while number eleven is the most expensive. The two most expensive neighborhoods in Jax are more urban while the cheaper neighborhoods tend to skew more suburban.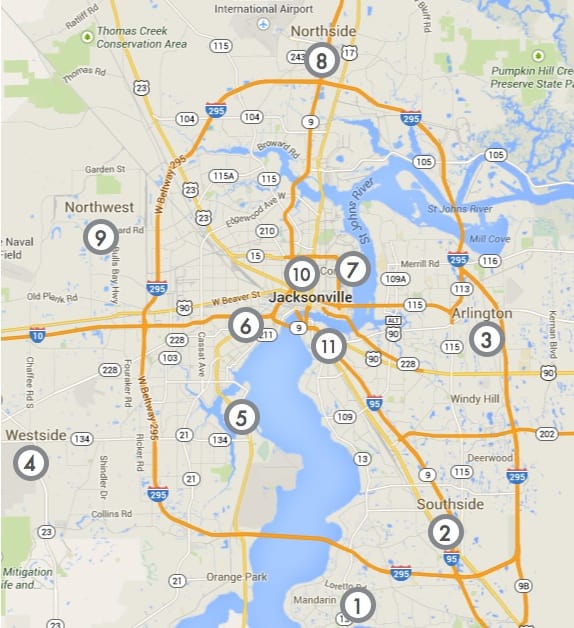 Best Auto Insurance Rates in Jacksonville
In our study, we looked at rates from 10 top auto insurers to show you a wide range of premiums and companies. USAA came in as the cheapest but is only available to members of the military (or military families). Next cheapest was Allstate which is available to all drivers. Direct General holds the notorious distinction of being the most expensive in Jacksonville at $2,371 annually.

Most Expensive Insurer in Jacksonville
Direct General - The auto insurance rates at Direct General were almost twice the Jacksonville average. With a city-wide average of $2,372 drivers may be better of looking at other insurance companies in Jacksonville.
Cheapest Auto Insurance Company in Jacksonville
Allstate - Although USAA is technically the cheapest, its insurance products aren't available to everyone. In this case, Allstate is our cheapest insurance company in Jacksonville with average annual rates of $1,035. 
Auto Theft Statistics in Florida
Regarding car theft in the Sunshine State, Jacksonville rates very favorably. Even though it's the largest city in the state, Jacksonville only saw 1,639 stolen cars in 2012, or 199 per 100k automobiles. As a point of comparison, the 2nd largest city in the state (Miami) saw 240% more stolen cars Jacksonville.
| | | | |
| --- | --- | --- | --- |
| City | Population | Car Thefts | Thefts per 100,000 |
| Miami | 399,457 |  2,711 | 678.7 |
| Orlando | 238,300 |  1,304 | 547.2 |
| St. Petersburg | 244,769 |  876 | 357.9 |
| Fort Lauderdale | 165,521 |  590 | 356.5 |
| Hialeah | 224,669 |  737 | 328.0 |
| Tallahassee | 181,376 |  524 | 288.9 |
| Jacksonville | 821,784 |  1,639 | 199.4 |
| Tampa | 335,709 |  607 | 180.8 |
The Methodology
Sample auto insurance premiums assume our driver is a 30 year old single male owning his own vehicle, has excellent credit, and purchases basic liability coverage, slightly above what is required by the state of Florida. The man drives a 2010 Toyota Camry and puts between 10-15k miles per year on the car which is primarily used for commuting to and from work. Additionally, the driver has no moving violations or accidents in the past 5 years.
Surveyed auto insurance costs in the city of Jacksonville are for illustrative purposes only and actual quotes will vary based on your physical residence, driving history, and other factors.
Comments and Questions