USAA Auto Insurance
USAA Auto Insurance
Find the Cheapest Insurance Quotes in Your Area
 Pros
Very affordable insurance rates
Excellent customer service
Speedy claims adjustment and approval
 Cons
Only available to military members, select government agencies, and their families
All communication done on the phone or online. No local representatives
USAA Auto Insurance Rate Comparisons
In the table below we'll take a look at sample rates for specific demographics across 50 individual car insurance companies: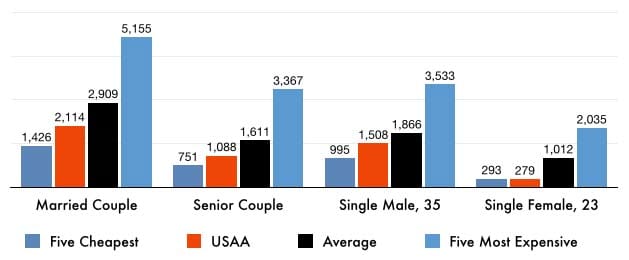 In sample rate comparisons in New Jersey, USAA ranked in the cheaper half of auto insurers across all demographics. And while being somewhat more expensive than our 'Five Cheapest' auto insurers in the first three demographics, USAA was one of the cheapest overall for young, single females. Because of the variability of rates when it comes to car insurance we always suggest that our readers shop for multiple quotes to ascertain that they're getting the best deal in their area. You can begin this comparison process by entering your zip code in the form below and beginning to obtain quotes from auto insurers that operate in your city.
Find the Cheapest Auto Insurance Quotes in Your Area
USAA Auto Insurance Policy & Coverage
USAA is a great insurance company with competitive and low car insurance rates to consider for members of the military forces and their families. It has some of the best quotes for this community, and wins great reviews from its policyholders and other companies alike. In fact, it's our top pick for best auto insurance company for military members.
Eligibility and Membership
Prospective policyholders must be affiliated with the military: active, retired, or honorably separated members of the armed forces; veterans; candidates in commissioning programs such as ROTC or Officer Training / Candidate School; widows and former spouses of USAA members; and adult children of USAA members. On top of their attractive rates, USAA offers car insurance discounts in recognition of the armed forces members' service. Drivers who store their car in a military base can get savings of 15% on their comprehensive coverage in most states. 
The USAA Community
The insurer is more than just an insurance company though. One of the nicest features about USAA is its effort to create and nurture the community of military individuals and their families. Having a policy is referred to as membership. On its website, USAA hosts several community forums to support military spouses and veterans. Members can even ask questions of a USAA financial planner, who has experience in advising military members. 
Members also have access to a slew of financial services products created with military personnel in mind. Home, property, life, and health insurance are offered by USAA. Retirement and long-term care planning? USAA has solutions for that as well. Members needing banking services can look into the company's savings, checkings, and investing products as well.
Claims Process - Tops in the Industry
Customers have raved about the claims experience at USAA. In particular, the appraisal process and the fairness of the claim settlements have been ranked amongst industry leaders. This top-notch customer service has won over many USAA customers. And because USAA is a non-public company, their sole focus can be on keeping its policyholders happy through timely claims and courteous customer service. 
Insurer Ratings
| | |
| --- | --- |
| Metric | Rating |
| AM Best Financial Strength Rating (2013) | A++ |
| Better Business Bureau Rating (2013) | B+ |
| NAIC Complaint Index (2012) | 0.75 (Better than Average) |
| JD Power & Associates (2012, 2013) | 5 / 5 (Among the Best) |
| Complaint Ratio per Vehicle (NJ, 2012) | 4 / 216,664 (Better than Average) |
| Complaint Ratio per Vehicle (CA, 2011) | 3 / 415,936 (Very Good) |
USAA Auto Insurance Discounts
| | |
| --- | --- |
| Discount Type | Discount Amount |
| Airbag Discount | 6% - 9% |
| Anti-Theft Devices | 25% |
| Driver Training | 5% |
| Low Annual Mileage Driven | 1% - 24% |
| Car Storage on Military Base | 15% off comprehensive insurance |
Source: California Department of Insurance 2013 Survey, USAA 
How to File a Claim with USAA
Phone Number: 800-531-8722
Press 0
Press 1 for Insurance
Press 2 for Auto
About USAA Auto Insurance
Company website: www.usaa.com
USAA, short for the United States Automobile Association, offers a variety of services, from auto insurance to banking and investment services. The company started in 1922 from a group of army officers who decided to insure their own vehicles, and that strong tradition and roots in the military continues today. While the USAA provides car insurance policies for affiliated military members, it is not endorsed by any government agencies or departments. 
Among the insurance products sold by USAA are: home and property insurance (homeowners' insurance, renters' insurance, flood insurance, mobile home insurance, collectors' insurance), recreational insurance (motorcycle, ATV, boat, jet ski, motor home, and aviation insurance), life insurance, health insurance, as well as long-term care insurance, to name a few. 
Find the Cheapest Auto Insurance Quotes in Your Area
Data and information as of Aug 2013
Comments and Questions