Best Car Insurance Rates In Denver
The capital and largest city in the state of Colorado, Denver sits at the foothills of the Rocky Mountains at an elevation of 5,280+ feet above sea level (hence its nickname, The Mile High City). Like most of the nation, recent studies have shown that most Denver residents commute to and from work in their car while only a small percentage are taking public transportation, walking or riding their bikes. Because of this, the team at ValuePenguin wanted to take an in-depth look into the cost of auto insurance premiums in the Denver-area. This analysis of car insurance rates in Denver is meant to help drivers get a feel for how rates in their neighborhood compare to other parts of town. As our study shows, even in a relatively small geographic area like Denver car insurance prices can vary widely. Because of that, we always recommend that you look at multiple car insurance quotes before purchasing your policy. Input your zip code in our tool above to shop for quotes with different auto insurance companies that operate in Denver.
Cost of Car Insurance in Denver Neighborhoods
Our recent study of auto insurance premiums in the Denver-area looked at 14 different neighborhoods in the Mile-High City to help residents determine which parts of town offer the cheapest car insurance policies and which areas tend to be the most expensive. The neighborhoods we included in our analysis were: Belmar/Lakewood, Capitol Hill/Congress Park, Cherry Creek, East Colfax, Five Points, Golden, Highlands, Littleton, LoDo, RiNo, South Broadway, South Pearl, Stapleton/Northfield, and Uptown. Here is a list of all 14 cities listed in order from least to most expensive. The number on the graph represents the average annual insurance premium for the neighborhood: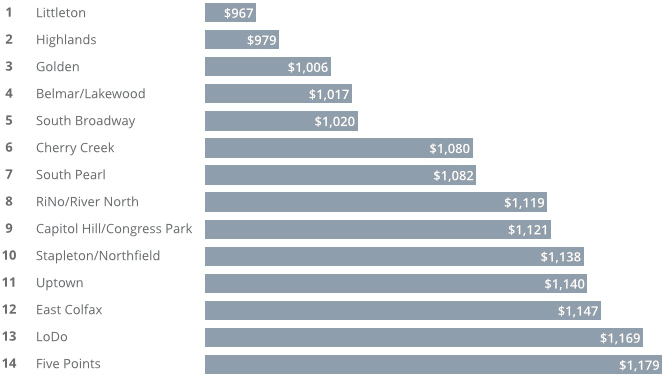 Most Expensive Neighborhoods
Five Points
One of Denver's oldest neighborhoods, Five Points sits just north of downtown. In this year's study of car insurance rates in Denver the area also happened to rank as the most expensive at $1,179 per year (9% higher than the Denver average and 22% higher than the cheapest neighborhood, Littleton).
LoDo
LoDo, aka Lower Downtown, is one of Denver's most exciting neighborhoods with plenty of bars, restaurants and entertainment options at your disposal. However, the population density of the area comes at a price. Auto insurance premiums in LoDo are the 2nd highest in Denver at $1,169 per month or $97 monthly. 
Least Expensive Neighborhoods
Littleton
Located in the southwestern part of Denver, Littleton is more relaxed and tranquil than many of the other neighborhoods closer to downtown. And because it has more wide open spaces than other parts of Denver its car insurance premiums are also lower as a result. Our research showed an annual average of $967 in Littleton.
Highlands
Merely a mile or so from the heart of Denver, Highlands is an up-and-coming neighborhood with a long running Hispanic heritage. Drivers in this hip new area are fortunate to enjoy one of the cheapest prices for insuring your car in the city. Average annual premiums in Highlands are $979 or 20% cheaper than the priciest neighborhood, Five Points
Best Car Insurance Companies in Denver
Our study analyzed seven auto insurance companies that offer policies inside of the Denver metropolitan-area. Those companies were: Allstate, American Family, California Casualty, Colorado Farm Bureau, GEICO, MetLife, and State Farm.

Most Expensive Auto Insurance Company
Colorado Farm Bureau
This race wasn't even close. Based on our analysis, Colorado Farm Bureau's rates were significantly higher than their competitors premiums (60% higher than the average). Additionally, their annual rates were more than double what was being offered by the online insurance provider, GEICO.
Cheapest Auto Insurance Company
GEICO
Looking for one of the cheapest companies with which to insure your vehicle in Denver? Look no further than GEICO whose rates were almost 30% lower than the Denver city-wide average. At $751 per year, GEICO customers in Denver are paying an average of only $63 per month. 
Automobile Crime in Colorado
While not at the top, Denver ranks towards the top in Colorado when it comes to the frequency of automobile theft. We looked at the eight largest metropolitan areas in Colorado as a point of comparison and Denver ranked 3rd in the state and 58th in the country, out of the 380 Metropolitan Statistical Areas (MSAs) that the Census Bureau acknowledges. 
| | | | |
| --- | --- | --- | --- |
| City | MSA Rank (out of 380 MSAs) | Car Thefts | Thefts per 1,000 |
| Pueblo | 48 | 516 | 321 |
| Colorado Springs  | 57 | 2,042 | 206 |
| Denver  | 58 | 8,014 | 303 |
| Grand Junction  | 209 | 208 | 141 |
| Greeley  | 239 | 328 | 124 |
| Boulder  | 295 | 278 | 91 |
| Fort Collins  | 316 | 252 | 81 |
*Data obtained from the National Insurance Crime Bureau (NICB) for 2012
Methodology
The sample quotes we obtained were for a 30 year old single male driving a Toyota Camry that he owns. His credit is excellent and he has opted for basic coverage by Colorado state standards. In a typical year, our driver drives between 10,000 and 15,000 miles in his vehicle which he uses to commute to and from work. Our driver has zero accidents or traffic incidents of record in the past five years. Finally, we looked at quotes from seven well-known auto insurance companies and averaged the 7 sample rates to come up with a city average. The companies we looked at were: GEICO, State Farm, Colorado Farm Bureau, MetLife, American Family, Allstate, and California Casualty.
Surveyed auto insurance costs in Denver, CO are for illustrative purposes only and actual quotes will vary based on your physical residence, driving history, and other factors.
Comments and Questions