We reviewed car insurance rates in Arizona to help our readers find the cheapest companies and the best rates in the state. Annual costs in the Grand Canyon state were found to be $635 or $53 monthly on average for our sample drivers' liability coverage. Costs varied city by city in Arizona, as well as company by company. For example, the most expensive city came in at 30% more than the state average while the cheapest city was 22% cheaper. Our sample drivers found that insuring with the most expensive company could pay for more than two years at the cheapest insurer in Arizona! Take a look at the results from our analysis, or input your zip code above to see which companies are quoting in your area:
Contents
Cheapest Car Insurance in Arizona
As part of our analysis, we looked at various companies operating in and throughout the state of Arizona. In the chart below we've ranked the six carriers out of the 14 with the lowest auto insurance rates for our four profiled Arizona drivers: two single men and two married couples, age 30 and 65.

Find the Cheapest Auto Insurance Quotes in Your Area
Based on our two sample drivers, we found that Auto-Owners, Ameriprise, Farmers and State Farm generally had the lowest rates in Arizona, and were cheaper than the state benchmark by about 26%. Depending on where in Arizona you may live, the cheapest companies and rates will be different. Type your zip code into the quote box to see which of the cheapest companies are available in your area. Below is a table of 14 Arizona auto insurers, ranked in the order of the cost for one year of insurance coverage, from lowest to highest, for our two male drivers with excellent driving records:
| Rank | Auto Insurance Company | Average Annual Rate |
| --- | --- | --- |
| 1 | Auto-Owners | $437 |
| 2 | Ameriprise | 476 |
| 3 | Farmers | 476 |
| 4 | State Farm | 503 |
| 5 | California Casualty* | 562 |
| 6 | Farm Bureau Mutual (IA Group) | 581 |
| 7 | Titan | 604 |
| 8 | Allstate | 605 |
| 9 | Safe Auto | 657 |
| 10 | Amica | 694 |
| 11 | Mercury | 737 |
| 12 | Kemper Specialty | 738 |
| 13 | MetLife | 772 |
| 14 | The General | 1,047 |
Cheapest Auto Insurance in Arizona: by City
How much you pay for auto insurance depends in large part on where you live and park your car in the Grand Canyon state. Generally speaking, the price of auto insurance is cheaper in more rural and less populated areas - this holds true for Arizona cities as well.
Out of the 47 cities we analyzed throughout Arizona, we found that the three of the five cheapest places were located in Mohave County. On the other hand, the five most expensive cities in AZ for auto insurance were all located in Maricopa County. Let's take a look at how much car insurance costs and what companies are the cheapest in each city.
Phoenix, AZ
The largest city in Arizona is also the second most expensive city to insure your car. Located in the Valley of the Sun, Phoenix is the most populated state capital in America. We also found that our sample drivers among the 1.5 million residents can find themselves paying $728 per year on average for the study's limits. 
Nevertheless, cheap car insurance in Phoenix can be found if you know where to look. In our analysis, we found that Farmers, Ameriprise, and State Farm had the lowest rates for our drivers compared to other insurers in our sample. Quotes at these three companies averaged about 30% - or $210 – lower than the city mean. If you are considering adding Arizona Farm Bureau into your comparison batch, note that the company charges 35 associate membership dues on top of your policy premium.

Tucson, AZ
With an estimated 350 days of sunshine a year, Tucson's placement in the Sun Corridor in Arizona is quite apt. In recent years, Tucson has built a reputation as a hotspot for optics and electrooptics manufacturing in Arizona. It's the second largest city in the state, but it doesn't rank among the most expensive. That's good news for our four sets of profiled Tucson motorists, who pay an annual cost of $599 to insure their cars here. 
For drivers looking to save more money, we recommend including Auto-Owners, Farmers, and Ameriprise when shopping for lower car insurance quotes. Our drivers insured with these affordable auto insurers in Tucson pay an average premium of $407, 32% cheaper compared to the state average. If you would like to consider more options, put State farm and the Arizona Farm Bureau onto your list, as we found them offering similarly cheap quotes, just around $500 a year. However, note that your Arizona Farm Bureau requires a membership, which will tack a $35 associate membership fee on top of your premiums.

Mesa, AZ
Located in the Sonoran Desert National Forest, Mesa, Arizona's third largest city, is home to 464,000 residents. The top employers are Banner Health System, Mesa Public Schools, and Boeing. Based on our study's auto insurance costs, our drivers in this city paid average annual premiums of $628. 
While the costs to insure their cars are cheaper than other Arizona cities on average, Mesa drivers could still save by going with Auto-Owners, Ameriprise, State Farm Farmers or Titan. We found these insurers offering even lower car insurance rates for our sample motorists, especially the top three cheapest insurers. Annual rates were reduced by over $162 a year compared to the Mesa average in our research.

Chandler, AZ
Chandler is bordered by Tempe, Mesa, Gilbert and Phoenix, making it one of the major suburbs of Phoenix. The city is known for its annual Ostrich Festival, which celebrates the history of ostrich farms in Chandler. In terms of auto insurance, Chandler is the second cheapest city with an average premium of $588 a year for the study's example motorists. 
The cheapest car insurers in Chandler are Auto-Owners, Farmers, and Ameriprise. These companies offered quotes around $466 for our sample drivers a year, which shaved more than $100 off our Chandler drivers' average. If you happen to be a nurse, firefighter, or teacher, also check out California Casualty, which exclusively covers car insurance for drivers of your profession, and was found to be the 5th cheapest here too! Single men should also add Titan to their possible list of insurers, as we found offer the most affordable rates at Titan specifically for our single male benchmark drivers.

Glendale, AZ
Located only 9 miles northwest of Downtown Phoenix, Glendale is the fifth largest city with a population of over 226,000 residents. Glendale ranked in the Grand Canyon State with the most expensive car insurance rates for our drivers; annual rates averaged $735 for our four drivers' liability protection, which was 16% higher than our state average. 
Nevertheless, we have found some ways to save for Glendale motorists. For some of the most affordable car insurance rates, Glendale drivers should take a look at Ameriprise, State Farm, and Farmers. Based on our study, Glendale motorists could see 24% lower rates when they insure with any one of these insurers. Single men should include Titan as a possibility, as our single male drivers found their Titan quotes to be around $516 a year, almost 30% lower than the Glendale average.

Best Auto Insurance Companies in Arizona
We gathered data from the Arizona Department of Insurance to rank the best car insurance companies in Arizona. We looked at each insurer's complaint ratio, a metric that allows consumers to compare different companies to see how satisfied drivers are with their service. The ratio compares a company's number of complaints for every 1,000 policies written. The smaller the number, the better the company is performing compared to its competitors. Of the cheapest companies mentioned above, Titan is the best ranked option, while State Farm, Farmers, and Ameriprise were in the middle.
| | |
| --- | --- |
| Company | Complaint Ratio |
| ANPAC | 0.00 |
| Travelers | 0.00 |
| Mutual of Enumclaw | 0.00 |
| Bankers Insurance | 0.00 |
| Chubb | 0.00 |
| Cincinnati Ins Co | 0.00 |
| Allied | 0.00 |
| Liberty Mutual | 0.00 |
| Encompass | 0.00 |
| Country Financial Insurance | 0.03 |
| Pekin Insurance | 0.04 |
| Esurance | 0.04 |
| Titan | 0.06 |
| Sentry | 0.07 |
| Mercury Insurance | 0.07 |
| USAA | 0.07 |
| GEICO | 0.08 |
| Acuity Insurance | 0.08 |
| Kemper | 0.08 |
| Progressive | 0.08 |
| Farmers | 0.08 |
| Arizona Automobile Insurance Company | 0.09 |
| State Farm | 0.09 |
| Hallmark Insurance | 0.09 |
| AssuranceAmerica | 0.10 |
| Allstate | 0.10 |
| Safeco | 0.12 |
| American Family | 0.13 |
| Safeway | 0.14 |
| Anchor General Insurance | 0.15 |
| National General | 0.20 |
| MAPFRE Insurance | 0.20 |
| 21st Century | 0.20 |
| Infinity Auto | 0.20 |
| Farm Bureau Mutual Insurance (Arizona Farm Bureau) | 0.21 |
| Ameriprise | 0.21 |
| Amica | 0.21 |
| The General | 0.22 |
| Electric | 0.22 |
| CSE Insurance | 0.22 |
| Omni Insurance | 0.22 |
| MetLife | 0.24 |
| Badger Mutual Insurance | 0.26 |
| CSAA Insurance | 0.28 |
| United Automobile | 0.29 |
| GAINSCO | 0.30 |
| Mendota | 0.31 |
| American Access Insurance | 0.33 |
| Western General Insurance Company | 0.35 |
| State Auto | 0.36 |
| SafeAuto | 0.36 |
| Pimero Insurance | 0.50 |
| Alpha Property & Casualty | 0.54 |
| Hartford | 0.85 |
Cost of Car Insurance: by City
Using our sample driver profiles, we found that while the statewide benchmark was $635 a year, costs by city ranged from $573 to $735 and costs by company even ranged from $437 to $1,047. Here's a peek at the entire list of cities we looked at as part of our study. We've listed the ten cities in order from least expensive to most expensive and the number in the chart is the annual auto insurance premium for the study's profiled motorists. Check out the graph below to see where your city ranks in Arizona: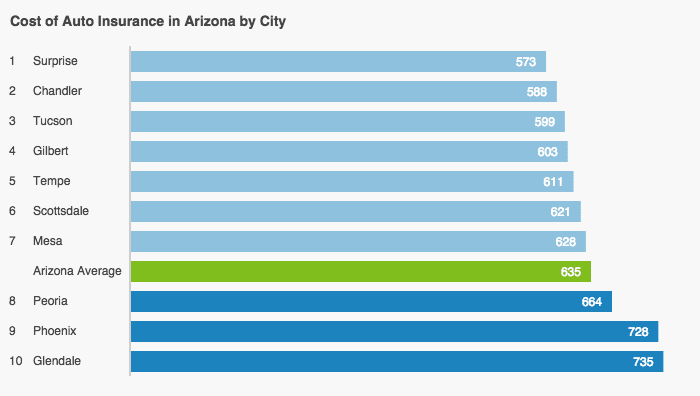 Methodology & Minimum Requirements in Arizona
To drive in Arizona, drivers must meet the state requirements and have liability car insurance coverage of at least $15/$30/$15. For our study, we chose a basic policy that has limits slightly higher than what the state required, with Uninsured Motorists Coverage of the same limits:
The quotes we obtained for the study were specific to our four profiled drivers for a 2010 Toyota Camry. Our drivers have good credit scores and clean driving history. They use their vehicles mainly to commute to work, averaging 15,000 in annual mileage. These are our benchmark drivers:
30 year-old, Single Male
30 year-old, Married Couple (two drivers)
65 year-old, Single Male
65 year-old, Married Couple (two drivers)
Our quotes were picked from the ten largest cities in the state, across 14 national auto insurance companies. Surveyed auto insurance costs in Arizona are for illustrative purposes only. Your actual quotes will vary based on your physical residence, driving history, and other factors. If your sole focus is low costs, the most important thing you can do is to obtain and compare a minimum of three quotes for the coverage you want.
Comments and Questions