Find the Cheapest Insurance Quotes in Your Area
Amica is a consistently well-rated auto insurance company by its customers and industry organizations. To learn more, read our review and quote comparisons below.
Amica Auto Insurance Quote Comparisons
This graph compares Amica's car insurance premiums to an industry average of fifty insurers, along with the cheapest five and most expensive five companies in the group.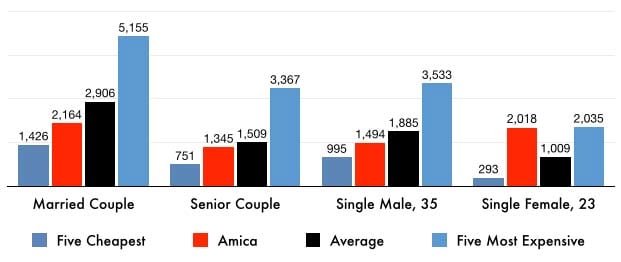 We analyzed and compared quote samples from Amica to major auto insurance companies in New Jersey to give consumers an idea of costs. Generally speaking, Amica's rates were cheaper than the overall average across the fifty insurers for most of the demographics we looked at, with the exception of young females. Using the example of a 23-year old female driver, rates at Amica are twice the industry average. The other driver profiles compare more favorably to the average, but are still roughly 57% above the lowest rates in the state. Because rates can vary so widely from state-to-state and across demographics, we always suggest that you obtain multiple quotes in order to determine what the cheapest rate is for your particular background. To see the top insurers in your neighborhood, enter your zip code below to begin shopping for great rates. 
Find the Cheapest Auto Insurance Quotes in Your Area
Amica Auto Insurance Review
Amica Insurance has a long history of customer service satisfaction that has been recognized by the likes of JD Powers & Associates. For more than fourteen years, Amica has received positive ratings from the policyholders surveyed. This year was no different. In 2013, the company placed with a 4/5 star rating, and received top marks for its policy offerings and customer service interaction. These ratings are reflected in what customers say about Amica in reviews as well.
| | |
| --- | --- |
| Pros | Cons |
| Good auto insurance coverage at an affordable premium, with dividend checks reduce your effective premium | Some policyholders complain about premium increases policies getting canceled without sufficient notice by Amica |
| Positive reviews about Amica's claims settlement process |   |
Customers Satisfied with Amica's Claims Process
One of the most complimented parts of Amica's auto insurance experience is their customer service. Consumers like Amica for its professional and friendly customer service. As a direct writer, Amica doesn't employ any middlemen. Questions are handled efficiently and satisfactorily over the phone without any upsell. There's even an option to chat with Amica representatives online for quick questions. 
Amica has regularly received top marks for their claims and settlement process over the past few years. Insureds rate the experience from communicating the first notice of loss and the settlement the highest, while securing repairs and renting a car under policy get average marks. Most customers are generally happy with Amica, but some insureds experienced delays in getting their claims because of followups. The claims office is available 24/7.
Industry Ratings for Amica
Amica is one of the higher rated companies we've seen with great feedback from insurance organizations and JD Power's customer satisfaction survey.
| | |
| --- | --- |
| Metric | Rating |
| AM Best Financial Strength Rating | A++ |
| JD Power & Associates Overall Rating (2013) | 4 / 5 (Above Average) |
| Complaint Ratio per Vehicle (NJ, 2012) | 0 / 43,710 (Excellent) |
| NAIC Complaint Index (2012) | 0.42 (Better than Average) |
Amica Auto Insurance Policy & Discounts
In addition to the standard liability and personal injury coverage, Amica offers several value-added features including a program called "Platinum Choice", reimbursement for earnings, and the absence of miscellaneous deductibles. If a court appearance requested by Amica should result in loss of income, the insurer will reimburse you. There are also other technical deductibles that Amica does away with, such as no deductible for lock replacements when keys are stolen or lost.
The Platinum Choice package offered at Amica provides additional coverage. With this tier, you'll have the option of good driving rewards, prestige rental coverage, full glass coverage, new car replacement coverage, and even identity fraud monitoring. There's an accident forgiveness program called "Good Driving Rewards" under Platinum Choice. It functions similarly to a rewards or loyalty program on any credit card. Good Driving Rewards costs approximately $150 per year (can vary based on your history or state) to add to your policy. The way it works is by point accrual. Drivers accrue points over their policy history by avoiding claims, accidents, or violations. Points can also be earned by bundling policies, or even referring other customers to Amica. If an actual accident occurs, those points can be used to waive surcharges resulting from the accident or pay down and eliminate the policy deductible. 
Amica is a mutual company, which means that insureds and policyholders are part owners. One tangible benefit is that policyholders can get dividend checks from Amica. Dividend checks can effectively reduce policy premiums on top of whatever discounts are available to consumers. 
| | |
| --- | --- |
| Type of Discount | Max Percentage Discount* |
| Airbag Discount | 19-29% |
| Anti-Theft Devices | 5-20% |
| Anti-Lock Brakes | 5% |
| Drivers Training | 5% |
| Low Annual Mileage Driven | 10% |
| Good Student | 5-10% |
| Mature Drivers Course | 5% |
| Multi-Car | 17% |
| Multi-Policy Credit | 5% |
| Passive Restraint | 19-29% |
*All data provided by the California Department of Insurance 2013 Automobile Premium Survey.
How to File a Claim with Amica
Amica's telephone claim service is available 24/7. To get a human on the line at Amica, you'll have to press a series of telephone menu keys:
Phone number: 800-242-6422
Press #
Press 1 to file an auto claim
Press 1 to indicate that it is new
Press 1 if it is glass damage only, or 2 for all other automobile claims
To speak to a customer care representative at Amica, dial 800-242-6422
Press #
Press 3 to receive a quote and speak with a Customer Care representative
About Amica
Amica Insurance is a mutual company, meaning policyholders are one of Amica's owners. This is beneficial because is allows Amica to make corporate decisions based on long-term viability as opposed to short-term profits. For policyholders, that means greater security and less risk, as well as a dividend check in most states, when you insure with Amica. Note that dividend checks are not guaranteed, and are not available in certain states, including CA, FL, HI, MA, MO, NC, NJ and TX.
Information and data current as of Aug 2013.
Comments and Questions