Allstate is our top pick for the Best Auto Insurance Company with Agents. For consumers looking for advice and personal assistance during their insurance shopping process, Allstate has a high-touch and personal service across the nation. They have approximately 10,000 exclusive Allstate agencies in 9,800 locations with 23,000 licensed sales representatives, and 2,000 independent agencies that offer Allstate policies. Three of the unique benefits of getting an auto insurance policy with AllState is its Claim Satisfaction Guarantee, Your Choice Auto Plan packages and their rewards programs. We also found that Allstate offers some of the most types of discounts among the major national insurers. Read more below for our review and ratings of Allstate, a comparison of its quotes with other insurers, and its available discounts.
Allstate Auto Insurance Quote Comparison
This table compares quotes from Allstate to two major auto insurance agencies, 21st Century (a Farmers Insurance Company) and Nationwide, for eight different types of drivers. At a glance, you can see that Allstate's car insurance quotes are typically on the cheaper end compared to the other companies with agents, especially for married couples.
| | | | |
| --- | --- | --- | --- |
| Driver Profile | Allstate | 21st Century | Nationwide |
| Single Male, age 19 | $2,380 | $1,858 | $3,283 |
| Single Male, age 31 | 881 | 1,021 | 875 |
| Single Male, age 45 | 837 | 944 | 835 |
| Single Female, age 19 | 1,997 | 1,788 | 2,442 |
| Single Female, age 31 | 894 | 1,016 | 862 |
| Single Female, age 45 | 863 | 928 | 822 |
| Married Couple, late 20s | 1,212 | 1,418 | 1,755 |
| Married Couple, mid 60s | 726 | 1,013 | 1,003 |
|   | Get an Allstate quote | Get a 21st Century quote | Get Nationwide quote |
This data is from our California auto insurance study for basic liability insurance for a 2012 Toyota Camry. The largest difference in rates across the companies is seen by 19 year old single drivers and married motorists. Married couples can save about $290 to $540 a year on their car insurance by going with Allstate instead of 21st Century or Nationwide, respectively. This underscores the point that each insurer can favor different types of drivers; it's best to get and compare quotes from at least three companies to get the best rates.
Find The Cheapest Auto Insurance Quotes In Your Area
Our Review of Allstate Car Insurance: Great Features & Benefits
Here are a just a few reasons why we favor Allstate as our Best Car Insurance Company with Agents. Allstate offers a range of policy features specifically to reward drivers who prove or have proven they can drive safely. Among them, the Your Choice Auto Plan packages, Allstate® Rewards Program, and the Claim Satisfaction Guarantee are the key unique features and benefits we want to highlight.
Allstate's Your Choice Auto®
Accidents can happen to anyone, and Allstate has an optional program called Your Choice Auto® in place that recognizes that and rewards safe driving. Based on our calculations, we estimate that it costs about 12 - 18% on top of the standard policy premium, but can be a net 7 - 13% increase when factoring in the safe-driving bonus. Your Choice Auto allows qualified customers to save with the following features:
Safe Driving Bonus Check: receive a check of up to 5% of your previous 6-month premium cost for every 6 months of accident free driving nationally (except for New York, where the Safe Driving Bonus is offered in the form of a discount)
Accident Forgiveness: Allstate waives the typical premium increase and accident surcharge when you get into an accident. The scope of forgiveness (major vs. minor accident) varies by the insured's driving history and number of years as an Allstate customer. Depending on the level of the plan and the driver's accident-free record, this can mean one to several accidents forgiven over the course of three years without an increase in rates nor removal of the Good Driver Discount. However, for consumers living in California, the Accident Forgiveness feature is limited, and you could still lose the Good Driver Discount
Deductible Rewards: Allstate shaves $100 off your collision deductible when you sign up, and takes an additional $100 every year you're accident-free, up to $500 off in total
New Car Replacement: if you bought your new car in or after 2012, and it got totaled within its first three model years, Allstate will send the main policyholder a check at the vehicle's purchase price – as opposed to the depreciated value which can be significantly lower
Earning Double Rewards: Drivewise®
Allstate's version of a usage-based discount program, the Drivewise® program rewards policyholders based on their actual driving collected through Allstate's device. Allstate agents claim that drivers could receive premium reductions up to 40% by: A. Signing up with the program and getting a 10% policy discount and B. driving safely for 6 months (i.e., staying below 80mph and avoid driving late at night). Of course, how much you save with Drivewise® is subject to your driving behavior. The program is only available in 28 states at the moment, consisting of: Arkansas, Arizona, Colorado, Connecticut, Florida, Hawaii, Illinois, Indiana, Louisiana, Kentucky, Massachusetts, Maryland, Michigan, Minnesota, Missouri, Mississippi, New Jersey, New Mexico, Nevada, New York, Ohio, Oklahoma, Oregon, Pennsylvania, Tennessee, Utah, and Washington. 
Furthermore – and this is why we called it double rewards – by downloading the Drivewise® mobile app, drivers will simultaneously earn "safe-driving" points and can redeem them for different merchandise, products, and gift cards through the Allstate Rewards program. Unfortunately for New Yorkers, Allstate Rewards is not available in the Empire State. To find out more, click on the previous link, or call the Drivewise Program Customer Service telephone number: 1-877-431-7670.
Allstate's Claim Satisfaction Guarantee
If for any reason policyholders are unhappy with their claims payout or experience, Allstate aims to make good on their guarantee and grant a six-month credit towards the insured's premiums. The major requirements are:
The auto insurance policy and the Claim Satisfaction Guarantee are active on the day of the covered loss
Allstate has made a payout to or on behalf of the policyholder, and
A written letter is mailed via First Class within 180 days of the accident explaining the dissatisfaction
There are some particulars in terms of which six months the credit gets applied to, and various states were phased in from 2011 - 2012, but otherwise the guarantee appears straightforward. As of April 2012, this feature is in force in the District of Columbia and forty states, including such markets as New York, New Jersey, and Texas. The states not covered as of publication time are California, Alaska, Florida, Hawaii, Kentucky, Maryland, New Hampshire, North Carolina, North Dakota, and Washington. It is rare to not obtain a payout within the first six months. But even if, for example, the insured vehicle is parked at an auto repair shop waiting for extra parts past the six month period, customers can still submit letters. Allstate agents say that the guarantee is on the more flexible side when there is sound cause for dissatisfaction.
On the Other Hand: Inconsistent Customer Experience
While we didn't come across that many complaints about Allstate's network of agents, customer feedback indicates that there is room for improvement in how payments and communication are handled otherwise. Some customers claim that changes to credit card and bank account information aren't processed correctly or on time for their insurance premium payments. Others indicate that changes are made to their auto insurance policies, such as adding another driver or vehicle, without prior notice or consent.
| | |
| --- | --- |
| Pros | Cons |
| Beneficial features such as Claim Satisfaction Guarantee if policyholders are dissatisfied with their claims payout experience | Some customers complain about their experience with premium payments and the lack of coordinated communication at Allstate |
| Excellent network of agents who are knowledgeable and helpful |   |
Industry Ratings for Allstate
And our favorable review is confirmed by other industry organizations. Allstate gets nice marks for its customer service and financial strength to pay out claims submitted.
| | |
| --- | --- |
| Metric | Rating |
| AM Best Financial Strength Rating | A+ |
| Better Business Bureau Rating (Headquarters) | A |
| Complaint Index (NAIC, 2012) | 0.58 (Better than Average) |
How to File a Claim with Allstate
Allstate provides three portals for policyholders and third parties to file claims. Policyholders have the convenience of either going directly through their agents or online with their Allstate account, while all third party claims should go through the Claims Department customer service. Additionally, if you have a Twitter account, you may also tweet @Allstatecares for service and help (the first of its kind we've seen advertised for claims!). Read on for more details on how to file claims online and through customer service. 
Online Claims: For Allstate policyholders, registering for an Allstate account will allow you to report claims online, track claim status, and even schedule an inspection if repair pricing is needed. Another Allstate feature we like is the Allstate℠ Mobile app (available to both iPhone and Android users), where you can upload photos of damage and injuries directly at the time of the accident. If you already have an Allstate Account (or wish to register), you can file a claim here. If you are an Allstate policyholder but do not have an account, use this link instead.
Telephone Claims: Dial Customer Service Phone Number: (800) 255-7828, and follow the menu prompts below to speak with a customer service representative:
Press 0, then 1 to get to the claims menu
Press 1 for new claims, or 2 for existing claims
Press 1, then 1 again for Personal Auto claims
Allstate Glass Claims Express: If you just want to file a claim for glass damage, such as getting a chipped windshield repaired through your comprehensive coverage, Allstate provides a glass-only claim service through the Glass Claim Express program operated by Safelite Solutions. This program will assist policyholders in finding and scheduling an Allstate partner glass repair shop, or even a repair shop of the policyholders' choice. Click here to get to the Allstate Glass Claim Express online filing page. Click "CONTINUE", and you will be led to the Allstate – Safelite®Solutions Glass Claim Express page, where you will be asked to provide policy number, zip code, damage reason, as well as the date when the damage occur.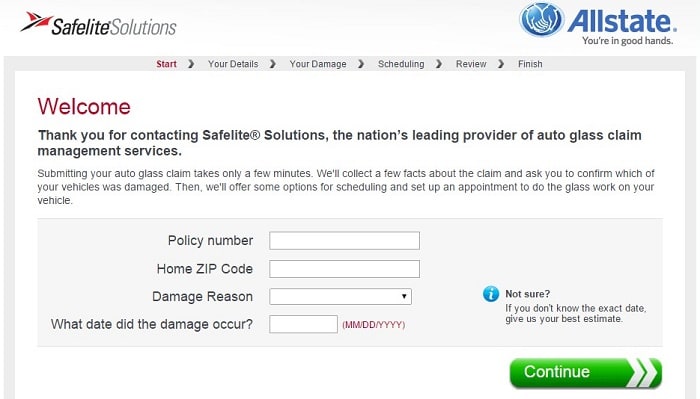 Auto Insurance Discounts at Allstate
Another aspect we like about Allstate's offering is its plethora of discounts, which can range up to the higher end compared to other insurance companies we've reviewed. Furthermore, in a comparison of twelve major national companies, we found that Allstate tended to offer the most number and different types of auto insurance discounts. Be sure to ask your agent if you qualify for any of these discounts when getting your quote from Allstate, and how many of them you can stack together.
| | | |
| --- | --- | --- |
| Discount Type | Discounted Coverage | Amount |
| Anit-Lock Brakes Discount | BI, PD, PIP/Med, Coll | 10% |
| Safe Driver Bonus* | BI, PD, PIP | 5% |
| Good Payer Discount | All | 5% |
| Homeowner Discount | BI, PD, PIP, Coll, Comp | 5% |
| Multiple Policy Discount | All | 10% |
| Passive Restrain Discount | PIP/MED | 10% |
| Premier Discount | All | 22% |
| Premier Plus Discount | All | 35% |
| Drivewise | All | 10 - 40%** |
| Senior Adult Discount | PIP/MED | 10% |
| 55 and Retired Discount | BI, PD | 10% |
| Resident Student Discount | BI, PD, PIP | 20% |
| The Good Hands People Discount | All | 10% |
| Defensive Driving Course Discount | All | 10% |
| Fullpay® Discount | All | 10% |
| Smart Student Discount | All | 5% |
| Allstate eSmart® Discount | All | 10% |
| Early Signing Discount | All | 10% |
| Allstate® Easy Pay Plan Discount | All | 5% |
| Anti-Theft Discount | Comp/Comp+Full Glass | 2 - 10% |
| New Car Discount | Coll, Comp | 8 - 10% |
| Daytime Running Lights | BI, PD, PIP/Med, Coll | 3% |
| Utility Car Discount | BI, PD, PIP | 15% |
| Economy Car Discount | BI, PD | 10% |
| Farm Vehicle Discount | BI, PD | 10% |
* Safe Driver Bonus is offered as a discount in some states, such as New York. For the rest of the eligible states, it is now offered as the Safe Driver Bonus Check
** The 10 – 40% discount includes the 10% Drivewise program sign-up discount
About Allstate Corporation
The Allstate Corporation is the third largest personal lines insurer which has a 27.5% combined market share of the US personal lines insurance, consisting of the private passenger auto insurance and homeowners' insurance market. The Allstate brand, together with Encompass and Esurance, makes up the Protection segment premium of the Allstate Corporation, and 91% of written premiums in 2014. The Corporation serves a wide scope of consumer segments by differentiating its main and subsidiary companies with brands, scope and type of distribution, as well as price and breath of product offerings. Below is a diagram of the Allstate Corporation brands positioning, as published in the company's 2014 annual report: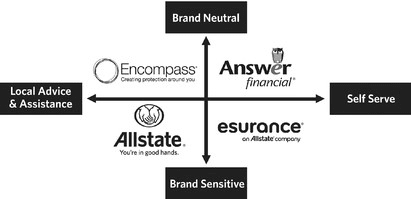 Company Website: www.allstate.com
Comments and Questions