A Study of ACA Health Insurance Rates in Pennsylvania
The cost of purchasing health insurance for yourself can vary greatly from state-to-state, and even within a state, as this analysis will show you. ValuePenguin conducted a study of health insurance premiums as they pertain to the Affordable Care Act (ACA) in the Keystone State. We discovered that depending on your particular 'Rating Area' your premiums could fluctuate up to 23% within the state of Pennsylvania. To give you more insight into particular rates in your area we've ranked the 9 'Rating Areas' in PA . Below the graph we've also included a list of each 'Rating Area' and which counties are included in it. If you'd like to jump directly to our Methodology section, click here. 
Average Cost of ACA Health Insurance in Pennsylvania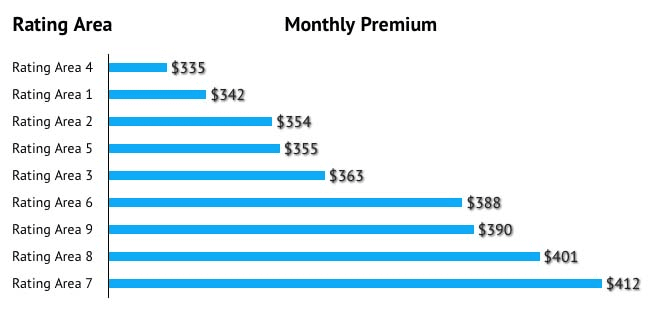 List of Ratings Areas
Rating Area 1 Counties
Erie, Crawford, Mercer, Venango, Clarion, Forest, Warren, McKean
Rating Area 2 Counties
Elk, Cameron, Potter
Rating Area 3 Counties
Tioga, Clinton, Lycoming, Sullivan, Bradford, Susquehanna, Wyoming, Lackawanna, Wayne, Pike, Monroe, Carbon, Luzerne
Rating Area 4 Counties
Lawrence, Beaver, Washington, Greene, Butler, Allegheny, Westmoreland, Armstrong, Indiana, Fayette
Rating Area 5 Counties
Jefferson, Clearfield, Cambria, Somerset, Bedford, Blair, Huntingdon
Rating Area 6 Counties
Centre, Mifflin, Union, Snyder, Montour, Northumberland, Columbia, Schuylkill, Lehigh, Northampton
Rating Area 7 Counties
Adams, York, Lancaster, Berks
Rating Area 8 Counties
Chester, Delaware, Montgomery, Bucks, Philadelphia
Rating Area 9 Counties
Fulton, Franklin, Cumberland, Perry, Juniata, Dauphin, Lebanon
Cheapest Ratings Areas in Pennsylvania (by age)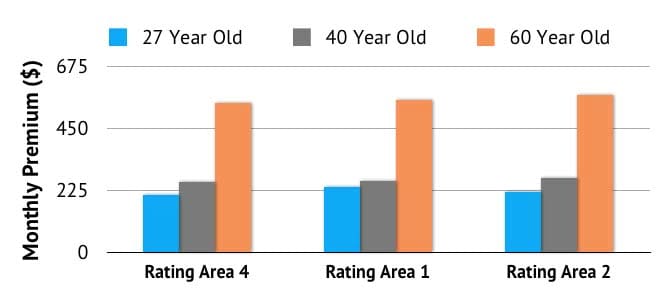 Pittsburgh and Southwestern Pennsylvania (Rating Area 4)
Rating Area 4 is made up of large swaths of western and southwestern Pennsylvania and ranks as the cheapest health insurance area in the state. The average cost of health insurance in this area comes in at $335 per month, or 23% cheaper than the most expensive parts of the state.
Erie and Northwestern Pennsylvania (Rating Area 1)
Rating area 1 is comprised of Erie, PA and many of the other counties in northwestern Pennsylvania. This area comes in as having 2nd cheapest health insurance plans in PA. The average monthly premium for health insurance in Rating Area 1 is $342, or 20% cheaper than the priciest sections of the Pennsylvania.
Elk, Cameron, and Potter Counties (Rating Area 2)
Rating area 2 is a smaller area, population wise (about 55,000 residents), but nonetheless it comes in as the 3rd cheapest area for health insurance in The Quaker State. Prices here are 16% cheaper than the most expensive premiums in the state.
Methodology
For this study, we took the average price of unsubsidized Silver Plans in Pennsylvania. Health insurance costs are based on 3 sample demographic profiles: 27 year olds, 40 year olds, and 60 year olds. 
Data current as of October 2013
Comments and Questions