Best Car Insurance Rates in Salt Lake City
The capital of Utah, Salt Lake City sits in the north central part of the state and is only minutes away from some of the greatest outdoor adventure areas in the entire country. And how do most people get to the gorgeous mountains or to the banks of the Great Salt Lake? They drive! And beyond using their vehicles to get to their weekend recreation locales, it turns out most Salt Lake City residents are busy using their cars during the work week as well. A 2012 study from the Brookings Institute showed that Salt Lake City commuters only utilize public transportation a paltry 2.9% of the time.
Because Salt Lake City residents seem to have such a reliance on their automobiles, we wanted to take a deeper look into who was paying the most for their auto insurance and who was getting the best deals. This study of auto insurance premiums in Salt Lake City is intended to give drivers an idea of how rates in their area compare to other neighborhoods. As you'll see, even in a relatively small geographic area like SLC you can have a wide range of car insurance premiums. For that reason, we always suggest that our readers look at several auto insurance quotes before making their final decision. Below you can use our tool to help you shop for quotes at different auto insurers in Salt Lake City. Just input your zip code to begin.
Find the Cheapest Auto Insurance Quotes in Your Area
Cost of Car Insurance in Select Salt Lake City Neighborhoods
The team at ValuePenguin looked at auto insurance rates in 8 different neighborhoods in the Salt Lake area. Those neighborhoods are: 9th & 9th, Central City, Downtown, Federal Heights, Foothill, Poplar Grove, Rose Park, and Sugar House. Annual premiums in these 8 neighborhoods range from $860 on the low end to $1,054 (23% higher) across town. Our graph below will show you where each city stacks up and what you can expect to pay on average in that neighborhood.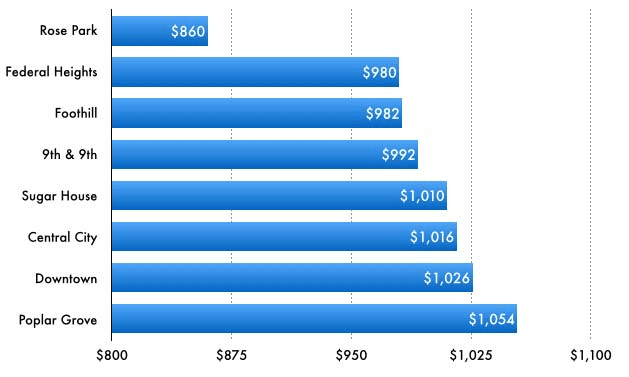 Most Expensive Areas
Poplar Grove
Located west of downtown, the Poplar Grove neighborhood had the highest auto insurance rates in the entire city. At $1,054 annually residents will shell out about $88 each month insuring their vehicle. Poplar Grove was 6% more expensive than the average area of SLC we looked at.
Downtown
The downtown area of Salt Lake City sits between State Street and 300 West and is the 2nd most expensive area in the city to insurance an automobile. The good news is that GEICO, at $420,  had an annual plan that was significantly more affordable than the other insurers servicing the neighborhood.
Least Expensive Areas
Rose Park
At $860 per year on average, Rose Park is the cheapest area in Salt Lake City for car insurance. The three cheapest options that we looked at for residents of Rose Park are (in order) GEICO, State Farm, and Nationwide at $38, $55, and $70 per month, respectively. 
Federal Heights
Known as one of the more affluent areas in the SLC area, Federal Heights had the 2nd most affordable car insurance premiums of the eight neighborhoods we looked at in our study. At $980 per year their premiums came in slightly cheaper than the 3rd place finisher, Foothill.
Map of Neighborhoods
Here is a map of the 8 neighborhoods we analyzed in Salt Lake City. Number one is the cheapest while number eight is the most expensive: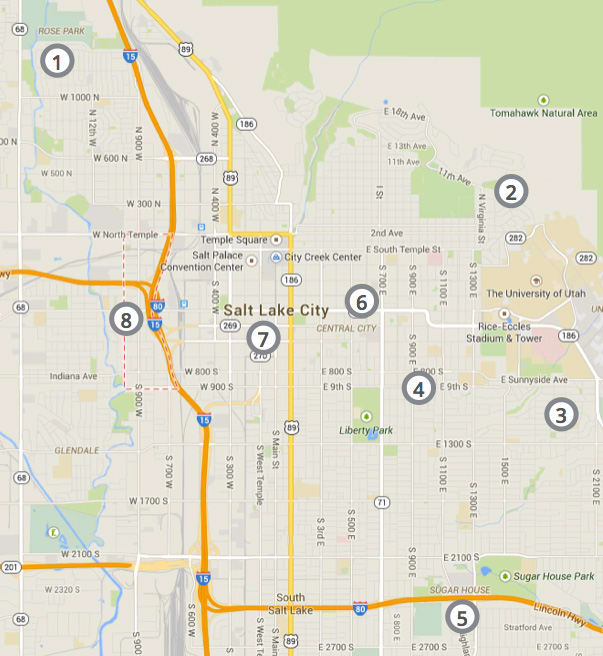 Best Auto Insurance Rates in Salt Lake City
Below are the average yearly premiums for eight car insurance companies offering plans in Salt Lake City. The companies looked at in our study were GEICO, State Farm, American Family, California Casualty, Allstate, Nationwide, MetLife, and Liberty Mutual.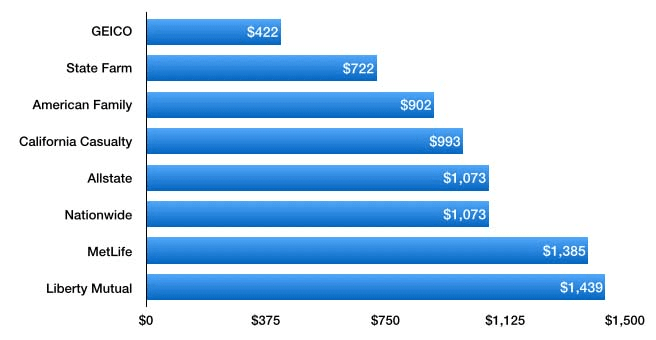 Most Expensive Insurer In Salt Lake City
Liberty Mutual
Coming in at $1,439 per year, Liberty Mutual's insurance rates in Salt Lake City were 44% higher than the average prices being charged by other companies operating in the area. They also happened to be the most expensive insurance option in each individual neighborhood with the exception of Rose Park where MetLife was more expensive.
Cheapest Auto Insurance Company in Salt Lake City
GEICO
GEICO consistently offers some of the lowest rates in the industry and it's presence in Salt Lake City is no exception. With an average annual rate of $422 their next closest competitor isn't that close at all. Of course if you're looking for a more hands-on relationship with your insurance company there are better options out there (State Farm) but it's hard to beat GEICO on price in SLC.
Auto Theft Statistics in Utah
Automobile theft in Utah's largest cities was rather tepid with the exception of Salt Lake City. Looking at the top 5 largest cities in the state, 4 out of 5 ranked outside the top 312 MSA's (Metropolitan Statistical Areas) in the US. There are 380 MSA's as defined by the Census Bureau. Salt Lake City, however, ranked 29th out of 380 MSA's with 8x as many auto thefts as there were in Logan, UT.
| | | | |
| --- | --- | --- | --- |
| City | MSA Rank (out of 380 MSAs) | Car Thefts | Thefts per 1,000 |
| Salt Lake City | 29 | 4,211 | 374.7 |
| St. George | 312 | 120 | 82.9 |
| Ogden | 314 | 504 | 82.3 |
| Provo | 353 | 310 | 56.3 |
| Logan | 369 | 57 | 44.4 |
*Data from the National Insurance Crime Bureau
Methodology
The sample quotes we obtained were for a 30 year old single male driving a Toyota Camry that he owns. His credit is excellent and he has opted for basic coverage by Utah state standards. In a typical year, our driver drives between 10,000 and 15,000 miles in his vehicle which he uses to commute to and from work. Our driver has zero accidents or traffic incidents of record in the past five years. Finally, we looked at quotes from five well-known auto insurance companies and averaged the 8 sample rates to come up with a city average. The companies we looked at were: GEICO, State Farm, Nationwide, Liberty Mutual, MetLife, American Family, Allstate, and California Casualty.
Surveyed auto insurance costs in Salt Lake City are for illustrative purposes only and actual quotes will vary based on your physical residence, driving history, and other factors.
Comments and Questions