Who Has the Cheapest Homeowners Insurance Quotes in Virginia?
Find the Cheapest Insurance Quotes in Your Area
Virginia, nicknamed "The Old Dominion", was one of the original 13 colonies of the United States. Though it lay at the heart of both the Civil and Revolutionary wars, Virginia is known for its peaceful slogan of: "Virginia is for Lovers".  
ValuePenguin analysts have studied over seventy cities in the commonwealth. They found that, depending on factors such as proximity to the coast and crime rate, insurance costs vary significantly. The statewide home insurance average is $1,088. However, depending on location, homeowners can pay as little as little as $893 or as much as $1,527. Below, we profile the best homeowners insurance companies, as well as the top five lowest and highest ranking cities when it comes to homeowner insurance. Read more below, or begin finding homeowners insurance quotes using our quote tool above.
Cheapest Homeowners Insurance Companies in Virginia
To find the most affordable homeowners insurance in Virginia, our team collected quotes from national insurance companies including Nationwide, State Farm, Liberty Mutual, and Farmers. Progressive did not provide quotes for Virginia. For our sample homeowners policy for a home of 2,000 square-feet, Nationwide had the cheapest average annual rate at $835. Below is a table listing the mean annual premium for homeowners insurance provided by the companies in our study: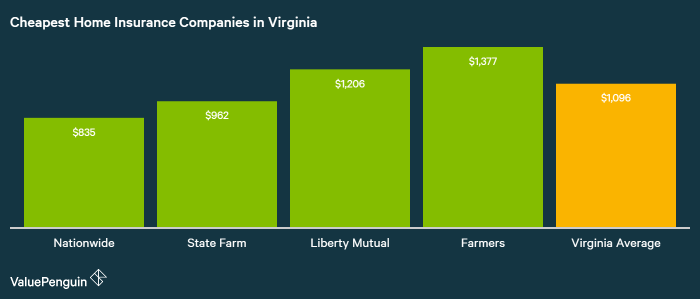 |  Rank | Cheapest Homeowners Insurance Companies | Average Annual Rates |
| --- | --- | --- |
| 1 | Nationwide | $835 |
| 2 | State Farm |  962 |
| 3 | Liberty Mutual |  1,206 |
| 4 | Farmers |  1,377 |
| | Average |  1,095 |
The above rates were obtained for a profiled property. To find the best rates for yourself, we recommend looking for quotes from multiple insurance providers to determine the best option.
Most Expensive Cities in Virginia for Homeowners Insurance
ValuePenguin researchers have found that the five most expensive cities in Virginia are found along the coastline or near large bodies of water. With these two factors, homes in these neighborhoods are at a higher risk of flooding than homes in other parts of the commonwealth. As a result, insurance rates skyrocket, as the odds of an insurance company having to pay out costs of property damage is significantly higher.
Additionally, some of the cities on this list suffer from above average property crime rates. 
| | | | |
| --- | --- | --- | --- |
| Rank | City | Average Annual Premiums | Increase vs State Average |
| 1 | Virginia Beach | $1,760 | 60% |
| 2 | Kilmarnock | $1,527 | 39% |
| 3 | Urbanna | $1,451 | 32% |
| 4 | Hampton | $1,402 | 28% |
| 5 | Norfolk | $1,376 | 25% |
Virginia Beach, VA
Virginia Beach is the most populated city in the state. This resort city is home to hundreds of hotels, motels and restaurants; most of these businesses are located along the city's famous sandy beaches and coastline.  Virginia Beach holds the Guinness World Record for the longest pleasure beach in the world. All this luxury, however, comes at a price. 
Virginia Beach has the highest home insurance premiums in the state. The average premium in this city is $1,760, which is a whopping 60% higher than the state average.
Kilmarnock, VA
Kilmarnock is located near the mouth of the Rappahannock River. The city is also only a 10 minute drive away from the coast and the waters of the Chesapeake Bay. This, coupled with its proximity to several other waterways earn Kilmarnock the #2 spot on our list of highest home insurance premiums in Virginia. Kilmarnock home owners pay on average $1,527 annually, which is 39% higher than the state average of $1,088.
Urbanna, VA
Urbanna is the home to Virginia's official oyster festival, the Urbanna Oyster Festival. During the festival this small town of under 1,000 people, sees over 70 thousand visitors. The neighboring Rappahannock River brings more than oysters and visitors, however. High risk of flooding is a major contributing factor to Urbanna being the third most expensive city for homeowners in the state of Virginia. Home insurance premiums here are 32% higher than the state average.
Hampton, VA
The city of Hampton is located near the Atlantic Ocean, along Virginia's eastern coast. Hampton suffers from one of the worst crime rates in the United States. Ranking lower than 83% of other cities within the United States, Hampton sees a large number of property crimes. Your chances of becoming a victim of a property crime in the city are 1 in 29. This, no doubt, contributes to Hampton's high insurance premiums, which are 28% higher than the commonwealth's average. Homeowners living in Hampton can expect to pay $1,402 annually.
Norfolk, VA
Norfolk is the second most populated city in Virginia with a population of 245,782 people. It is home to the largest Navy base in the world. While the Navy certainly enjoys the proximity of Norfolk to major waterways and the Atlantic Ocean, insurance companies do not, earning it a spot on our list. 
Additionally, the military presence does not make Norfolk any safer from local crime. Like Hampton, Norfolk suffers from a high property crime rate. These factors contribute to Norfolk rounding off our list as the 5th most expensive city in Virginia for home insurance. 
Best Homeowners Insurance Rates in Virginia: by City
Virginia's cheapest homeowner insurance rates were found inland; away from large bodies of water and the coastline. The cities are all located on the eastern part of the commonwealth, near the West Virginia border. 
| | | | |
| --- | --- | --- | --- |
| Rank | City | Average Annual Premiums | Decrease vs State Average |
| 1 | Harrisonburg | $893 | -19% |
| 2 | Salem | $929 | -15% |
| 3 | Radford | $936 | -15% |
| 4 | Christiansburg | $937 | -15% |
| 5 | Vinton | $938 | -14% |
Harrisonburg, VA
Harrisonburg is located in the heart of Shenandoah Valley. With the slogan "It's Better in the Burg", Harrisonburg offers a variety of activities ranging from historical and nature sightseeing to activities throughout the vibrant downtown area.
ValuePenguin researchers found that Harrisonburg homeowners enjoy the lowest insurance premiums in the state, paying an average of $893 annually. 
Salem, VA
Salem is located in the Shenandoah Valley in the western part of the state. While no witches were burned in this Salem, it is possible that insurance rates were. Salem, Virginia has the second lowest rates in our list with an average annual; premium of just $929 a year. 
Radford, VA
Radford is home to Radford University, one of Virginia's eight public universities offering doctoral programs. The city is one part of the Blacksburg-Christiansburg-Radford Metropolitan Statistical Area. Through this, Radford has strong economic ties to both Blacksburg and Christiansburg, though the other two have greater population densities.  
Radford, like most of the cheapest cities, is located far inland. As a result average annual premiums are around only $936.
Christiansburg, VA
Just a short twenty minute car ride from Radford will get you to our next city, Christiansburg. The fourth city on our list, is also the fourth largest town in Virginia. 
Due to its proximity to Virginia Tech University, the state's third largest university, Christiansburg is considered a college town, with much of its economy booming during the months school is in session. 
Christiansburg homeowners pay premiums on average of $937 dollars.
Vinton, VA
Once known as Gish's Mill, Vinton serves as a gateway to Explore Park, an 1,100 acre hiker's paradise. To residents of Virginia, Vinton is also known as the home of the oldest festival in Roanoke Valley, the Vinton Dogwood Festival. 
Vinton's average annual homeowner rates are 14% below the state average. At an average of $938, the city rounds off our list of top five cheapest cities in the Virginia. 
Average Cost of Homeowners Insurance in Virginia: by City
Below you'll find the average home insurance premiums for 77 cities in Virginia.

Methodology
ValuePenguin looked at 77 cities spread throughout the state of Virginia. Rates were obtained from four different insurance companies (Liberty Mutual, State Farm, Nationwide and Farmers). To arrive at a figure for the average annual premium, researchers averaged the rates across the aforementioned insurers. The sampled homes were valued at $200,000 and were approximately 2,000 square feet in size. The homes were single-family dwellings with 2 stories, 1.5 baths, and an attached garage. 
Sources:
http://gis.lancova.com/FIS.pdf
http://quickfacts.census.gov/qfd/states/51000.html
Additionally, if you can't find your town in the above list and want to see each of the 77 places in alphabetical order, we've provided this sheet for you to more easily locate your city.
| | | | |
| --- | --- | --- | --- |
| Rank | City | Average Insurance Rate | Change |
| 56 | Alexandria | $1,114 | 2% |
| 66 | Amelia Court House | $1,202 | 10% |
| 52 | Arlington | $1,105 | 1% |
| 19 | Bedford | $1,008 | -8% |
| 32 | Big Stone Gap | $1,040 | -5% |
| 8 | Bristol | $955 | -13% |
| 51 | Burke | $1,104 | 1% |
| 24 | Centreville | $1,016 | -7% |
| 9 | Charlottesville | $955 | -13% |
| 4 | Christiansburg | $937 | -15% |
| 36 | Clintwood | $1,049 | -4% |
| 27 | Culpeper | $1,025 | -7% |
| 40 | Danville | $1,072 | -2% |
| 68 | Drakes Branch | $1,264 | 15% |
| 25 | Fairfax | $1,018 | -7% |
| 35 | Falls Church | $1,048 | -4% |
| 62 | Farmville | $1,174 | 7% |
| 28 | Fincastle | $1,026 | -6% |
| 44 | Floyd | $1,079 | -2% |
| 70 | Franklin | $1,287 | 17% |
| 22 | Fredericksburg | $1,013 | -8% |
| 58 | Galax | $1,129 | 3% |
| 47 | Gate City | $1,087 | -1% |
| 46 | Goochland | $1,087 | -1% |
| 60 | Great Falls | $1,163 | 6% |
| 74 | Hampton | $1,402 | 28% |
| 61 | Hanover | $1,171 | 7% |
| 1 | Harrisonburg | $893 | -19% |
| 15 | Herndon | $999 | -9% |
| 54 | Hillsville | $1,111 | 1% |
| 72 | Hopewell | $1,318 | 20% |
| 43 | Hot Springs | $1,079 | -2% |
| 57 | Keysville | $1,123 | 2% |
| 76 | Kilmarnock | $1,527 | 39% |
| 45 | King George | $1,087 | -1% |
| 50 | Leesburg | $1,102 | 0% |
| 18 | Lexington | $1,006 | -8% |
| 31 | Louisa | $1,039 | -5% |
| 12 | Lynchburg | $975 | -11% |
| 20 | Madison | $1,008 | -8% |
| 34 | Manassas | $1,046 | -5% |
| 38 | Marion | $1,051 | -4% |
| 37 | Martinsville | $1,050 | -4% |
| 67 | McLean | $1,251 | 14% |
| 23 | Midlothian | $1,015 | -7% |
| 21 | New Castle | $1,011 | -8% |
| 73 | Norfolk | $1,376 | 25% |
| 26 | Norton | $1,019 | -7% |
| 39 | Orange | $1,068 | -3% |
| 33 | Palmyra | $1,042 | -5% |
| 63 | Petersburg | $1,175 | 7% |
| 13 | Pulaski | $979 | -11% |
| 3 | Radford | $936 | -15% |
| 41 | Reston | $1,075 | -2% |
| 11 | Richlands | $962 | -12% |
| 48 | Richmond | $1,090 | -1% |
| 6 | Roanoke | $941 | -14% |
| 2 | Salem | $929 | -15% |
| 69 | Smithfield | $1,268 | 16% |
| 65 | South Boston | $1,182 | 8% |
| 59 | South Hill | $1,159 | 6% |
| 14 | Springfield | $992 | -9% |
| 29 | Stanardsville | $1,028 | -6% |
| 17 | Staunton | $1,005 | -8% |
| 55 | Stuart | $1,113 | 2% |
| 71 | Suffolk | $1,316 | 20% |
| 75 | Urbanna | $1,451 | 32% |
| 42 | Vienna | $1,077 | -2% |
| 5 | Vinton | $938 | -14% |
| 77 | Virginia Beach | $1,760 | 60% |
| 30 | Warrenton | $1,031 | -6% |
| 53 | Washington | $1,108 | 1% |
| 7 | Waynesboro | $948 | -14% |
| 64 | Williamsburg | $1,180 | 8% |
| 49 | Winchester | $1,098 | 0% |
| 10 | Woodbridge | $956 | -13% |
| 16 | Wytheville | $1,005 | -8% |
Comments and Questions