Who Has the Cheapest Homeowners Insurance Quotes in North Carolina?
Find the Cheapest Insurance Quotes in Your Area
North Carolina, the "Old North State", is located in the southeastern region of the United States. The state resides on the coast of the Atlantic Ocean, which has a strong impact on its climate. Though its beaches and mountain ranges make North Carolina a popular tourist destination, its economy is largely dependent upon engineering, energy, biotechnology, and finance.
In our continuing quest for greater transparency into the costs of owning a home, we examined the homeowners insurance prices in North Carolina. To conduct our research, we looked at the home insurance prices for a benchmark property, in 114 of North Carolina's cities, towns, and municipalities. We found that these costs varied immensely from city to city – sometimes by as much as $2,800. The North Carolina statewide average home insurance cost for our sample property was $1,198. Read more below, or get started with finding homeowners insurance using our quote tool.
Cheapest Homeowners Insurance Companies in North Carolina
In our study, we collected quotes from major homeowners insurance companies in North Carolina including Progressive, State Farm, Nationwide, and Liberty Mutual (Amica did not provide quotes). We found the data based on our benchmark 2,000 square-foot residence and determined that Progressive offered the cheapest average annual premium. Below are the average annual rates for these insurance companies, ranked from the cheapest to the most expensive: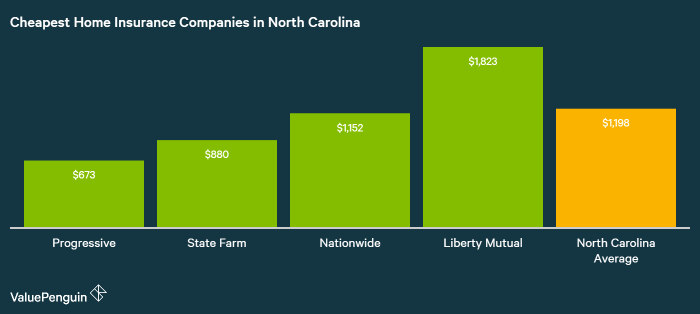 | Rank | Cheapest Homeowners Insurance Companies | Average Annual Rates |
| --- | --- | --- |
| 1 | Progressive | $673 |
| 2 | State Farm |  880 |
| 3 | Nationwide |  1,152 |
| 4 | Liberty Mutual |  1,823 |
| | Average |  1,132 |
The above rates were calculated for a sample property. We recommend that you find quotes from multiple insurance providers to determine which one is best for yourself.
Best Homeowners Insurance Rates: by City
The cities with the cheapest homeowners insurance rates in North Carolina are found in the western regions of the state. The average cost of insuring a home in these cities is $775 -35% less than what it would cost in a typical North Carolina home.
| | | | |
| --- | --- | --- | --- |
| Rank | City | Average Annual Rates | Change vs. State Average |
| 1 | Thomasville | $717 | -40% |
| 2 | Lexington | $730 | -39% |
| 3 | Spruce Pine | $804 | -33% |
| 4 | Tryon | $810 | -32% |
| 5 | Eden | $814 | -32% |
Thomasville, NC
Our study revealed that the cheapest home insurance prices in North Carolina could be found in Thomasville. The home we profiled averaged rates of $717 per year - 40% better than the typical North Carolina city. Thomasville, sometimes referred to as "Chair City", is known for its landmark, a 30-foot replica of Duncan Phyfe's armchair. It's fitting that the city's best known sculpture is an armchair; Thomasville's economy has long been tied to furniture manufacturing.
Lexington, NC
Lexington, found in Davidson County, has a population of 19,000 residents. Despite being a medium-sized city, Lexington has produced a very high number of NFL athletes - 5 in total. The city is considered by some the "Barbecue Capital of North Carolina". Staying true to this title, the city hosts the annual Lexington Barbecue Festival. Those hungry for more than just ribs and briskets, however, can get their fill of Lexington's affordable home insurance prices. For our benchmark property, we saw average annual prices around $730 from insurers.
Spruce Pine, NC
We found the third cheapest home insurance prices in Spruce Pine, NC. The sample property we looked at had average homeowners insurance premiums of $804. The city is located between two of the tallest Rocky mountains, Mt. Mitchell and Grandfather Mountain. Much of the world's technology relies on Spruce Pine – specifically, virtually all supplies of ultra-pure quartz come from this city. This mineral is essential to the production of semi-conductors, which all computers rely on.
Tryon, NC
The scenic Tryon, found in Pol County, is best known for its beautiful parks, such as Rogers Park and Greene Corner. What may be not as widely known, is that Tryon also has some of North Carolina's lowest home insurance rates. The property we examined in Tryon was quoted, on average, home insurance premiums of $810 – 32% better than the rest of the state.
Eden, NC
Eden bills itself as a "small city with big outdoors", due to the many recreational activities available in and around it. The city hosts a variety of festivals, including the Draper Car Show, and Riverfest. The latter is held along the Dan River, which is a haven for kayaking enthusiasts. When conducting our study, we found Eden to have the fifth cheapest homeowners insurance rates in North Carolina – the average policy cost $814 for a year's coverage. At this level, rates in Eden were $384 cheaper for our benchmark house compared to elsewhere in the state.
Places with the Most Expensive Homeowners Insurance Rates in North Carolina
All of the cities with the highest homeowners insurance prices in North Carolina were found along the eastern coast of the state – near the Atlantic Ocean. These coastal towns are much more prone to extreme weather conditions, such as high winds and hurricanes. These conditions increase the chances of a home in one of these cities sustaining some sort of damage, which will require an insurer to pay out a claim. These companies compensate for this increase in risk by raising home insurance prices relative to other cities in the state.
| | | | |
| --- | --- | --- | --- |
| Rank | City | Average Annual Rates | Change vs. State Average |
| 1 | Nags Head | $3,564 | 197% |
| 2 | Wrightsville Beach | $3,525 | 194% |
| 3 | Carolina Beach | $3,516 | 194% |
| 4 | Swansboro | $2,883 | 141% |
| 5 | Oriental | $2,511 | 110% |
Nags Head, NC
Nags Head, a town in Dare County, has some of the most expensive home insurance rates in North Carolina. A typical premium quoted for our sample home was in the neighborhood of $3,564 – that is 197% or $2,366 more expensive than the average North Carolina home. On top of being in a disadvantageous geographic location for home insurance rates, Nags Head has high crime rates – over double the North Carolina average - perhaps due in part to its high tourist seasonality. Like its propensity for extreme weather, high crime rates increase the likelihood of a home being damaged in some way – whether it is broken into or vandalized. In the event of such an occurrence, the home insurer is on the hook to pay out a claim. To make up for these extra losses, insurance companies tend to have higher prices in areas like Nags Head.
Wrightsville Beach, NC
Wrightsville Beach has the second most expensive home insurance rates in North Carolina. It cost approximately $3,525 annually, to insure our model property here. Like most other coastal towns, severe weather and hurricanes are to blame for the above average rates. Most notably, in recent years, hurricanes Isabel, Charley and Ophelia all hit Wrightsville Beach, causing some damage. Weather history like this makes insurers nervous, causing them to charge higher premiums, by about $2,327 compared to the same house in a typical city in NC.
Carolina Beach, NC
Insuring the home included in our study in Carolina Beach cost, on average, 194% more than the North Carolina mean – the mean rate we saw in the town was $3,516 for the profiled unit. Carolina Beach's crime rate is above the state average, with seasonal crowds likely contributing, which can translate into higher than average insurance rates. Property crime, specifically, is what tends to correlate with higher insurance prices. Insurers like to see as little chance as possible that they will have to pay for a claim. High crime rates say the exact opposite and, as a result, towns like Carolina Beach see elevated homeowners insurance prices.
Swansboro, NC
Swansboro is a town located in Onslow County, with a population of roughly 3,000 individuals. The town has a lot to offer – from historic destinations to beautiful beaches in Hammocks Beach State Park. Pretty sights and relaxing living comes at the cost of above average home insurance rates. The home we examined in Swansboro was quoted prices of approximately $2,883 for a one-year homeowners insurance policy. Swansboro has a slightly elevated crime rate, when compared against the rest of North Carolina. This characteristic tends to correlate with high insurance prices, and could be one explanations behind the town's 141% more expensive homeowners insurance prices.
Oriental, NC
Oriental is a municipality in Pamlico County and, as of the most recent census, has roughly 900 residents. Named after the sailing steamer ship Oriental, the municipality still holds a part of the ship (its porthole) on display in a museum – despite the ship wrecking at sea one year after construction. Like many other coastal locations, Oriental has high insurance rates. The cost of insuring our model home here was on average $2,511, according to quotes obtained from four major insurers.
Average Cost of Homeowners Insurance in North Carolina: by City
The average cost of homeowners insurance, for our benchmark property, in North Carolina is $1,198. There is a great deal of variation between cities, with some varying as much as 197% from the state average. We found that a major indicator of home insurance prices in North Carolina was geographic location. High homeowners premiums correlated with close proximity to the eastern seaboard. It is approximately 10% more expensive than the neighboring Virginia, 30% cheaper than the Tennessee average, and 40% more affordable than the typical Georgia city. Below you can find all the cities included in the study, listed from least to most expensive. 
Methodology
Our study looked at home insurance prices in 114 North Carolina cities. We sampled rates from four separate insurers – Progressive, Liberty Mutual, State Farm, and Nationwide. The benchmark property used in the research, consisted of a $200,000, 2,000 square foot home. It had 2 stories, 1 and a half bathrooms, and a garage attachment (with no living space above it). Our sample homeowner was a 41-year-old male, not married, and owned no pets. You can find a list of all the cities included in the study, listed in alphabetical order, below. The number to the right of each city indicates its average annual home insurance premium, and its deviation from the state average.
| | | | |
| --- | --- | --- | --- |
| Rank | City | Average Annual Rates | Change vs. State Average |
| 89 | Ahoskie | $1,345 | 12% |
| 60 | Albemarle | $978 | -18% |
| 9 | Andrews | $848 | -29% |
| 69 | Asheboro | $1,028 | -14% |
| 25 | Asheville | $869 | -27% |
| 10 | Black Mountain | $849 | -29% |
| 68 | Boone | $1,026 | -14% |
| 56 | Bryson City | $963 | -20% |
| 103 | Burgaw | $1,736 | 45% |
| 53 | Burlington | $943 | -21% |
| 112 | Carolina Beach | $3,516 | 194% |
| 65 | Cary | $1,015 | -15% |
| 11 | Cashiers | $850 | -29% |
| 39 | Chapel Hill | $901 | -25% |
| 58 | Charlotte | $966 | -19% |
| 85 | Clayton | $1,225 | 2% |
| 95 | Clinton | $1,575 | 32% |
| 61 | Concord | $979 | -18% |
| 47 | Creedmoor | $923 | -23% |
| 13 | Denton | $852 | -29% |
| 75 | Denver | $1,128 | -6% |
| 80 | Dunn | $1,188 | -1% |
| 41 | Durham | $902 | -25% |
| 5 | Eden | $814 | -32% |
| 90 | Elizabeth City | $1,372 | 14% |
| 96 | Elizabethtown | $1,577 | 32% |
| 24 | Elkin | $869 | -27% |
| 88 | Fayetteville | $1,339 | 12% |
| 12 | Forest City | $850 | -29% |
| 16 | Franklin | $858 | -28% |
| 94 | Fremont | $1,550 | 29% |
| 51 | Gastonia | $933 | -22% |
| 93 | Goldsboro | $1,509 | 26% |
| 57 | Greensboro | $964 | -20% |
| 100 | Greenville | $1,662 | 39% |
| 109 | Hampstead | $2,353 | 96% |
| 98 | Havelock | $1,644 | 37% |
| 45 | Henderson | $910 | -24% |
| 18 | Hendersonville | $860 | -28% |
| 19 | Hickory | $866 | -28% |
| 50 | High Point | $930 | -22% |
| 8 | Highlands | $842 | -30% |
| 42 | Hillsborough | $903 | -25% |
| 31 | Huntersville | $888 | -26% |
| 101 | Jacksonville | $1,700 | 42% |
| 43 | Jamestown | $908 | -24% |
| 62 | Kannapolis | $981 | -18% |
| 83 | Kenly | $1,217 | 2% |
| 20 | King | $867 | -28% |
| 102 | Kinston | $1,701 | 42% |
| 84 | Laurinburg | $1,220 | 2% |
| 35 | Lenoir | $891 | -26% |
| 2 | Lexington | $730 | -39% |
| 40 | Lincolnton | $902 | -25% |
| 59 | Locust | $978 | -18% |
| 74 | Louisburg | $1,118 | -7% |
| 97 | Lumberton | $1,603 | 34% |
| 30 | Marion | $885 | -26% |
| 27 | Mebane | $874 | -27% |
| 49 | Mocksville | $928 | -23% |
| 37 | Monroe | $898 | -25% |
| 34 | Mooresville | $890 | -26% |
| 99 | Morehead City | $1,657 | 38% |
| 28 | Morganton | $877 | -27% |
| 29 | Mount Airy | $878 | -27% |
| 92 | Mount Olive | $1,496 | 25% |
| 21 | Murphy | $868 | -28% |
| 114 | Nags Head | $3,564 | 197% |
| 91 | New Bern | $1,374 | 15% |
| 26 | Newton | $870 | -27% |
| 38 | North Wilkesboro | $899 | -25% |
| 110 | Oriental | $2,511 | 110% |
| 78 | Princeton | $1,173 | -2% |
| 82 | Raeford | $1,215 | 1% |
| 64 | Raleigh | $1,014 | -15% |
| 6 | Reidsville | $827 | -31% |
| 72 | Roanoke Rapids | $1,094 | -9% |
| 33 | Robbinsville | $890 | -26% |
| 77 | Rockingham | $1,129 | -6% |
| 79 | Rocky Mount | $1,178 | -2% |
| 67 | Roxboro | $1,018 | -15% |
| 54 | Rutherfordton | $947 | -21% |
| 46 | Salisbury | $917 | -23% |
| 70 | Sanford | $1,074 | -10% |
| 106 | Shallotte | $2,103 | 76% |
| 36 | Shelby | $896 | -25% |
| 55 | Siler City | $955 | -20% |
| 86 | Smithfield | $1,247 | 4% |
| 66 | Southern Pines | $1,016 | -15% |
| 108 | Southport | $2,343 | 96% |
| 32 | Sparta | $889 | -26% |
| 3 | Spruce Pine | $804 | -33% |
| 23 | Statesville | $868 | -28% |
| 111 | Swansboro | $2,883 | 141% |
| 17 | Sylva | $860 | -28% |
| 87 | Tarboro | $1,269 | 6% |
| 14 | Taylorsville | $854 | -29% |
| 1 | Thomasville | $717 | -40% |
| 71 | Troy | $1,079 | -10% |
| 4 | Tryon | $810 | -32% |
| 76 | Wadesboro | $1,129 | -6% |
| 44 | Wake Forest | $909 | -24% |
| 52 | Warrenton | $933 | -22% |
| 107 | Washington | $2,192 | 83% |
| 15 | Waynesville | $857 | -28% |
| 22 | West Jefferson | $868 | -28% |
| 105 | Whiteville | $1,889 | 58% |
| 104 | Wilmington | $1,743 | 46% |
| 81 | Wilson | $1,214 | 1% |
| 48 | Winston Salem | $923 | -23% |
| 113 | Wrightsville Beach | $3,525 | 194% |
| 63 | Yadkinville | $996 | -17% |
| 7 | Yanceyville | $836 | -30% |
| 73 | Zebulon | $1,102 | -8% |
Comments and Questions