Who Has the Cheapest Homeowners Insurance In New York?
Find the Cheapest Insurance Quotes in Your Area
As people buy their homes throughout the Empire State, one important consideration they should be making is the cost of insuring their purchases. Our analysts collected and studied quotes for 72 cities and towns, in order to create an educational resource for people interested in homeowners insurance in NY. The premiums were collected for a single model home in each city, across a number of insurers. Read more below, or use the quote tool above to start finding homeowners insurance quotes in NY.
Cheapest Homeowners Insurance Companies in New York
Living in New York is expensive as it is, so you're going to want to go with a homeowners insurance company that gives you a fair price. We took a look at seven companies in the Empire State to determine which offered the best rates on average. We found State Farm was the overall cheapest company, offering protection for a $250,000 home for $591 per year. The rates we list below are the average across the entire state. We talk more about prices in different regions of New York below.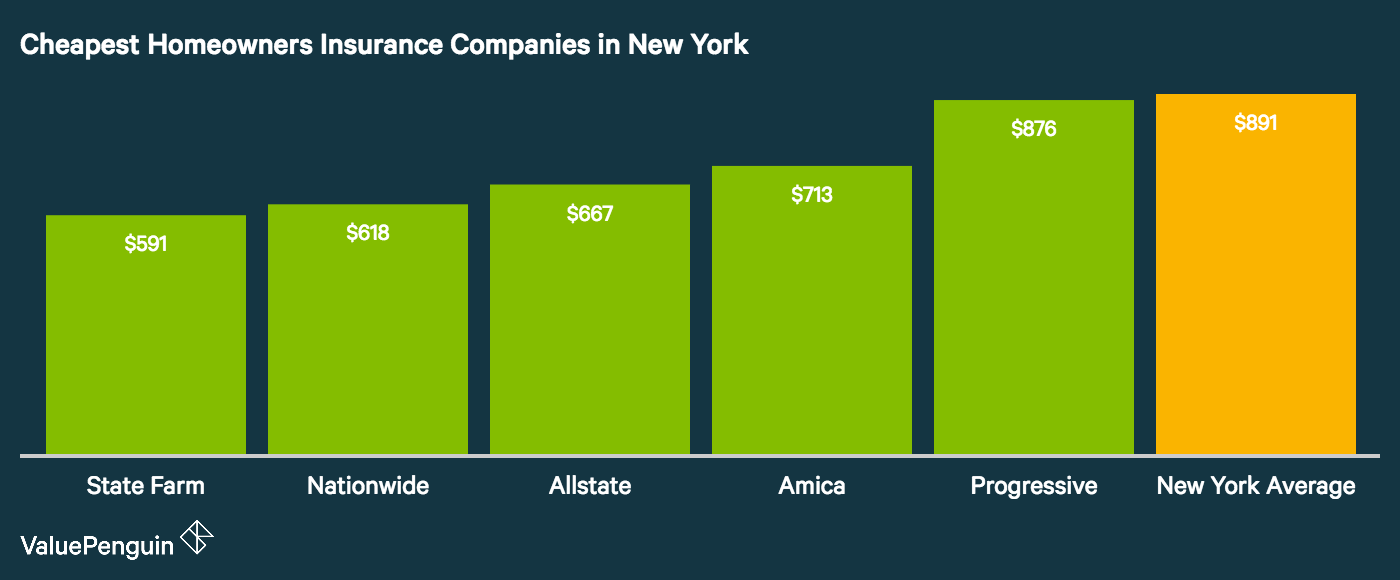 If your home is worth much more than $250,000 expect your rates to be higher. If you live on Long Island or Manhattan also expect your rates to be above average since you live on islands that are more prone to storms and perils. You can see a full list of the companies we surveyed below.
| Rank | Company | Yearly Homeowners Insurance Rate |
| --- | --- | --- |
| 1 | State Farm | $591 |
| 2 | Nationwide | $618 |
| 3 | Allstate | $667 |
| 4 | Amica | $713 |
| 5 | Progressive | $876 |
| 6 | Farmers | $950 |
| 7 | Lemonade | $1,120 |
| 8 | Liberty Mutual | $1593 |
Best Homeowners Insurance in New York
Since we now know the cheapest, we now need to identify the best homeowners insurance in New York. This is tougher to answer because the best homeowners company may not be the best for everyone. We identify some companies below that excel in different capacities.
| Company | Best For... |
| --- | --- |
| Amica | Customer Satisfaction |
| State Farm | Price |
| Lemonade | New York City Residents |
| USAA | Military members |
Find the Cheapest Insurance Quotes in Your Area
Amica Homeowners Insurance in New York
Amica has won the J.D. Power survey of homeowners insurance companies for 15 straight years. That record of customer satisfaction is tough to beat. The company gets 5/5 stars in every category including customer interaction, billing practices, policy offerings and the claims process. The price is also fairly competitive, being the 4th best priced company in New York. A possible downside may be for New York City residents and Long Islanders. We could not get homeowners insurance quotes for Long Island, Staten Island and NYC online from Amica. You will likely have to talk to an agent over the phone or in person to get a quote.
State Farm Homeowners Insurance in New York
As we write above, State Farm appears to be the most affordable homeowners insurance company in New York. In addition to a great price however, State Farm also does pretty well for customer satisfaction itself. Out of the 26 companies surveyed by JD Power, State Farm placed 7th, above other well known companies like Allstate, Farmers and Liberty Mutual. Bolstered by a strong agent network, State Farm scored 4/5 stars for customer interaction. They also have tools that help homeowners determine the value of their property and how much coverage they should have. In an opposite problem of Amica however, customers may have a hard time finding quotes online if they live upstate New York, and an easier time if they live on Long Island.
Lemonade Homeowners Insurance in New York
If you've never heard of Lemonade Insurance before, don't worry, they've only been around for a few months. This start up insurance company may just be the best company for New York City residents though. Lemonade is one of the few companies that can give you a quote online without ever needing to talk to an agent. The exclusively online carrier has thus far proved to be incredibly fast with paying claims, boasting paying off one claim in three seconds through the Lemonade app. Finally, the company wants to prove they don't have incentive to not pay out a claim by donating 20% of your premium to a charity of your choice.
USAA Homeowners Insurance in New York
USAA is a great company for military members and their family. Though we cannot get pricing for USAA, they usually offer highly competitive rates for those eligible for membership. They also have a good standing for customer service and claims handling. To be eligible you yourself need to have been in the military, or had a parent who was in the military and had a USAA policy.
Homeowners Insurance Rates in New York: by City
As we have eluded to, the many regions of New York make pricing uneven in the state. Some companies are better upstate, in the city or on Long Island, so we break down the regions below.
Homeowners Insurance in NYC
Most people in NYC rent rather than own a home, especially in Manhattan. Nonetheless, in a city of eight million people there are still a good number of homes that need insuring. So for homeowners insurance in Brooklyn, Staten Island, Manhattan, Queens and the Bronx, who should you go with? Answering that question on your own may be tough, since certain insurers won't provide you with an online quote in NYC. Of the insurers we list above, only State Farm and Lemonade are consistent in giving online quotes to New Yorkers. If a fast and easy process, without needing to talk to an agent is important for you, those two companies are something to consider. So how should you choose between the two?
| Borough | Lemonade | State Farm |
| --- | --- | --- |
| Homeowners Insurance Manhattan | $2,170 | $2,539 |
| Homeowners Insurance in Brooklyn | $1,728 | $2,092 |
| Homeowners Insurance Queens | $959 | $1,307 |
| Homeowners Insurance Staten Island | $1,353 | $1,392 |
The numbers above are average yearly rates for different homes throughout those four boroughs. Since the average cost of a home changes a lot between the boroughs (1M in Manhattan, 800K in Brooklyn and 500k in Queens and Staten Island) we chose different amounts of coverage for each region of the city. Lemonade and State Farm are usually very close in price, with Lemonade taking the edge for home insurance in Manhattan, Brooklyn and Queens, while State Farm had the edge in State Farm. To know what will definitively be the best for you, file a quote. Also remember these were averages for the boroughs. Depending on where you live in a specific borough can dramatically change your rate. For example we found Long Island City rates to be well over $2,000 a year while Ridgewood was much less expensive.
Most Common Claims Made in NYC
Using Allstate's Common and Costly claims tool, we can tell you what types of claims most plague residents of NYC. The top ones tend to center around damage caused by wind and water. Theft is also common, whereas in Brooklyn, fires tend to be more common than in the other boroughs.
| Borough | 1st Most Common Claim | 2nd Most Common Claim | 3rd Most Common Claim |
| --- | --- | --- | --- |
| Manhattan | Water Damage | Theft | Physical Damage |
| Brooklyn | Wind | Water Damage | Fire |
| Queens | Wind | Theft | Water Damage |
| Staten Island | Water Damage | Wind | Physical Damage |
Homeowners Insurance on Long Island
Long Island tends to be a tough, and expensive, place to get homeowners insurance. As the name implies, Long Island is an island that is prone home damage caused by large storms, rising tides as well as a host of other perils. As such, many insurers will not actually give you an online quote if you live on Long Island. From what we found, State Farm had the best and most available rates for Long Islanders. We found the average home insurance rate for Long Island was $774 at State Farm. Lemonade was 2nd best, but still a good deal behind, unlike in New York City.
| Company | Yearly Rate |
| --- | --- |
| State Farm | $774 |
| Lemonade | $1,560 |
| Liberty Mutual | $2,004 |
To see if your town is eligible for an online quote, put in your zip code in one of the quote boxes above and you will be directed to the company that can best handle your situation. To see how some Long Island cities compare for costs, read on below. In the section after we discuss Upstate New York.
| | | | |
| --- | --- | --- | --- |
| Rank | City | Average Premium | vs State Average |
| 1 | Rockville Centre | $1,321 | 59% |
| 2 | Valley Stream | $1,309 | 57% |
| 5 | Hempstead | $1,176 | 41% |
Rockville Center, NY
Our analysis of home insurance rates in New York, for a single model home, found that Rockville Center, a village in Nassau County, had the highest rates. The average cost of a 1 year policy here was $1,321 – 59% above prices commonly found throughout the state. The village has a population of about 24,000, spread across approximately 10,000 households. Many famous and notable individuals, including comedian Dave Attell and radio personality Howard Stern, once called Rockville their home. 
Valley Stream, NY
Valley Stream, a scenic village in southeastern New York, is located in Long Island. The village was first settled around 1640, by Dutch settlers, though it was not incorporated fully until 1925. It was during this time that Valley Stream experienced a lot of growth and development, due to a combination of the Long Island Railroad being stationed nearby, and the construction of Merrick Road – both of which drew significant tourism to the area. The average price of insuring our model home in Valley Stream was $1,309, making it the 2nd most expensive place on our list.
Hempstead, NY
Hempstead rounds off our list of places with the most expensive home insurance rates in New York State. With the most recent census reporting a population of 54,000, Hempstead is the most populated village in New York – a far departure from the first census (in 1870), when the village's population was just 2,000 people. Like many other places around Long Island, the village saw a massive population spike around the time of the construction of the Long Island Railroad, in the 1920s. The typical price of a home insurance policy in the village of Hempstead is $1,176, or 41% greater than the New York mean.
Homeowners Insurance in Buffalo, NY
In the western part of the state is Buffalo which is home to several thousands homeowners. The city famous for its titular chicken wings is generally cheaper than rates in NYC or Long Island, where the average price is $838 per year. So where should Buffalo homeowners turn for insurance if they want a rate even cheaper?
| Company | Yearly Rate |
| --- | --- |
| State Farm | $500 |
| Allstate | $767 |
| Nationwide | $794 |
Like in many parts of the state, State Farm was the cheapest home insurer to go with in Buffalo. At $500 per year, a rate from State Farm was well below the state average. We should note that we had difficulty finding quotes from Lemonade, Farmers and Progressive online for Buffalo.
Homeowners Insurance in Syracuse, NY
Syracuse is similarly priced as Buffalo, with an average rate of $809 per year for a home insurance policy. The biggest difference between the two upstate cities however is that in Syracuse we actually found Allstate to be the cheapest insurer.
| Company | Yearly Rate |
| --- | --- |
| Allstate | $517 |
| State Farm | $537 |
| Nationwide | $638 |
The price difference between Allstate and State Farm was not too different, with both offering well below average rates. Since the difference is so small, either company can end up being cheaper for your particular home so it is important you get quotes yourself from both.
Homeowners Insurance in Other Upstate New York Cities
Upstate is generally the cheapest spot in the state for homeowners insurance policies. You can generally expect to pay 29% less than the residents of a typical home statewide. The average price of homeowners insurance in these 5 upstate cities was $592. Most of these places are located in the northwestern and southwestern parts of the state – near the Canadian and Pennsylvanian borders.
| | | | |
| --- | --- | --- | --- |
| Rank | City | Average Premium | vs State Average |
| 1 | Elmira | $569 | -32% |
| 2 | Binghamton | $588 | -29% |
| 3 | Endicott | $599 | -28% |
| 4 | Johnson City | $601 | -28% |
| 5 | Lancaster | $605 | -27% |
Elmira, NY
Out of all the cities included in our study, Elmira had the cheapest homeowners insurance premiums. The average annual cost of a home insurance policy in this city is roughly $569, for our benchmark property. Elmira is located in Chemung County, and has a population of approximately 29,000 residents. Elmira was the birthplace of the Tommy Hilfiger, the world famous fashion designer. His name is featured on an entrance sign into the city, along with other famous Elmira residents, including news anchor Brian Williams, and author Mark Twain.
Binghamton, NY
The second best homeowners insurance prices in the state of New York can be found in the city of Binghamton. A typical home insurance premium in the city costs $588 – which is 29% lower than the statewide average. Outside of low home insurance prices, Binghamton residents are known to enjoy spiedies – sandwiches local to the area. The best day to get your hands on a spiedie is during the city's annual Spiedie Fest, during which many people compete in a cook-off, brining forth their best spiedie recipes.
Endicott, NY
Homeowners insurance premiums for our model home in Endicott, were in the neighborhood of $599, making it the third most affordable city in NY. Originally, Endicott was a "company town" formed around the Endicott Johnson Corporation, which was at one point the largest shoe company in the world. Around 1921, the town underwent major and rapid growth, eventually merging with the nearby Union village into the city it is today. This rapid period of expansion resulted in Endicott earning the nickname "The Magic City" – in reference to it seemingly appearing out of nowhere.
Johnson City, NY
Johnson City, located in Broome County and part of the Binghamton Metropolitan Statistical Area, is the fourth city on our list of places with the most affordable homeowners insurance in New York. Our benchmark home in the city was commonly quoted annual premiums of $601 – a 28% improvement over the state mean. One of Johnson City's most famous sons is Fred Coury, drummer for multi-platinum selling rock band, Cinderella.
Lancaster, NY
Lancaster took 5th place on our list of cheapest homeowners insurance rates in New York. Our sample home in Lancaster was quoted home insurance prices averaging $605 per year. The town is located in Erie County, a 30 minute drive outside of Buffalo. Despite competing with a much larger city, Lancaster has the largest school in the entire county – both in terms of population and square footage. Lancaster High School, has a graduation rate of 98% - over 20 percentage points higher than the New York average.
New Rochelle, NY
New Rochelle is a city in Westchester County, and the seventh most populous cities in the state, with roughly 73,000 residents. In 2009, Bloomberg Business named New Rochelle one of the best places in the nation to raise children, due largely to its diversity and well developed downtown area. While it may be nice to raise kids here, owning a home will cost you – at least as far as insurance is concerned. The mean price of a home insurance policy, for our sample home in New Rochelle, was $1,208 – 45% more than the state average.
Dobbs Ferry, NY
Dobbs Ferry is a village in Westchester County with close to 11,000 residents. In 2014, the village was recognized as an environmental leader in New York State, due to its reduction of greenhouse emissions for municipal facilities. Through this, Dobbs Ferry was certified as a "Climate Smart Community". The village was also home to internet entrepreneur, Mark Zuckerberg, of Facebook fame. Having a net worth of over $35 billion, like Mr. Zuckerberg, might be helpful in paying for the high home insurance prices in Dobbs Ferry. Our study concluded that the median price for one year's worth of protection, for our sample home, is $1,777.
Condo and Co-Op Insurance in New York
New York, especially NYC, has a lot of condo and co-op owners. For those types of owners, your insurance policy falls somewhere in between a renters policy and a homeowners policy. If you live in a condo you don't need all the coverage afforded to you by a homeowners policy. As a result, condo and co-op insurance is generally much less expensive than a homeowner policy. You should expect to pay around $300 per year for a basic policy and upwards of $700 per year for a more inclusive one.
Average Cost of Homeowners Insurance by City
The average cost of insuring our benchmark home in New York is $891. Prices varied, however, by as much as 59% from this value, with major variations existing city-to-city. Below you can see all the cities included in this study, listed from cheapest to most expensive home insurance prices. The number to the right of each city is the average annual premium.

Methodology
The data for this study was collected across several different major insurers within the state. The property was a 2-story, single-family home, that was built 15 years ago. The building had 2,000 square feet, 1 and a half bathrooms, and an attached garage. The homeowner was a 31-year-old, non-smoking, male. He does not own any dogs, or exotic pets, and does not own a trampoline or swimming pool. The insured also did not file any loss claims in the past.
Online quotes are unavailable for the above cities, likely due to their proximity to the coast and increased risk for property damage. As a result, many insurers may not extend coverage to zip codes. If they do offer coverage, the cost of premiums will likely be well above average.
All the cities we included in our analysis are displayed below, in alphabetical order.
| Rank | City | Yearly Rate |
| --- | --- | --- |
| 48 | Albany | $838 |
| 4 | Amherst | $665 |
| 30 | Amityville | $781 |
| 43 | Amsterdam | $826 |
| 7 | Auburn | $685 |
| 76 | Babylon | $1,318 |
| 24 | Binghamton | $765 |
| 47 | Buffalo | $838 |
| 82 | Callicoon | $1,729 |
| 66 | Cold Spring | $1,031 |
| 60 | Cooperstown | $897 |
| 14 | Corning | $734 |
| 79 | Dobbs Ferry | $1,383 |
| 15 | Dunkirk | $735 |
| 72 | Ellenville | $1,160 |
| 68 | Ellicottville | $1,070 |
| 12 | Elmira | $731 |
| 20 | Endicott | $754 |
| 83 | Fresh Meadows | $2,625 |
| 32 | Fulton | $782 |
| 21 | Garden City | $754 |
| 23 | Geneva | $764 |
| 56 | Glens Falls | $889 |
| 53 | Gloversville | $860 |
| 26 | Hempstead | $773 |
| 38 | Herkimer | $811 |
| 49 | Hornell | $840 |
| 18 | Ithaca | $745 |
| 19 | Johnson City | $751 |
| 3 | Kingston | $651 |
| 13 | Lancaster | $733 |
| 27 | Lawrence | $774 |
| 45 | Le Roy | $829 |
| 81 | Lewisboro | $1,528 |
| 33 | Lindenhurst | $790 |
| 51 | Little Falls | $851 |
| 84 | Long Island City | $2,849 |
| 39 | Massapequa | $814 |
| 16 | Mayville | $738 |
| 57 | Melville | $895 |
| 42 | Middletown | $824 |
| 54 | Millerton | $873 |
| 10 | Mineola | $721 |
| 67 | Nanuet | $1,055 |
| 74 | Narrowsburg | $1,224 |
| 69 | New City | $1,102 |
| 1 | New Rochelle | $580 |
| 59 | New York Average | $893 |
| 17 | Newark | $744 |
| 78 | Newburgh | $1,370 |
| 36 | Niagara Falls | $800 |
| 50 | Norwich | $840 |
| 71 | Nyack | $1,154 |
| 29 | Olean | $778 |
| 44 | Oneida | $827 |
| 52 | Oneonta | $859 |
| 11 | Orchard Park | $727 |
| 40 | Oswego | $815 |
| 65 | Pelham | $982 |
| 70 | Plattsburgh | $1,116 |
| 62 | Port Chester | $906 |
| 58 | Poughkeepsie | $895 |
| 73 | Ridgewood | $1,162 |
| 34 | Rochester | $794 |
| 80 | Rockaway Point | $1,435 |
| 25 | Rockville Centre | $765 |
| 46 | Rome | $832 |
| 63 | Rye Brook | $906 |
| 64 | Sag Harbor | $942 |
| 5 | Saratoga Springs | $670 |
| 41 | Schenectady | $819 |
| 61 | Setauket | $901 |
| 75 | Sunnyside | $1,229 |
| 37 | Syracuse | $809 |
| 8 | Tonawanda | $711 |
| 22 | Troy | $755 |
| 28 | Valley Stream | $775 |
| 55 | Watertown | $880 |
| 35 | Wellsville | $797 |
| 9 | West Seneca | $719 |
| 31 | Westfield | $782 |
| 2 | Westhampton | $631 |
| 77 | White Plains | $1,328 |
| 6 | Williamsville | $681 |
Sources
Comments and Questions