Who Has the Cheapest Homeowners Insurance in Montana?
Find the Cheapest Insurance Quotes in Your Area
The "Land of the Shining Mountains", Montana, is the 4th largest state in the nation by size. Historically, much of the state's economy was based on agriculture. While this still holds true today, according to Montana Governor's Office of Economic Development, today the fastest-growing sector of the state's economy is tourism. According to a 2012 report by the University of Montana's Institute for Tourism and Recreation Research, a record 10.8 million tourists visited Montana that year, spending approximately $3.27 billion.
We conducted research into the homeowners insurance costs in Montana. Due to the fact that these prices can vary drastically, city to city, we hoped to bring a greater level of transparency to the true cost of owning a home in the "Big Sky Country". To do so, we examined home insurance premiums from various major insurers, in 37 different cities statewide, for a single benchmark home.
Cheapest Homeowners Insurance Companies in Montana
We conducted a study to find the cheapest homeowners insurance provided in Montana. We gathered quotes from Amica, State Farm, Allstate, and Farmers from across 37 cities throughout the state and averaged the values. From our study, we found that Amica offered the cheapest annual rate on average at $937, which is about 39% lower than the average for the state. The following table lists the mean annual insurance premiums for homeowners in Montana, ranked from most affordable to least affordable: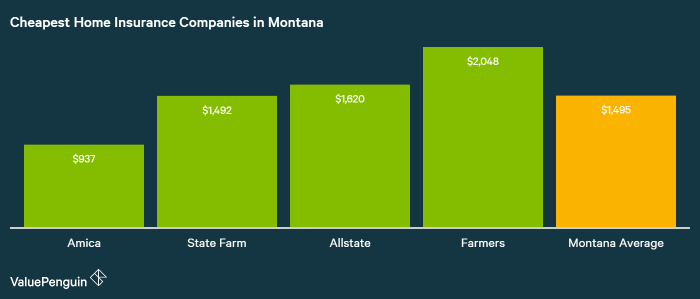 | Rank | Cheapest Homeowners Insurance Companies | Average Annual Rates |
| --- | --- | --- |
| 1 | Amica |  $937 |
| 2 | State Farm |  1,492 |
| 3 | Allstate |  1,620 |
| 4 | Farmers |  2,048 |
| | Average |  1,524 |
The above rates were for a sample property. To find the best rates for yourself, we recommend that you find quotes from multiple insurance providers and compare them.
Best Homeowners Insurance Rates in Montana: by City
The cities and towns with the cheapest homeowners insurance rates in Montana are all found within the north-western parts of the state, in the Flathead National Forest regions. The average cost of a 1 year home insurance policy for our model property in these cities is $1,122 – that is 25% less than the typical Montana home.
| | | | |
| --- | --- | --- | --- |
| Rank | City | Average Premium | vs State Average |
| 1 | Plains | $945 | -37% |
| 2 | Whitefish | $1,131 | -24% |
| 3 | Eureka | $1,152 | -23% |
| 4 | Kalispell | $1,174 | -21% |
| 5 | Libby | $1,208 | -19% |
Plains, MT
During the course of our research, we found the cheapest home insurance prices in Plains, Montana. The city, found in Sanders County, is little over half a square mile in size, and has a population of roughly 1,000. When the town was originally founded, it was called Horse Plains – this, due to local Native American tribes using the territory's fields to feed their horses. Our model property in Plains averaged home insurance prices of $945 per year, significantly more affordable than the statewide average.
Whitefish, MT
Dubbed "Montana's outdoor recreation playground", Whitefish is a small mountain city and resort. The city is a tourist and ski attraction, due to its proximity to Big Mountain. The city's namesake is the nearby Whitefish River – which, within itself, also provides residents and visitors to the area with many outdoor recreational opportunities. Whitefish has some of the best homeowners insurance rates in the state. The average home insurance premium, for our benchmark property in Whitefish, was $1,131 – 24% less than the state mean.
Eureka, MT
Eureka, a town in Lincoln County, has the third cheapest home insurance rates in Montana. The annual cost of insuring our sample home in Eureka, is $1,152. Every year, in April, the town hosts Rendezvous Days – a multiday festival which attracts visitors from both the US and Canada. The festival celebrates the territory's history. Native Americans living in the area, grew tobacco here – leading Eureka, and surrounding fields, to be named 'Tobacco Valley'.
Kalispell, MT
Kalispell is the 8th most populous city in Montana, and has its 4th lowest home insurance premiums. The cost of insuring our benchmark home in Kalispell is approximately 21% better than that in the typical Montana home. Our research indicated average annual quotes of $1,174. While Kalispell's population is an estimated 21,000, the surrounding Micripolitan Statistical Area has close to 100,000 residents. Kalispell is located in Flathead County, which is named for sprawling Flathead River, located right outside of the city limits. 
Libby, MT
Rounding off our list of places with the cheapest home insurance prices in Montana is Libby. The average cost of homeowners insurance for our property in Libby was just $1,208 annually. The city was once the site of a vermiculite plant, which polluted much of Libby with asbestos dust. Over the last decade, however, the city has been successfully recovering and restoring its environment. Mayor Doug Roll described Libby as a "Phoenix rising from the ashes". As of 2010, the EPA has removed approximately 900,000 cubic yards of contaminated material from Libby – a testament to the ongoing efforts to restore it.
Most Expensive Homeowners Insurance in Montana
The most expensive cities for homeowners insurance in Montana are found in the central, and eastern portions of the state – close to the North Dakota border. The cost of a home insurance policy in these cities is significantly more expensive than the rest of the state, averaging $2,069 per year. The cost of home insurance can be a factor of a number of things. In the past, we have seen correlation between geographic location, types of firefighting services offered, constructions and labor costs, all influencing prices. It is difficult to pin down the specific reason behind each city's prices. All we could hope for is to collect unbiased, uniform data, data controlling for the highest amount of variables possible, in order to create a comparison. Look to our methodology section to see how we sought to achieve this.
| | | | |
| --- | --- | --- | --- |
| Rank | City | Average Premium | vs State Average |
| 1 | Miles City | $2,305 | 54% |
| 2 | Glendive | $2,150 | 44% |
| 3 | Sidney | $2,023 | 35% |
| 4 | Glasgow | $1,944 | 30% |
| 5 | Billings | $1,923 | 29% |
Miles City, MT
The county seat of Custer County, Miles City, has a population of roughly 9,000 people and some of the highest home insurance rates in all of Montana. The city is famous for its annual Miles City Bucking Horse Sale, which is held every May. The event is centered around a major auction of rodeo stock. However, there are accompanying parades, horse races, and bull riding shows – which, on top of attracting stock contractors, also draws in spectators from around the nation. Horses are not, however, the only expensive items for sale in Miles City. The average cost of a home insurance policy here, for our benchmark property, was in the neighborhood of $2,305.
Glendive, MT
Situated between the Yellowstone River and an area called the Badlands, is the city of Glendive. Despite the scary sounding name of the latter, Glendive is the site of many beautiful parks and both natural and manmade attractions, including the Makoshika State Park and Frontier Gateway Museum. The average cost of insuring the property included in our study, within Glendive's downtown area, came to an average of $2,150. This made Glendive approximately 44% more expensive than the statewide average.
Sidney, MT
Sidney, a city along the Yellowstone River in Richland County, has the third highest homeowners insurance premiums in Montana. The city has a population of roughly 5,000 residents, and is located just 10 miles from the North Dakota border. Sidney's economy is focused around farming, ranching, and oil production. The last item on that list, oil production, was responsible for two of Sidney's population surges – this, due to oil booms in the area. Owning land with crude oil deposits might be one way to help pay for Sidney's high home insurance prices. The average cost of insuring our model home in Sidney was typically well above the state average, at approximately $2,023 per year.
Glasgow, MT
Glasgow is a city of 3,000 residents in Valley County. The city enjoys one of the nation's lowest crime rates. To illustrate just how uncommon crime here is consider the following. Between 2010 and 2013, there has been only one reported robbery in Glasgow. While crime rates remain low, the city's home insurance prices are another story entirely. Average home insurance prices in Glasgow are approximately 30% higher than the rest of the state. Our model home averaged annual insurance premiums of $1,944.
Billings, MT
Billings is the largest city in Montana, with a population of roughly 167,000 residents. The city has a rapidly expanding and diverse economy, which lead to Fortune Small Business magazine naming it the "best small city in which to start a business". Much of Billings' population is employed in the health care sector – with an estimated 13,000 people employed there in 2012. The average cost of insuring our benchmark home in Billings was, on average, $1,923 per year – that is 29% more expensive than the typical city in Montana.
Average Cost of Homeowners Insurance in Montana: by City
The average home insurance premium in Montana, for our model home, is $1,495. Throughout our study, we have seen cities vary by as much as 54% from this mean value. The best prices we found were, on average, 25% more affordable than those in a typical Montana city. All the cities included in our study can be found below, ordered from least to most expensive. The number to the right of each city represents its average annual home insurance premium.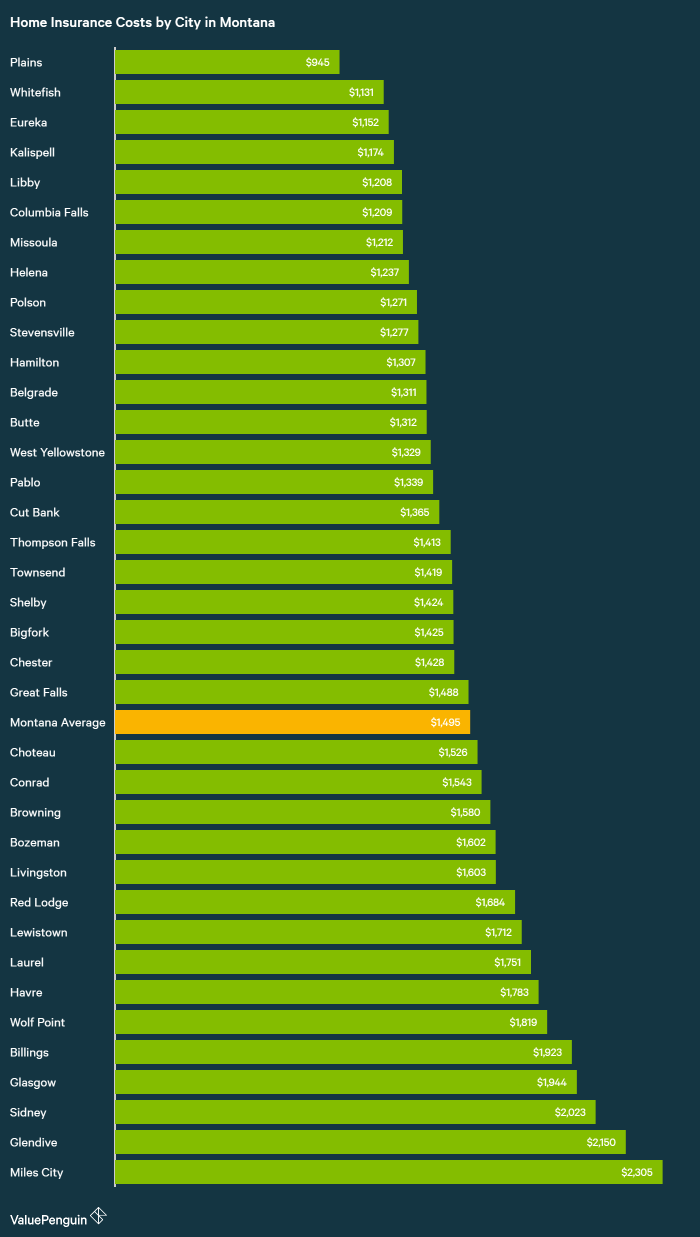 Methodology
Our study was conducted by gathering home insurance quotes for 1 benchmark property in 37 Montana city. Quotes were collected from 4 major insurance carriers – Amica, Allstate, State Farm, and Farmers. The model home was a 2-story, 2,000 square foot house with a garage attachment. The home was built in the year 2000, and was equipped with a burglar, and fire alarm. The sample home insurer was a single, non-smoking male, in his early 40s. The list of cities included in our analysis can be found below, listed in alphabetical order.
| | | | |
| --- | --- | --- | --- |
| Rank | City | Average Premium | vs State Average |
| 12 | Belgrade | $1,311 | -12% |
| 20 | Bigfork | $1,425 | -5% |
| 33 | Billings | $1,923 | 29% |
| 26 | Bozeman | $1,602 | 7% |
| 25 | Browning | $1,580 | 6% |
| 13 | Butte | $1,312 | -12% |
| 21 | Chester | $1,428 | -5% |
| 23 | Choteau | $1,526 | 2% |
| 6 | Columbia Falls | $1,209 | -19% |
| 24 | Conrad | $1,543 | 3% |
| 16 | Cut Bank | $1,365 | -9% |
| 3 | Eureka | $1,152 | -23% |
| 34 | Glasgow | $1,944 | 30% |
| 36 | Glendive | $2,150 | 44% |
| 22 | Great Falls | $1,488 | 0% |
| 11 | Hamilton | $1,307 | -13% |
| 31 | Havre | $1,783 | 19% |
| 8 | Helena | $1,237 | -17% |
| 4 | Kalispell | $1,174 | -21% |
| 30 | Laurel | $1,751 | 17% |
| 29 | Lewistown | $1,712 | 14% |
| 5 | Libby | $1,208 | -19% |
| 27 | Livingston | $1,603 | 7% |
| 37 | Miles City | $2,305 | 54% |
| 7 | Missoula | $1,212 | -19% |
| 15 | Pablo | $1,339 | -10% |
| 1 | Plains | $945 | -37% |
| 9 | Polson | $1,271 | -15% |
| 28 | Red Lodge | $1,684 | 13% |
| 19 | Shelby | $1,424 | -5% |
| 35 | Sidney | $2,023 | 35% |
| 10 | Stevensville | $1,277 | -15% |
| 17 | Thompson Falls | $1,413 | -5% |
| 18 | Townsend | $1,419 | -5% |
| 14 | West Yellowstone | $1,329 | -11% |
| 2 | Whitefish | $1,131 | -24% |
| 32 | Wolf Point | $1,819 | 22% |
Comments and Questions