Who Has the Cheapest Homeowners Insurance Quotes in Minnesota?
Find the Cheapest Insurance Quotes in Your Area
The "Land of 10,000 Lakes", Minnesota is a Midwestern U.S. state, near the Canadian border. The state's nickname doesn't do it justice. There are, in fact closer to 12,000 lakes on its territory – that is, if you count only those larger than 10 acres. Minnesota's name is derived from Native American words for "blue water" or "clouded blue water". Many privately owned and publicly traded companies are headquartered in Minnesota – including UnitedHealth Group, General Mills, Ameriprise, Best Buy, and Cargill.
We studied the home insurance rates in 109 cities across the "Gopher State". Because homeowners premiums can vary from city to city, the purpose of the study was to bring clarity to the true cost of owning a home in these places. For the purposes of clear and balanced analysis, we examined insurance prices for the same $200,000 benchmark property. Our analysis found that the average annual cost of home insurance in Minnesota is $2,196.
Cheapest Homeowners Insurance in Minnesota
We researched homeowners insurance in Minnesota by collecting quotes from major insurance companies including Progressive, State Farm, Liberty Mutual, and Farmers for a benchmark home of 2,000 square-feet. Our study gathered quotes from across 109 towns and cities in Minnesota. After averaging the quotes, we found that Progressive offered the cheapest average annual rate at $1,208 for our sample homeowners policy (Farmers did not provide enough quotes to calculate a mean insurance premium). Below are the average insurance premiums for the major companies, ranked from cheapest to most expensive: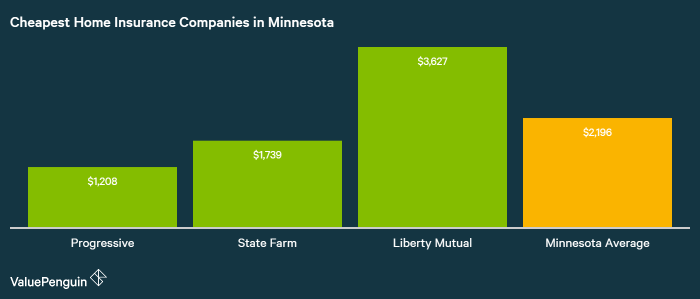 | Rank | Cheapest Homeowners Insurance Companies | Average Annual Rates |
| --- | --- | --- |
| 1 | Progressive | $1,208 |
| 2 | State Farm |  1,739 |
| 3 | Liberty Mutual |  3,627 |
| | Average |  2,191 |
The above rates were obtained for a sample property. To find the best rate for yourself, we recommend finding quotes from multiple companies and comparing them.
Best Homeowners Insurance Rates in Minnesota: by City
The cheapest cities for homeowners insurance in Minnesota can all be found along the northern parts of the state – near the Canadian border. For our benchmark home, our study revealed the average cost of insurance in these cities and towns to be approximately $1,782 per year.
| | | | |
| --- | --- | --- | --- |
| Rank | City | Average Premium | vs. State Average |
| 1 | Ely | $1,724 | -21% |
| 2 | International Falls | $1,736 | -21% |
| 3 | Thief River Falls | $1,756 | -20% |
| 4 | Crookston | $1,807 | -18% |
| 5 | Moose Lake | $1,884 | -14% |
Ely, MN
Our research has revealed the lowest home insurance prices in Minnesota can be found in Ely, Saint Louis County. The average annual cost of insuring our benchmark property in Ely is $1,724 – this is 21% more affordable than the statewide average. Having affordable homeowners insurance prices appears to keep the city's spirits high. The city of Ely has been part of a number of humorous hoaxes and jokes over the years. In 2009, for example, the city submitted a bid to host the 2016 Olympics – claiming to have already hired a man to drain the nearby Miner's Lake in order to accommodate proper seating for the event. 
International Falls, MN 
International Falls is a city in Koochiching County, with a population of roughly 6,000 residents. The city is most famous for its record breaking low temperatures. International Falls has some of the coldest winters in the United States – the all-time lowest ever recorded temperature was -55 °F. This climate has earned International Falls its nickname, the "Icebox of the Nation". Temperatures are not the only thing that's low in the city – home insurance prices are as well! Our model property in International Falls averaged homeowners premiums of $1,736 – the second cheapest in Minnesota.
Thief River Falls, MN
The third cheapest homeowners insurance rates in Minnesota are found in Thief River Falls. This city of 9,000 is the home of the Arctic Cat snowmobile manufacturer. In additional to snowmobiles, the city's industry is also focused around the production of farm machinery (Steiger Tractors) and the global electronics distribution (Digi-Key). The typical home insurance premium in Thief River Falls, for our model property, costs $1,756 annually – which is 20% better than the average Minnesota home.
Crookston, MN
Crookston, a city in Polk County, has Minnesota's 4th best homeowners insurance rates. The mean price quoted to our researchers for the benchmark home in Crookston was $1,807. The city was originally named "Queen City", however it was later renamed to Crookson in honor of a Colonel William Crooks. The Grand Theater, the oldest operating movie theater in the nation, is located in Crookston. Originally opened as an opera house, the Grand Theater saw famous performers such as Mark Twain and Harry Houdini.
Moose Lake, MN
Rounding off our list of most affordable home insurance rates in Minnesota is Moose Lake. The city was built along a glacial valley, near the shores of Mooshead Lake – which is where it derives its name. Moose Lake hosts one of the nation's most unique events – Agate Days. On these, gem vendors from all around the United States convene in the city, showing off their wares. In the afternoons, a big pile of rocks is dropped in the downtown Main Street area, with a mix of quarters and Agates. Residents are then free to hunt for these gems and coins. The average cost of insuring our sample property in Moose Lake was 14% better than the state mean – typically just $1,884 per year.
Most Expensive Homeowners Insurance in Minnesota
After collecting home insurance premiums from over a hundred Minnesota cities, we found the highest in the following five cities. We found the average home insurance rate in the following cities to be $2,584 annually – 18% greater than what you'd find in a typical Minnesota city. These places were all found close to the Twin Cities area. It is difficult to predict exactly what affects the homeowners insurance rates in each city. Things such as extreme weather rates, as well construction and labor costs, can all have an impact on the premium amounts.
| | | | |
| --- | --- | --- | --- |
| Rank | City | Average Premium | vs. State Average |
| 1 | Woodbury | $2,599 | 18% |
| 2 | Jordan | $2,597 | 18% |
| 3 | New Prague | $2,585 | 18% |
| 4 | Prior Lake | $2,582 | 18% |
| 5 | Forest Lake | $2,557 | 16% |
Woodbury, MN 
Woodbury, a city just outside of the Saint Paul and Minneapolis, has some of the highest home insurance prices in the state. Our research found that the average cost of a 1-year insurance policy in Woodbury is $2,599, which is approximately 18% higher than the Minnesota average. Woodbury has a population of roughly 60,000 residents. The city's largest employers are part of the education and health care sectors, with retailors like Target, Walmart and Sam's club trailing behind. 
Jordan, MN
Jordan, a city in Scott County, is home to Minnesota's second highest homeowners insurance rates. This city of 5,000 was named after the famous Jordan River, in West Asia. Baseball is a major recreational activity and favorite pastime of Jordan residents. The Jordan Brewers, the local amateur baseball team, are multi-time state champions. The home insurance rates in Jordan, however, are anything but a home run – being the second highest in Minnesota. Our benchmark home averaged premiums around $2,597.
New Prague, MN
Homeowners insurance prices, for the home included in our study, in New Prague were in the neighborhood of $2,585 – making it the third most expensive in Minnesota. A large portion of the city's first settles were Czech immigrants, which lead to the city being named after that country's capital. According to a previous census, 1 in 5 New Prague residents can trace their ancestry to Czech origins. To that end, the city annually celebrates Dožínky, a Czech harvest festival.
Prior Lake, MN
Prior Lake is a city in Scott County, with a population of 23,000. Two giant lakes sit in the middle of the city – Upper Prior Lake and Lower Prior Lake. It is through these two lakes that Prior Lake gets its name. Along the city's southwestern boarder, there is a third large body of water – Spring Lake. All three lakes contribute much to Prior Lake's lifestyle – providing residents with access to recreational fishing, water sports, and even snowmobiling. All the fun and games comes at a cost, however. When examining our model home, we found the average homeowners insurance prices in Prior Lake to be $2,582 annually – 18% more than the statewide average.
Forest Lake, MN
Forest Lake, found in the northwestern corner of Washington County, is a heavily agricultural community. The nearby lakes contribute greatly to the city's culture. Up until a few years ago, the city held an ice fishing event called Fishapalooza. Due to dwindling attendance numbers, however, the tournament was recently discontinued. The home we studied in Forest Lake had average annual homeowners insurance premiums of $2,557.
Average Cost of Homeowners Insurance in Minnesota: by City
The average cost of insuring our sample home across 109 different Minnesota cities is $2,196. We found prices to vary as much as 21% from this average value. Differences between different cities are even more stark – residents of the city with the cheapest rates pay 34% than those in the most expensive. All the cities included in our study can be seen below, ordered from least to most expensive. The number to the right of each city name represents its average home insurance annual premium.

Methodology
In order to control for as many factors as possible, our study looked at an identical 2,000 square foot home in each of the 109 cities in this study. Rates were collected from three different issuers – Progressive, Liberty Mutual, and State Farm. After being collected, the quotes were averaged to arrive at an estimate of the home insurance cost in each city. The sample homeowner was a 41-year-old male, with no prior claims history. He owns no pets, and is a non-smoker. A list of all the cities, in alphabetical order, along with their average annual premium, can be found below.
| | | | |
| --- | --- | --- | --- |
| Rank | City | Average Premium | vs. State Average |
| 16 | Aitkin | $2,015 | -8% |
| 67 | Albany | $2,242 | 2% |
| 53 | Albert Lea | $2,182 | -1% |
| 64 | Alexandria | $2,237 | 2% |
| 82 | Annandale | $2,303 | 5% |
| 83 | Anoka | $2,306 | 5% |
| 24 | Austin | $2,074 | -6% |
| 6 | Bemidji | $1,888 | -14% |
| 25 | Benson | $2,078 | -5% |
| 74 | Blaine | $2,279 | 4% |
| 34 | Bloomington | $2,106 | -4% |
| 21 | Brainerd | $2,063 | -6% |
| 87 | Brooklyn Park | $2,336 | 6% |
| 92 | Buffalo | $2,370 | 8% |
| 58 | Burnsville | $2,214 | 1% |
| 41 | Caledonia | $2,136 | -3% |
| 65 | Cambridge | $2,237 | 2% |
| 60 | Cannon Falls | $2,216 | 1% |
| 80 | Chanhassen | $2,293 | 4% |
| 103 | Chaska | $2,491 | 13% |
| 48 | Clarissa | $2,159 | -2% |
| 12 | Cloquet | $1,958 | -11% |
| 95 | Cokato | $2,392 | 9% |
| 62 | Coon Rapids | $2,225 | 1% |
| 100 | Cottage Grove | $2,469 | 12% |
| 4 | Crookston | $1,807 | -18% |
| 9 | Duluth | $1,917 | -13% |
| 96 | Eden Prairie | $2,396 | 9% |
| 10 | Elbow Lake | $1,932 | -12% |
| 1 | Ely | $1,724 | -21% |
| 39 | Fairmont | $2,135 | -3% |
| 89 | Faribault | $2,346 | 7% |
| 18 | Fergus Falls | $2,028 | -8% |
| 105 | Forest Lake | $2,557 | 16% |
| 14 | Frazee | $1,991 | -9% |
| 47 | Fulda | $2,156 | -2% |
| 46 | Glencoe | $2,154 | -2% |
| 26 | Glenwood | $2,081 | -5% |
| 20 | Grand Marais | $2,051 | -7% |
| 8 | Grand Rapids | $1,916 | -13% |
| 33 | Granite Falls | $2,104 | -4% |
| 99 | Hastings | $2,463 | 12% |
| 23 | Hibbing | $2,074 | -6% |
| 91 | Howard Lake | $2,359 | 7% |
| 27 | Hutchinson | $2,087 | -5% |
| 2 | International Falls | $1,736 | -21% |
| 51 | Jackson | $2,168 | -1% |
| 108 | Jordan | $2,597 | 18% |
| 29 | La Crescent | $2,094 | -5% |
| 49 | Litchfield | $2,160 | -2% |
| 76 | Little Falls | $2,280 | 4% |
| 71 | Long Prairie | $2,254 | 3% |
| 45 | Luverne | $2,152 | -2% |
| 56 | Mankato | $2,201 | 0% |
| 69 | Marshall | $2,248 | 2% |
| 31 | Melrose | $2,103 | -4% |
| 81 | Milaca | $2,300 | 5% |
| 79 | Minneapolis | $2,291 | 4% |
| 50 | Minneota | $2,166 | -1% |
| 52 | Montevideo | $2,178 | -1% |
| 5 | Moose Lake | $1,884 | -14% |
| 93 | Mora | $2,388 | 9% |
| 54 | Mountain Lake | $2,185 | -1% |
| 107 | New Prague | $2,585 | 18% |
| 40 | New Ulm | $2,135 | -3% |
| 44 | New York Mills | $2,146 | -2% |
| 104 | North Branch | $2,554 | 16% |
| 19 | Ortonville | $2,042 | -7% |
| 88 | Osseo | $2,343 | 7% |
| 86 | Owatonna | $2,335 | 6% |
| 15 | Park Rapids | $2,010 | -8% |
| 38 | Parkers Prairie | $2,129 | -3% |
| 42 | Paynesville | $2,138 | -3% |
| 37 | Perham | $2,125 | -3% |
| 70 | Pine City | $2,251 | 2% |
| 66 | Pipestone | $2,239 | 2% |
| 22 | Preston | $2,074 | -6% |
| 75 | Princeton | $2,279 | 4% |
| 106 | Prior Lake | $2,582 | 18% |
| 84 | Red Wing | $2,325 | 6% |
| 78 | Rochester | $2,283 | 4% |
| 17 | Saint Cloud | $2,015 | -8% |
| 32 | Saint James | $2,103 | -4% |
| 72 | Saint Paul | $2,266 | 3% |
| 30 | Sauk Centre | $2,100 | -4% |
| 98 | Savage | $2,436 | 11% |
| 97 | Shakopee | $2,401 | 9% |
| 59 | Slayton | $2,215 | 1% |
| 55 | Sleepy Eye | $2,198 | 0% |
| 77 | Staples | $2,281 | 4% |
| 63 | Stillwater | $2,230 | 2% |
| 3 | Thief River Falls | $1,756 | -20% |
| 7 | Tower | $1,897 | -14% |
| 35 | Tracy | $2,108 | -4% |
| 11 | Two Harbors | $1,948 | -11% |
| 85 | Tyler | $2,326 | 6% |
| 102 | Victoria | $2,491 | 13% |
| 13 | Virginia | $1,982 | -10% |
| 101 | Waconia | $2,487 | 13% |
| 68 | Wadena | $2,243 | 2% |
| 28 | Walker | $2,088 | -5% |
| 94 | Wayzata | $2,391 | 9% |
| 73 | White Bear Lake | $2,268 | 3% |
| 43 | Willmar | $2,139 | -3% |
| 57 | Windom | $2,214 | 1% |
| 61 | Winona | $2,221 | 1% |
| 90 | Winsted | $2,349 | 7% |
| 109 | Woodbury | $2,599 | 18% |
| 36 | Worthington | $2,124 | -3% |
Comments and Questions