Who Has the Cheapest Homeowners Insurance Quotes in Illinois?
Find the Cheapest Insurance Quotes in Your Area
Illinois is one of our nation's leaders when it comes to agriculture and manufacturing. The state also produced several of our nation's most celebrated presidents. Abraham Lincoln, Ulysses S. Grant, and Barack Obama all held political office in Illinois prior to their tenure as presidents. Additionally, President Ronald Regan was born and raised in this Midwestern state. 
ValuePenguin conducted research into home insurance rates in 259 cities throughout Illinois. To do so, our analysts gathered quotes for a 2,000 square foot sample home in each city across several different insurers to arrive at an average cost per city. These costs varied upwards of 50% between different regions. The mean cost of a homeowners insurance policy in Illinois is $1,538 per year based on this benchmark property. ValuePenguin's findings can serve to help homeowners better anticipate the insurance cost of their new home and understand the relative difference across the cities in our study. Read more below, or use our quote tool above to start finding homeowners insurance quotes.
Cheapest Homeowners Insurance Companies in Illinois
The table below answers the question of which companies in Illinois have the best homeowners insurance rates. We looked at quotes for a sample $200,000 and 2,000 square foot house in 259 cities in the Prairie State. Annual rates were averaged by the five companies: Farmers, Liberty Mutual, Nationwide, Progressive, and State Farm. Among these five major national insurers, State Farm, Progressive, and Nationwide ranked as the best homeowners insurance companies in Illinois with the cheapest rates. Progressive and Nationwide's annual rates differed by just $3 a year for our sample property.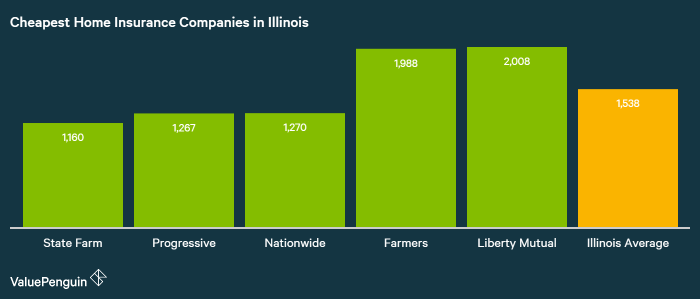 Best Homeowners Insurance Rates in Illinois: by City
Our researchers found that homeowners in the cities below enjoyed the lowest average insurance rates in Illinois. The cost of these premiums is decided by a multitude of factors, such as average fire department response times, crime rates, extreme weather events and all things which will affect the likelihood of an insurer having to pay out damages. The homeowners in these cities can pay on average 20% less than the rest of the state. The cost of insuring our sample home in these regions is $1,236 per year. 
| | | | |
| --- | --- | --- | --- |
| Rank | City | Average Annual Premium | Change vs State Average |
| 1 | Bloomington | $1,179 | -23% |
| 2 | Batavia | 1,200 | -22% |
| 3 | Saint Charles | 1,228 | -20% |
| 4 | Normal | 1,272 | -17% |
| 5 | Carol Stream | 1,299 | -16% |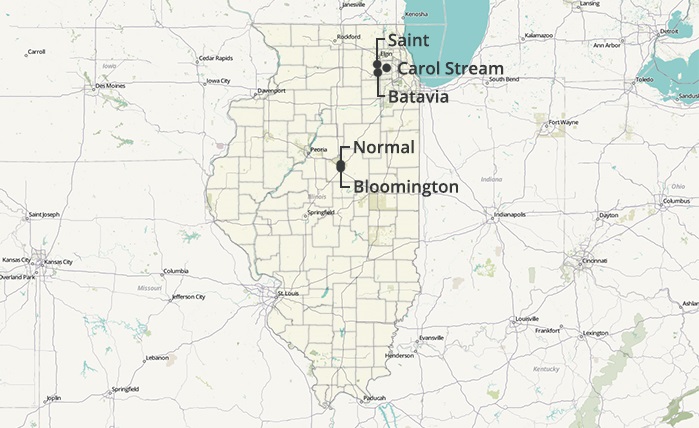 Bloomington, IL
The cheapest home insurance rates in Illinois for our sample home are found in Bloomington. This city of approximately 76,000 people is located in McLean County. Our researchers found that Bloomington residents tend to see home insurance premiums of $1,179 per year. This is 23% cheaper than the average cost of a home insurance policy in Illinois.
Batavia, IL
Batavia, located just 40 miles outside of Chicago, averages annual homeowners insurance rates of $1,200 – this makes Batavia the state's second cheapest city for individuals seeking to insure their home. Batavia is the location of the Fermilab particle accelerator, a $270 million physics research facility. Fermilab provides the city with many public events such as science lectures, classical and contemporary music concerts, and more. The laboratory serves as Batavia's top employer - 7% of Batavia's residents work on the site.
Saint-Charles, IL
Illinois' third best home insurance rates are located in the Pride of the Fox, St. Charles. The city houses the St. Charles Public Library, which is ranked among the best libraries in the country. Individuals seeking to purchase home insurance in St. Charles can see rates 20% lower than the state average. Our analysis revealed that the city's homeowners insurance rates are in the neighborhood of $1,228 per year.
Normal, IL
Normal is located near the heart of Illinois. The oldest public university in the state, Illinois State University, has its main campus in Normal. The city also offers great public transportation options for its residents through the Bloomington-Normal Public Transit System. Through this study we discovered Normal has mean home insurance premiums of $1,272 per year – 17% better than a typical Illinois town.
Carol Stream, IL
Carol Stream is a city of 40,000 residents and is located in DuPage County, Illinois. Recently, the city ranked above all others in Illinois on CNN Money Magazine's list of top places to live in the U.S. This distinction comes at no additional price tag, as Carol Stream ranks among the cheapest cities in the state for homeowners insurance. Residents can enjoy rates as low as $1,299 based on our sample property, which is 16% better than what most of the state can expect to pay. 
Most Expensive Homeowners Insurance in Illinois
The cities in Illinois with the most expensive homeowners insurance are all located within no more than 300 miles of Chicago. Most of these cities saw tornado rates which were higher than the national average. Some cities on the list also have crime rates which are significantly above both the state and national mean. These factors combined to help produce average home insurance rates around $2,065 per year – 34% above the state average. 
| | | | |
| --- | --- | --- | --- |
| Rank | City | Average Annual Premium | Change vs State Average |
| 1 | Marion | $2,354 | 53% |
| 2 | Chicago | 2,045 | 33% |
| 3 | West Frankfort | 2,028 | 32% |
| 4 | Tonica | 1,951 | 27% |
| 5 | Sidell | 1,946 | 26% |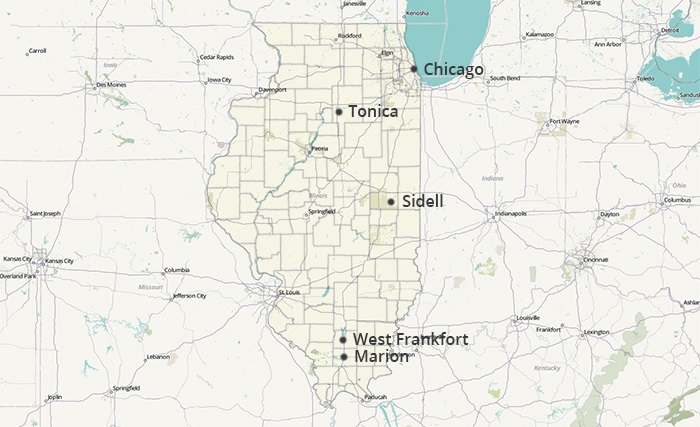 Marion, IL
Marion is home to both the largest retail center in Southern Illinois and the highest home insurance rates in the state. One factor that partially explains this is the city's law enforcement statistics. The city of Marion has crime rates on par with the rest of the state and nation. However, the city employs significantly less law enforcement than the Illinois average (in proportion to the population). This means police take longer to respond to calls and the chances of a homeowner sustaining a loss or property damage increases. Our sample insured property in Marion averaged insurance rates of $2,354 annually. With that, Marion sees premiums that are 99% higher than some parts the state. 
Chicago, IL
It is not uncommon for a state's major cities to also have that state's highest home insurance costs. Big cities come with an increased crime rates which include property crime and Chicago's crime rate is almost twice that of the Illinois and US average. With this level of crime being committed, insurance companies take on a greater risk, as the probability of them having to pay out damages for stolen or damaged property is greater in cities like this. It comes as no surprise then that Chicago ranks among Illinois' most expensive cities for homeowners insurance. The Windy City's insurance rates are 33% higher than the state average of $1,538. A typical home insurance premium in Chicago can cost $2,045 annually.
West Frankfort, IL
West Frankfort is a city located in Franklin County, in the southern part of Illinois. The city has a population of 8,000. West Frankfort possesses hate crime that are 8 times higher than the Illinois average. Because hate crime can result in property damage, insurers raise their premiums by employing the logic explained above – a greater probability of crime resulting in property damage means a higher likelihood of an insurer having to cover the cost of any sustained losses. Homeowners insurance rates in West Frankfort average $2,028, and cost 32% more expensive than the state mean.
Tonica, IL
Tonica is a small town located in LaSalle County and has a population of close to 800 people. The town is largely comprised of farmland with a few businesses operating within the town. Tonica's average homeowners insurance cost is around $1,951 per year – 27% above the state average.
Sidell, IL
Sidell is a village located in Vermilion County, Illinois. Like Tonica, Sidell is among the least populous cities on our list with just 600 residents. Our research has found that Sidell has the 5th highest home insurance rates in the state. Insurance quotes gathered for our sample home in Sidell averaged $1,946 annually.
Cost of Homeowners Insurance in Illinois: by City
The following is the list of all 259 cities which were part of this study. They are listed in price order, with the lowest annual home insurance premiums at the top. The number on the graph is the corresponding average annual premium. 

Methodology
ValuePenguin studied 259 cities, spread out geographically all throughout Illinois. The sample home we looked at was built in the year 2000, and had 2,000 square feet. The property cost $200,000 and had 1.5 baths and an attached garaged. Quotes for this home were obtained from Progressive, Liberty Mutual, State Farm, Nationwide and Farmers insurance companies. The rates were then averaged to arrive at a mean value for each city. To see an alphabetical list with all of the cities included in the comparison analysis, please see below. We've displayed all cities from Abingdon to Zion with the average cost of our benchmark property and how much each city costs relative to the statewide average.
| | | | |
| --- | --- | --- | --- |
| Rank | City | Average Insurance Rate | Change |
| 216 | Abingdon | $1,682 | 9% |
| 17 | Addison | 1,332 | -13% |
| 244 | Albion | 1,779 | 16% |
| 147 | Aledo | 1,546 | 0% |
| 88 | Altamont | 1,471 | -4% |
| 124 | Alton | 1,514 | -2% |
| 107 | Amboy | 1,499 | -3% |
| 245 | Anna | 1,790 | 16% |
| 226 | Arcola | 1,705 | 11% |
| 19 | Arlington Heights | 1,334 | -13% |
| 145 | Ashton | 1,544 | 0% |
| 229 | Astoria | 1,712 | 11% |
| 18 | Aurora | 1,332 | -13% |
| 232 | Avon | 1,715 | 11% |
| 84 | Barrington | 1,462 | -5% |
| 9 | Bartlett | 1,306 | -15% |
| 2 | Batavia | 1,200 | -22% |
| 121 | Beardstown | 1,512 | -2% |
| 156 | Belleville | 1,561 | 1% |
| 79 | Bensenville | 1,458 | -5% |
| 230 | Benton | 1,713 | 11% |
| 218 | Berkeley | 1,683 | 9% |
| 103 | Berwyn | 1,495 | -3% |
| 57 | Bloomingdale | 1,421 | -8% |
| 1 | Bloomington | 1,179 | -23% |
| 106 | Bolingbrook | 1,499 | -3% |
| 164 | Bourbonnais | 1,569 | 2% |
| 225 | Braidwood | 1,704 | 11% |
| 233 | Bridgeport | 1,725 | 12% |
| 169 | Broadview | 1,573 | 2% |
| 80 | Brookfield | 1,459 | -5% |
| 70 | Buffalo Grove | 1,444 | -6% |
| 90 | Burr Ridge | 1,475 | -4% |
| 181 | Byron | 1,592 | 3% |
| 238 | Cairo | 1,739 | 13% |
| 126 | Cambridge | 1,516 | -1% |
| 105 | Canton | 1,498 | -3% |
| 196 | Carbondale | 1,622 | 5% |
| 192 | Carlinville | 1,608 | 5% |
| 122 | Carmi | 1,512 | -2% |
| 5 | Carol Stream | 1,299 | -16% |
| 197 | Carrollton | 1,623 | 5% |
| 208 | Carthage | 1,657 | 8% |
| 111 | Casey | 1,503 | -2% |
| 8 | Champaign | 1,301 | -15% |
| 13 | Charleston | 1,320 | -14% |
| 212 | Chester | 1,669 | 9% |
| 258 | Chicago | 2,045 | 33% |
| 219 | Chicago Heights | 1,692 | 10% |
| 148 | Chillicothe | 1,549 | 1% |
| 213 | Cicero | 1,670 | 9% |
| 36 | Clarendon Hills | 1,381 | -10% |
| 228 | Clifton | 1,711 | 11% |
| 132 | Clinton | 1,528 | -1% |
| 249 | Coal City | 1,816 | 18% |
| 82 | Countryside | 1,459 | -5% |
| 25 | Crystal Lake | 1,346 | -12% |
| 50 | Danville | 1,410 | -8% |
| 35 | Darien | 1,380 | -10% |
| 6 | Decatur | 1,300 | -15% |
| 217 | Deerfield | 1,683 | 9% |
| 24 | Dekalb | 1,345 | -13% |
| 42 | Des Plaines | 1,397 | -9% |
| 129 | Dixon | 1,526 | -1% |
| 29 | Downers Grove | 1,358 | -12% |
| 241 | Du Quoin | 1,747 | 14% |
| 180 | East Peoria | 1,591 | 3% |
| 176 | Edwardsville | 1,582 | 3% |
| 74 | Effingham | 1,454 | -5% |
| 11 | Elburn | 1,316 | -14% |
| 15 | Elgin | 1,331 | -14% |
| 112 | Elk Grove Village | 1,504 | -2% |
| 31 | Elmhurst | 1,372 | -11% |
| 137 | Elmwood Park | 1,534 | 0% |
| 21 | Eureka | 1,337 | -13% |
| 95 | Evanston | 1,482 | -4% |
| 251 | Flora | 1,849 | 20% |
| 220 | Forest Park | 1,697 | 10% |
| 101 | Forest View | 1,490 | -3% |
| 175 | Frankfort | 1,580 | 3% |
| 172 | Franklin Park | 1,576 | 2% |
| 96 | Freeburg | 1,483 | -4% |
| 59 | Freeport | 1,427 | -7% |
| 142 | Galena | 1,539 | 0% |
| 206 | Galesburg | 1,650 | 7% |
| 166 | Galva | 1,571 | 2% |
| 184 | Geneseo | 1,594 | 4% |
| 39 | Geneva | 1,386 | -10% |
| 87 | Georgetown | 1,467 | -5% |
| 94 | Gibson City | 1,481 | -4% |
| 211 | Gilman | 1,669 | 8% |
| 72 | Glen Ellyn | 1,450 | -6% |
| 248 | Glencoe | 1,795 | 17% |
| 23 | Glendale Heights | 1,341 | -13% |
| 188 | Glenview | 1,599 | 4% |
| 252 | Goreville | 1,859 | 21% |
| 155 | Granville | 1,559 | 1% |
| 26 | Grayslake | 1,347 | -12% |
| 160 | Hanover Park | 1,567 | 2% |
| 168 | Hardin | 1,573 | 2% |
| 247 | Harrisburg | 1,794 | 17% |
| 191 | Havana | 1,607 | 4% |
| 246 | Herscher | 1,792 | 16% |
| 194 | Highland | 1,616 | 5% |
| 187 | Highland Park | 1,599 | 4% |
| 159 | Hillsboro | 1,566 | 2% |
| 200 | Hillside | 1,629 | 6% |
| 141 | Hinsdale | 1,539 | 0% |
| 92 | Hodgkins | 1,479 | -4% |
| 76 | Homer Glen | 1,458 | -5% |
| 44 | Hoopeston | 1,400 | -9% |
| 114 | Indian Head Park | 1,506 | -2% |
| 43 | Itasca | 1,399 | -9% |
| 91 | Jacksonville | 1,477 | -4% |
| 151 | Jerseyville | 1,554 | 1% |
| 254 | Joliet | 1,920 | 25% |
| 119 | Kankakee | 1,511 | -2% |
| 75 | Kewanee | 1,455 | -5% |
| 178 | La Grange | 1,587 | 3% |
| 198 | La Grange Park | 1,627 | 6% |
| 214 | La Harpe | 1,671 | 9% |
| 154 | La Salle | 1,558 | 1% |
| 177 | Lake Forest | 1,587 | 3% |
| 170 | Lake Zurich | 1,573 | 2% |
| 174 | Lanark | 1,578 | 3% |
| 239 | Lawrenceville | 1,740 | 13% |
| 162 | Lemont | 1,568 | 2% |
| 235 | Lewistown | 1,730 | 12% |
| 49 | Libertyville | 1,409 | -8% |
| 123 | Lincoln | 1,513 | -2% |
| 150 | Lincolnwood | 1,553 | 1% |
| 14 | Lisle | 1,329 | -14% |
| 115 | Lockport | 1,506 | -2% |
| 34 | Lombard | 1,378 | -10% |
| 69 | Lyons | 1,441 | -6% |
| 185 | Macomb | 1,595 | 4% |
| 37 | Mahomet | 1,381 | -10% |
| 157 | Manhattan | 1,562 | 2% |
| 173 | Manteno | 1,577 | 2% |
| 259 | Marion | 2,354 | 53% |
| 144 | Marshall | 1,544 | 0% |
| 171 | Mascoutah | 1,573 | 2% |
| 77 | Mattoon | 1,458 | -5% |
| 108 | Mc Cook | 1,499 | -3% |
| 221 | Mc Leansboro | 1,697 | 10% |
| 182 | Mendota | 1,593 | 4% |
| 223 | Metropolis | 1,701 | 11% |
| 143 | Minonk | 1,543 | 0% |
| 85 | Mokena | 1,464 | -5% |
| 102 | Moline | 1,494 | -3% |
| 224 | Momence | 1,701 | 11% |
| 205 | Monee | 1,645 | 7% |
| 195 | Monmouth | 1,618 | 5% |
| 63 | Monticello | 1,431 | -7% |
| 190 | Morris | 1,600 | 4% |
| 33 | Morton | 1,376 | -11% |
| 65 | Morton Grove | 1,437 | -7% |
| 127 | Mount Carmel | 1,516 | -1% |
| 193 | Mount Carroll | 1,608 | 5% |
| 32 | Mount Prospect | 1,374 | -11% |
| 133 | Mount Sterling | 1,529 | -1% |
| 207 | Mount Vernon | 1,653 | 7% |
| 16 | Mundelein | 1,331 | -14% |
| 243 | Murphysboro | 1,776 | 15% |
| 7 | Naperville | 1,301 | -15% |
| 199 | Neoga | 1,629 | 6% |
| 73 | New Lenox | 1,453 | -6% |
| 189 | Newman | 1,600 | 4% |
| 62 | Newton | 1,430 | -7% |
| 48 | Niles | 1,404 | -9% |
| 4 | Normal | 1,272 | -17% |
| 161 | Norridge | 1,568 | 2% |
| 58 | North Riverside | 1,424 | -7% |
| 158 | Northbrook | 1,565 | 2% |
| 179 | O Fallon | 1,587 | 3% |
| 120 | Oak Brook | 1,512 | -2% |
| 202 | Oak Park | 1,631 | 6% |
| 46 | Oakbrook Terrace | 1,403 | -9% |
| 54 | Oblong | 1,419 | -8% |
| 237 | Okawville | 1,736 | 13% |
| 163 | Olney | 1,568 | 2% |
| 135 | Oregon | 1,533 | 0% |
| 93 | Orion | 1,479 | -4% |
| 52 | Orland Park | 1,419 | -8% |
| 20 | Oswego | 1,335 | -13% |
| 153 | Ottawa | 1,557 | 1% |
| 100 | Palos Heights | 1,489 | -3% |
| 236 | Pana | 1,733 | 13% |
| 109 | Paris | 1,503 | -2% |
| 86 | Park Ridge | 1,466 | -5% |
| 138 | Paxton | 1,534 | 0% |
| 116 | Pekin | 1,508 | -2% |
| 186 | Peoria | 1,597 | 4% |
| 146 | Peotone | 1,545 | 0% |
| 210 | Pittsfield | 1,664 | 8% |
| 104 | Plainfield | 1,497 | -3% |
| 45 | Pontiac | 1,403 | -9% |
| 203 | Princeton | 1,643 | 7% |
| 81 | Prospect Heights | 1,459 | -5% |
| 118 | Quincy | 1,511 | -2% |
| 71 | Rantoul | 1,445 | -6% |
| 242 | River Forest | 1,749 | 14% |
| 64 | Riverside | 1,434 | -7% |
| 41 | Robinson | 1,394 | -9% |
| 152 | Rochelle | 1,556 | 1% |
| 140 | Rock Island | 1,538 | 0% |
| 28 | Rockford | 1,353 | -12% |
| 136 | Romeoville | 1,533 | 0% |
| 66 | Roselle | 1,438 | -7% |
| 231 | Roseville | 1,715 | 11% |
| 3 | Saint Charles | 1,228 | -20% |
| 61 | Saint Joseph | 1,430 | -7% |
| 165 | Savanna | 1,570 | 2% |
| 134 | Shelbyville | 1,532 | 0% |
| 255 | Sidell | 1,946 | 26% |
| 125 | Skokie | 1,516 | -1% |
| 234 | Springfield | 1,729 | 12% |
| 215 | Staunton | 1,675 | 9% |
| 83 | Sterling | 1,460 | -5% |
| 89 | Stickney | 1,471 | -4% |
| 78 | Streamwood | 1,458 | -5% |
| 201 | Streator | 1,630 | 6% |
| 139 | Sullivan | 1,534 | 0% |
| 99 | Summit | 1,488 | -3% |
| 227 | Sumner | 1,706 | 11% |
| 149 | Taylorville | 1,550 | 1% |
| 117 | Teutopolis | 1,508 | -2% |
| 68 | Tinley Park | 1,440 | -6% |
| 256 | Tonica | 1,951 | 27% |
| 167 | Toulon | 1,572 | 2% |
| 240 | Trenton | 1,746 | 13% |
| 209 | Vandalia | 1,657 | 8% |
| 47 | Vernon Hills | 1,404 | -9% |
| 253 | Vienna | 1,879 | 22% |
| 55 | Villa Park | 1,420 | -8% |
| 10 | Warrenville | 1,309 | -15% |
| 40 | Washington | 1,387 | -10% |
| 67 | Waterloo | 1,439 | -6% |
| 130 | Watseka | 1,526 | -1% |
| 56 | Waukegan | 1,420 | -8% |
| 53 | West Chicago | 1,419 | -8% |
| 257 | West Frankfort | 2,028 | 32% |
| 222 | West Salem | 1,698 | 10% |
| 51 | Westchester | 1,413 | -8% |
| 97 | Western Springs | 1,487 | -3% |
| 12 | Westmont | 1,317 | -14% |
| 27 | Wheaton | 1,347 | -12% |
| 131 | Willow Springs | 1,526 | -1% |
| 110 | Willowbrook | 1,503 | -2% |
| 98 | Wilmette | 1,487 | -3% |
| 204 | Wilmington | 1,644 | 7% |
| 22 | Winfield | 1,340 | -13% |
| 250 | Winnetka | 1,828 | 19% |
| 60 | Wood Dale | 1,428 | -7% |
| 30 | Woodridge | 1,367 | -11% |
| 38 | Woodstock | 1,383 | -10% |
| 183 | Worth | 1,593 | 4% |
| 128 | Yorkville | 1,523 | -1% |
| 113 | Zion | 1,505 | -2% |
Sources:
Illinois Department of Insurance Homeowners Guides: http://insurance.illinois.gov/HomeInsurance/homeInsurance.asp
Illinois Census Data: http://quickfacts.census.gov/qfd/states/17000.html
Image Courtesy of gabdurakhmanov / Flickr: https://flic.kr/p/6HvqSk


Comments and Questions