Where a driver lives and parks their car in Vermont, and the company they insure with highly influences the rates they see. We got auto insurance quotes for two sample drivers here as a benchmark, and compared costs in 34 cities in the state. The study found that the average premium for our profiled drivers was $851 per year. The most expensive company cost nearly twice as much as the cheapest car insurer, which goes to show that comparison shopping is necessary if Vermont drivers are looking for great rates. To start the search, enter your zip in the box above for a list of companies to begin from.
Cheapest Auto Insurance in Vermont
To determine which companies have the most affordable auto insurance quotes in Vermont, we used our two sample drivers, a 30 year old and a 65 year old single man, as benchmarks. Both men drive a Toyota Camry and have a good driving history and credit score, so your actual quotes will vary.

Find the Cheapest Auto Insurance Quotes in Your Area
Out of that data, we discovered that GEICO, Co-Operative Insurance, Unitrin, Union Mutual, and Allstate were the cheapest companies, and ranked with the lowest car insurance rates in Vermont. Compared to the state mean of $851 for our profiled drivers, these five companies quoted rates that were on average 27% less.
Most Expensive Car Insurance Companies in Vermont
For our two single male drivers, the auto insurance companies with the higest quotes in Vermont were California Causality, Vermont Mutual, and MetLife. These companies cover many states, but in Vermont, they had an average annual quote of $1,103, a difference of 30% vs the state average! That's an average of $252 more a year. In Vermont, the most expensive company cost a bit more than double the premium of the cheapest insurer in our study. That is why it is important to research different insurers before purchasing a policy. Take a look below for a list of insurers in the area and our benchmarked drivers' quotes.
| | | |
| --- | --- | --- |
| Rank | Auto Insurance Company | Average Annual Rates |
| 1 | GEICO | $533 |
| 2 | Co-Operative Insurance | 619 |
| 3 | Unitrin | 627 |
| 4 | Union Mutual | 747 |
| 5 | Allstate | 826 |
| 6 | Concord | 839 |
| 7 | Nationwide | 854 |
| 8 | National Grange Mutual | 880 |
| 9 | State Farm | 980 |
| 10 | MetLife | 1,087 |
| 11 | Vermont Mutual | 1,101 |
| 12 | California Casualty | 1,121 |
Cheapest Car Insurance in Vermont: by City
Below is a table of some of the largest cities in Vermont, and who our profiled drivers found to have the best car insurance quotes. Just bear in mind that these quotes and their cheapest rankings are based on our single male drivers (ages 30 and 65) who own Toyota Camrys. Your actual rates will differ based on factors such as past driving history, your vehicle, and the amount of liability coverage you need. They largely mirror the top three overall in the state, with a few fluctations at the local level.
Vermont Location
Cheapest Insurer #1
Cheapest Insurer #2
Cheapest Insurer #3
Burlington
GEICO
$522
Co-Operative Insurance
$582
Unitrin
$624
South Burlington
GEICO
522
Co-Operative Insurance
582
Unitrin
624
Rutland
GEICO
528
Co-Operative Insurance
570
Unitrin
600
Barre
GEICO
564
Co-Operative Insurance
588
Unitrin
606
Winooski
GEICO
528
Unitrin
606
Co-Operative Insurance
624
Saint Albans
GEICO
534
Co-Operative Insurance
636
Unitrin
648
Newport
GEICO
546
Unitrin
624
Co-Operative Insurance
624
Vergennes
GEICO
534
Co-Operative Insurance
636
Unitrin
648
Essex Junction
GEICO
522
Co-Operative Insurance
582
Unitrin
624
Bennington
GEICO
528
Unitrin
612
Co-Operative Insurance
624
Cities with the Cheapest Car Insurance in Vermont
All of our most affordable cities are located in the same county. Situated in the northwestern portion of the state, Chittenden County is home to nearly a quarter of Vermont's total population. The average annual cost of insurance among our top five is $819, about 4% lower than the state mean.
| | | | |
| --- | --- | --- | --- |
| Rank | City | Average Annual Premiums | Decrease vs State Average |
| 1 | South Burlington | $813 | -4% |
| 2 | Burlington | 817 | -4% |
| 3 | Winooski | 820 | -4% |
| 4 | Essex Junction | 822 | -3% |
| 5 | Shelburne | 825 | -3% |
South Burlington, VT
South Burlington takes the top spot on our list with an average annual rate of $813. The city is comprised of several suburban neighborhoods and a commercial district. South Burlington is located in Chittenden County, and is home to the Magic Hat Brewing Company, a large craft brewery. 
Burlington, VT
The largest city in Vermont takes the second spot in our roundup of cheap car insurance. On average, drivers can see insurance for $817 annually. After incorporating as a city in the 19th century, Burlington became a bustling lumber and manufacturing hub. Forbes magazine ranked the city as one of America's best "downtowns." Burlington is probably most famously the birthplace of Ben & Jerry's ice cream. It is also home to the University of Vermont. 
Winooski, VT
Located on the mouth of the eponymous river, Winooski ranks third on our list. Basic liability protection can cost, on average, $820 annually. The city is considered to be part of the Burlington-South Burlington metropolitan area. "Winooski" is the Abenaki word for "this is where the wild onions grow." The trading city was once site to a number of sawmills, which closed in the 1950s. Winooski is home to the Vermont Student Assistance Corporation, a nonprofit committed to providing information and finances to pursue higher education.  
Essex Junction, VT
Like all the cities that have come before it, Essex Junction is located in Chittenden County. Essex Junction is home to IBM's Data Processing Division facility. As of 2011, the plant employs over 5,000 people. The city hosts the Champlain Valley Fair, which includes agricultural exhibits, commercial exhibits, local foods, and nightly concerts (with headliners like Justin Bieber). The average cost of auto insurance in Essex Junction is $822 annually.
Shelburne, VT
Shelburne, also located in Chittenden County, rounds off our list with an annual premium of $825. Shelburne was chartered shortly before the Revolutionary War and mainly dealt in agriculture. The town is nestled on Lake Champlain. Shelburne is home to the Vermont Teddy Bear Company as well as the Shelburne Museum, which displays art, design, and Americana exhibits. 
Cities with the Most Expensive Car Insurance in Vermont
All of our most expensive cities have relatively low population densities and are scattered throughout the state. We found that the average annual rate for our two sample drivers in these five cities is $868. 
| | | | |
| --- | --- | --- | --- |
| Rank | City | Average Annual Premiums | Increase vs State Average |
| 1 | Randolph | $875 | 3% |
| 2 | Bradford | 868 | 2% |
| 3 | Newport | 867 | 2% |
| 3 | White River Junction | 867 | 2% |
| 4 | Barton | 866 | 2% |
| 5 | Morrisville | 865 | 2% |
Randolph, VT
Randolph is our #1 Most Expensive City in Vermont with an average annual cost of $875. The city is located in Orange County in central Vermont. Colonists started settling in the city around 1778, which eventually became the site of several saw and grist mills. Some sites of interest in the town are the Porter Music Box Museum and the Chandler Music Hall. 
Bradford, VT
Also located in Orange County, Bradford is second on our list. The city originally relied on farming, and has become the commercial center for the surrounding communities. Most notably, Bradford was the home to James Wilson, the first globe maker in the U.S. Car owners see on average annual premiums of $868. 
Newport, VT & White River Junction, VT
Newport and White River Junction tied for our third spot with an average annual rate of $867. Newport was settled in 1793 and eventually became a lumber town. The city is home to several historic buildings, including the Goodrich Memorial Library and the county courthouse, which were built in 1899 and 1886 respectively. White River Junction is located in Windsor County and is home to roughly 2,300 residents. The city served as a railroad junction until the 1960s, when the Interstate Highway System was built. The historic district was added to the National Register of Historic Places in 1980, and included the Coolidge Hotel, the First National Bank building, a U.S. Post Office building, and the White River Junction firehouse. 
Barton, VT
Barton is located in Orleans County and takes the fourth spot on our list of most expensive auto insurance in the state. The city is home to the Ethan Allen Manufacturing plant, which employs roughly 400 workers. In Barton, annual insurance costs $866 annually. 
Morrisville, VT
Morrisville takes the last spot on our list (by a dollar!) of the most expensive cities in the state for auto insurance with an average annual premium of $865. The city is nestled in Lamoille County, in the heart of Vermont. The small city mostly relies on the food services and retail industries as their largest employers. 
Average Cost of Car Insurance in Vermont
It costs on average $851 for our two sample drivers to insure a vehicle with basic liability insurance in Vermont, and there are some fluctuations depending on where a driver garages their car and lives. Below, we show our readers the average cost by city for our benchmark drivers among the 34 cities included in our premium comparison. Cities are ranked from those with the cheapest auto insurance rates to the most expensive per year.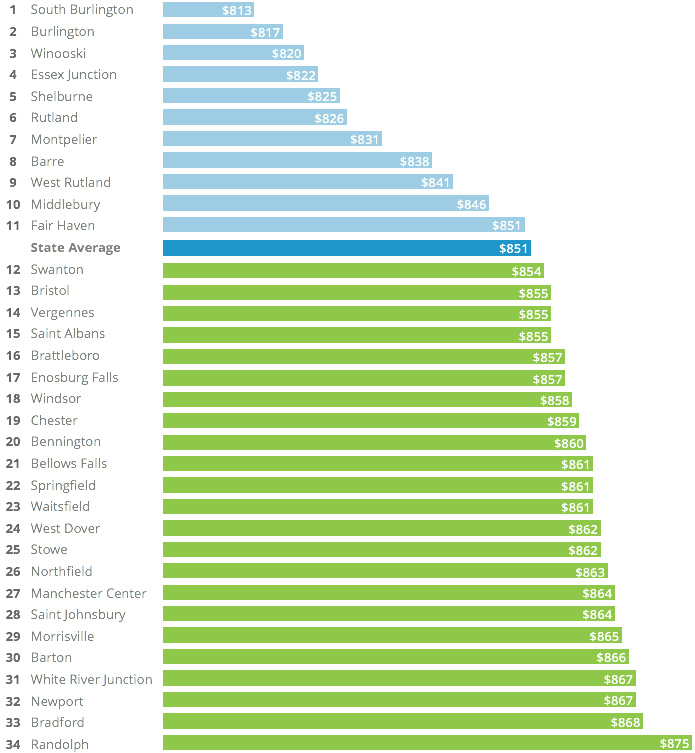 Best Car Insurance Companies in Vermont
A complaint ratio measures how many complaints each company receives per $1 million of premiums they receive, and is an indication to us of how good a carrier is. So, to find the best auto insurance companies in Vermont, we looked at the complaint ratios for the 10 biggest companies in the state, which represent over 70% of the market. The lower the ratio, the less complaints a company had compared to its premium, meaning that customers were less likely to complain. By this metric, we found that the best auto insurance companies in Vermont were GEICO, Progressive, and Concord General Mutual.
| | | | |
| --- | --- | --- | --- |
| Auto Insurance Company | Premiums | Complaints | Complaint Ratio |
| GEICO | $40,343,000 | 0 | 0.00 |
| Progressive | 50,729,000 | 12 | 0.24 |
| Concord General Mutual Insurance | 19,225,000 | 6 | 0.31 |
| Liberty Mutual | 26,894,000 | 10 | 0.37 |
| Nationwide | 14,528,000 | 7 | 0.48 |
| USAA | 13,503,000 | 7 | 0.52 |
| State Farm | 26,467,000 | 17 | 0.64 |
| Hartford | 14,630,000 | 10 | 0.68 |
| Allstate | 21,633,000 | 18 | 0.83 |
| Vermont Mutual Insurance | 13,901,000 | 15 | 1.08 |
How We Conducted the Study
We looked at rates in Vermont for two sample drivers in 34 cities: a single 30 year old male and a single 65 year old male. Both own 2010 Toyota Camry's and have good credit and driving records with no accidents or violations in the past five years. They primarily use their cars to commute to and from work, which amounts to, on average, 12,000 miles a year.
Costs are based on basic liability protection for the 2010 Toyota Camry, and provides about twice the minimum liability required in Vermont. Vermont requires minimum auto insurance liability of $25,000 per person for bodily injury protection and up to $50,000 per accident, and $10,000 for property damage per accident. The state also requires $50,000 per person and up to $100,000 per crash for uninsured motorists. We included national insurers such as GEICO, Allstate, and State Farm as well as regional companies like Vermont Mutual in our study. 
For readers' reference, we include below all of the cities surveyed in our premium comparison. Cities are organized alphabetically, and are presented with their annual average costs for car insurance and percentage change versus the Vermont average.
| | | |
| --- | --- | --- |
| City | Average Annual Rates | Change vs. State Average |
| Vermont Average Rate | $851 | |
| Barre | 838 | -2% |
| Barton | 866 | 2% |
| Bellows Falls | 861 | 1% |
| Bennington | 860 | 1% |
| Bradford | 868 | 2% |
| Brattleboro | 857 | 1% |
| Bristol | 855 | 0% |
| Burlington | 817 | -4% |
| Chester | 859 | 1% |
| Enosburg Falls | 857 | 1% |
| Essex Junction | 822 | -3% |
| Fair haven | 851 | 0% |
| Manchester Center | 864 | 2% |
| Middlebury | 846 | -1% |
| Montpelier | 831 | -2% |
| Morrisville | 865 | 2% |
| Newport | 867 | 2% |
| Northfield | 863 | 1% |
| Randolph | 875 | 3% |
| Rutland | 826 | -3% |
| Saint Albans | 855 | 0% |
| Saint Johnsbury | 864 | 2% |
| Shelburne | 825 | -3% |
| South Burlington | 813 | -4% |
| Springfield | 861 | 1% |
| Stowe | 862 | 1% |
| Swanton | 854 | 0% |
| Vergennes | 855 | 0% |
| Waitsfield | 861 | 1% |
| West Dover | 862 | 1% |
| West Rutland | 841 | -1% |
| White River Junction | 867 | 2% |
| Windsor | 858 | 1% |
| Winooski | 820 | -4% |
Sources:
Minimum Financial Responsibility in Vermont: http://www.leg.state.vt.us/statutes/fullsection.cfm?Title=23&Chapter=011&Section=00800
Vermont Census Data: http://quickfacts.census.gov/qfd/states/50000.html
Image courtesy of jitze1942 / Flickr: https://flic.kr/p/gFAByM
Comments and Questions