We studied car insurance quotes across 21 companies in the 10 biggest cities in the state to give drivers a feel for the best auto insurance rates in Pennsylvania. Based on our analysis of four benchmark drivers, we determined that the average annual premium was $585 for their basic policy. The most expensive carrier quoted about $970 more than or 4.1x the cost of the cheapest car insurance company in Pennsylvania. Seeing how there's such a wide variation, consumers should shop around for multiple quotes to find the best rates in their town. Enter your zip code in the form above to see a list of companies to begin quote comparison shopping at, or read more.
Cheapest Auto Insurance in Pennsylvania
In order to determine which companies had the cheapest car insurance rates in Pennsylvania, we researched quotes for four sample drivers across 21 carriers in the 10 most populated cities in the state. Based on this benchmark, here are the five providers with the best auto insurance quotes: Erie, Harleysville, Atlantic States, Amica, and Donegal Mutual.

Find the Cheapest Auto Insurance Quotes in Your Area
The average annual rates for the four drivers, a single 30 year old man and a single 65 year old man, as well as two married couples, one 30 year-old and the other 65 year-old, served as the benchmark we used to compare the providers against each other. Your actual quotes will differ based on your own driving background and need for coverage.
The Most Expensive Auto Insurance Companies in Pennsylvania
On the other hand, Safe Auto, Sentry, and Motorists Mutual ranked with the highest overall average annual rates for our two single and two married couple drivers. They quoted our profiled drivers $1,060 per year onaverage for a policy with 25/50/25 limits. In context, that's about 82% more expensive than the 21-company composite of $585 for the same group of motorists in PA. For the full list, the table below ranks those insurance companies from those with the best auto insurance rates to the most expensive ones.
| | | |
| --- | --- | --- |
| Rank | Company | Average Annual Rates |
| 1 | Erie | $316 |
| 2 | Harleysville | 346 |
| 3 | Atlantic States | 362 |
| 4 | Amica | 405 |
| 5 | Donegal Mutual | 406 |
| 6 | Auto-Owners | 408 |
| 7 | General Casualty | 428 |
| 8 | State Farm | 428 |
| 9 | Chubb | 452 |
| 10 | State Auto | 506 |
| 11 | Cal Casualty* | 512 |
| 12 | Allied | 556 |
| 13 | Mutual Benefit Group | 584 |
| 14 | Allstate | 626 |
| 15 | The Hartford | 643 |
| 16 | National General | 648 |
| 17 | Mercury | 653 |
| 18 | American Independent | 827 |
| 19 | Motorists Mutual | 879 |
| 20 | Sentry | 1,016 |
| 21 | Safe Auto | 1,285 |
*California Casualty only insures members of select professions (teachers, nurses, public safety officers, etc.).
Cheapest Car Insurance in Pennsylvania: by City
Which companies have the best rates in your hometown for insuring a car? We were able to parse our Pennsylvania data by city and town to identify at a more hyperlocal level who the three cheapest insurers were. Philly, Levittown, and Bethlehem ranked as the three most expensive places to insure a car based on our benchmark profiles, but drivers living here can still knock off hundreds of dollars from their annual car insurance costs by comparing quotes. As the table below shows, Erie usually ranked with the lowest rates for our sample drivers, but take a look as well at the 2nd and 3rd for inclusion in your shortlist of companies for cheap auto insurance quotes. Bear in mind that your quotes will differ; these composite rates are based on two individual drivers with great driving records and good credit scores.
City
Cheapest Insurer #1
Cheapest Insurer #2
Cheapest Insurer #3
Philadelphia
Erie
$465
State Farm
$501
Mutual Benefit Group
$573
Pittsburgh
Atlantic States
225
Harleysville
279
Chubb
288
Allentown
Harleysville
264
Atlantic States
267
Erie
291
Erie
Atlantic States
276
Auto-Owners
294
Erie
312
Reading
Atlantic States
249
Harleysville
252
Erie
261
Scranton
Erie
276
Atlantic States
294
Amica
345
Bethlehem
Chubb
264
Harleysville
288
Atlantic States
291
Lancaster
Atlantic States
249
Erie
255
Harleysville
264
Levittown
Erie
420
Harleysville
471
General Casualty
549
Harrisburg
Atlantic States
219
Erie
237
Harleysville
243
Philadelphia, PA
Philly earns the distinction of having the most expensive auto insurance in the state by a long shot. Annual rates here can run about $1,081 when you get a basic insurance policy, which is nearly 2x the cost of the statewide average. Residents may find living in the City of Brotherly Love to be well worth it, however, with sports franchises such as the 76ers, Eagles, or Phillies. History buffs will know that Philadelphia is home to Valley Forge, Independence Hall, and the Liberty Bell, among others. 
If you're looking for cheap car insurance in Philadelphia, then be sure to include Erie, State Farm, and Mutual Benefit Group in your search, as these had the three lowest quotes in our study. On average, annual rates for our sample drivers' basic policies were $513 a year, which made them $568 or 53% cheaper compared to the citywide average. Rates for a single 30 year old man driving in Philly are some of the highest in the state – Safe Auto quoted for $3,276 a year – but getting car insurance quotes from the three cheapest insurers create more breathing room. Throw The Hartford and Harleysville onto the list as well - they're the next two lowest cost insurers in Philly. They average $700 per year, or 35% less versus what the typical insurer in Philly would charge our sample motorists.

Pittsburgh, PA
As drivers in Pittsburgh may know, the city was once home to the longest artificially ventilated tunnel for road traffic: the Liberty Tunnel. Today's motorists traveling through the Liberty Tubes, however, may not be aware that auto insurance rates in the Steel City were the 2nd highest in PA at $61 per month or $728 annually. Atlantic States's rates were the cheapest in Pittsburgh on average at $225 a year for our four benchmark drivers' basic coverage, which makes the company about 54% cheaper for this demographic compared to the rest of the city. Close behind was Harleysville, which ranked as the second cheapest ($279), as well as Chubb ($288). The three most affordable companies had a composite rate that was 47% lower versus the Steel City average. That translates into an average of $230 back in our sample consumers' wallets every year, so we recommend that consumers include Atlantic States, Harleyville, and Chubb in their search for the cheapest car insurance rates. Additionally, if you are past 65 years-old, we would also include Auto-Owners for more savings – our senior benchmark drivers found quotes at around $264 a year!

Allentown, PA
Fun fact related to cars about Allentown: a former chairman of Chrysler, Lee Iacocca, attended William Allen High School here. Allentown finished with the 7th highest overall costs with average annual rates for our profiled drivers of $523 (for the lowest coverage limits available). If you're looking for the cheapest rates in Allentown, Harleysville at $22 per month edged out Atlantic States by 25 cents a month. Erie rounded off the companies in Allentown with the top three affordable rates. The composite annual premium of these three providers was $274 a year, which was $249 or 48% less versus what the typical insurer charged our benchmark drivers in Allentown. Donegal Mutual (the parent company of Atlantic States insurance) and Amica rounded out the top five best rates.

Erie, PA
Erie ranks as the 4th most expensive city for car insurance out of the 10 cities we surveyed. However, at $543 per year, it still cost our sample drivers 7% less to insure their vehicles here compared to the typical city in Pennsylvania. Based on our data, cheap auto insurance in Erie could be found at Atlantic States, Auto-Owners, and Erie. Motorists would also do well to include Harleysville Insurance and Donegal Mutual when getting quotes for car insurance, as these two companies rounded out the five providers with the best rates in Erie. The third cheapest company, Erie, is especially fitting and poetic, as the carrier shares the same name as the town, and is headquartered within the city at 100 Erie Insurance Place. Average rates for our driver benchmarks averaged $294 a year for coverage a bit above PA minimums, which, when compared to the citywide average of $585, represents a discount of 50% and savings of $291. Single motorists living in Erie should also consider Chubb, which provide one of the 5 lowest quotes our single male sample driver received.
Reading, PA
Reading is one of the most affordable cities on our list of PA cities for auto owners, averaging $484 a year for basic coverage for our four profiles. For even more low-cost auto insurance quotes in Reading, PA, we recommend that drivers in the area consider Atlantic States, Harleysville, Erie, Donegal Mutual, and Amical in their research for the cheapest rates. These were the five providers with the best rates overall for our sample motorists, and on average cost $275 less a year - a discount of 43% - compared to what the typical insurer would charge in Reading. Rates at Atlantic States, a local insurance company headquartered in Pennsylvania, ranked as the most affordable in Reading. Our married couples saw annual premiums of $222 to insure their Toyota, which represented a 54% reduction versus his citywide average.

Cost of Car Insurance in Pennsylvania: by City
Residents of the 10 cities and towns covered in our Pennsylvania study can look to the graph below to see how their hometown stacked up to other locations based on our benchmark drivers' average rates there. From Aliquippa to York, here are the various places displayed from those with the cheapest rates to the most expensive.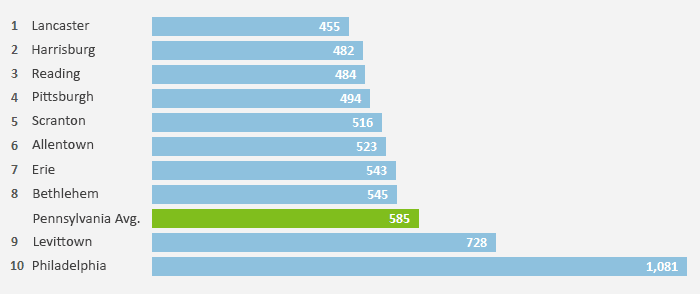 Best Auto Insurance Companies in Pennsylvania
One way to determine the best companies in Pennsylvania for auto insurance is by reviewing complaint index numbers. These numbers measure the share of complaints a company gets compared to its share of premiums in the market. A company with an index number of 1, such as Progressive, is right around the average for the state. Any company with a number below 1 is performing better than average compared to other insurers.
Out of the 10 largest auto insurance groups, which make up 65% of the market, Liberty Mutual, USAA, and Travelers were three of the best companies in Pennsylvania since they receive the lowest share of complaints. At the other end of the spectrum GEICO had the highest complaint ratio, 1.93, of the top car insurance companies. Here's a peek at the 10 largest auto insurer groups (as measured by total annual premiums written in the state) and their respective complaint indices in 2012.
| | | | | |
| --- | --- | --- | --- | --- |
| Insurer | # of Complaints | Complaint Index | Market Share | Premiums |
| Liberty Mutual | 34 | 0.42 | 3% | $222,301,066 |
| USAA | 44 | 0.68 | 2% | 176,246,277 |
| Travelers | 65 | 0.84 | 3% | 210,885,340 |
| State Farm | 431 | 0.86 | 16% | 1,368,350,438 |
| Erie Insurance | 366 | 0.94 | 13% | 1,064,679,636 |
| Nationwide | 274 | 0.99 | 9% | 753,262,705 |
| Progressive | 156 | 1.04 | 5% | 409,899,225 |
| Allstate | 326 | 1.13 | 9% | 788,544,424 |
| Penn National Insurance Company | 48 | 1.46 | 1% | 89,742,801 |
| GEICO | 258 | 1.93 | 4% | 363,939,119 |
Auto Insurance Rate Changes in Pennsylvania
Each year, auto insurance companies are required to file their insurance rates with each state they operate in. The state can then approve or disapprove the new proposed rates by each company. Here are some of the most recent rate adjustments in PA for the top insurance companies:
| | | |
| --- | --- | --- |
| Auto Insurer | Rate Change | Date |
| Hartford Insurance | +3.6% | May 2013 |
| Allstate | +3.2% | January 2014 |
| State Farm | +3.0% | February 2014 |
| Progressive | +1.4% | March 2014 |
| Erie Insurance | +1.2% | January 2014 |
| Esurance | -0.7% | February 2014 |
| GEICO | -2.0% | December 2013 |
Minimum Auto Insurance Requirements in Pennsylvania
Pennsylvania law requires that drivers have at least $15/$30/$5, with some additional pieces as listed below (find out more about Pennsylvania Auto Insurance Requirements), with a side-by-side comparison with the coverage limits we used for the purpose of this study:
| | | |
| --- | --- | --- |
| Coverage Type | Pennsylvania Limits | Analysis Limits |
| Bodily Injury (BI) | $15,000 per person / $30,000 per accident | $25,000 per person / $50,000 per accident |
| Property Damage (PD) | $5,000 | $25,000 |
| Medical Benefits | $5,000 | $5,000 |
| Tort Coverage | Choice of Full or Limited | Full |
Methodology
In our analysis, we looked at 4 driver profiles to make up our benchmark average rates. The demographic profiles we sampled were: 
30 year-old single male
65 year-old single male
30 year-old married couple
54 year-old married couple
Our sample quotes were pulled for the four driver profiles across the 10 cities listed in the study. These cities represent the largest municipalities in the state of Pennsylvania. All profiles had good credit, zero accidents in the past 3 years, and a basic level of liability coverage that was slightly greater than the state's required minimums. All individuals for the purpose of this study are driving a 2010 Toyota Camry and average around 12,000 miles per year on the road.
Average premiums are for illustrative purposes only. Consumers' actual quotes will vary based on their physical residence, driving history, vehicle, and other factors.
Comments and Questions