Best Car Insurance Rates in Austin
The fourth largest city in the 'Lone Star State', Austin is also one of the fastest growing cities in the entire country. So in our recent auto insurance study we decided to look at car insurance rates across the entire Austin metro-area to help our readers see which parts of town are cheapest and which are the most expensive when buying insurance for their vehicles. When you are done reading, put in your zip code in the box up top to get started with a quote.
Cost of Car Insurance in Select Austin Neighborhoods
For our study of auto insurance premiums throughout Austin, TX we looked at 20 distinct areas scattered throughout the metro-area. Those towns were: Bastrop, Canyon Lake, Cedar Park, Del Valle, Downtown Austin, Dripping Springs, Elgin, Georgetown, Hutto, Kyle, Lago Vista, Lakeway, Leander, New Braunfels, Pflugerville, Rollingwood, Round Rock, San Marcos, Westlake Hills, and Wimberley. Take a look below to see how the 20 areas compared: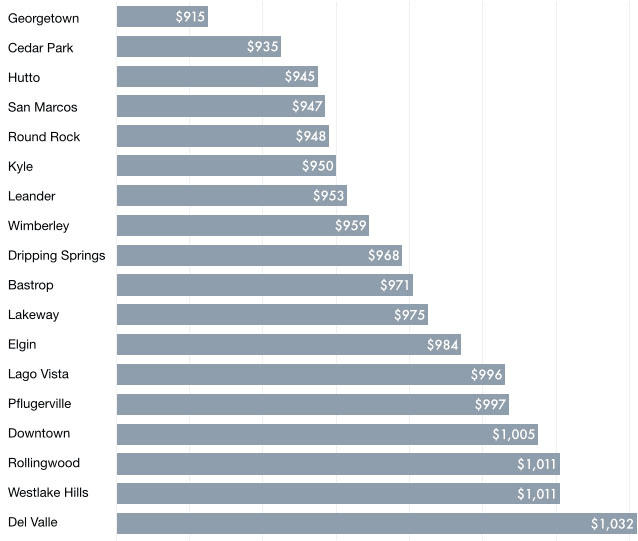 Find the Cheapest Auto Insurance Quotes in Your Area
What we found was that auto insurance rates in the Austin metro-area fluctuate up to 14% solely based on what part of town you're living in. Remember though, even if you live in an expensive neighborhood you can still find great rates. Put your zip code in the box above to start comparing quotes.
Most Expensive Areas 
Del Valle
A southeastern suburb of Austin, Del Valle earns the dubious distinction of having the most expensive auto insurance rates of the 20 towns we looked at. Rates in Del Valle run at $1,032 per year on average.
Westlake Hills
This wealthy suburb of Austin is located only 10-15 minutes west of the downtown city center. If you live in Westlake Hills you can expect to pay about 5% more than the Austin average at $1,011 annually or $84 each month.
Least Expensive Areas
Georgetown
Home to the Southwestern University Pirates (the oldest university in the state), Georgetown sits about 30 miles north of downtown Austin. In this year's study Georgetown was also recognized as having the cheapest car insurance rates in the Austin metro-area at $915 per year.
Cedar Park
This town of 61,000 residents borders Georgetown to the southwest and has low car insurance rates in line with its neighbor. Premiums for insuring your automobile in Cedar Park were a relatively affordable $935 annually or $78 each month.
Map of Neighborhoods
Here's a look at the 18 neighborhoods we studied with their corresponding 'cost of auto insurance' rank. One represents the cheapest town in our study while number eighteen is the most expensive: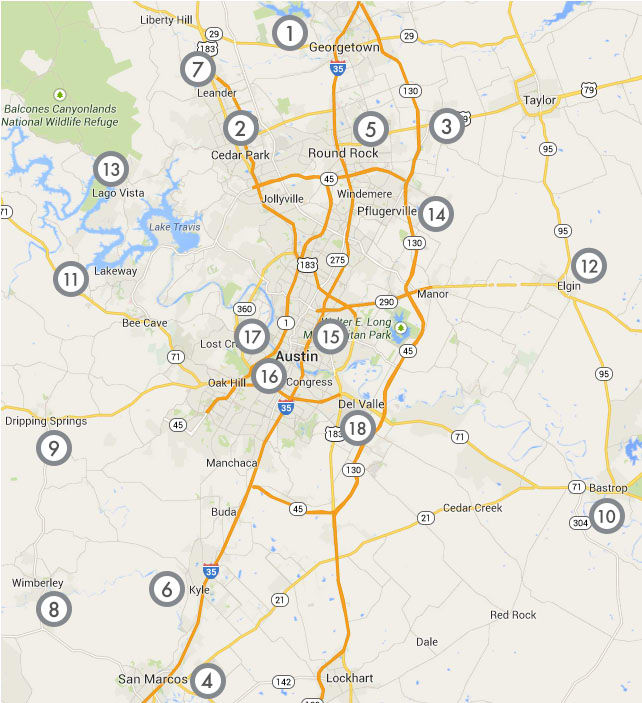 Best Auto Insurance Rates in Austin
Our analysis looked at 11 of the top auto insurance companies in Texas and more specifically in Austin. The companies included in our study were: GEICO, Texas Farm Bureau, USAA, State Farm, Amica, California Casualty, Encompass, Allstate, Farmers Insurance, Safe Auto and Mercury Insurance. 

Most Expensive Auto Insurer in Austin
Mercury Insurance - Headquartered in Los Angeles and offering auto insurance policies in 13 states, rates at Mercury Insurance were significantly higher than other companies we looked at for this study. With an average rate of over $1,500, Mercury was 50% more expensive than average. 
Least Expensive Auto Insurer in Austin
GEICO - GEICO's rates edged out USAA for title of cheapest rates in the Austin metro-area. Not only were they cheapest overall, but they were the least expensive insurer in each area of the city that we looked at. Rates at GEICO were almost 70% cheaper than their most expensive counterpart.
Auto Theft Statistics in Texas
Austin ranked 5th out of the 8 largest cities in Texas when it came to the number of auto thefts that its drivers see in a given year. That's generally good news for Austin residents! Theft rates weren't quite as favorable as they were in Arlington, El Paso, and Corpus Christi, but were less than half of what you would see if you lived in Houston or Dallas.
| | | | |
| --- | --- | --- | --- |
| City | Population | Car Thefts | Thefts per 100,000 |
| Houston | 2,195,914 |  13,070 | 595.2 |
| Dallas | 1,257,676 |  7,062 | 561.5 |
| San Antonio | 1,490,019 |  6,367 | 427.3 |
| Fort Worth | 792,727 |  2,424 | 305.8 |
| Austin | 885,400 |  2,315 | 261.5 |
| Arlington | 379,577 |  950 | 250.3 |
| El Paso | 674,433 |  1,160 | 172.0 |
| Corpus Christi | 316,381 |  443 | 140.0 |
Methodology
Sample auto insurance premiums assume our driver is a 30 year old single male owning his own vehicle, has excellent credit, and purchases basic liability coverage, slightly above what is required Texas. The man drives a 2010 Toyota Camry and puts between 10-15k miles per year on the car which is primarily used for commuting to and from work. Additionally, the driver has no moving violations or accidents in the past 5 years.
Surveyed auto insurance costs in the city of Austin are for illustrative purposes only and actual quotes will vary based on your physical residence, driving history, and other factors.
Comments and Questions