The General Auto Insurance
The General Auto Insurance
The General Auto Insurance
Find the Cheapest Insurance Quotes in Your Area
The General® Automobile Insurance Company Inc. (not to be confused with Direct General!) is a non-standard auto insurance policy provider. You may be surprised to hear that it operates in as many as 34 states – but you might have heard about it under its original name: Permanent General. We would recommend The General for young drivers who are looking for affordable insurance from a reliable insurer, despite their age and little driving experience working against them. However, note that if you already have a few accidents under your belt, The General may not be your cheapest option based on our quote comparisons.
Features we like best about The General:
Specializing in non-standard auto insurance for 50 years
Strong financial stability and good complaints handling record
Affordable car insurance for young drivers
Considerations about The General:
Overall a more costly insurer for an average driver
Mixed reviews about their customer service
The General Auto Insurance Quote Comparison
One of the reasons for a driver to choose a non-standard auto insurance provider is because his/her profile, such as age, may be deemed higher-risk by standard insurers, which leads to higher insurance premiums. We took rate data from our Louisiana cheap auto insurance study for 4 sample drivers of different age and profile, and compared their quotes across 7 large car insurance providers, including The General. We found The General to be a good option for younger drivers who are safer behind the wheel and looking for a cheaper option. All motorists have a clean driving history, and drive a 2012 Toyota Camry.
Company

Single Female
age 21

Single Male
age 21

Married Male
age 30

Married Female
age 60

California Casualty
$2,196
$2,652
$908
$684
Allstate
1,428
1,644
1,075
1,080
State Farm
2,112
2,532
917
687
GEICO
1,356
1,356
677
544
Liberty Mutual
2,364
3,084
944
714
The General
1,618
2,050
1,094
903
Progressive
3,306
3,706
612
530
The General for young drivers: for both of our single 21 year-old drivers, The General provided the third most affordable quotes among these 7 insurers. Compared with the average annual cost of insurance for the single 21 year-old female sample driver, The General is 21% lower, or $436 less. If you're young with a few years of experience, and a great driving record thus far, we recommend that you include The General in a short list of companies when you're looking for cheap auto insurance quotes.
The General for other drivers: On the other hand, once our sample driver outgrew the high-risk category – like getting married or passing the age of 25, such as our married 30 year-old male and married 60 year-old female driver – The General became one of the most expensive auto insurers for them.
The General for drivers with at-fault accident records: an important reason why a driver might seek out non-standard auto insurer is to avoid higher than average insurance quotes for his/her less than perfect driving record. Is The General truly cheaper than other standard auto insurance providers? Based on our sample drivers with 2 at-fault accidents within the last 18 months, it may not be so.
| | | |
| --- | --- | --- |
| Company | Single Female, age 21 & 2 at-fault accidents | Single Male, age 21 & 2 at-fault accidents |
| 21st Century | $2,087 | $2,355 |
| Allstate | 2,161 | 2,742 |
| Progressive | 1,960 | 2,325 |
| The General | 2,436 | 3,059 |
| State Farm | 2,363 | 2,919 |
| GEICO | 1,610 | 1,860 |
| Direct General | 2,506 | 2,787 |
Our sample single male and female 21 year-old drivers both found The General to be their #1 and #2 most expensive insurer, respectively, out of the 7 carriers. Note that Progressive, which was the most expensive insurer for our sample drivers of the same age but with no previous accident records (see the first table above), is now the second cheapest after GEICO. Compared with Progressive, single young drivers with accident records might find a policy with The General costing them $276 - $481 more every year. Both drive a 2009 Toyota Camry, and the policy coverage is the same across all insurers for the Louisiana state minimum liability requirement.
Our Review of The General
The General has been around for a long time, is good at what it does, but has not been catching up with the most current technology. In the following review, you will find a coverage map that illustrates The General's geographical service scope, as well as our highlights on its policy coverage and policy management service.
The General's Coverage Map
The General covers almost 70% of the US – as of 2014, it operates in a total of 34 states, with the exception of: Alaska, DC, Delaware, Hawaii, Kentucky, Maine, Maryland, Massachusetts, Michigan, Mississippi, New Hampshire, New Jersey, New Mexico, New York, North Carolina, Vermont, and Wyoming. If you live in any of these states, entering the zip code into The General's quote box will either take you directly to an insurer who does quote in your state, or to other quote comparison sites.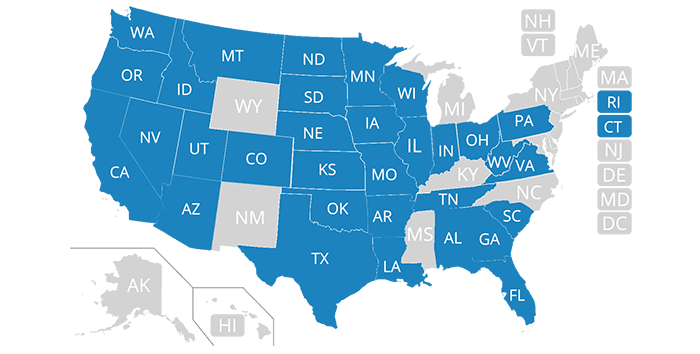 Auto Insurance Policy Coverage
The General offers a complete set of car insurance coverages as any standard auto insurance provider would, with the specifics varying by each state's car insurance requirements. For basic liability coverage – bodily injury and property damage – The General allows drivers to select their coverage limits by the split limits starting with the state's minimum requirement, and a range of higher limits. Limit options vary by state.
Policy Management: MyPolicy Self-Service
We have found that most insurers focusing on selling non-standard car insurance do not have a strong web presence nor online policy and/or claims handling. Nevertheless, The General turns out to provide more convenience for its policyholders in terms of online policy management than other major non-standard insurance providers. The features that differentiated The General from other non-standard providers are the electronic car insurance ID card, and the ability to adjust your policy through your online account. It now also has mobile app for policyholders, providing the same service as you would get online, except for making policy changes.
MyPolicy Login: https://www.thegeneral.com/mypolicy/
All of the following actions may be done through policyholders' MyPolicy account.
View policy information
Make payments
Get insurance ID card
Make changes to policy
Renew policy
Access policy documents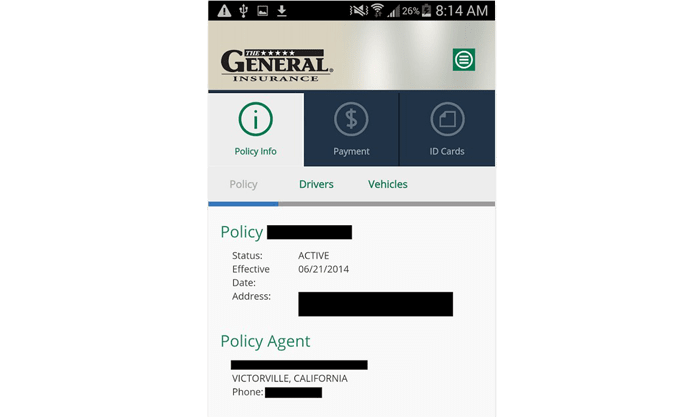 screenshot of The General mobile app policy info page.
Industry Ratings of The General
Based on three major industry review metrics, The General is rated stable for its financial stability, and excellent for claims handling. Although its most recent NAIC complaint index rating is below the total auto insurance market average – 2.2 vs. 1, respectively – the BBB rating deems The General's claims handling superior compared to other companies of its size.
| | |
| --- | --- |
| Metric | Rating |
| A.M. Best | A– |
| BBB | A+ |
| NAIC | 2.2 (Worse than Average) |
The General Claims
Both policyholder and third-party claims must go through The General's 24 hours claims service number. Depending on the type of claims to be made, callers would need to dial differently, as detailed below:
Press 3 to report new claim or to inquire about existing claims

Press 2 for fire, theft, vandalism related claims
Press 3 for glass related
Press 4 to report a car accident (hope everything is ok)
Press 5 to report a car accident involving 2 or more vehicles (really hope everything is ok)
The General Car Insurance Discounts
The General offers a basic range of the most commonly seen car insurance discounts, such as multi-car and paid-in-full discounts. Although not much, drivers can still save up to a few hundred dollars a year with one of these discounts. Below is a table of the available discount types as well as its amount and the coverage(s) on which each apply:
| | | |
| --- | --- | --- |
| Discount Type | Discounted Coverage | Discount % |
| Homeowerns | BI, PD, Comp, Coll | 5 |
| Multi-Car | BI, PD, Comp, Coll, PIP, APIP | 18 |
| Paid-in-Full | All | 5 |
| Quarterly Payment | BI, PD, Comp, Coll, PIP | 3 |
| Accident Prevention Course | BI, PD, Coll, PIP, APIP | 10 |
| Daytime Running Lamp | BI, PD, Coll, PIP, APIP | 3 |
| VIN Etching | Comp | 5 |
| Anti-Lock Brake | BI, PD, Coll, PIP, APIP | 5 |
| Passive Restraint Discount | PIP/MED, APIP | 5 |
| Anti-Theft | Comp | 5 |
About Permanent General Companies (PGC) Holdings Corporation
Beginning operations in 1963, PGC has focused on serving the non-standard car insurance market ever since. It officially adapted the brand name The General in 1997, and in 2013 was acquired by American Family Insurance®. In additional to auto insurance, it also offers property insurance through The General® Home Program.
Company website: www.thegeneral.com
Comments and Questions