Car Insurance in East Lansing, Michigan
Michigan car insurance can be quite expensive, and the same goes for East Lansing. The home to the MSU Spartans is also home to 60,000 residents, many of whom will need to shop for car insurance at some point or the other. In order to ensure you are getting the best deal, you need to shop around and get quotes from multiple companies. We make your job easier by doing it for you and analyzing our findings in this article.
Cheapest Auto Insurance in East Lansing, MI
To find the cheapest insurers in East Lansing, we used a sample of a 30 year old male driver of a 2011 Toyota Camry and obtained quotes from 22 companies. For a 30 year old, MetLife had the best price, being a bit more than half the price of the city average. The graph below shows the five best auto insurance rates and how they relate to the average cost for a 30 year old driver.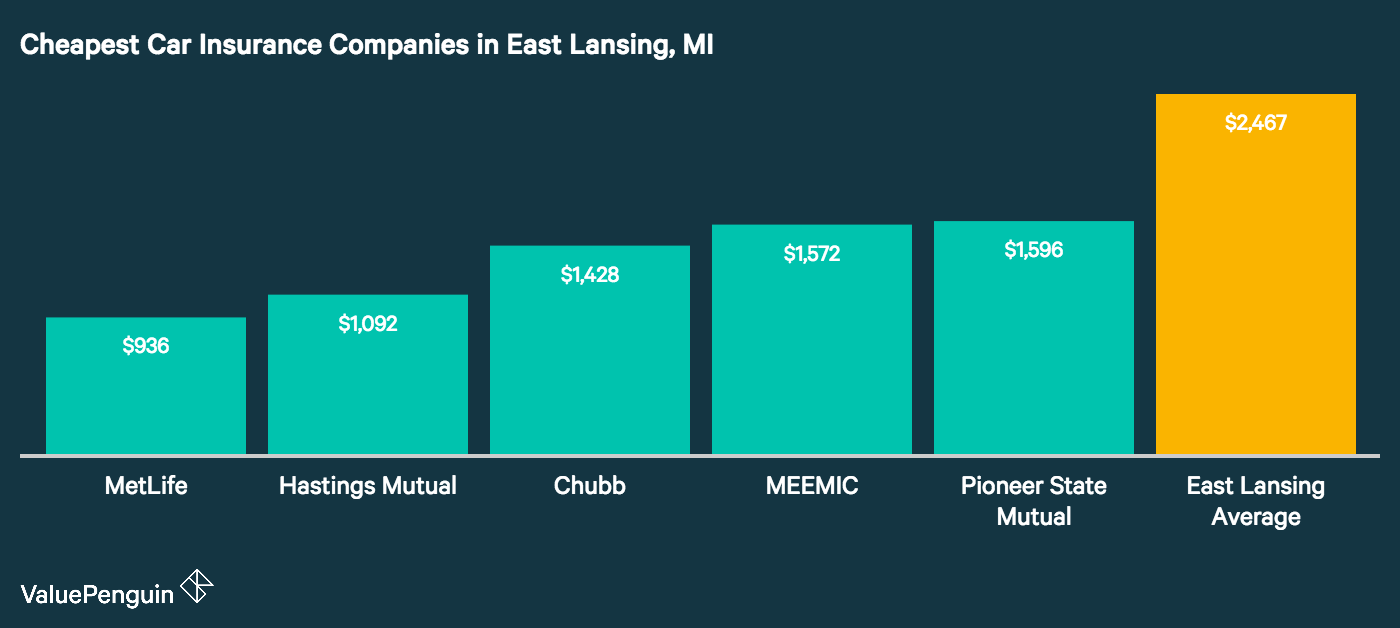 Like in many other Michigan cities, larger companies like State Farm and Allstate were amongst the most expensive for our driver. It is very important to shop around when buying car insurance, and never assume a big name brand has the best price. The following table shows the top 10 cheapest companies in East Lansing based on the 22 companies we examined: 
| Company | Annual Rate |
| --- | --- |
| MetLife | $936 |
| Hastings Mutual | $1,092 |
| Chubb | $1,428 |
| MEEMIC | $1,572 |
| Pioneer State Mutual | $1,596 |
| SECURA | $1,608 |
| Auto Owners | $1,800 |
| Grange Mutual | $1,944 |
| Nationwide | $2,124 |
| Frankenmuth | $2,124 |
| Hanover | $2,340 |
In East Lansing however, pricing for a 30 year old only tells half of the story. East Lansing is very much a college town, and as such, a large portion of the population will be paying a far different rate for car insurance. Young drivers are subject to higher rates due to their inexperience behind the wheel. We took a look at the same 22 companies, but this time for a 20 year old, male and female driver, and determined which company gave the best average price.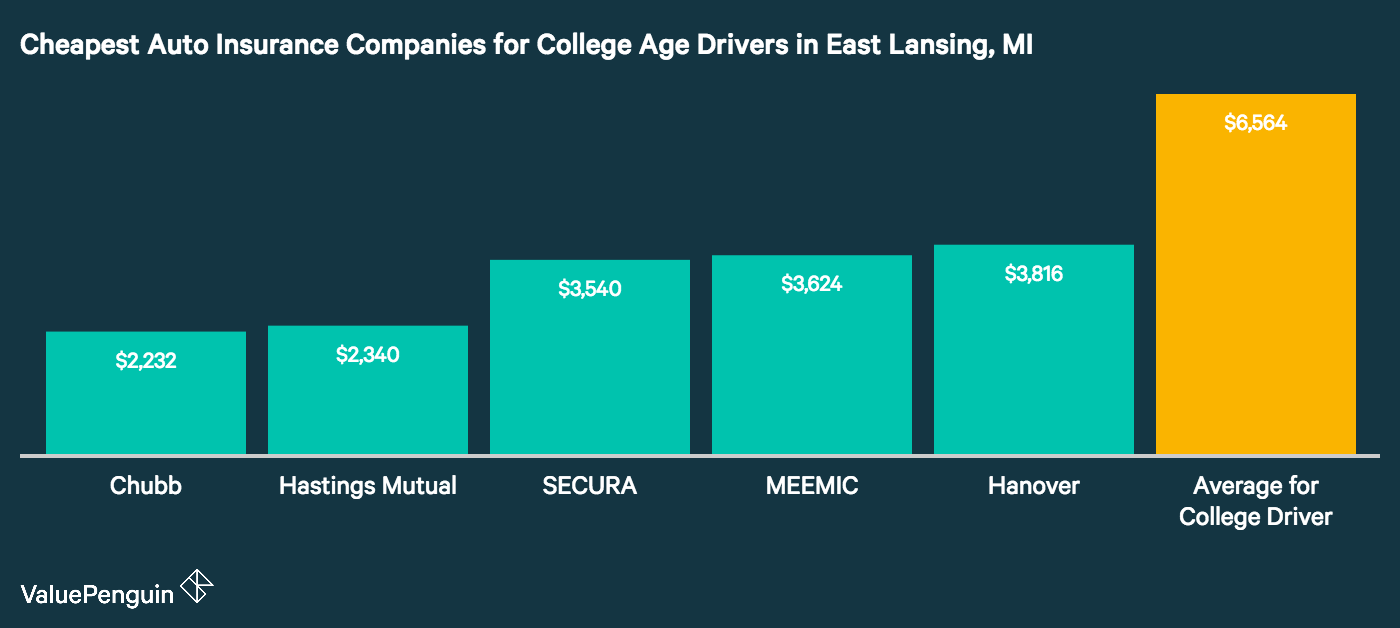 There are a few companies that are cheap for 30 year olds that are also cheap for college drivers, except prices are relatively much higher. MetLife exits the top five, while Chubb and Hastings offer the best prices by far. Car insurance rates for college drivers not on a parent's policy will continue to be higher until they reach age 25 or 26. 
Car Insurance Agents and Agencies in East Lansing, MI
Below we list a few insurers and agencies located in East Lansing. When buying car insurance you have the choice to either do it entirely online, or do it through an agent. Both have their benefits. Going exclusively online usually leads to a you being given a cheaper quote, while going through an agent may help you get a better understanding of how much coverage you should have--ensuring you do not overpay. Not all companies are located online as well. 
| Agency/Insurer | Address | Google Rating |
| --- | --- | --- |
| Spalding Insurance Agency | 1401 E Lansing Dr #103, East Lansing, MI 48823, United States | 4.9 |
| State Farm: Michael Church | 2800 E Grand River Ave, East Lansing, MI 48823, United States | 4.5 |
| Meemic Insurance-Winston Agency | 808 W Lake Lansing Rd #102, East Lansing, MI 48823, United States | 4.4 |
| Dan DeMartin - State Farm Insurance Agent | 2515 E Jolly Rd Ste 4, Lansing, MI 48910, United States | 4.2 |
| Liberty Mutual - East Lansing, MI | 3552 Meridian Crossing Dr Ste 560, Okemos, MI 48864, United States | NA |
| Farmers Insurance - Greg White | 120 Detroit St, Lansing, MI 48912, United States | NA |
| Michael Church - State Farm Insurance Agent | 2417 Showtime Dr, Lansing, MI 48912, United States | NA |
| ALF Spartan Insurance Agency | 503 W Grand River Ave, Lansing, MI 48906, United States | NA |
| McDaniels Insurance Agency | 2200 E Michigan Ave, Lansing, MI 48912, United States | NA |
| Allstate Insurance: Joseph Dunn | 2985 Mt Hope Rd Ste 111, Okemos, MI 48864, United States | NA |
| Auto Owners Insurance | 1400 Abbot Rd #320, East Lansing, MI 48823, United States | NA |
Car Insurance Requirements
When you get a car insurance quote in Michigan and East Lansing, you are required to have a certain amount of insurance. Michigan is one of 12 "no-fault" states that makes Personal Injury Protection (PIP) mandatory. Unlike those other 12 states however, Michigan PIP is limitless. Michigan also requires drivers to hold Personal Property Insurance, something not available in any other state. The large requirements in Michigan make it one of the most expensive states for auto insurance in the country. The table below shows the total minimum coverage all drivers are required to have:
| Type of Coverage | Limits |
| --- | --- |
| Bodily Injury Liability (BI) | $20,000 per person/ $40,000 per accident |
| Property Damage Liability (PD) | $10,000 per accident |
| Personal Injury Protection (PIP) | Unlimited |
| Property Protection Insurance (PPI) | Up to $1 million  |
Personal Injury Protection 
Personal Injury Protection makes it so if you are injured in an accident, your medical expenses will be taken care of, regardless of who was at-fault in the crash. PIP is unlimited so even if your injuries reach up to a million dollars in bills, your PIP will have you covered. PIP will also pay for any lost wages due to injury for up to three years in Michigan. As a driver in Michigan, you should feel really comforted that you will be protected if you get seriously injured in a car accident. The downside of course is that it makes rates in the state notoriously higher than average. A way to reduce your premium however may be to link your health insurance plan with your PIP. If you choose to do so, your health plan will cover all of your injuries while PIP will cover lost wages. Unfortunately, those on Medicaid or Medicare, won't be able to link the two policies. 
Driving Statistics for East Lansing, Michigan 
We compiled some driving related statistics relevant to drivers living in East Lansing, Michigan:
| | |
| --- | --- |
| Days Above 0.01 Inches of Rain or Snow | 68 |
| Car Thefts | 83 |
| Number of Fatal Car Accidents (2011-2015) | 4 |
| Average Commute Time | 16.8 minutes |
| Percent of Pop. That Commutes by Car | 65.1% |
Comments and Questions