Who Has the Cheapest Homeowners Insurance Quotes in Wisconsin?
Find the Cheapest Insurance Quotes in Your Area
Wisconsin, "America's Dairyland", is the 20th most populous state in the United States. The state is well known for its cheese, with Wisconsin being one of the nation's leading dairy producers. Outside of dairy, Wisconsin's economy is largely comprised of manufacturing, IT, and tourism. We studied home insurance rates in Wisconsin by sampling quotes from four major issuers for a benchmark property across 71 difference cities. Our results showed that costs can vary greatly, by as much as 51% between the places with the most expensive and the cheapest homeowners insurance rates in Wisconsin. Read more below, or find homeowners insurance quotes using our quote tool above.
Cheapest Homeowners Insurance Companies in Wisconsin
To find the cheapest homeowners insurance in Wisconsin, our team collected quotes from across 71 towns and cities in the state from major insurance companies including State Farm, Allstate, Farmers, and Liberty Mutual. For our sample home of 2,000 square-feet, we found that State Farm had the cheapest annual rate for homeowners insurance on average. Below is a table listing the mean annual premium for homeowners insurance for major insurance companies in Wisconsin, ranked from cheapest to most expensive: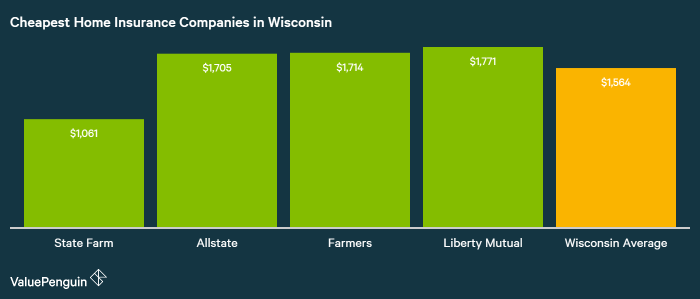 | Rank | Cheapest Homeowners Insurance Companies | Average Annual Ratess |
| --- | --- | --- |
| 1 | State Farm | $1,061 |
| 2 | Allstate |  1,705 |
| 3 | Farmers |  1,714 |
| 4 | Liberty Mutual |  1,771 |
| | Average |  1,563 |
The above rates were calculated for a sample property. To find the best rates for yourself, we recommend finding quotes from multiple insurance providers and comparing them.
Best Homeowners Insurance Rates in Wisconsin: by City
The places with the cheapest homeowners insurance rates in Wisconsin were all located in the eastern stretches of the state, along Lake Michigan. The cost of insuring our benchmark home in these cities was, on average, $1,309 – 16% better than what we saw in other cities.
| | | | |
| --- | --- | --- | --- |
| Rank | City | Average Premium | Change vs. State Average |
| 1 | Sheboygan | $1,229 | -21% |
| 2 | Port Washington | $1,301 | -17% |
| 3 | Plymouth | $1,319 | -16% |
| 4 | Green Bay | $1,334 | -15% |
| 4 | Muskego | $1,334 | -15% |
| 5 | Oak Creek | $1,335 | -15% |
Sheboygan, WI
"The City of Cheese, Chairs, Children, and Churches", Sheboygan can be found on the western shore of the Michigan River. Sheboygan is known around Wisconsin for its bratwurst. Every year, the city hosts the World Bratwurst Eating Championship. If that's not enough to leave you satisfied, try and fill up on Sheboygan's low homeowners insurance prices. For the property we profiled, the average annual home insurance rate was in the neighborhood of $1,229 for the house we sampled – 21% more affordable than what we typically see in Wisconsin. This ranked Sheboygan as the city with the best home insurance rates in Wisconsin.
Port Washington, WI
The historic Port Washington is a city of 11,000 residents located in Ozaukee County. No other city in Wisconsin has as many pre-Civil War structures as Port Washington; a number of buildings throughout the city are on the National Register of Historic Places. Fishing is a large portion of Port Washington's economy, which is in part due to its location on the coast of Lake Michigan. When we sampled home insurance rates in Port Washington for our model property, we came back with average rates of $1,301 per year. With rates 17% lower than the state average, Port Washington placed with the second cheapest homeowners insurance in Wisconsin.
Plymouth, WI
Plymouth is a city of 8,000 residents located between some of Wisconsin's largest cities, including Milwaukee and Green Bay. The city is home to Antoinette, a 20 foot tall, 1,000 pound, fiberglass cow. It was erected in 1977, celebrating both the city's 100th birthday, and its dairy industry. Other than giant cows, visitors to Plymouth can find some of the cheapest home insurance prices in Wisconsin. The benchmark property we looked at averaged prices of $1,319 for a standard one-year home insurance policy.
Green Bay, WI
Green Bay is Wisconsin's third largest city.  It is home to one of the most prolific sports teams in the history of football: the Green Bay Packers. The city earned its unofficial nickname, "Titletown, USA", due to the Packers' 13 championship titles, which is unmatched by any other team in the NFL. While the number of championships Green Bay holds remains high, its homeowners insurance rates are among the state's lowest. It typically cost $1,334 to insure our sample home in Green Bay. Together with Plymouth, Green Bay ranked with the fourth best homeowners insurance rates in Wisconsin.
Muskego, WI
Muskego, found in Waukesha County, is a city of 24,000 residents. The city's name is derived from the Potawatomi word for "sunfish", which is what the Native American tribe called the territory. There are three lakes within the city limits, which in size order are Big Muskego Lake, Little Muskego Lake, and Lake Denoon. Muskego tied Green Bay for the fourth cheapest home insurance rates in Wisconsin. Our model home averaged homeowners insurance premiums of $1,334 – 15% better than the typical Wisconsin city.
Oak Creek, WI
Oak Creek is found 12 miles south of Wisconsin's biggest city, Milwaukee. With a population of 35,000, it is the 23rd most populous city in the state. Oak Creek has some of Wisconsin's most affordable home insurance rates. When we gathered home insurance quotes for our model home in Oak Creek, the average price quoted, across the four major insurers servicing the city, was $1,355.
Places with the Most Expensive Homeowners Insurance in Wisconsin
The average cost of insuring our model property in the following five most expensive cities for homeowners insurance was $1,886 per year. All of the cities on this list tended to be in areas prone to tornados – a majority of the towns on the list were found in St. Croix County. Factors like this tend to correlate to high insurance prices, as insurers raise their rates to make up for the increased likelihood of a home being damaged.
| | | | |
| --- | --- | --- | --- |
| Rank | City | Average Premium | Change vs. State Average |
| 1 | Hudson | $1,926 | 23% |
| 2 | New Richmond | $1,911 | 22% |
| 3 | Verona | $1,879 | 20% |
| 4 | Madison | $1,867 | 19% |
| 5 | River Falls | $1,850 | 18% |
Hudson, WI
Hudson, once called Buena Vista for its scenic views, is a city located in the western-most parts of Wisconsin. As of the most recent census, the city has a population of 13,000 residents. The mean cost of insuring our test property in Hudson, for one year, was $1,926 – 23% above the standard Wisconsin rate for our benchmark. One possible explanation behind these above average prices is Hudson's proximity to the St. Croix River. Flooding potential will always get the attention of insurance companies and cause them to raise their rates. Additionally,  There have been many tornado events in and around the city throughout the years, several of which occurred within the last decade. This type of extreme weather typically correlates with high insurance rates. Here's an example of how quickly flash floods can come about in the area.
New Richmond, WI
New Richmond is a city just 16 miles outside the Wisconsin-Minnesota border. Like many other places in St. Croix, New Richmond has a history of tornado activity. The 9th deadliest tornado in U.S. history struck the town over a century ago. Patterns of violent weather tend to drive home insurance prices up. Insurers view events like this as increasing the potential risk to a home sustaining damage and, in turn, them having to pay out damages for a claim. $1,911 was the average annual cost of insuring our sample house here, which placed New Richmond as the 2nd most expensive spot for homeowners insurance in our Wisconsin research.
Verona, WI
Verona is a city in Dane County, and a suburb of Madison. The city has a population of 11,000, and 4,000 households. Since the 1950's, there have been approximately 80 tornado events in the Verona neighborhood – averaging approximately 1 every year. Home insurers tend to look at that kind of historical data, and respond by raising their prices. This is one potential explanation behind Verona's above average home insurance premiums. For the benchmark property we studied, Verona had a mean quoted price of $1,879 annually which came out to be 20% higher than the WI mean for the house.
Madison, WI
Madison is Wisconsin's second largest city, and has some of the state's most expensive homeowners insurance rates. The cost of insuring the property included in our study, for one year, averaged $1,867 – 19% above the Wisconsin mean. Both Madison's tornado activity and crime rates are above the state average. To insurers, both of these facts indicate a greater chance of a property being damaged in some way. If that occurs, the company will have to pay out damages to the insured. To compensate for this increased likelihood of having to pay for a claim, the insurers raise their rates in the affected neighborhoods.
River Falls, WI
River Falls is a town located in both Pierce and St. Croix counties – the majority of the city is found within Pierce County, however. The city's population is roughly 12,000 people. The results of our study indicate the average homeowners insurance rates for River Falls, for the sample home we looked at, were in the vicinity of $1,850. The areas around River Falls tend to be prone to tornado activity. This puts homes located here at greater risk of being damaged during such an extreme weather event. Insurers, realizing the chances of them having to cover the costs of a claim are greater, increase their rates to compensate.
Average Cost of Homeowners Insurance in Wisconsin: by City
The average cost of homeowners insurance in Wisconsin is $1,564. Depending on where in the state you live, you could be paying up to 21% below or 23% above this value. Below, you can find the average cost of a home insurance policy in all of the 71 cities we profiled in our study, ordered from cheapest to most expensive. The number on the right of each city represents the average yearly homeowners insurance premium.

Methodology
Our study looked at 4 major insurers across 71 cities in Wisconsin. The model home we were looking to insure was 2,000 square feet, had an estimated reconstruction cost of $200,000, a garage attachment, and a fully finished basement. The property had brick/veneer construction, and an asphalt/fiberglass roof. The sample homeowner was a single 41-year-old male who has owned the property since 2000. He has a roommate, and they're both non-smokers without pets. Below you can view all the cities included in our study, listed in alphabetical order.
| | | | |
| --- | --- | --- | --- |
| Rank | City | Average Premium | Change vs. State Average |
| 23 | Antigo | $1,500 | -4% |
| 12 | Appleton | $1,410 | -10% |
| 36 | Ashland | $1,564 | 0% |
| 60 | Baraboo | $1,700 | 9% |
| 43 | Beaver Dam | $1,592 | 2% |
| 45 | Beloit | $1,594 | 2% |
| 57 | Brodhead | $1,692 | 8% |
| 39 | Brookfield | $1,576 | 1% |
| 52 | Chippewa Falls | $1,647 | 5% |
| 33 | Cudahy | $1,553 | -1% |
| 51 | De Forest | $1,626 | 4% |
| 54 | Eau Claire | $1,654 | 6% |
| 55 | Fitchburg | $1,658 | 6% |
| 16 | Fond du Lac | $1,457 | -7% |
| 63 | Fort Atkinson | $1,716 | 10% |
| 22 | Franklin | $1,487 | -5% |
| 28 | Glendale | $1,514 | -3% |
| 4 | Green Bay | $1,334 | -15% |
| 26 | Greenfield | $1,512 | -3% |
| 71 | Hudson | $1,926 | 23% |
| 25 | Janesville | $1,510 | -3% |
| 32 | Jefferson | $1,552 | -1% |
| 59 | Kenosha | $1,698 | 9% |
| 35 | La Crosse | $1,564 | 0% |
| 66 | Lake Geneva | $1,839 | 18% |
| 47 | Lake Mills | $1,605 | 3% |
| 68 | Madison | $1,867 | 19% |
| 14 | Manitowoc | $1,414 | -10% |
| 49 | Marinette | $1,616 | 3% |
| 19 | Marshfield | $1,482 | -5% |
| 15 | Menomonee Falls | $1,443 | -8% |
| 30 | Mequon | $1,532 | -2% |
| 21 | Merrill | $1,484 | -5% |
| 53 | Middleton | $1,651 | 6% |
| 44 | Milton | $1,593 | 2% |
| 38 | Milwaukee | $1,568 | 0% |
| 41 | Monroe | $1,590 | 2% |
| 5 | Muskego | $1,334 | -15% |
| 11 | New Berlin | $1,382 | -12% |
| 70 | New Richmond | $1,911 | 22% |
| 6 | Oak Creek | $1,335 | -15% |
| 9 | Oconomowoc | $1,377 | -12% |
| 18 | Oshkosh | $1,480 | -5% |
| 3 | Plymouth | $1,319 | -16% |
| 2 | Port Washington | $1,301 | -17% |
| 56 | Portage | $1,690 | 8% |
| 27 | Racine | $1,513 | -3% |
| 62 | Reedsburg | $1,715 | 10% |
| 29 | Rhinelander | $1,523 | -3% |
| 61 | Rice Lake | $1,713 | 10% |
| 46 | Ripon | $1,594 | 2% |
| 67 | River Falls | $1,850 | 18% |
| 24 | Shawano | $1,501 | -4% |
| 1 | Sheboygan | $1,229 | -21% |
| 10 | South Milwaukee | $1,381 | -12% |
| 37 | Stevens Point | $1,566 | 0% |
| 65 | Stoughton | $1,733 | 11% |
| 31 | Sun Prairie | $1,547 | -1% |
| 64 | Superior | $1,721 | 10% |
| 50 | Tomah | $1,625 | 4% |
| 69 | Verona | $1,879 | 20% |
| 20 | Watertown | $1,484 | -5% |
| 8 | Waukesha | $1,368 | -13% |
| 42 | Waunakee | $1,591 | 2% |
| 48 | Waupaca | $1,610 | 3% |
| 13 | Wausau | $1,413 | -10% |
| 58 | Wauwatosa | $1,692 | 8% |
| 17 | West Allis | $1,469 | -6% |
| 7 | West Bend | $1,348 | -14% |
| 40 | Whitewater | $1,585 | 1% |
| 34 | Wisconsin Rapids | $1,554 | -1% |
Comments and Questions