Who Has the Cheapest Homeowners Insurance Quotes in Tennessee?
Find the Cheapest Insurance Quotes in Your Area
The Volunteer State, Tennessee is the country's 17th largest state by population. If you're a homeowner in TN, your home insurance rates are about average (20th highest) in comparison to other states. So, in order to understand how prices fluctuate from town to town across the state, the analysts at ValuePenguin conducted a study on homeowners insurance prices for a $200,000 house measuring 2,000 square foot as a benchmark in 69 locations throughout Tennessee. The average annual homeowners cost for our sample property in the state was $1,715, with the highest and lowest average annual costs differing by almost $1,000. Below we look at the cities and towns with the cheapest and most expensve home insurance rates in the state. Read more below, or find homeowners insurance quotes using our quote tool.
Cheapest Homeowners Insurance Companies in Tennessee
Our team studied quotes from major insurance companies (Progressive, Liberty Mutual, State Farm, Nationwide, and Farmers) for a benchmark home of 2,000 square-feet to determine which company offered the cheapest annual rate on average. According to our results, Progressive had an average annual premium of $978, which is about 53% cheaper than the average annual rate of the most expensive of the options, Farmers. Below is a table listing the mean annual insurance premiums of the companies, ranked from most affordable to least affordable: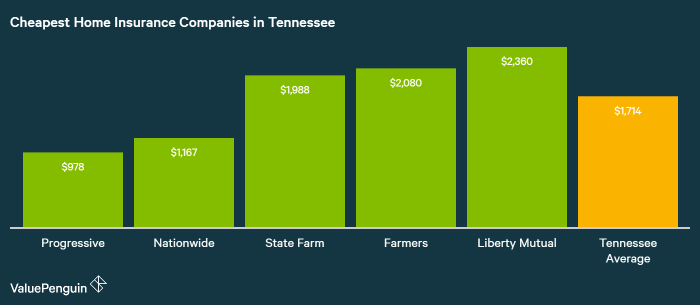 | Rank | Cheapest Homeowners Insurance Companies | Average Annual Rates |
| --- | --- | --- |
| 1 | Progressive | $978 |
| 2 | Liberty Mutual |  2,360 |
| 3 | State Farm |  1,988 |
| 4 | Nationwide |  1,167 |
| 5 | Farmers |  2,080 |
| | Average |  1,715 |
The above rates were for a sample property. To find the best rates for yourself, we recommend looking for quotes from multiple companies and comparing them.
Best Homeowners Insurance Rates in Tennessee: by City
The average annual rate of the 5 cheapest cities and towns in Tennesse for our example property's home insurance was $1,367, or 20% cheaper than the state average. All five cities were located in the eastern reaches of the state with close proximity to the Smoky Mountains.
| | | | |
| --- | --- | --- | --- |
| Rank | City | Average Annual Premium | Change vs State Average |
| 1 | Johnson City | $1,344 | -21.6% |
| 2 | Kingsport | $1,362 | -20.6% |
| 3 | Blountville | $1,368 | -20.2% |
| 4 | Morristown | $1,373 | -19.9% |
| 5 | Lenoir City | $1,389 | -19.0% |
Johnson City, TN
In our 2015 study of home insurance rates in TN, Johnson City had the cheapest rates overall! The city of 65,000 is located at the foothills of the Appalachian Mountain range and has won past recognition as one of the "Best Small Places for Business" and one of the "Least Expensive Cities for Living in the US". The city is also home to the East Tennesse State University Buccaneers and their nearly 16,000 students. Homeowners in our sample house in Johnson City will pay $1,344 per year on average for their home insurance policy. Almost $1,000 cheaper than the most expensive city in the state.
Kingsport, TN
Located in the Northeast Tennessee Valley, Kingsport sits on the Virginia-Tennessee border and is called home by over 50,000 Tennesseeans. The name of the city (which comes from King's Port) references Holston River which was a critical waterway for the early settlers of Kingsport.  Homeowners in the area will also be happy to hear that rates for our benchmark property are the 2nd cheapest in the Volunteer State coming it at an average of $1,362, or $114 per month.
Blountville, TN
Fifteen miles east of 2nd place finisher, Kingsport, is the third cheapest town for homeowners insurance in Tennessee, Blountville. Easily the smallest place inside of our Top 5, Blountville, although not officially incorporated, has 3,000 residents. Regarding home insurance rates in the area, Blountville homeowners pay $1,368 per year for a house in the 2,000 square foot and $200,000 value range, or 20% less than the average Tennessee resident.
Morristown, TN
One hours drive northeast of Knoxville is where you'll find Tennessee's 4th cheapest home insurance rates. Morristown has around 30,000 people living within city limits. Economically the city town has evolved from a primarily agricultural base to a manufacturing based economy that's currently producing everything from furniture to high-tech plastic. If you already living in the area, or are looking to buy a home in Morristown, you'll be grateful that the insurance rates on homes are quite affordable: $1,373 annually, or a whopping $929 cheaper than those in Memphis.
Lenoir City, TN
Situated outside Knoxville to the southwest, Lenoir City is known as the "Lake Capital of the South" because of the trio of pristine lakes surrounding the city. When it comes to owning a home, the 9,000 residents of Lenoir City will be happy to discover that home insurance prices won't be a substantial burden on their monthly finances. Relative to the average city or town in Tennessee, Lenoir City citizens are paying 19.3% less on average to insure our sample home...just $116 each month and $1,389.
Cities with the Most Expensive Homeowners Insurance in Tennessee
Our research shows that the five most expensive places for homeowners insurance in Tennessee were located in the western half of the state. Historically, tornadoes seem to be slightly more prevalent in this area of Tennessee. The five cities to make this list also all had some combination of either proximity to water or high property crime rates that caused their insurance prices to be higher than average.
| | | | |
| --- | --- | --- | --- |
| Rank | City | Average Annual Premium | Change vs State Average |
| 1 | Memphis | $2,302 | 34.2% |
| 2 | Tiptonville | $2,285 | 33.3% |
| 3 | Selmer | $2,099 | 22.4% |
| 4 | Dresden | $2,056 | 19.9% |
| 5 | Jackson | $2,055 | 19.8% |
Memphis, TN
'Home of the Blues' and the 'Birthplace of Rock 'n' Roll', Memphis is a city with plenty of soul. From music to BBQ the cities roots run deep. Unfortunately, the city has a notoriously high crime rate when compared with other cities in the state and across the country. What does that mean for home insurance rates? Places with chronically high property crime will typically have more expensive homeowners insurance prices. In this case, Memphis has the highest rates in TN at over $2,300 per year.
Tiptonville, TN
Just minutes from the Kentucky and Missouri borders in northwestern TN, you'll find the small town of Tiptonville. Home insurance rates for 4,000 people living here are some of the highest in the state. That shouldn't be too surprising though. The town is sandwiched between two bodies of water (the Mississippi River and the Blue Basin) which leave residents home highly susceptible to flooding which can be costly for the insurance companies. 
Selmer, TN
Another city susceptible to larger storms and even some flash flooding due to the number of creeks and streams they have in town, Selmer comes in as the 3rd most expensive city to insure your home in Tennessee. Beyond weather events, one additional factor that may influence the higher than average prices is the average credit scores of people living in Selmer. With an average household income of $22,555 (half the Tennessee average) and an average home value of $82,561 (40% less than the state average) the city's lower income populous may only make the rates worse.
Dresden, TN
Located in the northwest corner of the state, Dresden brands itself "A Great Place to Live" as it's within 2-3 hours drive of Memphis, Nashville and the Mississippi River. Overall the city is quite an affordable place to live, despite it's high homeowners insurance costs. Dresden lays claim to the 4th highest rates in the state with average annual rates of $2,056, or 19.9% higher than the Tennessee average.
Jackson, TN
Home to almost 70,000 Tennesseeans, Jackson is the 7th largest city in the Volunteer State. Amongst other interesting facts about Jackson is that the Tennessee Supreme Court for West TN is located in town and has been since 1834 when Jackson was one of the largest cities in the state. Although the homes in Jackson are more affordable on average than most of the state, the home insurance rates are higher at $2,055 per year on average. Just slightly cheaper than Dresden at #4.
Average Cost of Homeowners Insurance in Tennessee: by City
The team at ValuePenguin looked at 69 cities and towns in Tennessee. Here is the list of all those locations ordered from cheapest to most expensive. The number to the right is the average annual home insurance rate for our 2,000 square foot property in that particular place. 

Map of Homeowners Insurance Rates in Tennessee
Looking at Tennessee home insurance rates visually you'll notice a clear trend. Cities and towns in the western half of the state are almost uniformly more expensive than their neighbors in the eastern portion of TN. Roll your mouse over each dot to see the city name, rank, and average annual rates.
Methodology
Our study took a look at 69 towns and cities throughout Tennessee, both large and small. Insurance rates were gathered from four separate insurance companies (Progressive, Liberty Mutual, State Farm, and Nationwide) and then averaged in order to arrive at our city by city rates. The hypothetical homes that were used as a proxy in our study were all 2,000 square feet with a market value of $200,000. The outside of the homes were constructed of brick veneer and the roofs were asphalt shingle. 
We've also included all 69 cities in alphabetical order so its easier to find the town you live in:
| | |
| --- | --- |
| City | Average Annual Rate |
| Ashland City |  $1,535 |
| Athens |  1,622 |
| Blountville |  1,368 |
| Carthage |  1,914 |
| Chattanooga |  1,641 |
| Clarksville |  1,499 |
| Cleveland |  1,527 |
| Columbia |  1,614 |
| Cookeville |  1,590 |
| Covington |  2,034 |
| Crossville |  1,836 |
| Dayton |  1,627 |
| Dickson |  1,615 |
| Dresden |  2,056 |
| Dyersburg |  1,981 |
| Eagleville |  1,841 |
| Elizabethton |  1,450 |
| Erwin |  1,528 |
| Fayetteville |  1,817 |
| Franklin |  1,614 |
| Germantown |  1,857 |
| Greeneville |  1,412 |
| Huntingdon |  1,994 |
| Jackson |  2,055 |
| Jefferson City |  1,508 |
| Johnson City |  1,344 |
| Jonesborough |  1,406 |
| Kingsport |  1,362 |
| Kingston |  1,533 |
| Knoxville |  1,509 |
| La-Follette |  1,765 |
| Lafayette |  1,815 |
| Lebanon |  1,492 |
| Lenoir City |  1,389 |
| Lewisburg |  1,847 |
| Linden |  1,890 |
| Livingston |  1,631 |
| Lynchburg |  1,965 |
| Madisonville |  1,688 |
| Manchester |  1,777 |
| Martin |  1,995 |
| Maryville |  1,424 |
| Mc-Minnville |  1,684 |
| Memphis |  2,302 |
| Milan |  2,023 |
| Morristown |  1,373 |
| Mount-Juliet |  1,620 |
| Mountain City |  1,602 |
| Murfreesboro |  1,670 |
| Nashville |  1,739 |
| Newport |  1,658 |
| Oak-Ridge |  1,564 |
| Paris |  1,927 |
| Rogersville |  1,445 |
| Savannah |  1,895 |
| Selmer |  2,099 |
| Sevierville |  1,532 |
| Seymour |  1,594 |
| Shelbyville |  1,730 |
| Smithville |  1,941 |
| Sparta |  1,819 |
| Springfield |  1,554 |
| Sweetwater |  1,564 |
| Tiptonville |  2,285 |
| Tracy City |  1,930 |
| Tullahoma |  1,735 |
| Union City |  1,989 |
| Winchester |  1,846 |
| Woodbury |  1,813 |
Comments and Questions