Who Has the Cheapest Homeowners Insurance Quotes in Oklahoma?
Find the Cheapest Insurance Quotes in Your Area
Oklahoma is located in the South Central regions of the United States. The "Sooner State" is one of the nation's leading producers of natural gas – accounting for 7.1% of the U.S.'s gross production in 2013. Oklahoma lies in a region commonly referred to as "tornado alley". According to National Climatic Data Center, over the last two decades, the state has averaged 63 tornado events per year. Oklahoma's location between the U.S. Interior Highlands as well as the Great Plains makes its territory susceptible to this type of severe weather.
Home insurance accounts for a significant cost of home ownership - especially in regions where extreme weather might drive those prices up. The costs associated with insuring a home vary from city to city. Because of this, we have conducted a study of rates across 55 cities in Oklahoma, studying the home insurance rates for a benchmark property in each of them. The statewide average is $4,610 – but prices can vary by as much as 28% from this value. Read more below, or enter your zip code above to start finding homeowners insurance quotes.
Cheapest Homeowners Insurance Companies in Oklahoma
Using our benchmark sample of a 2,000 square-foot home, we averaged yearly premiums to determine who had the best homeowners insurance for low rates in Oklahoma. We found that for our sample homeowners policy, Progressive had the most affordable average annual rate of $2,063. Below are the average annual premium for four national insurers in our study, which include Progressive, State Farm, Farmers, and Liberty Mutual ranked from cheapest to most expensive: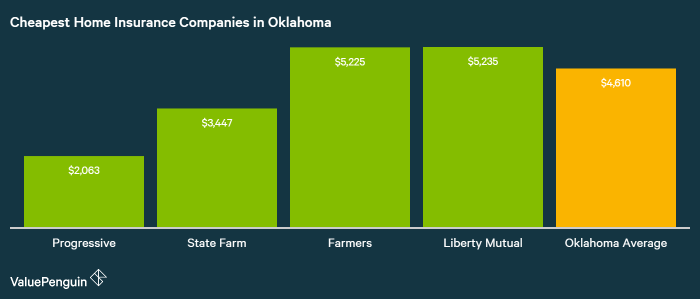 | Rank | Cheapest Homeowners Insurance Companies | Average Annual Rates |
| --- | --- | --- |
| 1 | Progressive | $2,063 |
| 2 | State Farm |  3,447 |
| 3 | Farmers |  5,225 |
| 4 | Liberty Mutual |  5,235 |
| | Average |  3,993 |
The above rates were calculated for a sample property. To find the best rates for yourself, we recommend finding quotes from multiple companies and comparing them.
Best Homeowners Insurance Rates: by City
The places with the cheapest homeowners insurance prices in Oklahoma are all found within the eastern parts of the state. The average cost of insuring our benchmark home in these cities was approximately $3,644 annually.
| | | | |
| --- | --- | --- | --- |
| Rank | City | Average Premium | Change vs. State Average |
| 1 | Mannford | $3,465 | -25% |
| 2 | Bartlesville | $3,612 | -22% |
| 3 | Tulsa | $3,651 | -21% |
| 4 | Broken Arrow | $3,740 | -19% |
| 5 | Antlers | $3,751 | -19% |
Mannford, OK
The city of Mannford is found in Creek County, Oklahoma. Originally, the city was located several miles northwest of its current location. However, due to the construction of the Keystone Lake, in 1963 all citizens relocated. Today, the reservoir offers Mannford residents many recreational activities including fishing and various water sports. Mannford has some of the cheapest home insurance rates in Oklahoma. Our model property in Mannford was quoted, on average, a price of $3,465 – 25% better than the typical Oklahoma home insurance premium.
Bartlesville, OK
The second best home insurance rates in Oklahoma are found in Bartlesville, a city of 36,000 residents. Famous American architect, Frank Lloyd Wright, designed the Price Tower located in downtown Bartlesville – the only skyscraper built from a Wright design. While some of the buildings in Bartlesville are sky high, their insurance rates are quite low. The standardized property we studied, was commonly quoted a price of $3,612 per year for a home insurance policy.
Tulsa, OK
Tulsa is Oklahoma's second largest city, with close to 400,000 residents. Tulsa has been the home of many famous individuals, from American Idol winner David Cook to infamous con-man Frank Abagnale. Perhaps its most famous resident is the Golden Driller, a 76-foot-tall statue of an oil worker, standing guard at the Tulsa County Fairgrounds. The statue's imposing demeanor might have sent high insurance rates in Tulsa running. The average homeowners insurance quote obtained for our benchmark property was 21% better than the statewide average, at $3,651 – an uncommon occurrence for large cities.
Broken Arrow, OK
Broken Arrow is a city, found just outside of Tulsa - serving as its largest suburb. Over the years, Broken Arrow has garnered many accolades – being named as one of the safest cities in the U.S., as well as one of the best places to live. The city can add one more prestigious designation to its list – it has one of the lowest home insurance rates in Oklahoma. When we collected homeowners premium quotes in Broken Arrow, the typical price was $3,740 – 19% more affordable than the average Oklahoma city.
Antlers, OK
Rounding off our list of places with the cheapest homeowners insurance in Oklahoma is the small city of Antlers. Located in Pushmataha County, the city has a population of approximately 2,500. Reportedly, the town got its name from a tree decorated with antlers, which signaled the location of a spring. Typical home insurance prices in Antlers, for our model home, was in the neighborhood of $3,751.
Cities with the Most Expensive Homeowners Insurance in Oklahoma
In order to insure the home included in our study inside the following cities, we would have to pay an average of $5,605 per year – 22% above the state average. The cost of home insurance tends to correlate with high likelihood of extreme weather – such as strong winds and tornadoes. A majority of the cities and towns on this list had average tornado rates close to double that of the Oklahoma average, and much higher than the overall U.S. average.
| | | | |
| --- | --- | --- | --- |
| Rank | City | Average Premium | Change vs. State Average |
| 1 | Edmond | $5,892 | 28% |
| 2 | Yukon | $5,735 | 24% |
| 3 | Midwest City | $5,470 | 19% |
| 4 | Alva | $5,470 | 19% |
| 5 | Clinton | $5,459 | 18% |
Edmond, OK
Edmond is a city located in Oklahoma County. It is the sixth largest city in the state. As of the most recent census, Edmond has a population of 81,000. The city's economy is largely based around the education industry – approximately 4,000 residents are employed by the Edmond Public Schools system, and the University of Central Oklahoma. Edmond has one of the highest home insurance averages statewide. Our model property in the city was commonly saw homeowners insurance premiums around $5,892 per year.
Yukon, OK
Yukon, founded in 1891, is a city located just 20 minutes outside the state capital, Oklahoma City. The city was named after the Yukon River territory – a place made famous by an 1897 gold rush. Finding gold could be useful in paying for paying the costs of owning a home in Yukon. The average home insurance premium, for the property we studied, was significantly more expensive than the rest of the state - $5,735 per year for a standard one-year homeowners insurance policy.
Midwest City, OK
The eight largest city in Oklahoma, Midwest City, ranked as third most expensive in terms of home insurance prices. The home we looked at in Midwest City was quoted, on average, at $5,470 per year – that's 19% more than the mean of the 55 cities we studied. The city was originally planned around the Midwest Air Depot, now the Tinker Air Force base. Due to the proximity, much of Midwest City's economy is tied to tis air force base.
Alva, OK
Alva has the fourth most expensive city for homeowners insurance in Oklahoma. Despite the high insurance prices, Alva has a relatively low number of tornado occurrences – little over half that of the state average. Other things which may account for the higher than normal home insurance prices in Alva are things such as construction and labor cost – all things which insurance companies account for. The model home included in our study averaged homeowners insurance prices of $5,470 annually.
Clinton, OK
Clinton is a city located in Custer and Washita counties, with a population of 9,000. Several illustrious individuals have hailed from Clinton, including singer-songwriter Toby Keith, and Medal of Honor recipient Captain Frederick F. Henry. The Red Tornadoes, Clinton High School's football team, has the second most state championships in Oklahoma, and is first in terms of all time wins. Like Alva before it, Clinton has few instances of tornadoes when compared to the rest of the state. Despite this, it still maintains home insurance rates, which are typically 18% higher than the state average – our model home was quoted prices around $5,459. The above normal prices can be a factor of many different things, such as construction costs or average fire department response times.
Average Cost of Homeowners Insurance in Oklahoma: by City
The average cost of insuring a home in Oklahoma was $4,610, and varied by as much as 70% between cities. The prices of homeowners insurance in Oklahoma are largely influenced by the territory's susceptibility to strong winds and tornadoes. You can find the complete list of all 55 towns and cities included in our study below, ordered from least to most expensive.
Historical Damages from Tornado Claims in Oklahoma
Based on data from The Tornado History Project, here's an estimate of historical claims from tornado damage across the state. You'll notice that Cleveland and McClain Counties lead the way after the devastating, billion dollar tornados of 1999 and 2013.
Methodology
Our study consisted of gathering insurance quotes for a 2,000 square foot, 2-story benchmark property. Quotes were collected from 4 major home insurance companies – State Farm, Liberty Mutual, Farmers, and Progressive. The rates were than averaged to create our rankings. The model homeowner was a single, non-smoking 41-year old male, who owned no pets. You can view the complete list of cities surveyed below, in alphabetical order. The numbers to the right of each city represent their average annual home insurance premium, and the percent deviation from the state mean.
| | | | |
| --- | --- | --- | --- |
| Rank | City | Average Premium | Change vs. State Average |
| 25 | Ada | $4,554 | -1% |
| 44 | Altus | $5,292 | 15% |
| 52 | Alva | $5,470 | 19% |
| 5 | Antlers | $3,751 | -19% |
| 32 | Ardmore | $4,800 | 4% |
| 2 | Bartlesville | $3,612 | -22% |
| 18 | Bixby | $4,027 | -13% |
| 34 | Blackwell | $4,820 | 5% |
| 4 | Broken Arrow | $3,740 | -19% |
| 39 | Chickasha | $5,124 | 11% |
| 9 | Claremore | $3,907 | -15% |
| 51 | Clinton | $5,459 | 18% |
| 17 | Collinsville | $4,026 | -13% |
| 13 | Coweta | $3,972 | -14% |
| 49 | Del City | $5,401 | 17% |
| 35 | Duncan | $4,932 | 7% |
| 27 | Durant | $4,609 | 0% |
| 55 | Edmond | $5,892 | 28% |
| 47 | El Reno | $5,333 | 16% |
| 41 | Elk City | $5,231 | 13% |
| 42 | Enid | $5,273 | 14% |
| 37 | Frederick | $5,054 | 10% |
| 7 | Grove | $3,882 | -16% |
| 50 | Guymon | $5,449 | 18% |
| 23 | Hugo | $4,250 | -8% |
| 38 | Kingfisher | $5,084 | 10% |
| 36 | Lawton | $5,023 | 9% |
| 1 | Mannford | $3,465 | -25% |
| 10 | McAlester | $3,920 | -15% |
| 12 | Miami | $3,950 | -14% |
| 53 | Midwest City | $5,470 | 19% |
| 46 | Moore | $5,321 | 15% |
| 16 | Muskogee | $4,018 | -13% |
| 33 | Newkirk | $4,817 | 4% |
| 40 | Norman | $5,159 | 12% |
| 43 | Oklahoma City | $5,286 | 15% |
| 6 | Owasso | $3,772 | -18% |
| 28 | Pauls Valley | $4,700 | 2% |
| 29 | Ponca City | $4,714 | 2% |
| 19 | Poteau | $4,077 | -12% |
| 11 | Pryor | $3,924 | -15% |
| 45 | Purcell | $5,306 | 15% |
| 8 | Sallisaw | $3,899 | -15% |
| 15 | Sand Springs | $4,011 | -13% |
| 30 | Seminole | $4,737 | 3% |
| 31 | Shawnee | $4,794 | 4% |
| 20 | Skiatook | $4,176 | -9% |
| 22 | Stigler | $4,229 | -8% |
| 24 | Stillwater | $4,324 | -6% |
| 26 | Sulphur | $4,556 | -1% |
| 21 | Tahlequah | $4,200 | -9% |
| 3 | Tulsa | $3,651 | -21% |
| 14 | Wagoner | $3,984 | -14% |
| 48 | Woodward | $5,392 | 17% |
| 54 | Yukon | $5,735 | 24% |
Comments and Questions