Who Has the Cheapest Homeowners Insurance Quotes in Nevada?
Find the Cheapest Insurance Quotes in Your Area
Nevada is located in the western part of the United States. The state got its beginnings with the discovery of silver in Comstock Lode, which drew miners and spurred massive population growth in the territory – thus earning its nickname the "Silver State". Nevada's legalization of gambling, and its lenient marriage and divorce laws transformed the state into a major tourist attraction. Besides tourism, mining remains a big component of Nevada's economy. However, today it is gold, not silver, that is mined in Nevada. We studied the homeowners insurance rates in 30 Nevada cities and towns to create a transparent resource for Nevada homeowners, so they may better how the cost of insuring a house varies from city to city. The average annual home insurance premium in the state was $1,211 for our sample 2,000 square foot property. Read more below, or enter your zip code above to find homeowners insurance quotes.
Cheapest Homeowners Insurance Companies in Nevada
We conducted a study to find the cheapest homeowners insurance in Nevada by collecting quotes from across 30 towns and cities in the state for Amica, State Farm, Farmers, and Liberty Mutual. We found the average annual premium for each company and determined that Amica provided the most affordable rate at about $628 for our sample property of 2,000 square-feet. Below is a table that lists the mean annual premiums for the major insurance companies in Nevada from cheapest to most expensive: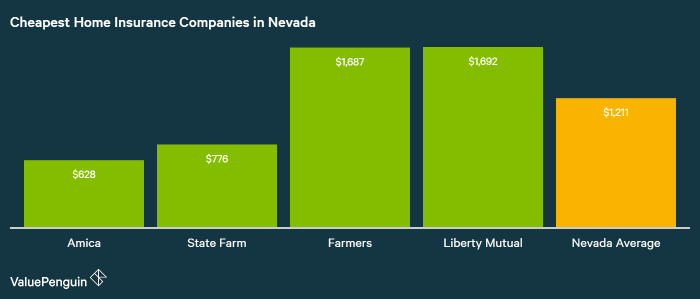 | Rank | Cheapest Homeowners Insurance Companies | Average Annual Rates |
| --- | --- | --- |
| 1 | Amica |  $628 |
| 2 | State Farm |  776 |
| 3 | Farmers |  1,687 |
| 4 | Liberty Mutual |  1,692 |
| | Average |  1,196 |
These rates were obtained for a sample property. To find the best rates for yourself, we recommend finding quotes from various insurance providers and comparing them.
Best Homeowners Insurance Rates in Nevada: by City
The cheapest places for homeowners insurance in Nevada are all located along the western part of the state, in the Carson City/Reno area. The cost of insuring our model property in these cities was on average $1,099. That equates to approximately nearly 1% of the market value of our sample house, on an annual basis.
| | | | |
| --- | --- | --- | --- |
| Rank | City | Average Annual Rates | Change vs. State Average |
| 1 | Sun Valley | $929 | -23% |
| 2 | Spanish Springs | $1,110 | -8% |
| 3 | Gardnerville | $1,128 | -7% |
| 4 | Fernley | $1,142 | -6% |
| 4 | Reno | $1,142 | -6% |
| 5 | Dayton | $1,143 | -6% |
Sun Valley, NV
Sun Valley, located in Washoe County, boasts the cheapest homeowners insurance rates in Nevada. The average cost of insuring our sample property in Sun Valley was approximately $929 – that's 23% better than what we typically see in the rest of the state. Sun Valley is a census-designated place, and has a population of roughly 19,000 residents. The city is just a 14 minute drive away from one of Nevada's largest cities, Reno.
Spanish Springs, NV
The second best home insurance rates in the state of Nevada can be found in Spanish Springs. The city is a part of the Reno-Sparks Metropolitan Statistical Area, and has a population of just 15,000 people (as of the most recent census). Spanish Springs was once home to Sky Ranch Airport which, in the 1940s, was the first site of the now famous Reno Air Races, which is described by enthusiasts as "the world's fastest motor sport". The average price of a one year home insurance policy in Spanish Springs is typically $1,110 based on our 2,000 square foot model home.
Gardnerville, NV
Gardnerville is a small city with a population of roughly 6,000. It is located in the western part of the state, just 8 miles from the Nevada and California border. When we gathered quotes in Gardnerville, the average price for insuring our benchmark property was just $1,128 per year - the third lowest homeowners rates in Nevada. That is 7% lower than the state average of $1,211. The city provides entertainment to its residents and visitors in a variety of ways, including playing movies in the city's park throughout the summer months!
Fernley, NV
Fernley is a medium-sized city, found in Lyon County. Just like many of the other places with the cheapest home insurance rates in Nevada, Fernley is part of the Reno-Sparks metropolitan area. In Fernley, you can see home insurance rates around the neighborhood of $1,142. Fernley was originally settled in 1904, and was mainly an agricultural and ranching community. Today, the city continues to develop, with companies like Amazon.com and UPS opening up warehouses in parts of Fernley. The city was tied for 4th place with Reno, with the average home insurance rates for both cities being the same.
Reno, NV
"The Biggest Little City in the World", Reno is Nevada's second most populous city, with close to 233,000 residents. The city houses Nevada's oldest university – The University of Nevada, Reno – as well as a myriad of other schools, including public schools and places of higher education. While Reno is no longer the gambling capital of the world, as it was before the early '50s, the city's economy is still deeply rooted in gambling – 4 out of 10 of Reno's top employers are casino-related. The average cost for sample property in Reno was $1,142 per year, which placed it evenly with Fernley as the cities with the 4th best rates for insuring a house.
Dayton, NV
Dayton rounds off our list of places with the cheapest homeowners insurance in Nevada, with mean annual premiums around $1,143. Classic movie buffs might recognize Dayton as the setting of the 1961 film, The Misfits – which starred Marilyn Monroe and Clark Gable. Part of the inspiration behind choosing Dayton for as the filming location was its rich historic quality. Townsfolk claim that Dayton is Nevada's oldest settlement – dating as far back as 1849. To this day, there are still buildings around Dayton which are over a hundred years old, including a schoolhouse-turned-museum which was built in 1865.
Places with the Most Expensive Homeowners Insurance in Nevada
The cost of insuring your home in the most expensive cities for homeowners insurance in Nevada is around $1,524 – 26% above what we see in the typical Nevada city. The cost of home insurance can be driven up by a number of factors, including the costs of manual labor/building supplies in the area, crime rates, natural weather extremes, and the type of fire department which services the living area.
| | | | |
| --- | --- | --- | --- |
| Rank | City | Average Annual Rates | Change vs. State Average |
| 1 | Las Vegas | $1,840 | 52% |
| 2 | Incline Village | $1,685 | 39% |
| 3 | Laughlin | $1,404 | 16% |
| 4 | Boulder City | $1,346 | 11% |
| 5 | Winchester | $1,344 | 11% |
Las Vegas, NV
Las Vegas, "Sin City", was the most expensive place for home insurance rates in Nevada. You can bet on the homeowners insurance premiums to be high; our example house in Las Vegas cost an average of $1,840 to insure. Las Vegas, as many major cities, has a property crime rate greater than the state average. The higher a city's crime rate, the higher the likelihood of a home sustaining some sort of damage, which the insurer will have to cover the cost of. As a result, insurance companies tend to respond to these types of crime statistics by raising their policy costs.
Incline Village, NV
The second most expensive homeowners insurance premiums were found in Incline Village. The town is located on the north shore of Lake Tahoe, one of the major tourist attractions of both Nevada and California. The average cost of insuring our benchmark property in Incline Village was $1,685 – that is 39% above the Nevada mean. Despite having high homeowners insurance prices, Incline Village is famed as a "tax haven". Over the years, many wealthy California business owners registered their home address in Incline Village to avoid paying higher taxes – a practice which led to many tax fraud and bribery charges against many of these individuals.
Laughlin, NV
The town of Laughlin is located just 90 miles south of Las Vegas, and had Nevada's 3rd most expensive rates for homeowners insurance. The average cost of home insurance premiums in Laughlin for our benchmark property were $1,404 annually. Laughlin sits on the banks of the Colorado River, and each year the Laughlin River Run takes place along it – a motorcycle rally which brings as many as 70,000 motorcycle enthusiasts to the town.
Boulder City, NV
The typical cost of a home insurance policy for our benchmark property in Boulder City is $1,346. This makes the city the 4th most expensive place for homeowners insurance in Nevada! Boulder City is fairly unique, in that it's one of the only two cities in Nevada where gambling is prohibited, and has been since the city's founding. As a result, entertainment in Boulder City has developed around more traditional venues instead of casinos - the city sports golf courses, pools, movie theaters, etc. 
Winchester, NV
Winchester is the fifth most expensive city in Nevada when it comes to homeowners insurance. Between the four major insurers we examined, the mean cost of a home insurance premium quote obtained for our sample property was $1,344 – 11% above the typical Nevada home. Winchester is bordered by Las Vegas to the north, and even contains a part of the world-famous Las Vegas Strip. The city has a population of 28,000 residents, and is fairly young, being founded in 1951.
Average Cost of Homeowners Insurance in Nevada: by City
The average cost of home insurance in Nevada is $1,211. There is some significant variation throughout the state, as the price difference between the cheapest and most expensive cities is approximately $911 per year. You can see the cost of all cities in this study below, as well as their average annual premium, and deviation from the state mean. The cities are ranked from cheapest to most expensive.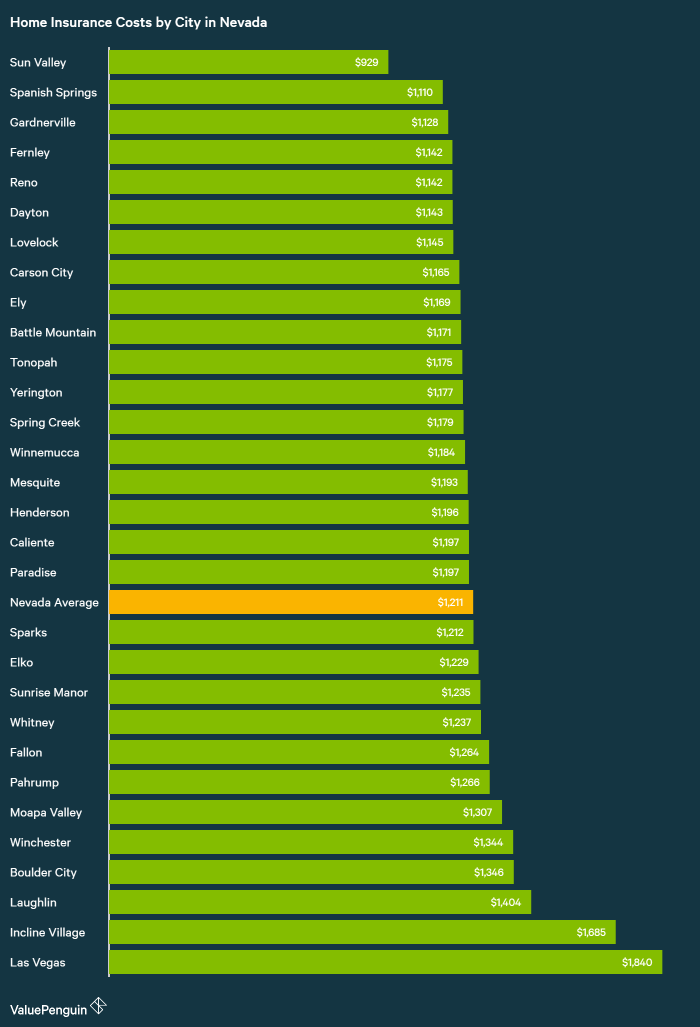 Map of Homeowners Insurance Rates in Nevada
A geographical view of the average home insurance prices throughout Nevada. Use your mouse pointer to hover over each dot and reveal information about the city or town. You can also zoom by double-clicking.
Methodology
To obtain the most accurate possible metrics, our analysts looked at the cost of ensuring a typical Nevada home. The benchmark property had 2,000 square feet and was 15 years old. It had a garage attachment, with no living space above it. The approximate value of the property was $200,000. The policy holder is a 41 year old, non-smoking male, who doesn't own any pets. Insurance quotes were obtained from 4 different insurance companies – Amica, Liberty Mutual, State Farm, and Farmers. All the cities in the study can be found in the list below, ordered alphabetically.
| | | | |
| --- | --- | --- | --- |
| Rank | City | Average Annual Rates | Change vs. State Average |
| 10 | Battle Mountain | $1,171 | -3% |
| 27 | Boulder City | $1,346 | 11% |
| 17 | Caliente | $1,197 | -1% |
| 8 | Carson City | $1,165 | -4% |
| 6 | Dayton | $1,143 | -6% |
| 20 | Elko | $1,229 | 1% |
| 9 | Ely | $1,169 | -4% |
| 23 | Fallon | $1,264 | 4% |
| 4 | Fernley | $1,142 | -6% |
| 3 | Gardnerville | $1,128 | -7% |
| 16 | Henderson | $1,196 | -1% |
| 29 | Incline Village | $1,685 | 39% |
| 30 | Las Vegas | $1,840 | 52% |
| 28 | Laughlin | $1,404 | 16% |
| 7 | Lovelock | $1,145 | -5% |
| 15 | Mesquite | $1,193 | -2% |
| 25 | Moapa Valley | $1,307 | 8% |
| 24 | Pahrump | $1,266 | 4% |
| 18 | Paradise | $1,197 | -1% |
| 5 | Reno | $1,142 | -6% |
| 2 | Spanish Springs | $1,110 | -8% |
| 19 | Sparks | $1,212 | 0% |
| 13 | Spring Creek | $1,179 | -3% |
| 1 | Sun Valley | $929 | -23% |
| 21 | Sunrise Manor | $1,235 | 2% |
| 11 | Tonopah | $1,175 | -3% |
| 22 | Whitney | $1,237 | 2% |
| 26 | Winchester | $1,344 | 11% |
| 14 | Winnemucca | $1,184 | -2% |
| 12 | Yerington | $1,177 | -3% |
Comments and Questions