Who Has the Cheapest Homeowners Insurance Quotes in Louisiana?
Find the Cheapest Insurance Quotes in Your Area
The 25th most populous state in the US, Louisiana has the second highest home insurance rates of any state in the country. But in an effort to learn more about the homeowners insurance premiums in Louisiana, we dug deeper and looked at rates in 31 individual cities throughout LA so our readers could see how their town fared against others in the state.
Cheapest Homeowners Insurance Companies in Louisiana
Not only did we look at the most expensive cities in Louisiana, as part of our study we analyzed the multitude of home insurance companies doing business in the state. Below you'll see these 41 companies list from most affordable to most expensive. The number shown is the average annual premium for each company across the state. Based on this figure, Armed Forces Insurance, Mansion Insurance, Family Security Insurance, USAA, and Federated National ranked with the five best average rates for home insurance in Louisiana.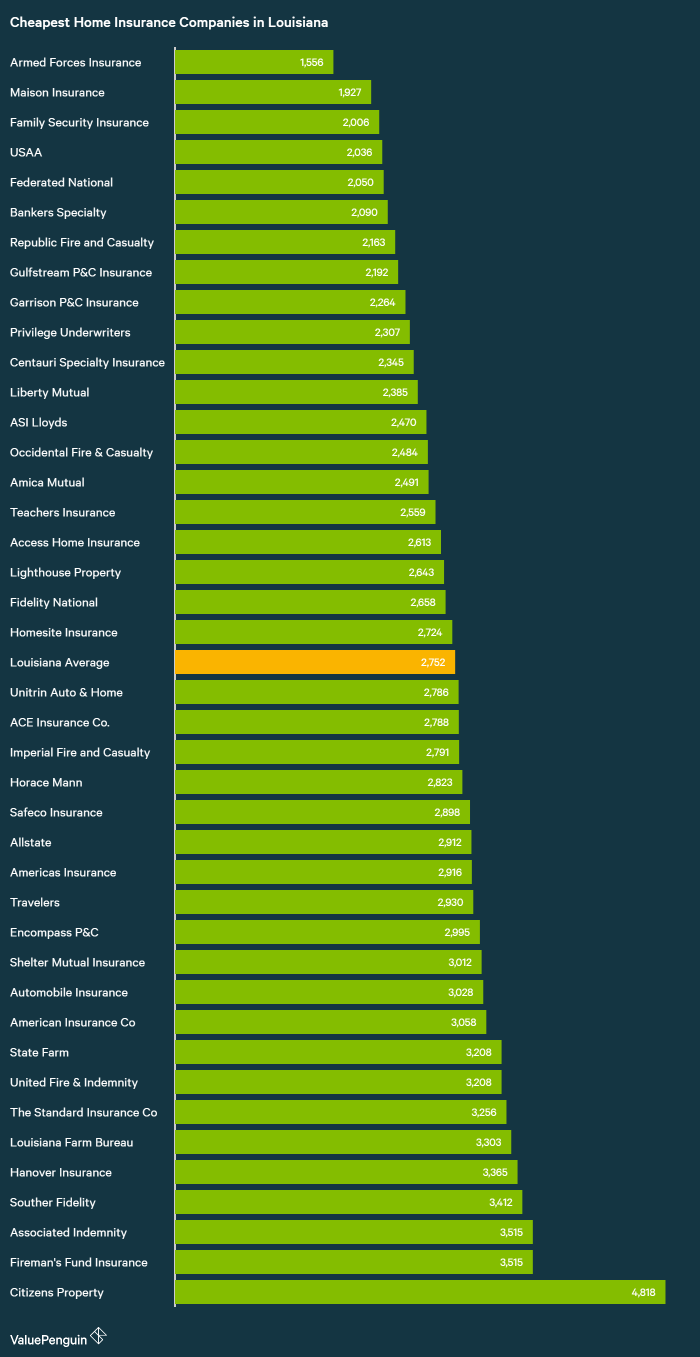 Cheapest Homeowners Insurance in Lousiana: by City
Readers and Louisiana natives will find it as no surprise that the cities with the cheapest homeowners insurance costs in the state are located inland and many miles away from the large storm threats that are ever present to those nearer to the Gulf. The three most affordable cities had average annual premiums of $1,505 making them 45% cheaper than the average city in Louisiana.
Shreveport
The 3rd most populous city in the state of Louisiana, and only 20 miles from the Texas border, Shreveport is also the most affordable in terms of homeowners insurance statewide. Because of it's close proximity to Texas, Shreveport boasts a "unique combination of two great American heritages: a little Cajun, and since we're less than 15 minutes from the TX border, it's a little Lone Star, too." Homeowners insurance rates in Shreveport average $1,488 per year or 46% cheaper than the Louisiana state average.
Alexandria
Home to almost 50,000 residents, the city of Alexandria, LA lies in the middle of the state along the banks of the beautiful Red River. Amongst activities that visitors can enjoy while in town are a visit to the Louisiana History Museum, the Alexandria Zoological Park, or even the Kent Plantation House where you can explore some classic French colonial architecture. Because it sits inland and a good distance from the Gulf,  Alexandria also enjoys the 2nd cheapest home insurance rates in the state. Those in town will pay an average of $1,504 per year or $125 per month. 
Monroe
Located in the northeastern part of the state, Monroe is home to 3 major universities (University of Louisiana at Monroe, Louisiana Tech, and Grambling State) and 49,000 citizens. Monroe is also one half of the "Twin Cities" nickname that it shares with neighboring West Monroe. In our 2014 study, Monroe showcased why its affordability having only the 3rd highest home insurance premiums in the state of Louisiana. Residents shell out an average of $1,524 per year which is 44% less than the state average.
Most Expensive Places in Louisiana for Homeowners Insurance
Louisiana has ranked as having the 2nd highest home insurance costs in the country (behind Florida) according to data released by the Insurance Information Institute in 2013. When we dove deeper into which cities specifically had the highest rate these three towns below finished as the most expensive in Louisiana. As would be expected, Cameron, Houma, and New Orleans are all waterfront cities with a front row seat to huge levels of destruction should another hurricane emulate the path of Katrina and so many others that have done damage over the years. Average insurance premiums for these three cities was a whopping $4,884 per year.
Cameron
A coastal town in southwestern Louisiana, Cameron has seen its once modest population dwindle in the past 15 years due to severe damage and flooding from the huge 21st century hurricanes we've seen to this point. Nonetheless, the town is clearly a dangerous place to live once a storm starts rolling in. Home insurance prices in town are the highest of any city in Louisiana at an average of $5,987 per year. That's 117% higher than the state average and almost 300% higher than what those in Shreveport pay each year.
Houma
In the heart of Bayou Country, Houma is called home by 34,000 Louisianans and is known as the official gateway to Cajun Country! Visitors and residents alike have plenty to keep them busy with activities like swamp tours or exploring the significant number of Cajun-related past times at their disposal. But because it's located so close to the Gulf of Mexico, Houma is at a much larger risk from storm damage and its premiums reflect that. Households looking to insure their homes will pay the 2nd highest rates in Louisiana at an average of $4,554 per year or $380 per month.
New Orleans
The Big Easy, New Orleans is world-renowned for its annual Mardi Gras celebration, the French Quarter, and its year-round, party friendly entertainment. From great foods and drinks to centuries old architecture, NOLA has it all in spades. However, after Katrina and the many other large hurricanes that have blown through the area, it's no secret that New Orleans is prone to being hit by big weather. And since there's not much to protect it from strong wind and waves insurance companies adjust their rates accordingly! Homeowners insurance rates in the city are 50% higher than the state average at $4,111 per year.
Cost of Homeowners Insurance in Louisiana: by City
Outside of the top and bottom 3 cities, we looked at 25 other towns scattered throughout the 'Bayou State'. In the graph below you can see each of those towns stacks up against the others in Louisiana when it comes to annual dollars spent on homeowners insurance.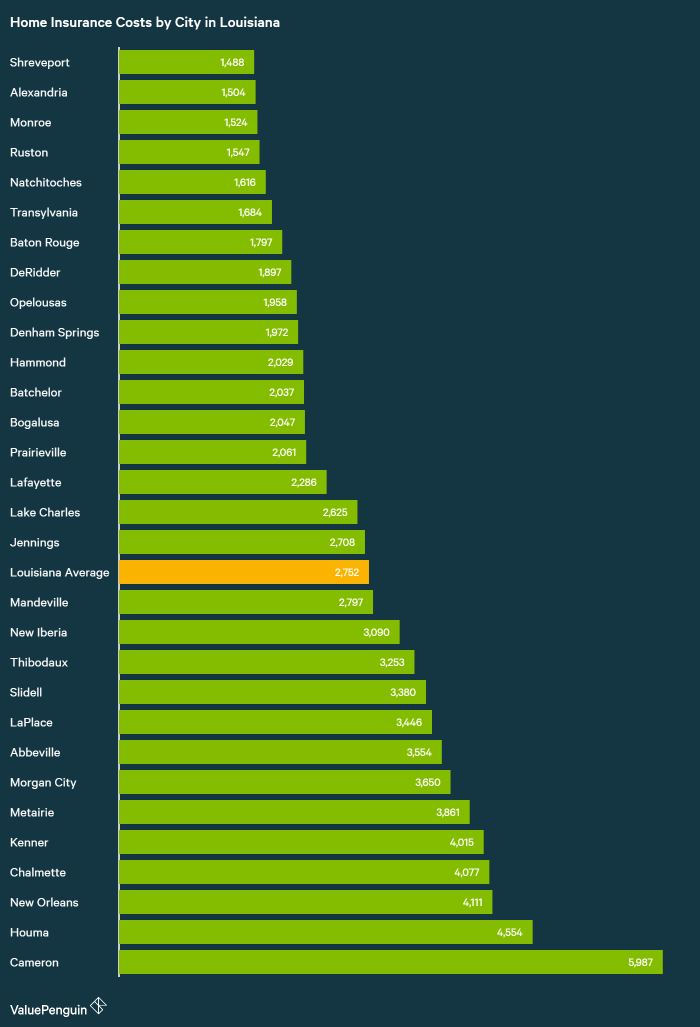 Methodology
Rates are based on a 12-month policy term for new business accounts. The policy type assumes your home has deadbolt locks and smoke detectors for protective measure. The example home we used to determine our rates was a 1,800 square foot, 10-year-old house with brick veneer. The home was covered up to $200,000 with $100,000 in contents coverage and a 2% hurricane deductible. Our hypothetical homeowner had a 700+ credit score, a clean claims history, and wasn't looking for a multiline discount.
Data used in our analysis was obtained via the Louisiana Department of Insurance.
Comments and Questions