Who Has the Cheapest Homeowners Insurance In Delaware?
Find the Cheapest Insurance Quotes in Your Area
Delaware, "The First State", was one of the original 13 colonies in the "New World". The state earned its nickname when, in 1787, it was the first to ratify the Constitution of the United States. Though Delaware is the second smallest state by area, it is the sixth most densely populated. In its total 2,000 square miles, lives a population of close some 940,000 people. The state's name is derived from the famous Delaware River, which runs through the eastern shores of the state.
Because home insurance rates can vary drastically city to city, we decided to study the prices in Delaware. Our analysis looked at 39 places throughout the state, examining the prices for a representative model home in each. We found the average price, for this home in Delaware, to be $796 per year. Prices between the most and least expensive places in the state could vary by as much as 69%. The price of home insurance in Delaware represents approximately 0.4% of the total cost of owning a $200,000 home, on a year-to-year basis. Read more below, or enter your zip code into our quote tool above to start finding homeowners insurance quotes.
Cheapest Homeowners Insurance in Delaware
For our analysis of homeowners insurance in Delaware, we gathered quotes from Liberty Mutual, State Farm, Nationwide, and Allstate for a sample property of 2,000 square-feet. We found that the cheapest homeowners insurance rate came from Nationwide, which offered an average annual rate of $743 for our sample homeowners policy. Below are the companies and their mean annual premiums, ranked from cheapest to most expensive: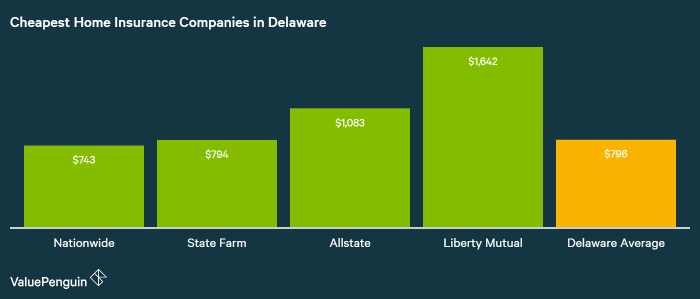 | Rank | Cheapest Homeowners Insurance Companies | Average Annual Rates |
| --- | --- | --- |
| 1 | Nationwide | $743 |
| 2 | State Farm | 794 |
| 3 | Allstate | 1,083 |
| 4 | Liberty Mutual | 1,642 |
| | Average | 1,065 |
The above rates were obtained for a sample property. We urge homeowners to find rates from at least three insurance providers and compare them to find the best rates for themselves.
Best Homeowners Insurance Rates in Delaware: by City
We found the cheapest home insurance rates in Delaware within New Castle County, located in the northern region of the state. The average cost of a home insurance policy in these cities, towns, and places was $626 annually, representing a 21% decrease over the state average.
| | | | |
| --- | --- | --- | --- |
| Rank | Cities | Average Premium | vs State Average |
| 1 | Greenville | $593 | -25% |
| 2 | Hockessin | $610 | -23% |
| 3 | Townsend | $634 | -20% |
| 4 | North Star  | $646 | -19% |
| 5 | Newark | $649 | -18% |
Greenville, DE
Our analysis found that the most affordable home insurance rates in the state of Delaware were located in the city of Greenville. Classified as a census-designated place and suburb, Greenville is largely a commuter town, with many of its residents working in the nearby Wilmington. Greenville is surrounded by historic buildings beautiful landscapes – several homes throughout its territory are listed on the National Register of Historic Places. Other than its beautiful surroundings, visitors to Greenville can gander at the city's low homeowners insurance premiums. The home we examined in Greenville was typically quoted insurance prices around $593 annually.
Hockessin, DE
Hockessin is a census-designated place, located right the Delaware-Pennsylvania border. This city of 14,000 residents is found just a 30 minute drive from Wilmington, the state's largest city. It is believed that Hockessin's name originates from the word "hòkèsa", which means "pieces of bark" in the language of the Lenape tribe. Hockessin is one of the best places in Delaware when it comes to homeowners insurance. Our model property, a 2 story home, cost, on average, $610 per year to insure – that's 23% better than the typical city in Delaware.
Townsend, DE
Townsend is a rapidly growing town in southern New Castle County. The town's current population stands at roughly 2,000 residents. By comparison, the population just 15 years ago was a mere 400 – marking a 400% increase over the last several years. Townsend is a largely agricultural community, and has been that way since its incorporation back in 1885. Home insurance prices in Townsend are also among Delaware's best. The property we examined was, on average, 20% more affordable than the state mean. The typical price of a 1 year home insurance policy in Townsend is just $634.
North Star, DE
North Star, a census-designated place in New Castle County, has a population of 8,000. Latest data reveals that there are roughly 2,600 households in North Star, which have an average size of 3. The median household income here is approximately $100,616. Average prices of home insurance in North Star are low, compared to the rest of Delaware. The average price of a homeowners insurance policy, for our benchmark property, is $646 annually, or 6% of the median household income.
Newark, DE
Newark is one of the larger cities in Delaware, with a population of roughly 30,000. A large part of that number is made up for college students – the median age of the entire population being 22. The reason behind these statistics is the fact that Newark is home to the University of Delaware – the state's largest university. Newark is also one of the most affordable cities in the state when it comes to home insurance. Our analysis found that the average price of home insurance, for a sample home in this city, cost $649 per year.
Most Expensive Homeowners Insurance in Delaware
The most expensive cities in Delaware for homeowners insurance are all located in the Sussex County – in the southern portions of Delaware. To insure our benchmark home in these cities, it would typically cost $950 annually. The reason behind why these towns in particular have higher than normal homeowners insurance rates is ultimately known only to the insurers themselves. In the past, we have observed things such as crime rates, costs of labor and construction, proximity to large bodies of water, and even the type of fire department servicing the area to have an impact.
| | | | |
| --- | --- | --- | --- |
| Rank | Cities | Average Premium | vs State Average |
| 1 | Laurel | $1,001 | 26% |
| 2 | Bridgeville | $991 | 25% |
| 3 | Seaford | $943 | 19% |
| 4 | Dagsboro | $925 | 16% |
| 4 | Ellendale | $925 | 16% |
| 5 | Georgetown | $916 | 15% |
Laurel, DE
The historic town of Laurel, found in Sussex County, is home to some 4,000 residents. Founded in 1683, Laurel was, for a long time, one of the wealthiest towns in the state. Laurel has more buildings on the National Historic Record than any other town in Delaware, with over 800 structures on the list. Outside of historic buildings, Laurel has plenty of high home insurance premiums. Our analysis found that, for our sample property, the average price of homeowners insurance in Laurel is $1,001, which is 26% above the Delaware statewide average.
Bridgeville, DE
The second most expensive home insurance premiums, in the state of Delaware, can be found in Bridgeville. This town of 2,000 residents was the birthplace of Edward Willis Redfield, a famous American impressionist painter – his work is on display in museums throughout the world. Redfield is not the only famous son of Bridgeville, with several Delaware governors, assemblymen, and senators hailing from this town. When we collected home insurance rates in Bridgeville, for a sample home, we were quoted prices in the neighborhood of $991 per year.
Seaford, DE
Seaford, the largest city in Sussex County, is home to 7,000 residents. In the past, the city has been voted as one of the top 30 best small towns in America. This recognition was, in part, due to the many amenities present within Seaford. These include various parks, museums, and many historical places. Every year, Seaford also hosts a number of festivals, such as the Nanticoke Riverfest and the FRAM Festival. Home insurance prices in Seaford are 19% more expensive than the Delaware average. It would cost approximately $943 per year to insure our benchmark property in Seaford.
Dagsboro, DE
Dagsboro is a town of 800 residents, and located in the southern reaches of Delaware. Prince George's Chapel, one of the oldest church's in America, can be found in Dagsboro. Built in 1755, it stands to this day on Prince Georges Avenue, near Pepper Creek. A typical home in Dagsboro will cost $925 per year to insure, according to the data we gathered. That makes the town the 4th most expensive in the state.
Ellendale, DE
Ellendale ties Dagsboro, as the 4th most expensive place for homeowners insurance in Delaware. Our sample home in Ellendale cost $925 per year to insure – 16% more than what we typically saw throughout the rest of the state. Outside of home insurance, the cost of living in the town is generally positive. Costs of housing, for example, are some 43% more affordable than the U.S. average.
Georgetown, DE
Georgetown is the fifth most expensive city for homeowners insurance in Delaware. The average price of home insurance for the home included in our study, in Georgetown, was $916 per year – 15% more expensive than the typical Delaware home. The town itself is the county seat of Sussex County, and has a population of approximately 6,000, as of the most recent census. Every two years, Georgetown hosts a unique festival called Return Day. Occurring two days after Election Day, the day's events include parades as well as various contests.
Cost of Homeowners Insurance in Delaware: by City
According to data gathered for our model home, the average price of homeowners insurance in the state of Delaware is $796 annually. This figure will vary from city to city, as can be seen in the list below. The table displays all the cities, towns, and places included in our study, ordered from least to most expensive. The number to the right of each item on the list represents the average annual home insurance premium.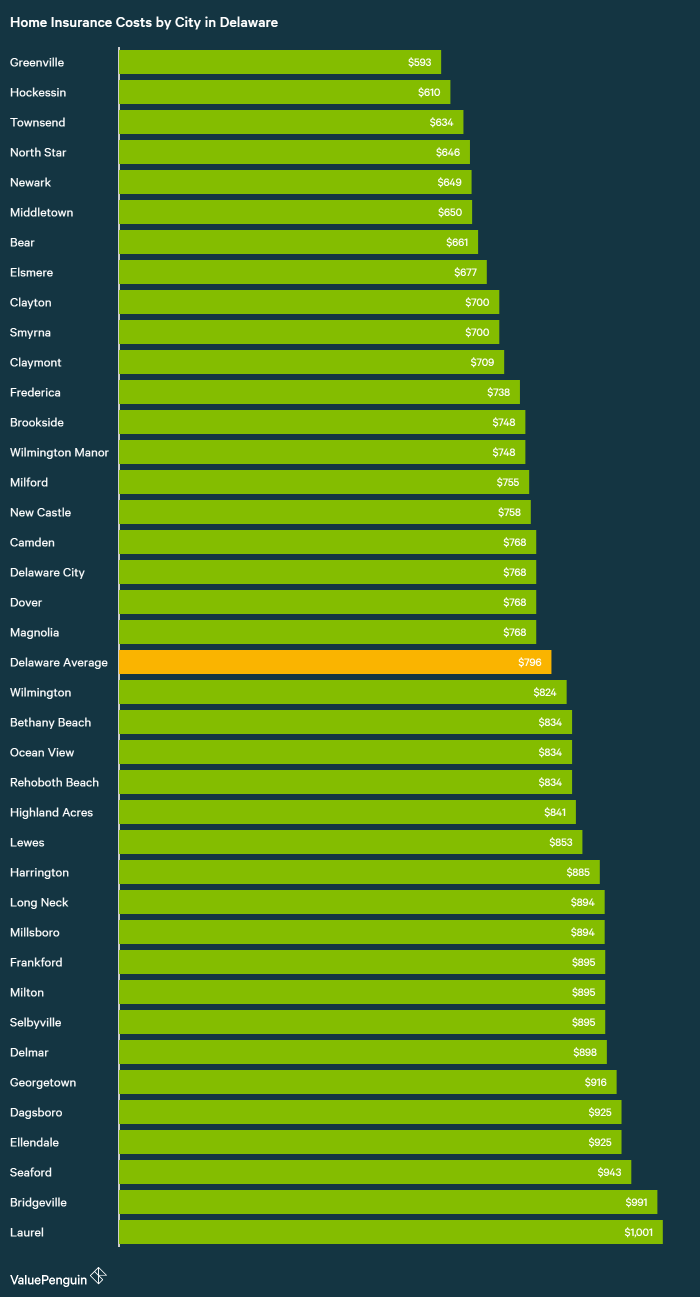 Methodology
In order to achieve accurate results, we compared the prices for a single benchmark home across various cities, towns, and census-designated places in Delaware. Rates were collected from three separate insurance companies – State Farm, Nationwide, and Allstate. The benchmark home was a 2 story, 2,000 square foot building, with a built-in garage, and 1 and a half bathrooms. It had brick-veneer construction, and a fully completed basement. The homeowner was a 41-year old, single male with no pets. He has no prior claims history, and has owned the home since the year 2000. All the places we examined can be found in the listed alphabetically below.
| | | | |
| --- | --- | --- | --- |
| Rank | Cities | Average Premium | vs State Average |
| 7 | Bear | $661 | -17% |
| 22 | Bethany Beach | $834 | 5% |
| 38 | Bridgeville | $991 | 25% |
| 13 | Brookside | $748 | -6% |
| 17 | Camden | $768 | -3% |
| 11 | Claymont | $709 | -11% |
| 9 | Clayton | $700 | -12% |
| 35 | Dagsboro | $925 | 16% |
| 18 | Delaware City | $768 | -3% |
| 33 | Delmar | $898 | 13% |
| 19 | Dover | $768 | -3% |
| 36 | Ellendale | $925 | 16% |
| 8 | Elsmere | $677 | -15% |
| 30 | Frankford | $895 | 13% |
| 12 | Frederica | $738 | -7% |
| 34 | Georgetown | $916 | 15% |
| 1 | Greenville | $593 | -25% |
| 27 | Harrington | $885 | 11% |
| 25 | Highland Acres | $841 | 6% |
| 2 | Hockessin | $610 | -23% |
| 39 | Laurel | $1,001 | 26% |
| 26 | Lewes | $853 | 7% |
| 28 | Long Neck | $894 | 12% |
| 20 | Magnolia | $768 | -3% |
| 6 | Middletown | $650 | -18% |
| 15 | Milford | $755 | -5% |
| 29 | Millsboro | $894 | 12% |
| 31 | Milton | $895 | 13% |
| 16 | New Castle | $758 | -5% |
| 5 | Newark | $649 | -18% |
| 4 | North Star | $646 | -19% |
| 23 | Ocean View | $834 | 5% |
| 24 | Rehoboth Beach | $834 | 5% |
| 37 | Seaford | $943 | 19% |
| 32 | Selbyville | $895 | 13% |
| 10 | Smyrna | $700 | -12% |
| 3 | Townsend | $634 | -20% |
| 21 | Wilmington | $824 | 4% |
| 14 | Wilmington Manor | $748 | -6% |
Comments and Questions