Best Car Insurance for College Students
Having a car is a massive convenience at college. As a student however, affording car insurance may be difficult. To help find the best auto insurer for college students, we analyzed several companies for their prices, discounts and other important features.
Find the Cheapest Insurance Quotes in Your Area
Cheapest Car Insurance Company for College Students
Of the country's major insurers, we found GEICO had the cheapest auto insurance rates for college students. We used a sample 20 year old driver from five major college cities in the U.S. and found GEICO offered an average rate of $792 per year for basic coverage. Nationwide was the next most affordable car insurance company at $1,058 per year.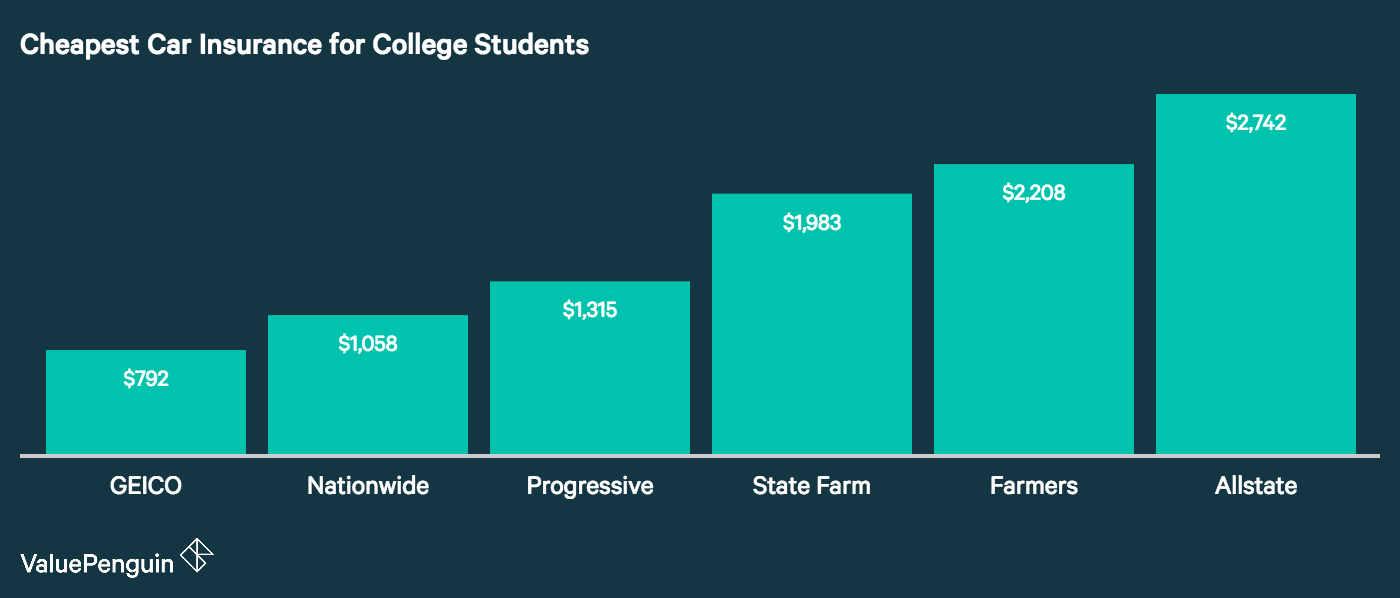 Find the Cheapest Auto Insurance Quotes in Your Area
Our analysis only took into account the biggest auto insurers, but as we found in our analysis of car insurance for teenagers, many smaller companies like Erie can offer lower rates than large companies. We would advise any student looking to get their own auto insurance policy compare at least three to six companies in their area, some small and some large, to make sure they are paying the best possible premiums. We also give a more thorough state by state analysis of car insurance rates for students here.
Note that we only got quotes for policies limited to liability insurance. If you want to add collision and comprehensive insurance, you should expect to double your yearly rate. We recommend any driver with a car that's worth more than $3,000 or less than 10 years old get both coverages.
Auto Insurance Company With Best Discounts for College Students
State Farm has the best discounts for college students. In this article, we analyzed good student discounts and found State Farm had the best one, offering a 36% discount for student drivers at four major college towns. To qualify for a good student discount you need to maintain at least a B or 3.0 GPA. Below you can see how good student discounts compare at other insurers:
| Company | Good Student Discount |
| --- | --- |
| Progressive  | 0% |
| GEICO | 6% |
| Allstate  | 9% |
| Farmers | 24% |
| State Farm  | 36% |
Additionally, State Farm offers the Steer Clear Driver Discount Program for those under the age of 25. Depending on your age and where you live, you could get 10% to 20% of your liability premium reduced by qualifying for the program. To sign up you have to take the course online or through their mobile app.
Another company's discounts to consider is GEICO. Though their good student discount isn't as great as State Farm's, they offer discounts for people who are members of qualified organizations like fraternities and sororities. If participate in Greek life, you may be able to get an extra discount at GEICO--who already offers really low rates as we found above.
Just remember that even if State Farm has the best discounts, you may still not get the cheapest rate. If it turns out your initial rate at GEICO and State Farm are about the same, the extra discounts at State Farm may make it the cheaper option. We recommend that when you get your quote from State Farm, ask the agent to apply all of the student discounts and then compare that final State Farm quote to the final rates at other companies just to be sure.
Best Car Insurance for Students Who Don't Drive Often
Metromile is a great alternative for students who drive infrequently, but still want to have their car at school. Metromile works by charging a bulk of its rate on a cents per mile basis--in addition to a base rate. We found a 20 year old driver could have a base rate of $40 per month and get charged about seven cents per mile driven, amounting to about $47 per month if they only drive 100 miles. If you need to take a long trip home one day, you do not even need to worry about paying extra since every mile over 150 is free on any given day.
The main downside with Metromile is that currently it is only available in California, Illinois, New Jersey, Oregon, Pennsylvania, Virginia, and Washington. While that's good news for students at the University of California school system, undergraduates at the nation's three most populated universities - University of Central Florida, Ohio State and Texas A&M - won't be able to take advantage of Metromile's offer.
Car Insurance Company With Best Mobile Apps
We found State Farm also had the most useful and functional mobile apps of large auto insurance companies. Since college students are usually on the move and on their phones, having a strong presence through mobile apps should be an important feature to consider. On the State Farm app you can file a claim, pay your bills, check your balances, and show proof of insurance. State Farm also has other app features like CarCapture and Driver Feedback. CarCapture is a service where you can take the photo of a car and get the car's pricing and even an estimated insurance quote. The Driver Feedback app monitors how you drive, and gives you back tips on how to improve.
Comments and Questions