Travelers Auto Insurance
Travelers Auto Insurance
Find the Cheapest Insurance Quotes in Your Area
Travelers is a major auto insurance company that primarily writes policies through independent agents and brokers. We would recommend Travelers to all drivers with accident-free records, especially younger motorists who often get higher insurance rates because of their inexperience. If you are also looking for an insurer with excellent financial stability as well as outstanding claims service agents, we suggest including Travelers onto your shortlist for quotes. However, know that as soon as you get a traffic violation or accident on your record – whether at-fault or not – your Travelers premiums are likely to rise. Lastly, a fun fact: guess who insured the first spaceship (carrying Neil Armstrong) ever to land on the moon? Travelers!
Features we like best about Travelers:
150 years experience of offering nationwide personal auto insurance
Professional claims adjusters trained in Travelers Claim University
Competitive and cheaper auto insurance quotes for drivers with no accident history
Considerations about Travelers:
Mixed reviews on consumer experience
Costly for drivers with past car accident records
Travelers Car Insurance Quote Comparison
The cost of auto insurance plans not only varies by a driver's profile, but also by the driver's state of residence. Nevertheless, our research yielded some insights on how Travelers' quotes compare to other insurers. While Travelers can be one of the cheapest auto insurance companies for certain drivers, it can easily be one of the costliest insurers too. The defining factor is whether or not the driver has had a previous accident or violation record in recent years. The 2 tables below show the premium comparison among different driver profiles across 6 major insurers, including Travelers, in Florida and Virginia, respectively:
| | | | |
| --- | --- | --- | --- |
| Company | Single Woman, age 25 with accident | Family of 4* | Senior Married Couple** |
| Travelers | $730 | $897 | $292 |
| Allstate | 1,231 | 2,183 | 335 |
| Esurance | 610 | 2,284 | 474 |
| GEICO | 508 | 1,068 | 238 |
| State Farm | 512 | 1,075 | 352 |
| 21st Century | 842 | 1,763 | 324 |
Travelers for families with clean driving histories: Travelers is one of the cheapest insurers for both our family of 4 and senior married couple sample drivers' policies, when compared to these other major carriers. We found Travelers to be more affordable for families even when the policy includes two teenage drivers (part of the family of 4 policy), who often cost 2-3 times more to insure than older drivers 25 and above. On average, its quote for the family of 4 is 29% lower than the average quote offered by other insurers on our list.
Travelers for drivers with past accidents and violations: Traffic violations and accidents will increase auto insurance rates regardless of the insurer, but we found the impact much stronger at Travelers. For example, our single female driver who has had 2 driving strikes in the past, Travelers became the third most expensive out of the six companies. For the two other driver profiles (no accidents), Travelers ranks as the cheapest or the 2nd cheapest insurer overall. 
*family consists of a married couple, age 50, one single male, age 20, and one single female, age 18. The policy, at state-minimum limits, includes a 2012 Toyota Camry and a 2006 Toyota Corolla
** senior married couple consists of one married male, age 70, and married female, age 65. The policy, higher than state's minimum limits, covers a 2007 Toyota Camry
| | | | |
| --- | --- | --- | --- |
| Company | Single Female, age 20 | Single Male, age 20 | Married adult, age 45 |
| Travelers | $1,583 | $2,157 | $1,206 |
| Allstate | 3,489 | 4,769 | 1,592 |
| GEICO | 2,510 | 2,908 | 1,303 |
| Nationwide | 4,086 | 5,297 | 2,028 |
| Progressive | 4,525 | 6,075 | 2,015 |
| State Farm | 2,233 | 2,971 | 1,254 |
Travelers for drivers with clean driving records: in this sample rates comparison table, we have two single drivers under 25, and a married adult who is 45 years old, everyone of which has been accident-free for the past 3 years. All three drivers found their cheapest car insurance quotes at Travelers among the major insurers in Virginia. Specifically, our single drivers found the best deal: against average quotes offered by our 6 insurers, our single female and single male driver's Travelers quotes are 48% and 46% lower, respectively.
Our Review of Travelers's Auto Insurance
Our review of Travelers includes highlights of its unique auto insurance policy options and what we think is the selling point of signing up with Travelers for your liability coverage. Immediately below, you will also find a map of its geographical coverage in the US.
Travelers Personal Auto Insurance Coverage Map
Travelers currently provides personal auto insurance in 42 states and DC, with the exception of: Alaska, California (only offers commercial auto insurance here), Hawaii, Louisiana, Michigan, North Carolina, North Dakoda, West Virginia, and Wyoming.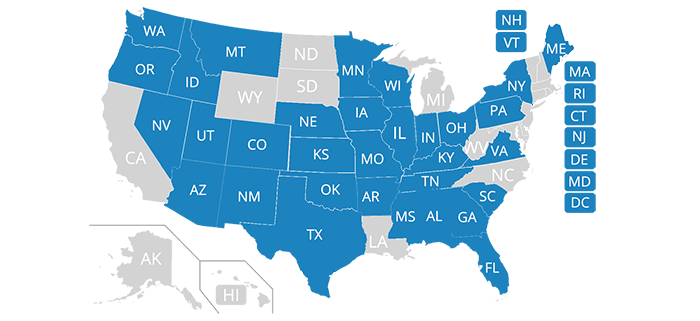 Auto Insurance Policy Coverage Highlights
Travelers' auto insurance coverages are as complete as any other standard insurance company will provide, meeting at least each state's minimum-required limits and offering additional optional coverages such as uninsured motorists coverage (which is actually required in some states) and towing coverage. However, Travelers policyholders will find their insurance premiums and physical damage coverage protected by three special add-on plans:
Responsible Driver Plan℠ & Premier Responsible Driver Plan®: It is no news that premiums will increase when insured drivers make an auto insurance claim. Few insurers offer accident forgiveness as a feature. The good news for Travelers policyholders is, Traveler does - and although these plans come with a price, compared to the premium increase that will accumulate over the years, it can be a bargain. A basic plan allows 1 accident forgiveness and 1 minor violation forgiveness every 3 years. A premier plan, in additional to the same accident forgiveness as the basic plan, includes deductible waiver in the event that your car is totaled in an accident, as well a $100 deductible decrease for every year you are accident-free as a Travelers customer, up to $500.
Premier New Car Replacement®: This add-on plan is only available when you are insuring a new car of the current model year. When you choose to include this particular plan, Travelers will guarantee a new car replacement if your car was totaled within the next 5 years. This is a longer coverage period than some other new car replacement plans we have seen with other insurers. Another important feature of this plan is that in the case your new car is financed or leased, Travelers will cover whatever balance payment you have left on the car if it is totaled.
Below is a table estimating the annual costs for a sample single 30 year-old man who drives a 2015 Toyota Camry, and wants to add each of the three plans described above onto his policy:
| | |
| --- | --- |
| Travelers Optional Plan Coverage | Sample Annual Cost |
| Responsible Driver Basic Plan | $48 |
| Responsible Driver Premier Plan | 75 |
| Premier New Car Replacement | 36 |
Service Highlight: ConciergeCLAIM®
Travelers's professionally-trained claims agents are perhaps best reflected through its ConciergeCLAIM® service. We have seen other insurers providing comprehensive auto repair assistance remotely, but Travelers is able to provide in-person assistance on a regional level through its ConciergeCLAIM centers. Basically, by dropping your damaged vehicle at one of these centers, your assigned representative will take care of everything from sending it to a Travelers-approved repair shop (as you drive off with a rental car he/she has prepared for you) to providing updates of the repair and then notifying you when to come back and pick your fixed vehicle up! Best part is, this is a free perk for all Travelers policyholders.
Industry Ratings of Travelers
Travelers is generally highly regarded by multiple industry rating systems on financial strength to meet financial commitments and servicing factors such as claims payout. The NAIC found Travelers' ratio of complaint over premiums written slightly worse than the market average; however, in other rating studies it was found to have "better [agent-client interaction experience] than most", especially in the southeast and mid-Atlantic states.
| | |
| --- | --- |
| Metric | Rating |
| A.M. Best | A++ |
| Standard & Poor's | AA |
| BBB | A+ |
| NAIC | 1.01 (a tad worse than market average of 1) |
Travelers Auto Insurance Claim
To make a Travelers auto insurance claim, as a policyholder you have the convenience of going through its online reporting portals. There are two kinds of claims reporting, either a loss claim or a glass claim, each of which has its own online login. If you choose to report your claim by phone – which is an option for both policyholders and third-party claims by non-policyholders – you will be assigned a local claims specialist, who is responsible for taking care of everything from inspection to claims estimates, as well as the follow-up repair cost.
Loss Claim Web login: https://travelers.com/claim/claim-reporting.aspx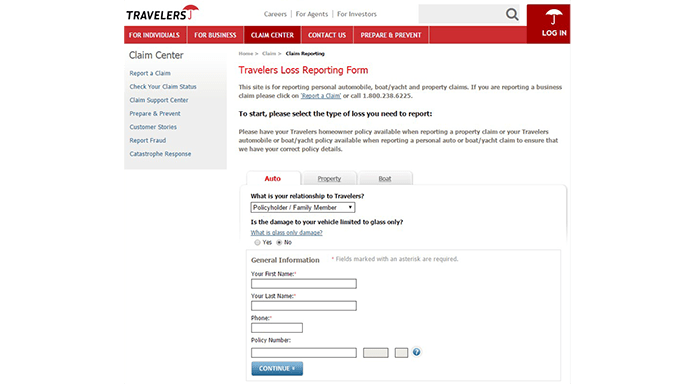 Glass Claim Web Login: https://www.eglassclaim.net/eGlass/SelfServeFNOL/SS_Travelers.aspx?Session=31FD6BDB-D33B-402C-9063-F240CC6FAF08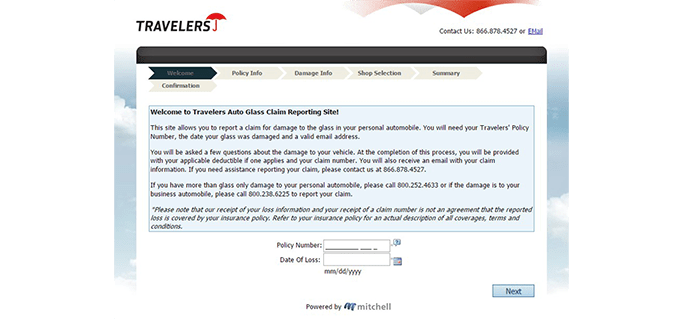 Claim number: 1 (800) 252 – 4633
Loss Claim
Press 1 new claim
Press 1 for auto related claims
Press 2 for loss claim

Policyholders: enter policy number and connects to agent
Third-party: say "I Don't Have It" and connects to agent
Glass-only Claim
Press 1 new claim
Press 1 for auto related claims
Press 1 for glass claim and connects to agent
Other Claims Assistance Services
There are several resources to keep up with your filed claim status, including an online portal to check existing claims and a service number you can call to ask about your claims.
Claim Status Check Web Login: https://travelers.com/claim/check-your-claim-status.aspx
Post-Claim-Filing Assistance phone number: 1 (866) 678 – 0492
ConciergeCLAIM®: refer to the Service Highlight section under Our Review of Travelers's Auto Insurance for details!
Travelers Car Insurance Discounts
Although it varies by state, Travelers offers a good amount of car insurance discounts to drivers who qualify. As an example, we have seen a drivers save as much as $435 in discounts a year with Travelers for being accident-free for 3 years and a homeowner. Below is a table of the basic discounts that Traveler offers, along with the coverages that each discount applies to as well as the discount amount.
| | | |
| --- | --- | --- |
| Discount Type | Discounted Coverage | Discount % |
| Safe Driver | BI, PD, PIP/MED, Coll | up to 23 |
| Hybrid/Electric Vehicle | BI, PD, MED, Comp, Coll | 10 |
| Multi-Car | BI, PD, PIP/MED, Comp, Coll | up to 8 |
| Multi-Policy | All | up to 13 |
| Home Owner | All | up to 5 |
| Accident Prevention Course | BI, PD, PIP, Coll | 5 |
| Accident Free | BI, PD, PIP, Coll | 3 |
| Passive Restraint | PIP/MED | 15-25* |
| Anti-Theft Device | Comp | 5-10* |
| Anti-Lock Braking | BI, PD, PIP, EPIP, Coll | 5 |
| IntelliDrive® | All | 10-40** |
*the amount of discount depends on the type of device that the insured vehicle is equipped with.
**the 10-40% discount amount included the 10% sign-up discount. Currently available in Illinois, Ohio, Oregon, Virginia, Connecticut, Alabama, Indiana, and Maine.
Other Travelers Insurance Product Highlights
Travelers' personal line of insurance business consists of multiple products, among which are two useful ones that we thought consumers would like to know:
Personal Liability Umbrella Insurance: In general, an umbrella insurance provides additional coverage when costs related to your car accident exceed your insurance limits. With most insurers we have seen, this policy is only available to consumers who have multiple policies with the same insurer (ex. Auto+Home), and each policy must exceed certain limits to qualify. However, Travelers's umbrella insurance can be purchased even if you only have an auto policy with it, and nor does it seem to require a minimum limits level to apply. Another special part of this is that the coverage extends to international occurrences.
Specialty Insurance – Valuable Items Coverage: This coverage can cover anything from a valuable musical instrument to pedigreed dogs. It can either be purchased as an independent coverage – called "Personal Articles Floater" – or it can be added to your homeowner's insurance policy, provided that you have one with Travelers. The best part of it? It has no deductible!
About The Travelers Companies, Inc.
Travelers first incorporated in Minnesota in 1853. Since then, the Travelers brand has been offering auto insurance products primarily through independent agents and brokers and expanded into direct-to-consumer business in 2009. Travelers currently has 11,100 active independent agencies throughout the US, as well as 9 regional sales locations. Its business is worldwide, including UK, Ireland, Canada, as well as a joint venture partnership in Brazil. While its personal line of insurance consists of several products, the primary ones are personal auto and homeowners insurance.
Company Website: www.travelers.com
Comments and Questions