Who Has the Cheapest Renters Insurance Quotes in NYC?
There are over 3 million renters in New York City and less than half have renters insurance. New Yorkers can buy renters insurance for just dollars per month, and ensure all of their valuables are secure. In this piece we analyze the best renters insurance companies for New Yorkers. When you are done reading, put in your zip code above to start a quote.
Cheapest Renters Insurance in New York City
In NYC, Lemonade Insurance is the cheapest online company for renters insurance. The company, which began operations in 2016, offers $30,000 worth of protection for $9 per month in our sample renter's quote. If you would feel more comfortable going with an established company, State Farm is the next best renters insurer option. Monthly quotes are generally $10 to $11 for $30,000 of property coverage. The following shows the who quoted the least expensive renters insurance premiums for New Yorkers.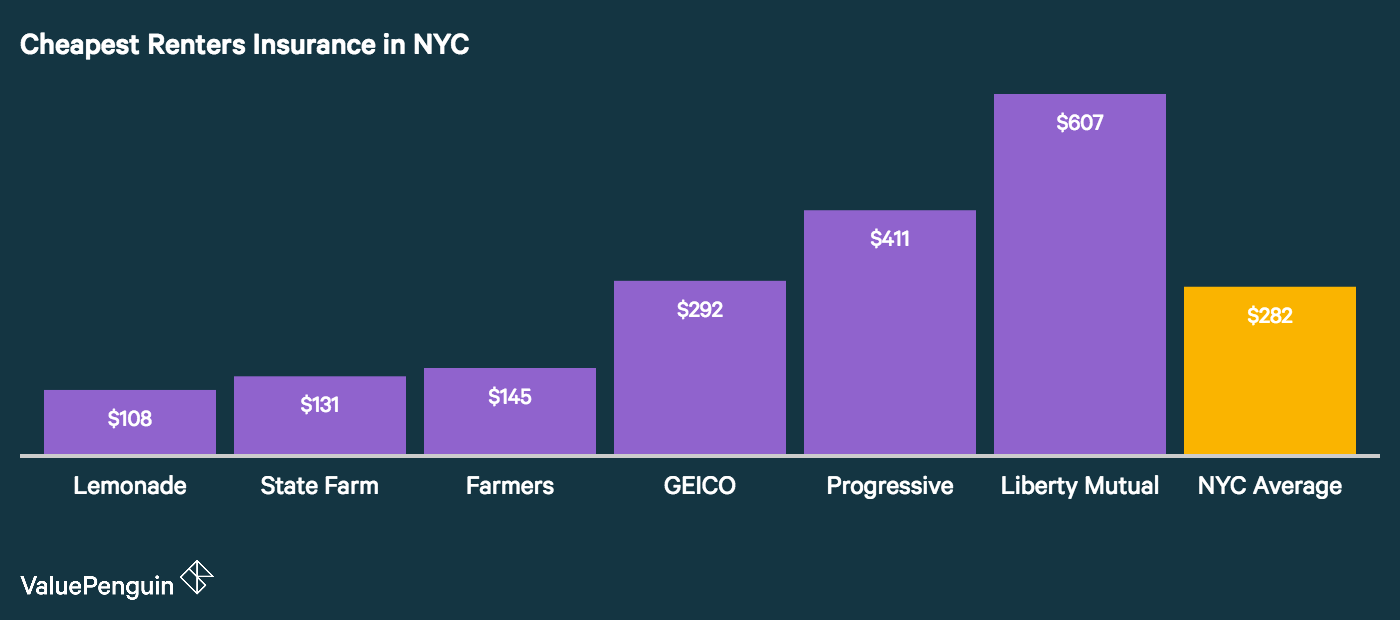 The quotes above are based on a profiled New Yorker renting an apartment across the five boroughs. For the price of one New York sandwich each month, you can protect up to $30,000 worth of your property by getting a quote with one of the three most affordable insurers: Lemonade, State Farm or Farmers. We discuss which company is better qualitatively in the section below.
How Renters Insurance Cost Differs by Borough in NYC
As with most expenses, the five boroughs of NYC come with different price tags. We found that Brooklyn ranked with the highest average price for renters insurance, while neighboring Queens was the cheapest.
Quotes aren't that different - the range between the lowest and highest rates are about $73 per year. It may still be something to consider when deciding which neighborhoods and boroughs to move into when finding an apartment in NYC.
Best Renters Insurance in NYC
Based on our research of the six companies underwriting, we found that Lemonade or State Farm were the best options for New Yorkers based on affordability and customer service:
State Farm
With State Farm, while slightly more expensive than Lemonade, you are getting the reliability of one of the largest insurers in the country. State Farm renters insurance score well among existing customers: the company received above average marks for its customer service satisfaction from J.D. Power. Any New Yorker can get a State Farm quote online, but you will have to finalize it with an agent.
Lemonade
Lemonade beats State Farm in pure convenience. You can get a Lemonade quote in less than three minutes, buy the policy and have it activated that day. If getting renters insurance has been something you've procrastinated getting, Lemonade can be the answer. The company is young, but it does get an A rating from Demotech Inc., which means they have enough surplus cash to pay off all of their customer's claims.
There aren't many reviews for Lemonade as of yet, but the most notable part of the company's service is its extremely fast claims payment. You can file a claim on the app, and be reimbursed in minutes. Lemonade does not fear fraudulent claims because 20% of their revenue goes to charities. Without getting into too many specifics, Lemonade believes if profits go to charity, people will be less likely to defraud the company, thus they are comfortable paying claims quickly.
Why New Yorkers Need Renters Insurance
Nearly half of New Yorkers don't have renters insurance, and that decision can prove costly. No one expects the worst to happen, but it only takes a cooking fire to char your belongings, leaving you out of thousands of dollars. Other costly, yet common claims that renters insurance covers are thefts and water damage. Just how likely are you to experience those events?
Fires
Between 2013 and 2015, there were over 51,548 cooking fires, 8,329 building fires, and 6,544 indoor trash fires in New York City across the five boroughs. There are no estimates from the FDNY as to how much damage they caused, but Allstate, and its "Costly and Most Common Claims" tool says the average cost of a fire claim is easily over $10,000 per claim.
Water Leaks
Also between 2013 and 2015, there were 67,162 water or steam leaks in New York City according to the FDNY. Allstate further reports that internal floods can cost an average $4,800 to $5,000 per claim. You renters insurance will cover your belongings for all instances of internal floods (though not external ones).
Theft
Between January 1st 2017 and March 31st 2017, there were 2,908 cases of burglary and 3,186 cases of robbery across all five boroughs based on NYC complaint data provided by the NYPD. The average claim for cases of theft is around $1,900 from Allstate. Manhattanites shouldn't think it doesn't happen in their borough either. Manhattan only had about 200 fewer cases than Queens and Brooklyn despite both having significantly larger populations.
| Rank | Borough | Number of Theft Cases |
| --- | --- | --- |
| 1 | Staten Island | 152 |
| 2 | Manhattan | 1,161 |
| 3 | Bronx | 1,357 |
| 4 | Queens | 1,385 |
| 5 | Brooklyn | 2,039 |
Comments and Questions