Who Has the Cheapest Homeowners Insurance Quotes in Washington?
Find the Cheapest Insurance Quotes in Your Area
Washington is the only state named after a US President (George Washington), and is nicknamed "the Evergreen State." The state has the second largest land area in the US, as well as the thirteenth largest population. It is home to nearly 6.7 million people, although a good percentage of those reside within the Seattle Metropolitan area. It's a great state to consider moving to - Washington ranks second in wine production nationally - but consumers should keep in mind that there are active volcanos there, such as Mount St. Helens.
ValuePenguin analysts researched the average homeowners insurance rates across Washington and found some interesting facts. Home insurance costs on average $990 per year, and the highest single annual rate we found was as high as $1,383, while the lowest was $645. Read more below, or enter your zip code above to begin searching for homeowners insurance quotes using our quote tool.
Cheapest Homeowners Insurance Companies in Washington
Our analysis took into account quotes for a 2,000 square foot house across 80 locations in the Evergreen State to figure out which which were the best companies for low homeowners insurance rates. Farmers, Liberty Mutual, and State Farm were three of the national insurance companies that we looked at, and here are their average annual premiums for our benchmark house (valued at $200,000):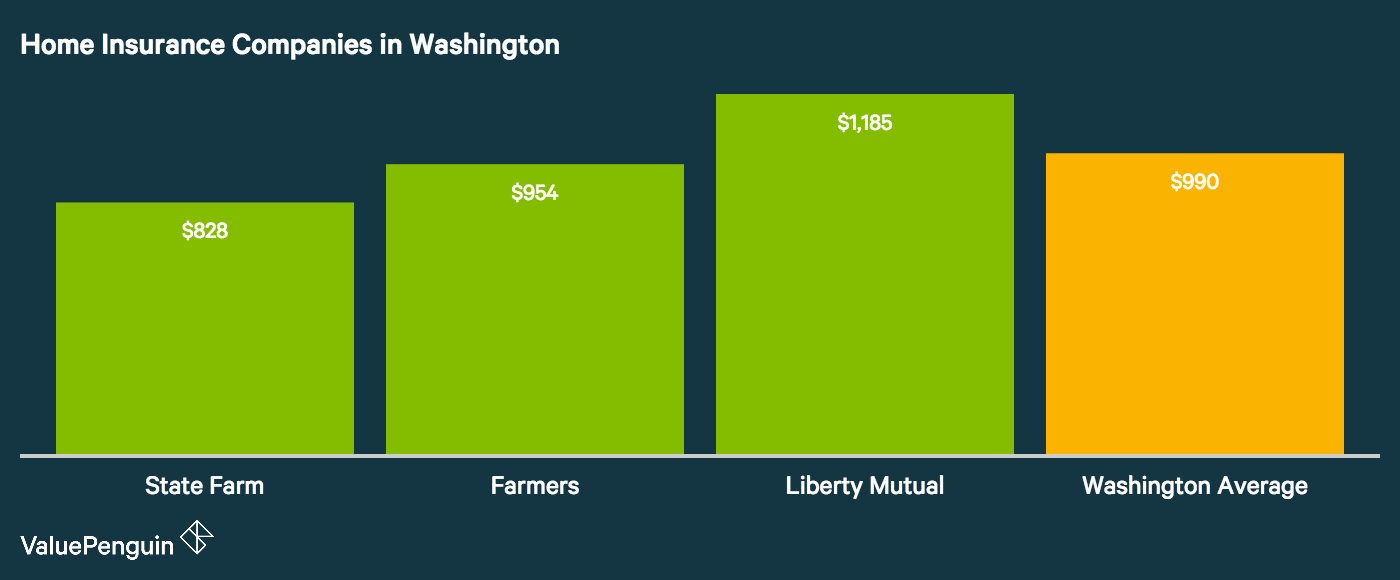 Best Homeowners Insurance Rates in Washington: by City
The five cheapest cities are all found in north Washington, with four of them surrounded by water, and three of them belonging to the same county. Although many of these cities appear to have similar geographic characteristics as those on our most expensive cities list, there are some subtle differences that make them more affordable. Here are our featured cheapest cities:
| | | | | |
| --- | --- | --- | --- | --- |
| Rank | City | County | Average Annual Rate | Average vs. State |
| 1 | Spokane | Spokane | $831 | -16% |
| 2 | Bremerton | Kitsap | $876 | -12% |
| 3 | Port Orchard | Kitsap | $886 | -11% |
| 4 | Port Angeles | Clallam | $893 | -10% |
| 5 | Poulsbo | Kitsap | $913 | -8% |

Spokane, WA
Spokane is the second largest city in Washington, and it sits in the easternmost region of the state as the county seat of Spokane County. Since it is so far away from the mountain range and the ocean, Spokane is the least likely city to be affected by earthquakes, volcanic activities, or large storms from the Pacific. Although it is very removed from the coastline, Spokane residents still enjoy many recreational opportunities at its seventy-six lakes and five major National Parks - all within a short driving distance from the city. Along with all these benefits, we also found that Spokane has the lowest average annual home insurance rate of $831, 16% lower than the state average.
Bremerton, WA
Bremerton is the largest city on the Kitsap Peninsula, and as of 2013 is home to 39,000 residents. During WWII, when it was the major site for warship construction and repair, the city used to be home to an estimated 80,000 residents on its 28 square miles of land. It is no longer the site of hard labor, and instead hosts the popular Blackberry Festival that takes place every Labor Day weekend. Better yet, Bremerton has the second lowest average annual home insurance rates in all of Washington of $876.
Port Orchard, WA
Port Orchard is located thirteen miles west of Seattle and just a little more than a mile from Bremerton. If it weren't for the countywide vote in 1857 that renamed Port Orchard's county to its current name Kitsap, the city would have been the seat of "Slaughter County." Even though it is a small town of 11,000, Port Orchard has been home to a couple of notable Major League Baseball players and even a professional poker player, Dutch Boyd. Port Orchard is our third cheapest city with an average annual home insurance rate of $886.
Port Angeles, WA
Port Angeles sits in the northewest corner of Washington and is the county seat of Clallam County. The city's highlights include its heritage tours, through which visitors can see the historical downtown area, which was elevated up to fourteen feet above ground to avoid sewage problems 100 years ago. Even more impressive, all of this engineering was accomplished completely by hand. Average homeowners insurance premiums in Port Angeles are around $893 annually, or $74 per month.
Poulsbo, WA
Poulsbo is also a part of the Kitsap Peninsula, just around an 18-mile drive north of Bremerton. As its first settlers were largely Scandinavian immigrants, Poulsbo's primary language was actually Norwegian from its inception up until WWII. At that point, its population surged with warship construction workers and the dominant language became English. Beloved by both locals and tourists, Poulsbo is nicknamed "Little Norway" for both its heritage and cityscape. The average annual rate for homeowners insurance here is our fifth cheapest in the state at $913.
Most Expensive Homeowners Insurance in Washington
All of our top five most expensive Washington cities for home insurance are located in the western half of the state, most of which are within close proximity to the water. The geographic positions of these areas exposes the cities' properties to a higher chance of flood, wind, and similar large-scale damages, which will cause insurance companies to charge higher rates for homeowners insurance. Apart from the natural threats, some of the cities have higher than average home theft rates, which also factors into higher insurance premiums.
| | | | | |
| --- | --- | --- | --- | --- |
| Rank | City | County | Average Annual Rate | Average vs. State |
| 1 | Vashon | King | $1,150 | 16% |
| 2 | Friday-Harbor | San Juan | $1,115 | 13% |
| 3 | Montesano | Grays Harbor | $1,114 | 13% |
| 4 | Yelm | Thurston | $1,096 | 11% |
| 5 | Woodinville | King, Snohomish | $1,091 | 10% |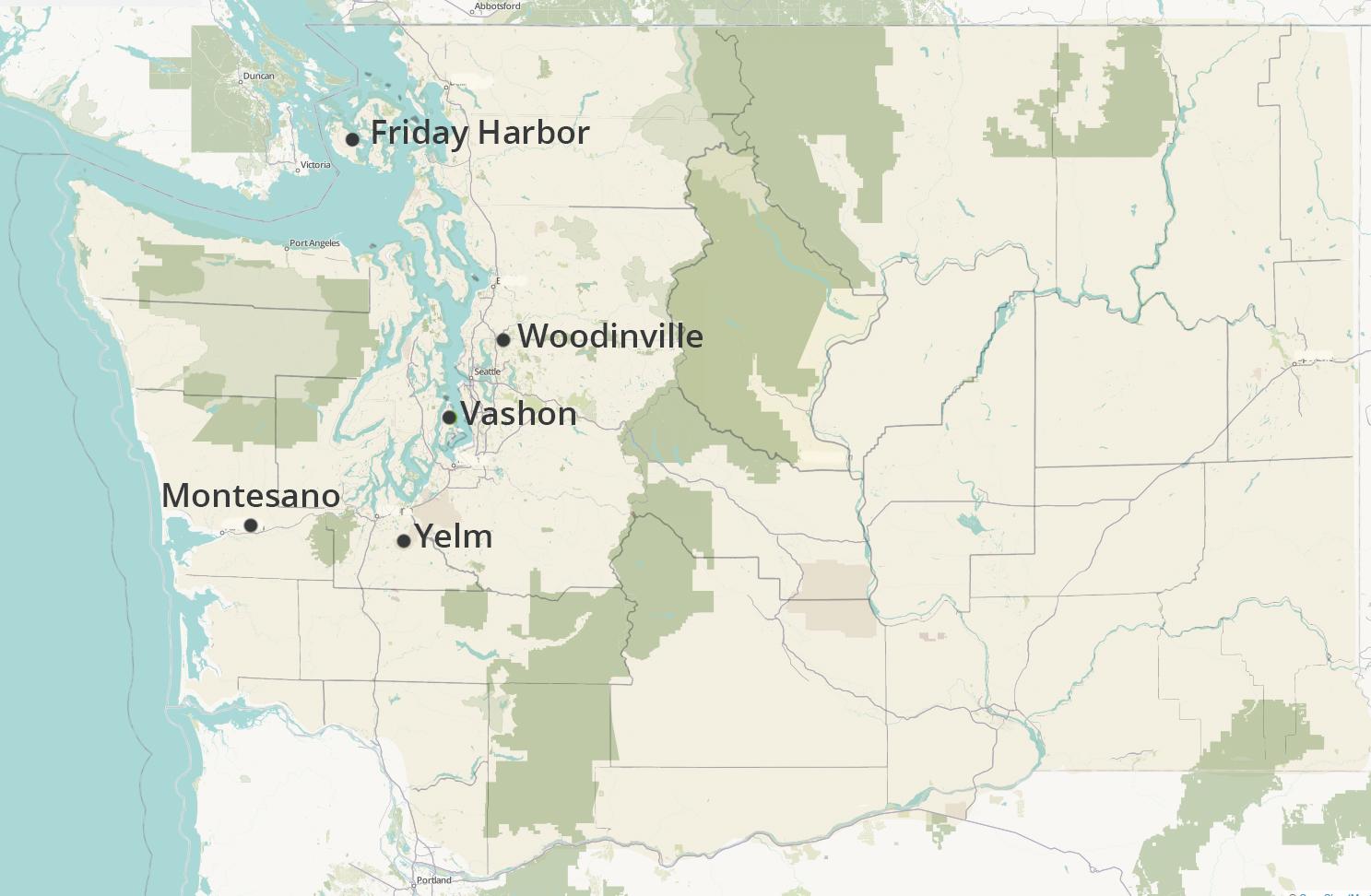 Vashon, WA
Vashon, located in the center of western Washington, is nicknamed the "Heart of the Sound" by locals. It is the only part of King County that is an island, and also has the second largest water area in the entire state. As such, there are always opportunities to see marine life when traveling to and from the island on a boat. Vashon seems to be a unique place to live in; however it also has the highest average annual rates for homeowners insurance at $1,150, 16% higher than the state average. 
Friday Harbor, WA
Friday Harbor sits in the westernmost part of Washington, just south of the Canadian-American border, and is part of San Juan County. It has suffered development controversies and a water supply shortage in the last hundred years as an island between two nations, but has since grown to become a tourism and retirement hot spot. Locals describe it as "one square mile of walkable seaside activities." It is not the best news for prospective residents to find out that Friday Harbor ranks as the second most expensive city for homeowners insurance with an average annual rate of $1,115 per year or 13% higher than the WA state average. 
Montesano, WA
Montesano is located in the southwest of Washington, and is the closest city to the Pacific Ocean in our Top 5 list. As of 2010, its population is around 4,000, and is growing at a rate higher than the state and nation. The city is advantageously situated for a wide range of activities, from fishing to horseback riding and even hunting. Nevertheless, homeowners in Montesano may find themselves facing average annual home insurance rates of almost $1,114, the third highest in the entire state. 
Yelm, WA
The fourth most expensive city, Yelm is located in the southwestern part of Washington, nearly a two-hour drive south from Seattle. Formerly a commercial center for produce and forestry products, the city has now evolved into a popular residential choice for families who work in nearby cities, as well as military families stationed nearby. The average annual homeowner's insurance rate is $1,096, 11% higher than the state average cost. 
Woodinville, WA
Woodinville sits between King and Snohomish Counties, 15 miles east of Puget Sound. The city was previously a farming center, but its current major business lies in tourism, and local wineries and breweries. The population numbered 11,000 in 2010. It is the fifth most expensive city in Washington with a $1,091 average annual rate, 10% higher than the state average. 
Average Cost of Homeowners Insurance in Washington: by City
Here we'll show you the 80 cities we included in our recent analysis of home insurance rates in Washington state. The numbers in the graph below represent the average annual premium that a homeowner can pay in that city:

Methodology
Our analysts took a look at 80 cities in WA and analyzed their home insurance rates to come up with the top five most and least affordable areas. We used as our sample property one of the most common houses built in the late 1900s based on the US Department of Housing and Urban Development data: 2,000 square feet, 2-story, and 2-bath homes with an attached garage. The annual rates were averaged among several insurance companies to arrive at our mean rate for each city. Here are the 80 cities in alphabetical order, along with their rank, annual premiums for our profiled house, and change versus the state average.
| | | | |
| --- | --- | --- | --- |
| Rank | City | Average Annual Rates | Change vs State Average |
| 21 | Aberdeen | $959 | -3% |
| 39 | Anacortes | 978 | -1% |
| 52 | Arlington | 997 | 1% |
| 59 | Bainbridge-Island | 1,014 | 3% |
| 56 | Battle-Ground | 1,008 | 2% |
| 54 | Bellevue | 1,001 | 1% |
| 7 | Bellingham | 922 | -7% |
| 16 | Blaine | 944 | -5% |
| 64 | Bonney-Lake | 1,040 | 5% |
| 2 | Bremerton | 877 | -11% |
| 14 | Camas | 940 | -5% |
| 31 | Cashmere | 974 | -2% |
| 41 | Centralia | 982 | -1% |
| 65 | Chelan | 1,043 | 5% |
| 26 | Cheney | 964 | -3% |
| 77 | Cle-Elum | 1,100 | 11% |
| 11 | Colville | 931 | -6% |
| 9 | Concrete | 929 | -6% |
| 28 | Coupeville | 968 | -2% |
| 6 | Deer-Park | 915 | -8% |
| 73 | Eastsound | 1,084 | 10% |
| 15 | Edmonds | 941 | -5% |
| 25 | Ellensburg | 962 | -3% |
| 32 | Enumclaw | 975 | -2% |
| 13 | Everett | 939 | -5% |
| 43 | Federal-Way | 984 | -1% |
| 33 | Forks | 975 | -1% |
| 79 | Friday-Harbor | 1,114 | 13% |
| 45 | Gig-Harbor | 986 | 0% |
| 17 | Grandview | 944 | -5% |
| 35 | Issaquah | 977 | -1% |
| 23 | Kennewick | 961 | -3% |
| 47 | Lake-Stevens | 989 | 0% |
| 74 | Langley | 1,091 | 10% |
| 29 | Leavenworth | 969 | -2% |
| 12 | Liberty-Lake | 936 | -5% |
| 70 | Long-Beach | 1,058 | 7% |
| 22 | Longview | 961 | -3% |
| 18 | Lynden | 947 | -4% |
| 53 | Marysville | 1,001 | 1% |
| 61 | Mercer-Island | 1,021 | 3% |
| 27 | Monroe | 967 | -2% |
| 78 | Montesano | 1,114 | 13% |
| 42 | Moses-Lake | 983 | -1% |
| 19 | Mount-Vernon | 951 | -4% |
| 55 | Mukilteo | 1,003 | 1% |
| 48 | Newport | 990 | 0% |
| 50 | Oak-Harbor | 993 | 0% |
| 66 | Olympia | 1,045 | 6% |
| 37 | Omak | 977 | -1% |
| 34 | Oroville | 975 | -1% |
| 10 | Othello | 931 | -6% |
| 38 | Pasco | 978 | -1% |
| 4 | Port-Angeles | 893 | -10% |
| 3 | Port-Orchard | 887 | -10% |
| 30 | Port-Townsend | 970 | -2% |
| 5 | Poulsbo | 913 | -8% |
| 57 | Prosser | 1,009 | 2% |
| 51 | Pullman | 995 | 1% |
| 62 | Puyallup | 1,023 | 3% |
| 68 | Raymond | 1,048 | 6% |
| 49 | Renton | 991 | 0% |
| 63 | Seattle | 1,024 | 3% |
| 8 | Sequim | 924 | -7% |
| 67 | Silverdale | 1,046 | 6% |
| 44 | Snoqualmie | 984 | -1% |
| 1 | Spokane | 832 | -16% |
| 72 | Stanwood | 1,069 | 8% |
| 46 | Sunnyside | 987 | 0% |
| 58 | Tacoma | 1,014 | 2% |
| 40 | Vancouver | 982 | -1% |
| 80 | Vashon | 1,150 | 16% |
| 60 | Vaughn | 1,015 | 3% |
| 69 | Waitsburg | 1,053 | 6% |
| 20 | Walla-Walla | 959 | -3% |
| 36 | Wenatchee | 977 | -1% |
| 71 | White-Salmon | 1,058 | 7% |
| 75 | Woodinville | 1,092 | 10% |
| 24 | Yakima | 961 | -3% |
| 76 | Yelm | 1,097 | 11% |
Sources:
U.S. Census - //www.census.gov/
Washington Department of Insurance - //www.insurance.wa.gov/
Comments and Questions