Who Has the Cheapest Homeowners Insurance Quotes in South Dakota?
Find the Cheapest Insurance Quotes in Your Area
South Dakota is split in half, so to speak, by the Missouri River, which runs through its center. This has caused South Dakota residents to commonly refer to parts of the state as either West River or East River, in reference to their positions. South Dakota is perhaps best known as the home of the iconic Mount Rushmore – the 60-foot tall heads of four United States presidents, carved out of granite into the face of a mountain. We conducted a study into home insurance prices in South Dakota to provide homeowners with greater insight into the costs of owning a house in the state. To achieve this, we looked at homeowners insurance prices for a benchmark property, across 5 different major insurers in 32 of South Dakota's cities, and found that rates can vary from city to city, by as much as 26%. Read more below, or enter your zip code above to start finding homeowners insurance quotes.
Cheapest Homeowners Insurance Companies in South Dakota
Curious about which homeowners insurance companies offered the lowest rates in the state of South Dakota? We analyzed quotes from Progressive, GEICO, Amica, State Farm, and Farmers for a benchmark property of 2,000 square-feet. Our table shows the insurance companies with the lowest rates. According to our sample homeowners policy, Progressive offers the cheapest homeowners insurance with an average annual rate of $453, which is about 70% lower than the average rate for the state. Below are the insurance companies with their mean annual premiums, ranked from cheapest to most expensive: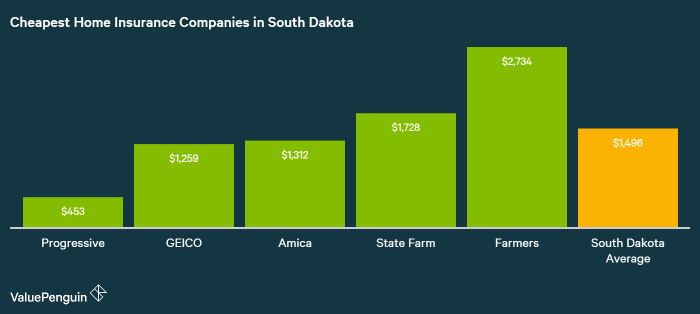 | Rank | Cheapest Homeowners Insurance Companies | Average Annual Rates |
| --- | --- | --- |
| 1 | Progressive | $453 |
| 2 | GEICO |  1,259 |
| 3 | Amica |  1,312 |
| 4 | State Farm |  1,728 |
| 5 | Farmers |  2,734 |
| | Average |  1,497 |
These rates were obtained for a sample property. To find the best rates for yourself, we recommend finding quotes from multiple companies and comparing them.
Best Homeowners Insurance Rates in South Dakota: by City
The typical cost of getting an insurance policy for our sample home in our most affordable South Dakota cities was $1,380. That is 8% better than the average city found in the state. All of these cities and towns were found in the East River region of South Dakota. Many of the cities on this list were among the state's largest.
| | | | |
| --- | --- | --- | --- |
| Rank | City | Average Annual Rates | Change vs. State Average |
| 1 | Sioux Falls | $1,336 | -11% |
| 2 | Huron | $1,379 | -8% |
| 3 | Vermillion | $1,386 | -7% |
| 4 | Aberdeen | $1,389 | -7% |
| 5 | Brandon | $1,412 | -6% |
Sioux Falls, SD
Sioux Falls, the largest city in South Dakota, is also the leader in cheap homeowners insurance in South Dakota. The average cost for an insurance policy covering our benchmark home was $1,336, which was 11% more affordable than the state mean. Sioux Falls has been the hometown of many illustrious people, including U.S. senators, NFL, MLB and MMA athletes, Emmy award winners, and more. The city's economy is largely based around financial services, health care, and retail industries; its top two major employers are Sanford Health and Avera Health.
Huron, SD
Nestled deep in Beadle County are some of South Dakota's cheapest home insurance rates. When we sampled rates for our model property in Huron, we saw average rates of about $1,379 – 8% better than the typical South Dakota home. Low rates might be one reason why "the World's Largest Ringnecked Pheasant" chooses to stay in Huron. The 20-foot statue sits atop the Huron Liquor Store, in the eastern reaches of the city. 
Vermillion, SD
Vermillion is a city located close to the Missouri River, just 6 miles away from the South Dakota/Nebraska border. The city is the home of the University of South Dakota – one of the state's oldest and largest universities. Our study found that Vermillion has some of South Dakota's best rates for home insurance. Our model property averaged $1,386 for a 1 year home insurance policy.
Aberdeen, SD
Aberdeen is the third largest city in South Dakota, and has a population of approximately 26,000. Northern State University, a NCAA Division II school and South Dakota's 4th largest university, is located in Aberdeen. Aberdeen has a diverse economy, without one dominant industry – the city's major employers include Avera Saint Luke's Hospital, Wells Fargo Auto Insurance, and Super 8 Worldwide. The typical cost of a home insurance policy in Aberdeen, for the model home we studied, is $1,389 – making it the state's 4th lowest homeowners insurance prices.
Brandon, SD
Brandon, a city of 9,000 residents, is found just five miles east of Sioux Falls. The city serves as host to Automania, a large car show which draws as much as 70,000 attendees. Onlookers may come to visit for the automobile showcase, and stay for Brandon's low home insurance prices. The property we studied had mean rates of $1,412 per year, making it the 5th most affordable in the Mount Rushmore State at 6% below the SD mean.
Cities with the Most Expensive Homeowners Insurance in South Dakota
The cities with the most expensive home insurance rates in South Dakota were predominantly found along the western part of the state. Most of these cities are serviced by volunteer fire departments, which tends to coincide with high homeowners insurance prices. Insurers view these departments as being less prepared to handle emergencies than a state-funded one – thus, to an insurer, the risk of a home sustaining more damage, and therefore a claim getting filed, is higher. The average price of a home insurance policy in these cities, for the properties we profiled, is $1,634. 
| | | | |
| --- | --- | --- | --- |
| Rank | City | Average Annual Rates | Change vs. State Average |
| 1 | Belle Fourche | $1,680 | 12% |
| 1 | Sturgis | $1,680 | 12% |
| 2 | Hot Springs | $1,645 | 10% |
| 3 | Spearfish | $1,632 | 9% |
| 3 | Redfield | $1,632 | 9% |
| 4 | Box Elder | $1,597 | 7% |
| 5 | Groton | $1,572 | 5% |
Belle Fourche, SD
The most expensive homeowners prices we found in South Dakota were located in Belle Fourche. Meaning "beautiful fork" in French, Belle Fourche and its nearby territories were first settled around the mid-19th century by French explorers. Today, the city is primarily centered around wool, cattle and bentonite industries. For the home we profiled, average home insurance properties in Belle Fourche were 12% more expensive than the rest of the state – the price of an annual policy being $1,680. This placed Belle Fource neck-and-neck with Sturgis for the city with the most expensive rates in our study.
Sturgis, SD
Sturgis is a city of 7,000 residents, and every year during the first week of August, its population swells to 500,000. This is due to Sturgis being the home of one of the world's largest motorcycle rallies. Every August since 1938, hundreds of thousands of bikers have descended upon the city, driving greater income for the city's residents. Thousands of tough bikers are not enough to drive Sturgis' high homeowners insurance prices out of town, unfortunately. When we sampled premiums across 5 different insurers for a model home, the average annual price was $1,680 – tying the city for 1st place with Belle Fourche when it comes to high homeowners insurance costs.
Hot Springs, SD
Hot Springs is found in southwest South Dakota, and is home to 4,000 residents. The city serves as county seat to Fall River County, and makes up more than half of the county's entire population. One of Hot Springs' most famous attractions is the Mammoth Site of Hot Springs – a museum and paleontological site. The typical home insurance rate in Hot Springs, for the home we profiled, was $1,645 – that placed it 10% above the average South Dakota city.
Spearfish, SD
The Queen City, Spearfish was officially incorporated in the year 1888. The city is surrounded by the Lookout, Spearfish, and Crow mountains – features which contribute to the city's growing tourism. One of Spearfish's greatest attractions is the nearly century-old Matthew's Opera House, which opened in 1906 and hosts performances to this day. Homeowners insurance rates for our model home in Spearfish ranked as the third least affordable in the state (tied with Redfield, SD), coming out to an average of $1,632 per year. 
Redfield, SD
Redfield, the county seat of Spink County, has a population of approximately 2,000 residents. Visitors to Redfield can enjoy a variety of pastime activities, including hunting, camping, golfing, shopping, and sightseeing. The city is filled with many historical sites, including the 103-year-old Redfield Carnegie Library. The results of our study showed that the average price for insuring our benchmark home in Redfield were 9% higher than the typical South Dakota home - $1,632. Redfield tied with Spearfish for the title of the third highest rates in the Mount Rushmore State.
Box Elder, SD
If you're on a leisurely stroll down one of Box Elder's streets, don't be surprised if you see a fighter jet fly on by. That's because the Ellsworth Air Force base is found north of the city. The base isn't exclusive to members of the armed forces, however. It hosts the South Dakota Air and Space Museum, which serves as a major tourist attraction to the city's visitors. The benchmark home we profiled in Box Elder averaged home insurance prices of $1,597, making it South Dakota's 4th most expensive city.
Groton, SD
Groton, a small city of 1,000 residents, is found in the northeast corner of South Dakota. City residents can partake in a myriad of recreational sports, and family activities – the city has resources of avid hunters and fishermen, such as hunting lodges and rooms. Our survey of homeowners insurance prices found Groton to have the state's fifth most expensive rates. Our benchmark property was typically quoted at $1,572 for a one-year home insurance policy.
Average Cost of Homeowners Insurance in South Dakota: by City
The average cost of insuring our benchmark property in South Dakota was $1,496. Prices don't vary as drastically as they do in some other states. The difference between the most expensive and least expensive quotes we obtained between cities is 26% - a difference of $343 per year from the most expensive to the cheapest locations. The average price of insuring a property in South Dakota represents about 0.7% of the total cost of owning a $200,000 home. You can view all the cities included in the study below, ranked from cheapest to most expensive.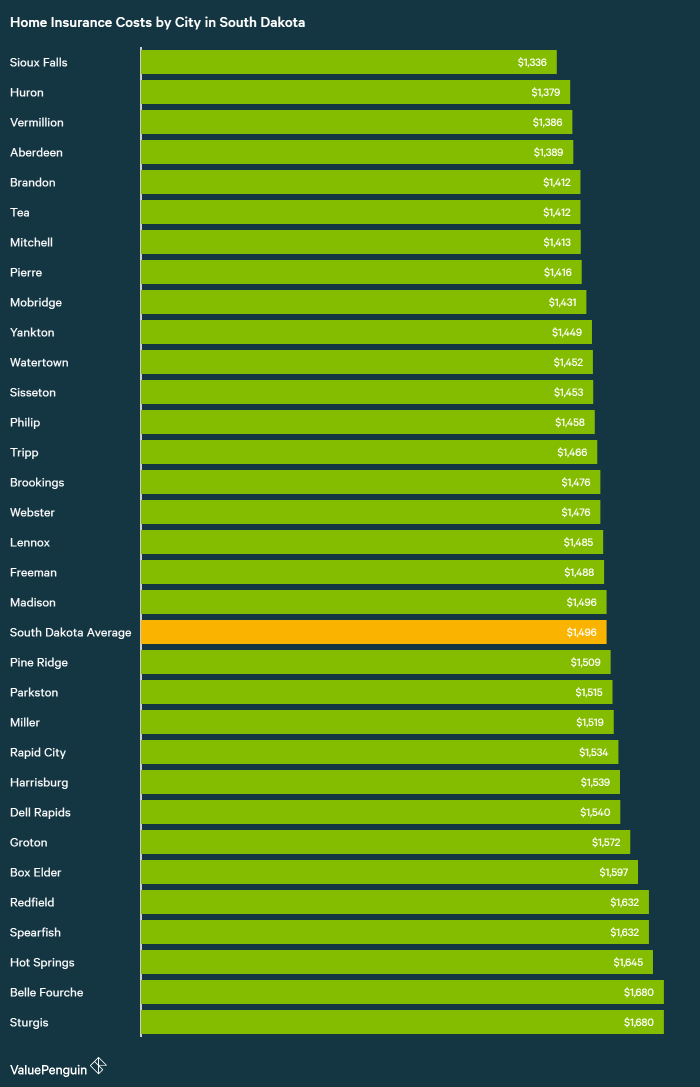 Methodology
Our study looked at the home insurance prices in 32 South Dakota cities and towns. We examined rates for 5 major insurers (Progressive, GEICO, State Farm, Amica, and Farmers). The property we looked at was a 2,000 square foot, 2 story home, with a brick-veneer construction, and a fully finished basement. The individual seeking the policy was a 41-year old male, with no pets, non-smoking, and was not married. You can view all the cities included in our study in the list below, in alphabetical order.
| | | | |
| --- | --- | --- | --- |
| Rank | City | Average Annual Rates | Change vs. State Average |
| 4 | Aberdeen | $1,389 | -7% |
| 32 | Belle Fourche | $1,680 | 12% |
| 27 | Box Elder | $1,597 | 7% |
| 5 | Brandon | $1,412 | -6% |
| 16 | Brookings | $1,476 | -1% |
| 25 | Dell Rapids | $1,540 | 3% |
| 18 | Freeman | $1,488 | -1% |
| 26 | Groton | $1,572 | 5% |
| 24 | Harrisburg | $1,539 | 3% |
| 30 | Hot Springs | $1,645 | 10% |
| 2 | Huron | $1,379 | -8% |
| 17 | Lennox | $1,485 | -1% |
| 19 | Madison | $1,496 | 0% |
| 22 | Miller | $1,519 | 2% |
| 7 | Mitchell | $1,413 | -6% |
| 9 | Mobridge | $1,431 | -4% |
| 21 | Parkston | $1,515 | 1% |
| 13 | Philip | $1,458 | -3% |
| 8 | Pierre | $1,416 | -5% |
| 20 | Pine Ridge | $1,509 | 1% |
| 23 | Rapid City | $1,534 | 3% |
| 28 | Redfield | $1,632 | 9% |
| 1 | Sioux Falls | $1,336 | -11% |
| 12 | Sisseton | $1,453 | -3% |
| 29 | Spearfish | $1,632 | 9% |
| 31 | Sturgis | $1,680 | 12% |
| 6 | Tea | $1,412 | -6% |
| 14 | Tripp | $1,466 | -2% |
| 3 | Vermillion | $1,386 | -7% |
| 11 | Watertown | $1,452 | -3% |
| 15 | Webster | $1,476 | -1% |
| 10 | Yankton | $1,449 | -3% |
Comments and Questions