Who Has the Cheapest Homeowners Insurance Quotes in North Dakota?
Find the Cheapest Insurance Quotes in Your Area
North Dakota, the Peace Garden State, was the 39th state to be admitted to the union. The state's economy is largely centered on agriculture. In recent years, however, North Dakota has experienced an oil boom in part due to the discovery of shale gas reserves in its territory. As a result, North Dakota has been mostly shielded from the recent recession and even havs the country's lowest unemployment rate. We conducted a study into home insurance prices in North Dakota, to serve as a resource for those seeking to understand the costs of owning property in the Roughrider State. To achieve this, we collected home insurance quotes for the same sample property across various cities, and showed that the cost of insuring a house is very influenced by where it's located. Read more below, or enter your zip code above to start finding homeowners insurance quotes.
Cheapest Homeowners Insurance Companies in North Dakota
To find the cheapest homeowners insurance in North Dakota, we collected quotes from Amica, State Farm, and Farmers across 30 towns and cities in the state.  We averaged the quotes that we gathered for each insurance company and found that Amica offered the most affordable average annual rate at $917, which is about 73% or $2,464 lower on average than the most expensive insurance rate in North Dakota, which is offered by Farmers. Below is a table of the mean annual insurance premiums for the three insurance companies, ranked from cheapest to most expensive: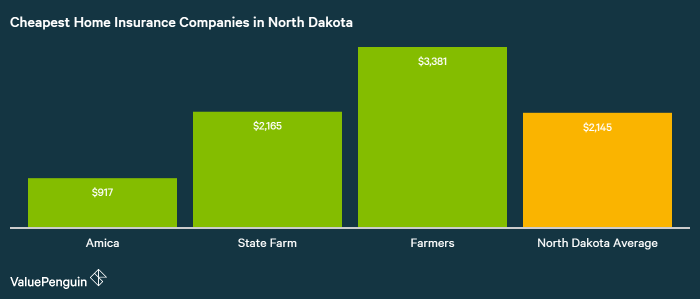 | Rank | Cheapest Homeowners Insurance Companies |  Average Annual Rates  |
| --- | --- | --- |
| 1 | Amica | $917 |
| 2 | State Farm |  2,165 |
| 3 | Farmers |  3,381 |
| | Average |  2,154 |
The above rates were obtained for a sample property. To find the best rates for yourself, we recommend looking for quotes from many insurance providers and comparing them.
Best Homeowners Insurance Rates in North Dakota: by City
The top 5 cheapest cities for homeowners insurance in North Dakota were found among the state's northern regions. The average cost of insuring our model property in these places was $1,838 – 14% better than the North Dakota mean.
| | | | |
| --- | --- | --- | --- |
| Rank | City | Average Annual Rates | Change vs. State Average |
| 1 | Grand Forks | $1,746 | -19% |
| 2 | Devils Lake | 1,775 | -17% |
| 3 | Bottineau | 1,852 | -14% |
| 4 | Grafton | 1,875 | -13% |
| 5 | Kenmare | 1,939 | -10% |
Grand Forks, ND
Grand Forks ranks as the best city in North Dakota for cheap home insurance prices. When we sampled homeowners insurance premiums for our profiled house, we averaged prices of $1,746 per year. That's good news for the city, which has the third largest population in this state, with close to 53,000 residents. Grand Forks' economy is diverse, with no one industry being predominant. The city's top employers represent health care, military, and education sectors. 
Devils Lake, ND
Devils Lake is a city of 7,000, located in Ramsey County. The city is named after the nearby Devils Lake, the largest natural body of water in North Dakota. Despite its name, Devils Lake's homeowners insurance costs are heavenly. The mean annual cost of insuring our model property here was $1,775, which placed the city with the 2nd most affordable homeowners insurance rates. Costs for our sample unit here were nearly $400 and 17% better than in a typical North Dakota city elsewhere.
Bottineau, ND
Bottineau, a city found just 10 miles south of the Canadian border, has the third best home insurance rates in North Dakota. The home we studied was quoted, on average, annual insurance prices of $1,852. Bottineau houses the "world's largest turtle", Tommy Turtle, who is a giant, 30-foot, fiberglass cartoon turtle that sits in the City Park east of the city center. Skiing aficionados will also enjoy Bottineau Winter Park, with 9 different ski trails sitting on the nearby Turtle Mountains.
Grafton, ND
The city of Grafton has 4,000 residents, and can be found in Walsh County. North Dakota's oldest library, which opened in 1879, is the Carnegie Regional Library located in Grafton. The city has many more historic sites, including Elmwood – a house built in 1895 by North Dakota's second Attorney General. The average homeowners insurance rate in Grafton, for our sample home, is $1,875. Costs were 13% cheaper than the rest of North Dakota, securing Grafton a spot among our five cities with the cheapest home insurance rates.
Kenmare, ND
Kenmare was founded in 1897, 8 years after North Dakota was admitted into the United States. This city of 1,200 residents can be found in Ward County, 50 miles away from Minot, one of North Dakota's major cities. Kenmare's economy is centered on farming and energy development, specifically oil and wind energies. The property in our study was quoted, on average, homeowners insurance premiums in the neighborhood of $1,939, which made Kenmare the 5th least expensive place for homeowners insurance in the state.
Cities with the Most Expensive Homeowners Insurance in North Dakota
The cities below ranked among the most expensive for homeowners insurance in North Dakota. For the property we profiled, annual home insurance premiums ran $2,489 on average across these five locations. At this level, they were 16% or $344 costlier than the average North Dakota location. There is a mixture of several factors which typically contribute to higher homeowners insurance rates. These range from the historical experience of claims that insurers have in each city down to the cost of labor, construction, and materials in rebuilding or repairing a property.
| | | | |
| --- | --- | --- | --- |
| Rank | City | Average Annual Rates | Change vs. State Average |
| 1 | Ashley | $2,556 | 19% |
| 2 | Underwood | 2,505 | 17% |
| 3 | Washburn | 2,499 | 17% |
| 4 | Dickinson | 2,493 | 16% |
| 5 | Carrington | 2,391 | 11% |
Ashley, ND
Ashley is found in the southern region of North Dakota, approximately 6 miles from its South Dakota boarder. Ashley is one of the smallest cities on our list, with a total population of about 750 people and 0.64 square miles. We found the most expensive homeowners insurance rates to be in Ashley, with the average price quoted for our model property being $2,556. On an annual basis, this cost represents approximately 1.3% of the cost of owning a $200,000 home in Ashley.
Underwood, ND
Underwood, a city of 778 inhabitants, can be found 50 miles from Bismarck, the state capital. The city was established back in 1903, and was situated along the Soo Line Railroad, which connected the cities of Bismarck and Max. Today, Underwood is the site of many shows and attractions, including the McLean County Fair and the Harvest Fest – both of which are annual events. Home insurance prices in Underwood tend to be 17% higher than what we typically see in North Dakota. The average price quoted for our benchmark home was $2,505 per year, for a standard homeowners insurance policy.
Washburn, ND
Washburn is the county seat of McLean County. The city houses the North Dakota Lewis and Clark Interpretive Center – a research facility focusing on the history of the Lewis and Clark Expedition. Had the two famous explorers ventured into Washburn today, instead of the Pacific Ocean, they would have discovered high homeowners insurance prices. The home insurance rates collected in our study averaged $2,499 in Washburn, making it North Dakota's third most expensive.
Dickinson, ND
North Dakota's fourth most expensive home insurance prices can be found in the Stark County city of Dickinson. The city has been the hometown of many illustrious individuals, including NHL and NFL athletes, writers, musicians, human rights activists, and actors. Dickinson was founded in 1881, by W.S. Dickinson, after whom the city takes its name. When we averaged the quotes among different home insurers operating in Dickinson for the same model home, we came out with prices in the neighborhood of $2,493.
Carrington, ND
Carrington is a peaceful small city near the center of North Dakota. The city boasts one of the lowest per capita crime rates in North Dakota, as well as an excellent educational system, and extensive recreational and outdoor activities available to its residents. Unfortunately, we found this to come at a cost – the price of insuring our homeowners' property in Carrington was $2,391, which is 11% above the North Dakota state average.
Average Cost of Homeowners Insurance in North Dakota: by City
The average cost of homeowners insurance in North Dakota, obtained for the property we profiled, is $2,145 per year. This represents approximately 1% of the cost of owning that sample property, on an annual basis. You can view all the cities included in our study, in the list below. Next to each city you will find the average annual premium, and the deviation from the North Dakota average.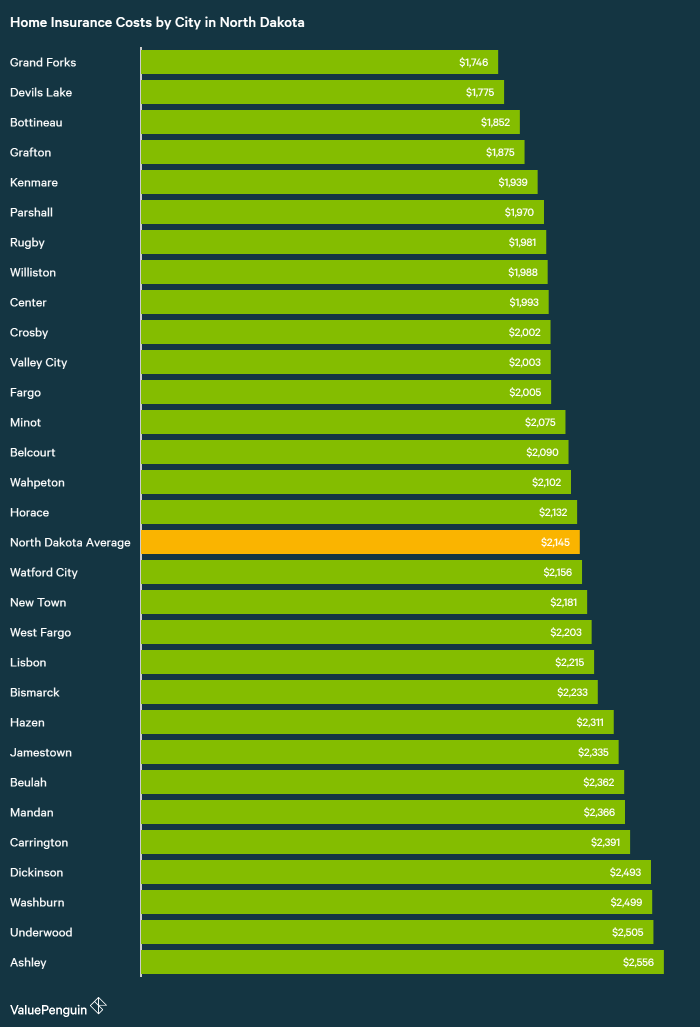 How We Conducted the Study
For this study, we examined 30 cities and towns across North Dakota. We sampled home insurance quotes for several major companies operating in the state including Amica, State Farm, and Farmers. The home we profiled was a 2,000 square foot, 2-story house, with an attached-garage. The home's construction was brick veneer, and it had a fully completed basement. Our sample homeowner who obtained the quotes was a 41 year old non-smoking male, employed and without pets. The approximate cost of rebuilding the home was valued at $200,000. All the cities included in our study can be found below, in alphabetical order.
| | | | |
| --- | --- | --- | --- |
| Rank | City | Average Annual Rates | Change vs. State Average |
| 30 | Ashley | $2,556 | 19% |
| 14 | Belcourt | 2,090 | -3% |
| 24 | Beulah | 2,362 | 10% |
| 21 | Bismarck | 2,233 | 4% |
| 3 | Bottineau | 1,852 | -14% |
| 26 | Carrington | 2,391 | 11% |
| 9 | Center | 1,993 | -7% |
| 10 | Crosby | 2,002 | -7% |
| 2 | Devils Lake | 1,775 | -17% |
| 27 | Dickinson | 2,493 | 16% |
| 12 | Fargo | 2,005 | -6% |
| 4 | Grafton | 1,875 | -13% |
| 1 | Grand Forks | 1,746 | -19% |
| 22 | Hazen | 2,311 | 8% |
| 16 | Horace | 2,132 | -1% |
| 23 | Jamestown | 2,335 | 9% |
| 5 | Kenmare | 1,939 | -10% |
| 20 | Lisbon | 2,215 | 3% |
| 25 | Mandan | 2,366 | 10% |
| 13 | Minot | 2,075 | -3% |
| 18 | New Town | 2,181 | 2% |
| 6 | Parshall | 1,970 | -8% |
| 7 | Rugby | 1,981 | -8% |
| 29 | Underwood | 2,505 | 17% |
| 11 | Valley City | 2,003 | -7% |
| 15 | Wahpeton | 2,102 | -2% |
| 28 | Washburn | 2,499 | 17% |
| 17 | Watford City | 2,156 | 1% |
| 19 | West Fargo | 2,203 | 3% |
| 8 | Williston | 1,988 | -7% |
Comments and Questions