Who Has the Cheapest Homeowners Insurance Quotes in New Mexico?
Find the Cheapest Insurance Quotes in Your Area
The Land of Enchantment is largely covered by both vast desert as well as great mountain ranges, making it one of the most scenic states in the US. Although it was one of the last states to be admitted into the union, New Mexico plays a major role in the US defense as it is not only home to 3 Air Force bases, but was also a critical nuclear weapon manufacturing and testing site during WWII. Today it is the 5th largest in land area, and the 6th least densely populated state. For the over 2 million people who call New Mexico home, analysts at ValuePenguin decided to look into how costs of homeowners insurance fare. Read more below, or start searching for homeowners insurance quotes using our quote tool.
Cheapest Homeowners Insurance Companies in New Mexico
We conducted a study to determine which insurance company offered the cheapest annual rate for homeowners insurance on average in New Mexico. We collected quotes based on a benchmark home of 2,000 square-feet and averaged the quotes from towns and cities across the state for each insurance company in our study (Progressive, State Farm, Liberty Mutual, and Farmers). Nationwide did not provide quotes for homeowners insurance. The following table lists the mean annual premiums for the insurance companies in this study, ranked from cheapest to most expensive: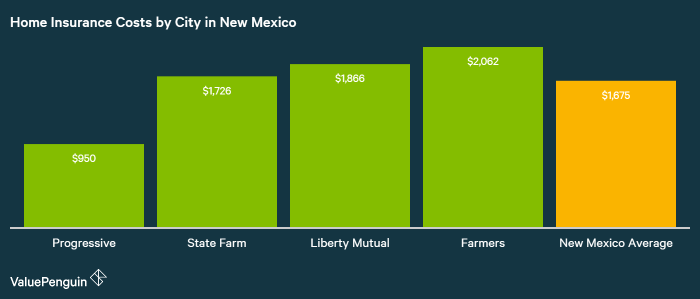 | Rank | Cheapest Homeowners Insurance Companies | Average Annual Rates |
| --- | --- | --- |
| 1 | Progressive | $950 |
| 2 | State Farm |  1,726 |
| 3 | Liberty Mutual |  1,866 |
| 4 | Farmers |  2,062 |
| | Average |  1,651 |
The above rates were obtained for a sample property. To find the best rates for yourself, we recommend looking for quotes from multiple insurance providers and comparing them.
Best Homeowners Insurance Rates in New Mexico: by City
We found that the top five cheapest cities for homeowner's insurance in New Mexico on average are getting quotes 32% lower than most other places in the state. Overall, these five cities are scattered within the western region of the state.
| | | | |
| --- | --- | --- | --- |
| Rank | City | Average Annual Rate | Change vs. State Average |
| 1 | Las Cruces | $1,052 | -36% |
| 2 | Deming | 1,105 | -33 |
| 3 | Alamogordo | 1,158 | -30 |
| 4 | Grants | 1,159 | -30 |
| 5 | Silver City | 1,164 | -30 |
Las Cruces, NM
With the ISO's recently published Class 1 rating for Las Cruces' fire department, we are not surprised to find "The City of the Crosses" at the top of our list of cheapest place to purchase homeowner's insurance. The second most populated city in NM and home to more than 101,000 people, Las Cruces did not let its environmental hardship stop it from continuing to prosper; its median household income growth has been higher than both the New Mexico and overall US average. The good news is, our sample Las Cruces homeowner found his annual home insurance rates near $1,052, which is 36% lower than the state's average costs.
Deming, NM
Home to close to 15,000 people, the self-acclaimed "Rock-Hunters Paradise" is surrounded by unique natural landscape. Perhaps in congruence with the rich historical artifacts unearthed in this region, Deming's historic and art museums are definitely some points of interest for anyone who visits this culturally-rich city. We found Deming's average cost of homeowner's insurance to be the second lowest compared to most cities in New Mexico, as our sample homeowner found his rates around $1,105 a year.
Alamogordo, NM
The "Fat Tree" city is frequented by visitors all year round who come for both the Lincoln National Forest and the beautiful White Sands National Monument, where the world's largest gypsum dune field lies. Besides its natural resources, the city also has a strong aviation and space technology presence as evidenced by its museum of space history as well as the Holloman Air Force Base right outside the city proper. For the 30,000+ residents who enjoy all that Alamogordo has to offer, they may be happy to know that their city is also the 3rd most ideal place to live in NM for cheap homeowners insurance, around $1,158 a year, as sample rates collected for our study have shown.
Grants, NM
Home to more than 9,000 people, the "City of Spirit" has a unique geographical location that ensured its growth as it has undergone several industrial transitions since its founding as a railroad camp in the 1880s. The city first flourished by logging transport business, then benefitted from its volcanic soil and became the nation's carrot capital. The last of its industrial booms was from the uranium mining between 1950s and 1980s. Nowadays the city is perhaps best known for its airway beacon historical site. Although nearly 300 miles due north from the city of Alamogordo, we also found Grant's homeowners' insurance annual around $1,159 and 30% lower than the state's mean.
Silver City, NM
Silver City is a historic mining town which was first founded after discovery of silver ore in the region in 1870. Best known today as the Gateway to the Gila Wilderness, Silver City is also the closest entry point for all those who wish to visit the Gila Cliff Dwellings, where caves are preserved that were once home to native inhabitants from more than 2,000 years ago. For its over 10,000 residents, we would like to share that their culturally-rich town is also one of the most ideal places to live in for affordable protection for their homes; averaging $1,164 a year, homeowners insurance costs here are approximately 30% lower than the New Mexico state average.
Cities with the Most Expensive Homeowners Insurance in New Mexico
All five most expensive cities on our list for homeowner's insurance in New Mexico are found within the southeastern corner of the state. Our sample homeowners in these cities on average received quotes 78% higher than the state's mean.
| | | | |
| --- | --- | --- | --- |
| Rank | City | Average Annual Rate | Change vs. State Average |
| 1 | Carlsbad | $3,060 | 85% |
| 2 | Lovington | 2,974 | 80 |
| 3 | Clovis | 2,915 | 76 |
| 4 | Hobbs | 2,914 | 76 |
| 5 | Artesia | 2,837 | 72 |
Carlsbad, NM
Carlsbad sits right by the southern border of NM – neighboring Texas – and is the 11th most populated city in the state. The city's current economy is primarily based on its rich mineral sources of oil and gas; back in the 1920s it was the main source of potash. Today, the 26,000 residents are frequently welcoming visitors who wish to explore the national parks nearby the city. Insurance costs here can be as high as $3,060 a year, which is 85% higher than the state's average costs we've collected.
Lovington, NM
Home to 11,000 people and the county seat of Lea County, Lovington sits in the southeastern corner of New Mexico. It is very likely named after the first postmaster of the then town, Jim Love, who was also owner of the first store, "Jim B. Love Grocery Store". We found that the costs to insure a home here are the 2nd highest in the state, around $2,974 a year. Put another way, it is 80% costlier than most other cities in New Mexico.
Clovis, NM
Called home by nearly 38,000 people (one of which is Pixar studio cofounder Alvy Ray Smith) and the 8th most populated city, costs of homeowner's insurance in Clovis are the 3rd highest we have seen in New Mexico. Annual average premiums here cost $2,915 for our sample home owner. The city sits in the east-central region of the state, and has records of past tornado events, with a Tornado Index that is the second highest in the state.
Hobbs, NM
The city of Hobbs began when James Issac Hobbs brought his family to the city's current location from Texas. Since its economic boom following the discovery of oil here in 1928, Hobbs has grown to be the 9th most populated city of NM, home to over 24,000 people. One of the most exciting activities to do here is perhaps learning to fly at its Souring Society of America! Nevertheless, we found costs of insurance around $2,014 here, which is about 76% more costly compared with the state's average.
Artesia, NM
Halfway between the railways connecting Carlsbad and Roswell to the north, Artesia's first structure was a store by the railroad built in 1898. The then town's name soon changed to Artesia as a promotion of its artesian well that kept farming and ranching well irrigated. Today its economy relies primarily on agriculture – as well as oil and gas resources that were later discovered. If you're one of the 11,000+ residents in this thriving city, you may be interested in knowing that insurance expenditures can be 72% higher than most other cities in New Mexico, around $2,847 a year.
Average Cost of Homeowners Insurance in New Mexico: by City
Based on sample rates collected, we found New Mexico's costs of homeowners insurance around $1,653 a year. The surprising thing is, while the majority of the 32 cities we studied fell below the state average cost and have small insurance premium differences, the average annual cost in our most expensive city, Carlsbad, is almost 3 times the costs of our cheapest city, Las Cruces. In other words, average annual costs of homeowners insurance in New Mexico can vary up to $2,000 depending on where you live!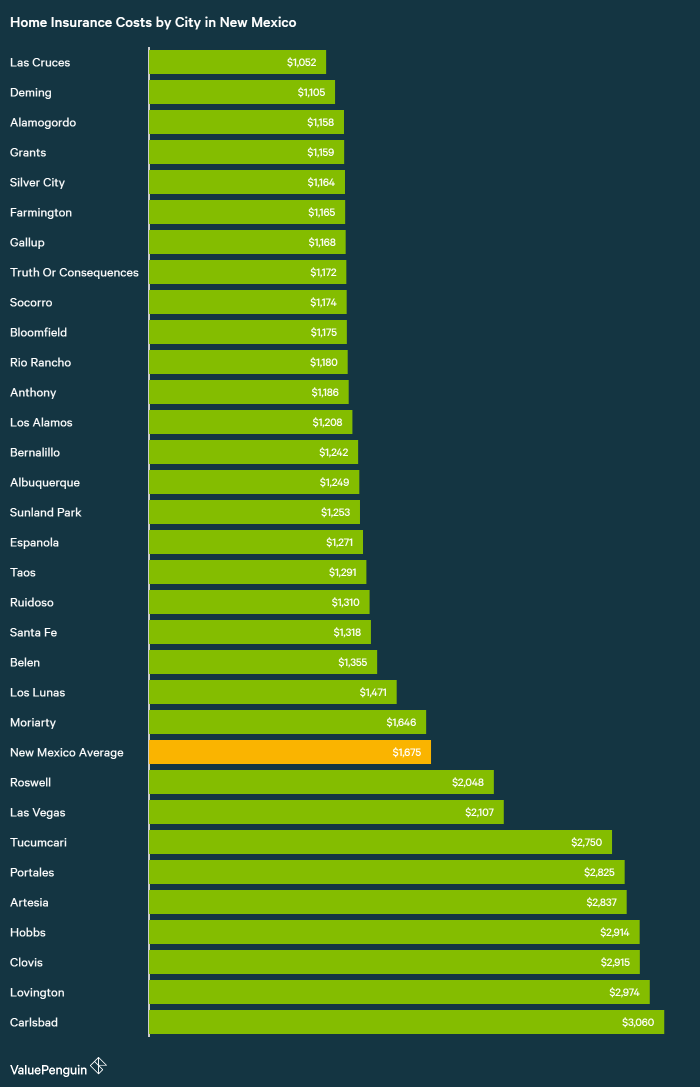 Map of Homeowners Insurance Rates in New Mexico
Across New Mexico's vast 121,697 square miles of land, we found that the cost of homeowners insurance seems to rise as you move from west to east. The overall distribution of cities with high home insurance premiums is close to and along the state border neighboring Texas. Conversely, cities with below-state-average insurance rates are found anywhere from central New Mexico and west.
Methodology
For the purpose of our study, sample insurance rates were collected for a single male home owner of 41 years. The home that's insured is a 2-story colonial style house with approximately 2,000 square feet of living area and a finished underground basement, as well as a built-in 1-car garage. It was built in 2000 and has a market value of $200,000. The average costs were calculated based on rates collected from 32 cities and across major available home insurance providers, including Progressive, Liberty Mutual, State Farm, and Farmers.
See the table below for New Mexico's average annual homeowner's insurance costs by city in alphabetical order:
| | | | |
| --- | --- | --- | --- |
| Rank | City | Average Insurance Rate | Change vs. State Average |
| 3 | Alamogordo | $1,158 | -30% |
| 15 | Albuquerque | 1,249 | -24% |
| 12 | Anthony | 1,186 | -28% |
| 28 | Artesia | 2,837 | 72% |
| 21 | Belen | 1,355 | -18% |
| 14 | Bernalillo | 1,242 | -25% |
| 10 | Bloomfield | 1,175 | -29% |
| 32 | Carlsbad | 3,060 | 85% |
| 30 | Clovis | 2,915 | 76% |
| 2 | Deming | 1,105 | -33% |
| 17 | Espanola | 1,271 | -23% |
| 6 | Farmington | 1,165 | -30% |
| 7 | Gallup | 1,168 | -29% |
| 4 | Grants | 1,159 | -30% |
| 29 | Hobbs | 2,914 | 76% |
| 1 | Las Cruces | 1,052 | -36% |
| 25 | Las Vegas | 2,107 | 27% |
| 13 | Los Alamos | 1,208 | -27% |
| 22 | Los Lunas | 1,471 | -11% |
| 31 | Lovington | 2,974 | 80% |
| 23 | Moriarty | 1,646 | 0% |
| 27 | Portales | 2,825 | 71% |
| 11 | Rio Rancho | 1,180 | -29% |
| 24 | Roswell | 2,048 | 24% |
| 19 | Ruidoso | 1,310 | -21% |
| 20 | Santa Fe | 1,318 | -20% |
| 5 | Silver City | 1,164 | -30% |
| 9 | Socorro | 1,174 | -29% |
| 16 | Sunland Park | 1,253 | -24% |
| 18 | Taos | 1,291 | -22% |
| 8 | Truth Or Consequences | 1,172 | -29% |
| 26 | Tucumcari | 2,750 | 66% |
Comments and Questions