Who Has the Cheapest Homeowners Insurance Quotes in Iowa?
Find the Cheapest Insurance Quotes in Your Area
Iowa is found in the "American Heartland", east of the great Mississippi River. The state has been nicknamed the "Hawkeye State" - not because of any association with the comic book hero, but in reference to Chief Black Hawk, a famous warrior and leader of the Sauk American Indian tribe. Today, Iowa is predominantly a manufacturing state, being responsible for approximately 21% of Iowa's gross state product. We decided to study the homeowners insurance prices in Iowa to bring greater transparency to the cost of owning a home in the state. To that effect, we looked at insurance premiums for a benchmark property across 158 of Iowa's towns and cities, and how that can vary widely from location to location. Read more below, or enter your zip code into our quote tool to begin finding homeowners insurance quotes.
Cheapest Homeowners Insurance Companies in Iowa
Our researchers found that the company that provided the cheapest homeowners insurance in Iowa was Progressive, with an average annual rate of $744 for our sample property of 2,000 square-feet. According to this study, homeowners with Progressive insurance can pay on average 48% less than the rest of the state. The following table lists the mean annual insurance premiums for Progressive, State Farm, Liberty Mutual, and Farmers, which are ranked from cheapest to most expensive: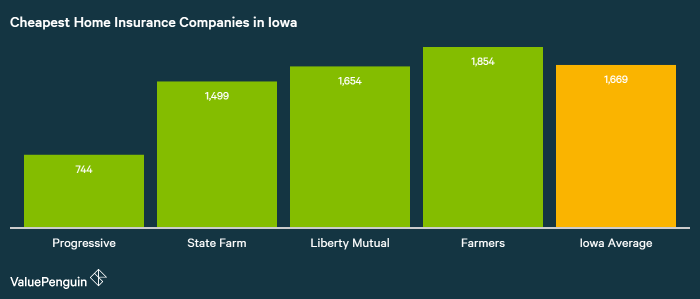 | Rank | Cheapest Homeowners Insurance Companies | Average Annual Rates |
| --- | --- | --- |
| 1 | Progressive | $744 |
| 2 | State Farm | 1499 |
| 3 | Liberty Mutual | 1654 |
| 4 | Farmers | 1854 |
| | Average | 1438 |
The above rates were obtained for a sample property. We encourage homeowners to find rates from at least three insurance providers to compare and find the best rates for themselves.
Best Homeowners Insurance Rates in Iowa: by City
The cheapest homeowners insurance prices in Iowa can all be found within relative proximity to the Mississippi River – all no more than 100 miles from one another. The home insurance quotes we obtained for these cities tended to be around 19% better than what we saw in the rest of Iowa, with the average price for our benchmark home being $1,357 per year.
| | | | |
| --- | --- | --- | --- |
| Rank | City | Average Premium | Change vs. State Average |
| 1 | Muscatine | $1,307 | -22% |
| 2 | Cedar Rapids | $1,318 | -21% |
| 3 | Eldridge | $1,386 | -17% |
| 4 | Dubuque | $1,387 | -17% |
| 5 | Davenport | $1,389 | -17% |
Muscatine, IA
The city of Muscatine sits on the western bank of the Mississippi River – within it, we found the cheapest homeowners insurance rates in the state of Iowa! Muscatine is home to approximately 23,000 residents and a wide array of scenic and historic attractions. One of the biggest historic landmarks in Muscatine is Tom Burner Field, which was built in 1910. Three years later, the home team (the Muskies) beat the Chicago Cubs in a game of baseball. The city's home insurance rates are a home run as well. The average annual cost of a home insurance policy for our profiled property was $1,307 – 22% better than the rest of the state. 
Cedar Rapids, IA
Cedar Rapids is located in Linn County, Iowa, and has the state's second biggest population. It's also one of the major Iowa cities, in terms of industry: it is one of the world's largest corn processors. Cedar Rapids was the setting of 2011 comedy of the same name starring the famous actor Ed Helms, who portrayed a naïve insurance agent. However, the city's insurance prices are no joke. Cedar Rapids has the second best home insurance rates in Iowa. A typical quote we obtained for our benchmark home was approximately $1,318, which was lower than the state mean by $351 for an annual policy.
Eldridge, IA
The third lowest home insurance rates in Iowa can be found in a Scott County city: Eldridge. Part of the Quad Cities metropolitan area, Eldridge has a population of 6,000 – representing just 1.5% of the total population of the territory. When we looked at the cost of home insurance for our sample property, we were typically presented with a $1,386 annual premium – 17% cheaper than the state average.
Dubuque, IA
Dubuque, a city in the eastern part of Iowa, has a population of 58,000 people, making it the tenth largest city in the state. The city is also Iowa's third cheapest place for homeowners insurance, with average annual price for our model home being $1,387. One of Dubuque's top employers is the John Deere Corporation, which employs approximately 2,400 residents. For many years, the city's industry was centered on manufacturing, however, in recent years there has been a shift to areas such as health care and education.
Davenport, IA
Davenport is located on the Iowa/Illinois border, and is Scott County's largest city to sit along the Mississippi River. Davenport has been the birthplace of jazz legends, Pulitzer Prize winners, and even WWE World Heavyweight champions! Fortunately, Davenport residents don't need to wrestle with high home insurance prices. When we gathered quotes for our benchmark property in Davenport, we averaged insurance premiums of $1,389 per year. Rates were 17% better than the state mean, placing Davenport with the fifth most affordable rates for insuring a house in Iowa.
Cities with the Most Expensive Homeowners Insurance in Iowa
The places with the most expensive homeowners insurance in Iowa can be found all throughout the state and share no geographic commonality. These towns and cities all had populations of less than 5,000 residents, being among Iowa's least populous territories. The home insurance rates we gathered for these places averaged $1,912 annually.
| | | | |
| --- | --- | --- | --- |
| Rank | City | Average Premium | Change vs. State Average |
| 1 | Humboldt | $1,972 | 18% |
| 2 | Mapleton | $1,908 | 14% |
| 3 | Moville | $1,906 | 14% |
| 4 | Conrad | $1,903 | 14% |
| 5 | Sigourney | $1,871 | 12% |
Humboldt, IA
Some of the most expensive homeowners insurance rates in the state of Iowa can be found in the city of Humboldt. When we examined home insurance premiums for our sample home in Humboldt, we saw average rates of $1,972, or 18% above the state average. One possible reason behind the city's high home insurance rates is the fact that it is serviced by a volunteer fire department. This, among several other factors, tends to correlate with high insurance rates, as insurers worry about understaffed and underpaid volunteer departments not being as effective in minimizing property damage caused by fires.
Mapleton, IA
Mapleton, located in Monona County, has the state's second most expensive home insurance rates. This can, in part, be explained by a 2011 tornado which damaged close to 60% of the city. Events like this cause insurers to count a place as being "high risk" – that is the likelihood of them having to pay out some sort of damage for a claim is greater than others. This results in high insurance rates. Our benchmark property in Mapleton averaged home insurance premiums of $1,908 per year.
Moville, IA
Moville is a city in Woodbury County, with a population of 1,600. Though a small city, Moville has many beautiful parks and attractions. Among these, is the Woodbury County Library, which was built back in 1929. When we studied the homeowners rates in Moville, our model home was quoted prices in the neighborhood of $1,906, making it the 3rd most expensive in Iowa.
Conrad, IA
Conrad is a small town of 1,108 residents, and is located in Grundy County, Iowa – near the center of the state. Thanks to a $500,000 grant from the Community Development Block Grant Program, and contributions from both the City Council and local businesses, Conrad has recently completed a revitalization of its downtown district. This sizable investment has improved the look and infrastructure of Conrad, but unfortunately doesn't impact the town's home insurance prices. The typical price of insuring our benchmark home in the town was $1,903 per year (14% costlier than the Iowa mean).
Sigourney, IA
Sigourney can be found in Keokuk County, Iowa, and it has the state's fifth most expensive home insurance rates for our sample property. Our homeowners came across rates that averaged $1,871 annually. Like the other places on our list, Sigourney is a small city of just 2,000 residents, and measures 2.18 square miles in size. The city was named after Lydia Sigourney, a famous 19th century American poet.
Cost of Homeowners Insurance in Iowa: by City
After looking at quotes for our benchmark property, we determined the average homeowners insurance cost in Iowa to be $1,669 per year. There is a decent level of variation from the mean, across these cities – some cities differ by as much as 22% from the state average. You can view the 158 cities included in this study in the list below, ordered from least to most expensive.

About Our Study
Our study looked at home insurance prices in 158 of Iowa's towns and cities. The rates were collected for a 2,000 square foot home assuming a replacement cost of $200,000. The property had an attached garage, and was 2 stories tall. Quotes were obtained for our single 41 year old sample male homeowner. He is a non-smoker without pets - both favorable factors in insurance companies' eyes when it comes to pricing a home insurance policy. A complete list of the cities included in the study can be found below, listed in alphabetical order. The number to the right of each city is its average home insurance premium, as obtained for the model home and owner described above.
| | | | |
| --- | --- | --- | --- |
| Rank | City | Average Premium | Change vs. State Average |
| 114 | Ackley | $1,735 | 4% |
| 55 | Adel | $1,634 | -2% |
| 100 | Akron | $1,713 | 3% |
| 92 | Albia | $1,699 | 2% |
| 112 | Algona | $1,728 | 4% |
| 124 | Allison | $1,755 | 5% |
| 107 | Altoona | $1,721 | 3% |
| 12 | Ames | $1,508 | -10% |
| 25 | Anamosa | $1,556 | -7% |
| 20 | Atlantic | $1,538 | -8% |
| 113 | Audubon | $1,732 | 4% |
| 110 | Bedford | $1,726 | 3% |
| 29 | Belle Plaine | $1,576 | -6% |
| 13 | Bellevue | $1,509 | -10% |
| 96 | Belmond | $1,706 | 2% |
| 8 | Bettendorf | $1,436 | -14% |
| 78 | Bloomfield | $1,676 | 0% |
| 81 | Boone | $1,682 | 1% |
| 88 | Britt | $1,695 | 2% |
| 94 | Buffalo Center | $1,704 | 2% |
| 21 | Burlington | $1,541 | -8% |
| 52 | Calmar | $1,628 | -2% |
| 57 | Carroll | $1,636 | -2% |
| 85 | Cascade | $1,691 | 1% |
| 50 | Cedar Falls | $1,624 | -3% |
| 2 | Cedar Rapids | $1,318 | -21% |
| 45 | Centerville | $1,610 | -3% |
| 104 | Chariton | $1,717 | 3% |
| 137 | Charles City | $1,790 | 7% |
| 26 | Cherokee | $1,568 | -6% |
| 58 | Clarinda | $1,636 | -2% |
| 130 | Clarion | $1,769 | 6% |
| 59 | Clear Lake | $1,637 | -2% |
| 7 | Clinton | $1,427 | -14% |
| 51 | Columbus Junction | $1,626 | -3% |
| 155 | Conrad | $1,903 | 14% |
| 119 | Corning | $1,740 | 4% |
| 125 | Corydon | $1,757 | 5% |
| 10 | Council Bluffs | $1,487 | -11% |
| 36 | Cresco | $1,596 | -4% |
| 144 | Creston | $1,814 | 9% |
| 151 | Danbury | $1,851 | 11% |
| 5 | Davenport | $1,389 | -17% |
| 19 | De Witt | $1,525 | -9% |
| 31 | Decorah | $1,584 | -5% |
| 49 | Denison | $1,623 | -3% |
| 87 | Denver | $1,693 | 1% |
| 42 | Des Moines | $1,604 | -4% |
| 122 | Diagonal | $1,745 | 5% |
| 4 | Dubuque | $1,387 | -17% |
| 27 | Dyersville | $1,573 | -6% |
| 46 | Dysart | $1,615 | -3% |
| 95 | Eagle Grove | $1,705 | 2% |
| 3 | Eldridge | $1,386 | -17% |
| 90 | Elgin | $1,697 | 2% |
| 103 | Elkader | $1,716 | 3% |
| 140 | Emmetsburg | $1,796 | 8% |
| 70 | Estherville | $1,659 | -1% |
| 53 | Fairfield | $1,631 | -2% |
| 39 | Fayette | $1,599 | -4% |
| 108 | Forest City | $1,721 | 3% |
| 24 | Fort Dodge | $1,555 | -7% |
| 32 | Fort Madison | $1,584 | -5% |
| 62 | Gladbrook | $1,641 | -2% |
| 23 | Glenwood | $1,549 | -7% |
| 143 | Greenfield | $1,811 | 8% |
| 148 | Grinnell | $1,837 | 10% |
| 149 | Grundy Center | $1,837 | 10% |
| 152 | Guthrie Center | $1,864 | 12% |
| 102 | Guttenberg | $1,715 | 3% |
| 135 | Hamburg | $1,787 | 7% |
| 80 | Hampton | $1,680 | 1% |
| 105 | Harlan | $1,718 | 3% |
| 38 | Hudson | $1,598 | -4% |
| 118 | Hull | $1,739 | 4% |
| 158 | Humboldt | $1,972 | 18% |
| 133 | Ida Grove | $1,783 | 7% |
| 60 | Independence | $1,638 | -2% |
| 82 | Indianola | $1,685 | 1% |
| 121 | Inwood | $1,745 | 5% |
| 16 | Iowa City | $1,511 | -9% |
| 91 | Iowa Falls | $1,698 | 2% |
| 63 | Jesup | $1,643 | -2% |
| 115 | Kalona | $1,735 | 4% |
| 120 | Kanawha | $1,744 | 5% |
| 33 | Keokuk | $1,586 | -5% |
| 74 | Keota | $1,663 | 0% |
| 99 | Knoxville | $1,713 | 3% |
| 44 | La Porte City | $1,608 | -4% |
| 134 | Lake City | $1,784 | 7% |
| 128 | Lake Mills | $1,764 | 6% |
| 89 | Le Mars | $1,697 | 2% |
| 138 | Logan | $1,792 | 7% |
| 15 | Manchester | $1,509 | -10% |
| 146 | Manson | $1,830 | 10% |
| 157 | Mapleton | $1,908 | 14% |
| 14 | Maquoketa | $1,509 | -10% |
| 6 | Marion | $1,424 | -15% |
| 43 | Marshalltown | $1,605 | -4% |
| 28 | Mason City | $1,574 | -6% |
| 116 | Mc Gregor | $1,736 | 4% |
| 56 | Mediapolis | $1,636 | -2% |
| 127 | Missouri Valley | $1,763 | 6% |
| 106 | Monroe | $1,720 | 3% |
| 41 | Monticello | $1,601 | -4% |
| 147 | Mount Ayr | $1,833 | 10% |
| 123 | Mount Vernon | $1,755 | 5% |
| 156 | Moville | $1,906 | 14% |
| 22 | Mt Pleasant | $1,549 | -7% |
| 1 | Muscatine | $1,307 | -22% |
| 98 | Nashua | $1,712 | 3% |
| 142 | Nevada | $1,797 | 8% |
| 101 | New Hampton | $1,713 | 3% |
| 54 | New Sharon | $1,632 | -2% |
| 9 | Newton | $1,451 | -13% |
| 35 | North Liberty | $1,595 | -4% |
| 83 | Northwood | $1,687 | 1% |
| 150 | Odebolt | $1,845 | 11% |
| 79 | Oelwein | $1,678 | 1% |
| 141 | Ogden | $1,796 | 8% |
| 84 | Orange City | $1,691 | 1% |
| 71 | Osage | $1,661 | 0% |
| 145 | Osceola | $1,820 | 9% |
| 11 | Oskaloosa | $1,488 | -11% |
| 37 | Ossian | $1,598 | -4% |
| 17 | Ottumwa | $1,512 | -9% |
| 129 | Pella | $1,768 | 6% |
| 136 | Perry | $1,789 | 7% |
| 93 | Red Oak | $1,702 | 2% |
| 131 | Reinbeck | $1,781 | 7% |
| 117 | Rock Rapids | $1,736 | 4% |
| 68 | Rockwell | $1,652 | -1% |
| 72 | Sheffield | $1,661 | 0% |
| 65 | Sheldon | $1,648 | -1% |
| 111 | Shenandoah | $1,726 | 3% |
| 154 | Sigourney | $1,871 | 12% |
| 139 | Sioux City | $1,795 | 8% |
| 153 | Slater | $1,866 | 12% |
| 109 | Solon | $1,724 | 3% |
| 86 | Spencer | $1,692 | 1% |
| 73 | Spirit Lake | $1,662 | 0% |
| 48 | State Center | $1,623 | -3% |
| 97 | Storm Lake | $1,708 | 2% |
| 40 | Tama | $1,600 | -4% |
| 126 | Tipton | $1,761 | 5% |
| 67 | Toledo | $1,651 | -1% |
| 64 | Traer | $1,646 | -1% |
| 47 | Vinton | $1,619 | -3% |
| 76 | Washington | $1,674 | 0% |
| 18 | Waterloo | $1,522 | -9% |
| 61 | Waukon | $1,638 | -2% |
| 69 | Waverly | $1,653 | -1% |
| 75 | Webster City | $1,666 | 0% |
| 66 | West Branch | $1,649 | -1% |
| 30 | West Liberty | $1,582 | -5% |
| 77 | West Union | $1,675 | 0% |
| 34 | Williamsburg | $1,592 | -5% |
| 132 | Winterset | $1,782 | 7% |
Comments and Questions