Who Has the Cheapest Homeowners Insurance Quotes in Indiana?
Find the Cheapest Insurance Quotes in Your Area
Indiana, the Hoosier State, is located in the Great Lakes region of the United States. Home to 6.5 million people, Indiana is the nation's 16th most populous state. Each year during Memorial Day Weekend, the state is host to the Indianapolis 500, one of the world's most highly regarded auto-racing events. 
Individuals seeking to purchase a house in Indiana may be interested to learn that home insurance insurance rates vary by as much as 50% between different cities in the state. ValuePenguin conducted a study into how these insurance costs vary throughout the state. In the study, our researchers gathered insurance quotes in each city for a hypothetical $200,000 home. We used this data to determine which cities offer the best average annual premiums and how those rates compare with the rest of the state. Read more below, or enter your zip code into our quote tool to find homeowners insurance quotes.
Cheapest Homeowners Insurance Companies in Indiana
We looked at homeowners insurance quotes from four major national providers across 124 cities in the state to see who had the best rates. We then averaged quotes across the state by each of the insurers: Farmers, Liberty Mutual, Progressive, and State Farm. The average annual premiums below are for our sample property, which was a 15 year old 2,000 square foot house worth $200,000.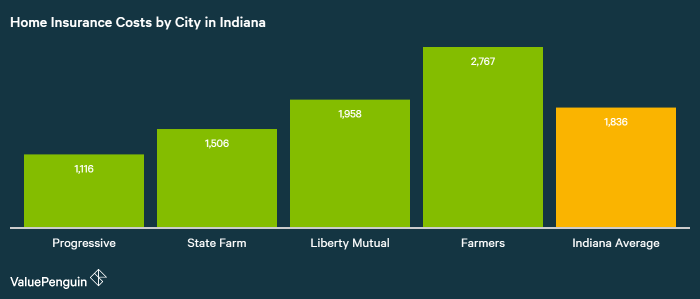 Best Homeowners Insurance Rates in Indiana: by City
Indiana's cheapest cities for home insurance are all located north of Indianapolis. The cities have average annual insurance premiums of $1,413, which is 23% more affordable than the state average of $1,836. 
| | | | |
| --- | --- | --- | --- |
| Rank | City | Average Annual Premium | Change vs State Average |
| 1 | Decatur | $1,302 | -29% |
| 2 | Bluffton | $1,420 | -23% |
| 3 | Lafayette | $1,440 | -22% |
| 4 | Auburn | $1,445 | -21% |
| 5 | Columbia City | $1,456 | -21% |
Decatur, IN
The city of Decatur is a small, family-oriented community. With an average annual premium of just $1,302, Decatur offers the best average homeowners insurance rates in the state of Indiana. Decatur homes are 29% less expensive to insure than most of the state, and 50% cheaper than some of the cities on our list.
Bluffton, IN
Bluffton, the "Parlor City", is located in Northeastern Indiana. As of the most recent census, the city has a population of close to 10,000 people. Bluffton sees, on average, insurance premiums which are 23% lower than the rest of Indiana. Average homeowners insurance rates in the city are $1,420 per year. 
Lafayette, IN
Lafayette is a city in western Indiana known for its blue-ribbon schools and historic downtown area. Our study found that the third cheapest home insurance rates in the state were found in Lafayette. The city's residents can see an average annual rate of around $1,440 for their homeowners insurance. 
Auburn, IN
Auburn, known locally as "Home of the Classics", is a city of 12,000 residents in DeKalb County, Indiana. Those thinking about insuring a home in Auburn will be happy to know it ranks as 4th in the state for its inexpensive home insurance rates. Auburn's home insurance costs are 21% lower than the state mean. Home insurance rates for our sample property average $1,445 per year in Auburn.
Columbia City, IN
Located just 25 miles from Fort Wayne is Columbia City. Home to 8,000 residents, Columbia is yet another town in Indiana set upon keeping your wallet full and you happy as you shop for home insurance. The cost of insuring homes in Columbia City runs on average $1,456 per year. These rates are 21% better than the rest of Indiana, which has a state average of $1,836. 
Most Expensive Homeowners Insurance in Indiana
When it comes to the price of homeowners insurance, the bottom-scoring cities are located all throughout the regions west of Indianapolis. Residents of these towns pay on average 37% more than the rest of the state – the mean home insurance premium for these five cities is $2,508.
| | | | |
| --- | --- | --- | --- |
| Rank | City | Average Annual Premium | Change vs State Average |
| 1 | Plainfield | $2,616 | 42% |
| 2 | Greencastle | $2,553 | 39% |
| 3 | Dale | $2,515 | 37% |
| 4 | Gary | $2,447 | 33% |
| 5 | Paoli | $2,407 | 31% |
Plainfield, IN
The city of Plainfield is located just 30 minutes outside of Indianapolis. The city has a population of 28,000, making it one of the largest cities on our list. Residents here can pay 50% more for their insurance than some other parts of the state. Plainfield is part of the Indianapolis Metro area, which experiences higher than normal instances of tornados. This increases the likelihood of homes in Plainfield sustaining some form of property damage, which in turn increases the risk of insurance companies having to pay out claims. These companies account for this fact by raising their annual insurance premiums. The mean cost of home insurance in Plainfield is $2,616 per year – 42% above the state average.
Greencastle, IN
Greencastle is the 2nd most expensive city in the state when it comes to homeowners insurance. Like Plainfield, Greencastle is located within the Indianapolis Metropolitan area. However, because Greencastle's likelihood of tornado damage is lower than that of Plainfield, rates are slightly lower. Greencastle residents can see an average rate of $2,553 per year for their home insurance, which is 39% higher than the state average.
Dale, IN
Dale is the least populous city on our list with 1,600 residents. The town has recently seen additions to its road infrastructure, including gaining access to Indiana 62 and 68 state roads as well as Spencer County Road. These developments give the town ease of access to nearby services such as a gas station and restaurant. Those who chose to insure their homes in Dale pay on average 37% more than the rest of the Indiana. Homeowners can see rates of around $2,515 per year, which is the city's average.
Gary, IN
Gary is located at the southern tip of Lake Michigan, just 30 miles outside of Chicago, Illinois. Gary is Indiana's 4th most expensive city to purchase home insurance in, in part due to its proximity to one of the Great Lakes. Being close to such a large body of water makes Gary prone to severe weather and storms which can cause property damage. An increased probability of damages makes insurers raise their rates to account for the higher likelihood of insurance claims. ValuePenguin research revealed Gary residents can find insurance premiums averaging $2,447 annually – 33% more than the rest of the state. 
Paoli, IN
Paoli is a small town of 3,600 people located on the edge of Hoosier National Forest. The town has a rich history, as it played a role in the Underground Railroad, which helped transport slaves from southern states up to Canada. Today, Paoli serves as the county seat of Orange County. The town also has the 5th highest home insurance rates in Indiana, coming in at 31% above the state mean. Our sample property in Paoli costs an average of $2,508 per year to insure.
Cost of Homeowners Insurance in Indiana: by City
ValuePenguin looked at 124 cities in the state of Indiana. The cities were arranged from least to most expensive in terms of average home insurance cost. This ranking can be found in the list below. The number on the graph represents the per year cost of insurance in that particular town. For ease of use, the state average is included in order to clearly see how each city rates in comparison to the Indiana mean. 

Methodology
This study was conducted by collecting home insurance quotes from 4 major insurance carriers in the state of Indiana (Progressive, Liberty Mutual, State Farm, Farmers). The quotes were obtained for a hypothetical $200,000, 2,000 square foot home built in the year 2000. This home had 1.5 baths and a garage attachment. Our sample homeowner in this study was a single, non-smoker with a clean claims history. This sample was measured across 124 cities in Indiana.
For readers' references, here are the average annual premiums for the 124 cities included in our analysis for the profiled property. Cities are arranged in alphabetical order from Albion to Zionsville.  The rank refers to how they place from cheapest to most expensive.
| | | | |
| --- | --- | --- | --- |
| Rank | City | Average Insurance Rates | Change vs State Average |
| 49 | Albion | $1,768 | -4% |
| 81 | Alexandria | 1,890 | 3% |
| 37 | Anderson | 1,710 | -7% |
| 28 | Angola | 1,651 | -10% |
| 84 | Attica | 1,911 | 4% |
| 4 | Auburn | 1,445 | -21% |
| 63 | Aurora | 1,805 | -2% |
| 31 | Batesville | 1,663 | -9% |
| 43 | Bedford | 1,746 | -5% |
| 11 | Berne | 1,503 | -18% |
| 42 | Bloomington | 1,745 | -5% |
| 2 | Bluffton | 1,420 | -23% |
| 18 | Bourbon | 1,587 | -14% |
| 109 | Brazil | 2,093 | 14% |
| 70 | Bremen | 1,835 | 0% |
| 57 | Brookville | 1,779 | -3% |
| 111 | Brownstown | 2,110 | 15% |
| 21 | Butler | 1,622 | -12% |
| 32 | Carmel | 1,672 | -9% |
| 83 | Charlestown | 1,910 | 4% |
| 88 | Chesterton | 1,928 | 5% |
| 16 | Churubusco | 1,583 | -14% |
| 118 | Cloverdale | 2,252 | 23% |
| 5 | Columbia City | 1,456 | -21% |
| 56 | Columbus | 1,778 | -3% |
| 102 | Connersville | 2,041 | 11% |
| 86 | Corydon | 1,917 | 4% |
| 36 | Crown Point | 1,699 | -7% |
| 82 | Culver | 1,892 | 3% |
| 122 | Dale | 2,515 | 37% |
| 1 | Decatur | 1,302 | -29% |
| 59 | Demotte | 1,783 | -3% |
| 22 | Elkhart | 1,624 | -12% |
| 114 | Elwood | 2,160 | 18% |
| 29 | Evansville | 1,652 | -10% |
| 61 | Ferdinand | 1,795 | -2% |
| 24 | Fishers | 1,637 | -11% |
| 112 | Flora | 2,126 | 16% |
| 17 | Fort Wayne | 1,584 | -14% |
| 19 | Frankfort | 1,589 | -13% |
| 113 | Franklin | 2,137 | 16% |
| 115 | French Lick | 2,170 | 18% |
| 8 | Garrett | 1,499 | -18% |
| 121 | Gary | 2,447 | 33% |
| 15 | Goshen | 1,572 | -14% |
| 123 | Greencastle | 2,553 | 39% |
| 92 | Greenfield | 1,968 | 7% |
| 40 | Greensburg | 1,733 | -6% |
| 35 | Hartford City | 1,694 | -8% |
| 87 | Hope | 1,922 | 5% |
| 25 | Huntertown | 1,644 | -10% |
| 6 | Huntington | 1,466 | -20% |
| 105 | Indianapolis | 2,059 | 12% |
| 60 | Jasper | 1,790 | -3% |
| 80 | Jeffersonville | 1,890 | 3% |
| 9 | Kendallville | 1,501 | -18% |
| 96 | Kentland | 2,000 | 9% |
| 75 | Knightstown | 1,865 | 2% |
| 93 | Knox | 1,983 | 8% |
| 34 | Kokomo | 1,691 | -8% |
| 23 | La Porte | 1,625 | -12% |
| 3 | Lafayette | 1,440 | -22% |
| 33 | Lagrange | 1,675 | -9% |
| 50 | Lawrenceburg | 1,769 | -4% |
| 44 | Lebanon | 1,749 | -5% |
| 12 | Ligonier | 1,533 | -17% |
| 91 | Linton | 1,935 | 5% |
| 77 | Logansport | 1,871 | 2% |
| 108 | Loogootee | 2,091 | 14% |
| 78 | Lowell | 1,872 | 2% |
| 85 | Madison | 1,917 | 4% |
| 71 | Marion | 1,838 | 0% |
| 119 | Martinsville | 2,352 | 28% |
| 14 | Michigan City | 1,556 | -15% |
| 64 | Milford | 1,806 | -2% |
| 26 | Monticello | 1,646 | -10% |
| 10 | Mooresville | 1,502 | -18% |
| 76 | Muncie | 1,866 | 2% |
| 27 | Munster | 1,648 | -10% |
| 51 | Nappanee | 1,770 | -4% |
| 68 | Nashville | 1,830 | 0% |
| 65 | New Albany | 1,819 | -1% |
| 41 | New Castle | 1,740 | -5% |
| 89 | New Harmony | 1,934 | 5% |
| 39 | New Paris | 1,714 | -7% |
| 98 | Newburgh | 2,015 | 10% |
| 46 | Noblesville | 1,756 | -4% |
| 106 | North Vernon | 2,081 | 13% |
| 13 | Ossian | 1,556 | -15% |
| 120 | Paoli | 2,407 | 31% |
| 116 | Pekin | 2,208 | 20% |
| 54 | Pendleton | 1,775 | -3% |
| 66 | Peru | 1,823 | -1% |
| 124 | Plainfield | 2,616 | 42% |
| 47 | Plymouth | 1,758 | -4% |
| 69 | Portland | 1,834 | 0% |
| 74 | Princeton | 1,858 | 1% |
| 55 | Rensselaer | 1,775 | -3% |
| 30 | Richmond | 1,660 | -10% |
| 90 | Rising Sun | 1,934 | 5% |
| 67 | Rochester | 1,827 | -1% |
| 95 | Rockport | 1,997 | 9% |
| 103 | Rockville | 2,047 | 11% |
| 94 | Rushville | 1,988 | 8% |
| 110 | Scottsburg | 2,097 | 14% |
| 38 | Seymour | 1,710 | -7% |
| 99 | Shelbyville | 2,022 | 10% |
| 117 | Shoals | 2,216 | 21% |
| 73 | South Bend | 1,856 | 1% |
| 79 | Spencer | 1,876 | 2% |
| 107 | Sullivan | 2,084 | 13% |
| 48 | Tell City | 1,767 | -4% |
| 45 | Terre Haute | 1,750 | -5% |
| 97 | Tipton | 2,009 | 9% |
| 104 | Versailles | 2,054 | 12% |
| 62 | Vincennes | 1,797 | -2% |
| 72 | Wabash | 1,851 | 1% |
| 20 | Warsaw | 1,595 | -13% |
| 101 | Washington | 2,024 | 10% |
| 100 | West Terre Haute | 2,022 | 10% |
| 53 | Westfield | 1,775 | -3% |
| 7 | Williamsport | 1,492 | -19% |
| 58 | Winchester | 1,782 | -3% |
| 52 | Zionsville | 1,770 | -4% |
Sources:
Indiana Guide to Homeowners Insurance: https://www.in.gov/idoi/2573.htm
Indiana Census Data: https://quickfacts.census.gov/qfd/states/18000.html
Image Courtesy of littlebiglens / Flickr: https://flic.kr/p/oyEnUo
Comments and Questions