Who Has the Cheapest Homeowners Insurance Quotes in Idaho?
Find the Cheapest Insurance Quotes in Your Area
Idaho, the "Gem State", is located in the northwestern regions of the United States. In addition to gemstones, the state is also famous for its most popular crop, "Idaho Potatoes". Nearly 1 in 3 potatoes grown in the United States are produced in Idaho. To bring greater clarity and transparency to the costs of owning a home, we conducted a study of affordable home insurance rates in Idaho by taking an objective look at the difference location has. We examined quotes for the same benchmark home in each of the 38 cities we studied, and found that the statewide average cost for the sample home we studied was $1,041. However, certain homeowners can pay as much as $1,178, depending on where they live. Read more below, or enter your zip code into our quote tool to find homeowners insurance quotes.
Cheapest Homeowners Insurance Companies in Idaho
In our study, we looked at four of the top homeowners insurance companies in the state of Idaho. These companies include Farmers, State Farm, GEICO, and Liberty Mutual. For our sample property of 2,000 square-feet, Farmers had the cheapest average annual rate. In the table below, you'll see each of the four companies along with their mean average insurance premiums, ranked from most affordable to least affordable: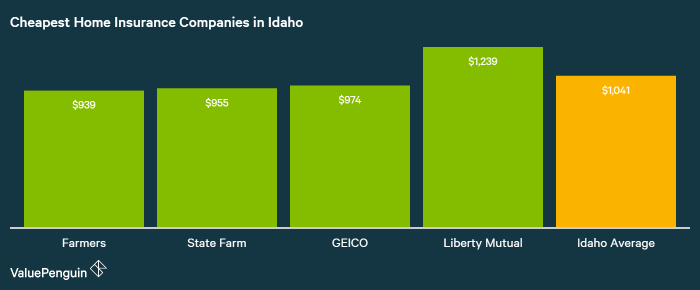 | Rank | Cheapest Homeowners Insurance Company | Average Annual Rates |
| --- | --- | --- |
| 1 | Farmers | $939 |
| 2 | State Farm |  955 |
| 3 | GEICO |  974 |
| 4 | Liberty Mutual |  1,239 |
| | Average |  1,027 |
The above rates were obtained for a sample property. We urge homeowners to find quotes from multiple companies and compare them to find the best rates for themselves.
Best Homeowners Insurance Rates in Idaho: by City
The cost of insuring our model home, in the following five cities, was approximately $965 annually. These cities are generally located in the southern regions of Idaho, with Meridian and Kuna being the northern-most places on the list.
| | | | |
| --- | --- | --- | --- |
| Rank | City | Average Premium | Change vs. State Average |
| 1 | Pocatello | $937 | -10% |
| 2 | Twin Falls | $969 | -7% |
| 3 | Kuna | $971 | -7% |
| 4 | Mountain Home | $972 | -7% |
| 5 | Meridian | $975 | -6% |
Pocatello, ID
The cheapest home insurance prices in Idaho can be found in Pocatello. The property included in our study averaged homeowners insurance premiums of $937 per year – that's 10% cheaper than the statewide mean. The city is named after Chief Pocatello, a leader of the Shoshone Native Americans, who ever very active in the Idaho territory. Much of the Pocatello's economy is built around the education industry. Idaho state University and the Pocatello/Chubbuck School District serve as city's top employers – close to 1 in 10 residents work for one of these two institutions. 
Twin Falls, ID
Twin Cities us a city in southern Idaho, with a population of 44,000 people. The city has been the inspiration for various media, including movies to video games. One of the protagonists of Resistance, a popular video game PlayStation franchise, is from Twin Falls. Parts of the game even take place in a fictionalized version of the city. The average price to insure our benchmark home in Twin Falls significantly cheaper than most other cities Idaho cities - $969 for a one year policy.
Kuna, ID
Kuna is one of Idaho's fastest growing cities. The latest census showed the population of Kuna to be 15,000 – compared to just 5,000 a decade earlier. One of those residents was Medal of Honor recipient Bernard Fisher, for whom Kuna was the hometown. Our sample home in the city was quoted insurance premiums around $971 – 7% more affordable than the majority of the Idaho.
Mountain Home, ID
Mountain Home, the largest city in Elmore County, is home to 14,000 residents and one of 59 air force U.S. air force bases – the Mountain Home Air Force Base. Other than F15 bombers, the city has housed several notable residents over the years, including 5-time Grammy Award winner, Victor Wooten. The homeowners insurance prices in Mountain Home were music to our ears – the property we examined averaged rates of $972 per year.
Meridian, ID
Meridian is the third largest city in the state of Idaho. The city is located just 11 miles outside the state capital, Boise. Meridian is nicknamed the "Center of Treasure Valley" due to both its location and the name of surrounding geographical territory. Typical home insurance prices we came across in Meridian were in the neighborhood of $975 per year, for a one year policy.
Cities with the Most Expensive Homeowners Insurance in Idaho
The most expensive places for homeowners to insure their property, in Idaho, were all found among the central and northern reaches of the state. The typical price of 1-year home insurance policy in these cities and towns, for the home we studied, was $1,155. Many different factors can contribute to a place having elevated home insurance rates. Things such as a town being serviced by a volunteer fire department, to the costs of manual labor and construction all have a direct impact on the price of insurance premiums.
| | | | |
| --- | --- | --- | --- |
| Rank | City | Average Premium | Change vs. State Average |
| 1 | Ketchum | $1,178 | 13% |
| 2 | Mccall | $1,172 | 13% |
| 3 | Priest River | $1,164 | 12% |
| 4 | Bonners Ferry | $1,136 | 9% |
| 5 | Council | $1,124 | 8% |
Ketchum, ID
Ketchum is located in the Wood River Valley, beneath Bald Mountain. Due to the mountain's famous ski trails, is attracts quite a bit of tourists. Growing up in Ketchum, so close to the mountain, heavily influenced the careers of several residents who went on to become Olympic alpine ski racers, professional skiers, and famous mountaineers. The only thing which towers over Ketchum more than the nearby mountains are its home insurance prices. The average cost insuring our benchmark home in Ketchum was $1,178 – 13% higher than the Idaho average.  
McCall, ID
McCall is a town in Valley County, Idaho. The town is located on Payette Lake, near Payette National Forest. Due to lakefront recreational areas, forests, and ski trails, McCall is one of Idaho's major tourism hot spots. As with many resort towns, visitors tend to bring with them elevated crime rates. McCall's crime rates are nearly triple that of the Idaho state average. Elevated crime rates come correlate with higher home insurance prices. McCall is no exception. It costs, on average, 13% more to insure our model property in this city – roughly $1,172 for a one year policy.
Priest River, ID
Priest River is located near the northern tip of Idaho. More specifically, the city is located near the mouth of Priest River along the Pend Oreille River – it is the former for which the city is named after. Priest River has just under 2,000 residents, close to half of whom are married couples living together. The average annual cost of insuring the home included in our study here was $1,164.
Bonners Ferry, ID
The city of Booners Ferry is located along the bank of the Kootenai River. Famous silent film era actress, Claire Du Brey, was born in this city. The surrounding river valleys, mountains, and forests make the city quite scenic and picturesque. Unfortunately, the home insurance prices in Bonners Ferry are not so pretty to look at. Our model home was quoted, on average, insurance premiums around $1,136.
Council, ID
Council, Idaho, is the smallest city on our list and the fifth most expensive place to insure home in the state. Despite its low population, Council has produced several notable sons and daughters. One of the most prestigious Council natives was James Rainwater, a Nobel laureate in Physics. When we went to insure our sample property in Council, we typically collected prices around $1,124, or 8% higher than the Idaho statewide average.
Cost of Homeowners Insurance in Idaho: by City
The average cost of insuring our benchmark home in Idaho was approximately $1,041. There was little variation between cities when compared to some other states. The price difference between the cheapest and most expensive cities for homeowners insurance in Idaho is approximately $242 per year. You can find a list of all the cities included in our study below – listed from least to most expensive. The number on the right of each city represents its average annual premium.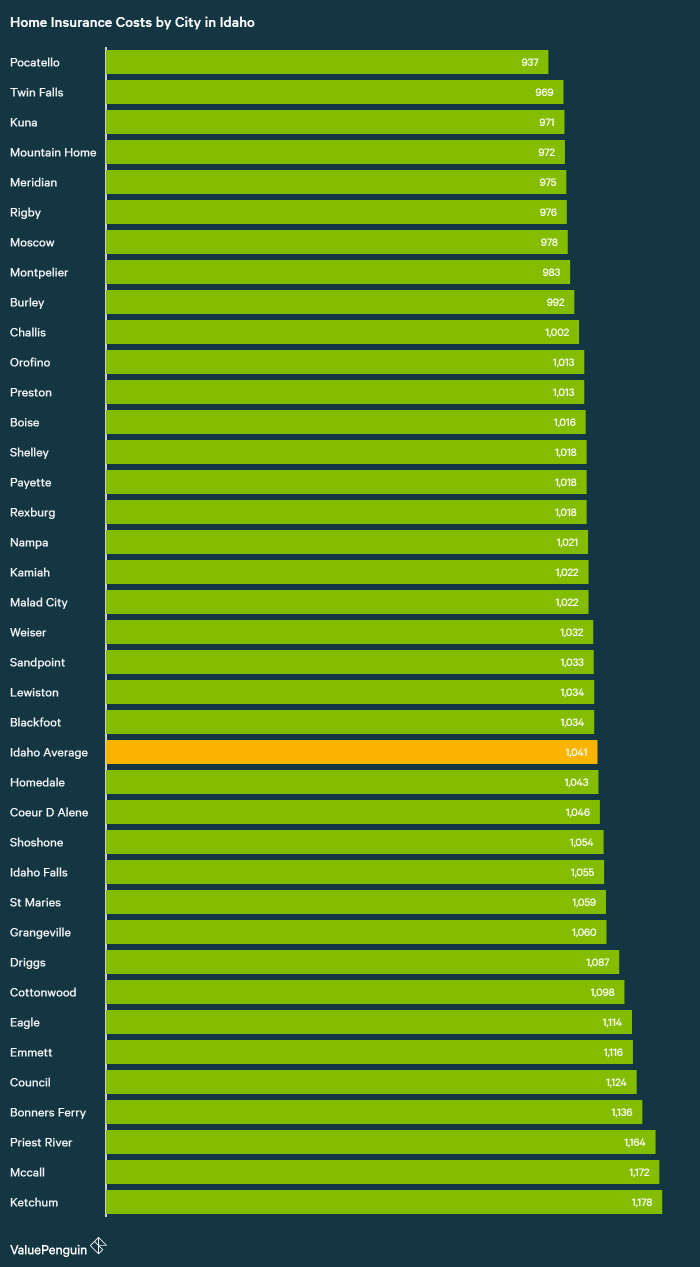 Methodology
Our study looked at quotes from 38 different cities in Idaho. Prices were collected from 4 different insurance companies (GEICO, Liberty Mutual, State Farm, and Farmers). The benchmark home was a 2,000 square foot property, with a garage attachment, and 1 and a half bathrooms. The homeowner who was looking to get insurance in these cities and towns was a 41 year old, non-smoking male, who owned no pets. He also had no prior claim history. All the cities in our study are listed below in alphabetical order.
| | | | |
| --- | --- | --- | --- |
| Rank | City | Average Premium | Change vs. State Average |
| 23 | Blackfoot | $1,034 | 1% |
| 13 | Boise | $1,016 | 2% |
| 35 | Bonners Ferry | $1,136 | 9% |
| 9 | Burley | $992 | 5% |
| 10 | Challis | $1,002 | 4% |
| 25 | Coeur D Alene | $1,046 | 0% |
| 31 | Cottonwood | $1,098 | 5% |
| 34 | Council | $1,124 | 8% |
| 30 | Driggs | $1,087 | 4% |
| 32 | Eagle | $1,114 | 7% |
| 33 | Emmett | $1,116 | 7% |
| 29 | Grangeville | $1,060 | 2% |
| 24 | Homedale | $1,043 | 0% |
| 27 | Idaho Falls | $1,055 | 1% |
| 18 | Kamiah | $1,022 | 2% |
| 38 | Ketchum | $1,178 | 13% |
| 3 | Kuna | $971 | 7% |
| 22 | Lewiston | $1,034 | 1% |
| 19 | Malad City | $1,022 | 2% |
| 37 | Mccall | $1,172 | 13% |
| 5 | Meridian | $975 | 6% |
| 8 | Montpelier | $983 | 6% |
| 7 | Moscow | $978 | 6% |
| 4 | Mountain Home | $972 | 7% |
| 17 | Nampa | $1,021 | 2% |
| 11 | Orofino | $1,013 | 3% |
| 15 | Payette | $1,018 | 2% |
| 1 | Pocatello | $937 | 10% |
| 12 | Preston | $1,013 | 3% |
| 36 | Priest River | $1,164 | 12% |
| 16 | Rexburg | $1,018 | 2% |
| 6 | Rigby | $976 | 6% |
| 21 | Sandpoint | $1,033 | 1% |
| 14 | Shelley | $1,018 | 2% |
| 26 | Shoshone | $1,054 | 1% |
| 28 | St Maries | $1,059 | 2% |
| 2 | Twin Falls | $969 | 7% |
| 20 | Weiser | $1,032 | 1% |
Comments and Questions