Who Has the Cheapest Homeowners Insurance Quotes in Arizona?
Find the Cheapest Insurance Quotes in Your Area
Arizona, nicknamed the "Copper State" for its bountiful copper reserves, is the sixth largest state in the US. Though known mostly for its desert climate, Arizona has lush pine forests spanning its northern territories. Arizona is also the home of the world famous Grand Canyon State Park. The state has more land devoted to Native American reservations than any other state in the nation. These are just two examples of the natural beauty and areas of recreation that homeowners and residents of Arizona have access to.
ValuePenguin researchers performed a comprehensive study into homeowners insurance rates in 51 of Arizona's most populous cities. Through this study, we were able to deduce which cities offered the lowest average annual premiums for home insurance. We found that insurance costs varied from as low as $990 per year to as high as $1,653 in some areas. The overall state average from the analysis for our profiled property is $1,275. Additionally, depending on which company homeowners decide to get insurance quotes from, rates can vary by as much as 87% from the most expensive to the cheapest insurer. Read more below, or enter your zip code into our quote tool to begin searching for homeowners insurance quotes.
Cheapest Homeowners Insurance Companies in Arizona
Our analysis included four major national home insurance companies underwriting in Arizona. We looked at home insurance quotes for a sample $200,000 property across 51 cities in towns in the Grand Canyon State, and averaged their rates. Here are the companies presented with their mean annual premiums, with State Farm and Progressive ranking as the best home insurance companies for the lowest rates in the state.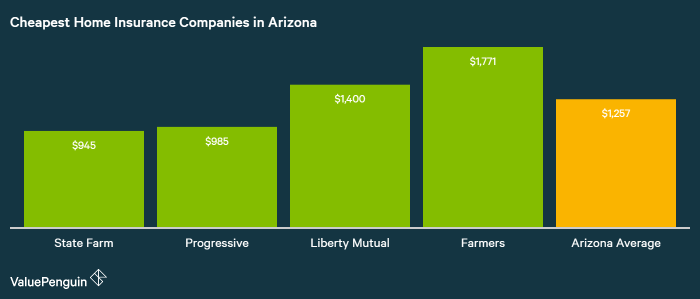 This varies by location, however, as there were certain cities where Progressive was the company with the best rates. We always urge homeowners to look for insurance quotes from at least three providers to make sure they're getting the best rates for themselves.
Best Homeowners Insurance Companies in Arizona: by City
The cheapest cities for homeowners insurance in Arizona were spread throughout the entire state, from as far south as Sierra Vista and Tombstone to as far north as Flagstaff. The average cost of homeowners insurance for these states was $1,049 – 18% better than the state average.
| | | | |
| --- | --- | --- | --- |
| Rank | City | Average Annual Rates | Change vs State Average |
| 1 | Sierra Vista | $990 | -23% |
| 2 | Flagstaff | $1,041 | -19% |
| 3 | Prescott | $1,060 | -17% |
| 4 | Tombstone | $1,061 | -17% |
| 5 | Safford | $1,092 | -15% |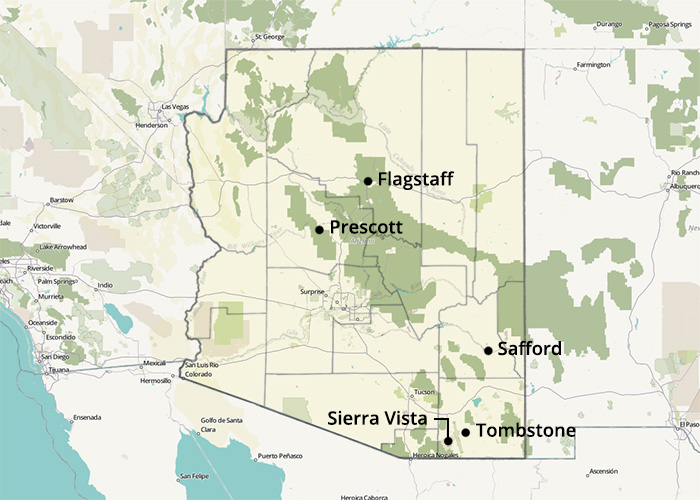 Sierra Vista, AZ
Sierra Vista, meaning "Mountain View" in Spanish, is a small town located just 30 miles north of the US-Mexico border. As its name suggests, Sierra Vista is situated in a mountainous terrain, giving residents spectacular views of the Huachuca Mountains, which span the south and southwest limits of the city. ValuePenguin analysts found the cheapest homeowner insurance rates in Arizona in Sierra Vista. Annual premiums cost an average of $990, which is 23% more affordable than the state average of $1,275. 
Flagstaff, AZ
Flagstaff is located in the world's largest ponderosa pine forest. This mountain town lies 7,000 feet above sea level. The famous Route 66 also runs directly through Flagstaff. Due to the city's altitude, this is the famous highway's highest elevation in its entire 2,450 mile long journey. Flagstaff offers the second cheapest homeowner insurance rates in Arizona. With an average premium of $1,041 per year, Flagstaff performs 19% better than the state mean.
Prescott, AZ
Lying 55 miles northwest of the geographic center of Arizona, Prescott is the county seat of Yavapai County. The city is in close proximity to Thumb Butte and Granite Mountains. Prescott also served as Arizona's state capital until the year 1867. Those seeking to insure their homes in Prescott can see rates of around $1,060, which is 17% cheaper than the state mean. 
Tombstone, AZ
Tombstone is an iconic city, rich in history and pop culture. From songs by Bob Dylan and Johnny Cash to films to television shows and movies, Tombstone has inspired many who enjoy its Wild West image. While some might worry that a history of gunslingers and rowdy cowboys might make insurance companies sweat about property damage, nothing could be further from the truth. Tombstone residents enjoy average annual premiums which are 17% lower than Arizona's mean – homeowner insurance rates here are on average $1,061 per year.
Safford, AZ
Safford is a small town of just under 10,000 residents. Located 82 miles northeast of Tuscon, the city of Safford had humble beginnings as a pioneer town. Now far removed from its pioneer days, Safford's Mount Graham International Observatory offers visitors and residents a look into the future, at what some call the "final frontier". The area also holds an annual Harvest Festival and Graham County Fair each October. On average, homeowners insurance premiums in Safford cost $1,092, 15% below the state mean. This earns Safford the final spot on ValuePenguin's list of cities with the cheapest homeowners insurance rates in Arizona.
Most Expensive Homeowners Insurance in Arizona
The top five most expensive cities in Arizona for homeowners insurance had an average of $1,599 per year. That's 25% more expensive than the Arizona state average. The cities were all situated towards the middle of the state, just south of Tonto National Forest. 
| | | | |
| --- | --- | --- | --- |
| Rank | City | Average Annual Rates | Change vs State Average |
| 1 | Glendale | $1,653 | 29% |
| 2 | Maricopa | $1,646 | 28% |
| 3 | Phoenix | $1,629 | 27% |
| 4 | Cave Creek | $1,597 | 25% |
| 5 | Casa Grande | $1,472 | 15% |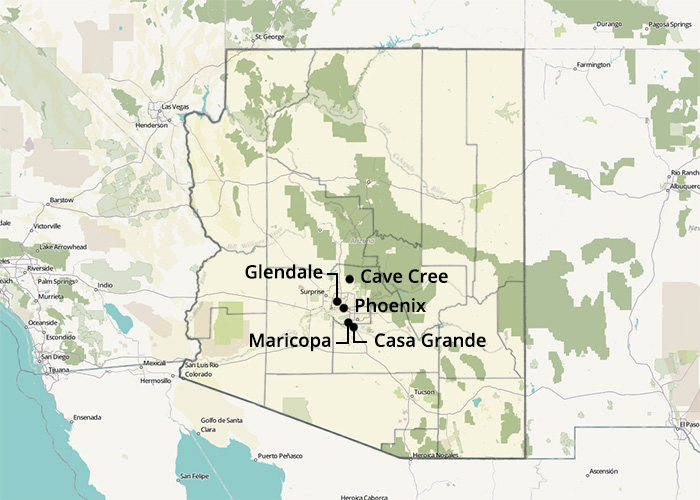 Glendale, AZ
While Glendale ranks as Arizona's 5th most populated city, it lands the number 1 spot on a less favorable list. Glendale is home to the Arizona Cardinals, who represent the state in the NFL. Glendale is the most expensive city to insure a house in Arizona. Average homeowners insurance premiums of $1,653 make Glendale 29% more expensive than the state average. This is in part due to Glendale's above average crime rate, which is higher than both the national and state averages. Higher crime rates tend to be correlated with a greater probability of property damage, which gets reflected in more expensive rates.
Maricopa, AZ
Maricopa is a city located just 40 minutes outside of Phoenix. It has the second highest average home insurance rates in the state of Arizona. This is, in part, due to Maricopa's history of tornados. While there has been no tornado in the last decade, Maricopa had frequent magnitude 2 tornados in the prior decades. This sort of history causes insurance companies to increase premiums out of concern that they may be liable to pay damages sustained to homes in the event of tornado damage. As a result, Maricopa homeowners pay on average 28% higher insurance premiums than the rest of the state. The city's average homeowners insurance costs $1,646 per year. 
Phoenix, AZ
Phoenix is both the capital and largest city in Arizona. The city is also the 6th most populated city in the nation and the most populated capital city. To basketball fans, Phoenix is best known as the home of the Phoenix Suns. Those living in major cities often see high homeowner insurance rates. Phoenix is no different. Phoenix is the 3rd most expensive city when it comes to insuring your home in Arizona. Insurance premiums here on average cost $1,629 – 27% above the state average of $1,275
Cave Creek, AZ
Though a small town of just 5,000 residents, Cave Creek has quite the repertoire of famous residents. This small Arizona city is the home of Twilight author Stephanie Meyer as well as rapper and actor DMX. Being a famous author of vampire novels certainly can go a long way in paying Cave Creek's above average homeowners insurance rates. Homeowners in Cave Creek see an average of $1,597 per year for their insurance. 
Casa Grande, AZ
Casa Grande is located roughly halfway between Tucson and Phoenix. The city is home to around 50,000 people. Casa Grande's major employers are its Elementary School District, followed closely by the Banner Casa Grande Medical Center and Walmart. Out of this list of most expensive cities for home insurance, Casa Grande has the highest crime rate leading to higher homeowners insurance rates. Residents see an average of $1,472 annually, which is 15% above the state mean.
Average Cost of Homeowners Insurance in Arizona: by City
Below is an ordered list of the 51 cities ValuePenguin analyzed. We ranked the cities from cheapest to most expensive. The number in the chart represents the mean insurance premium for each city per year.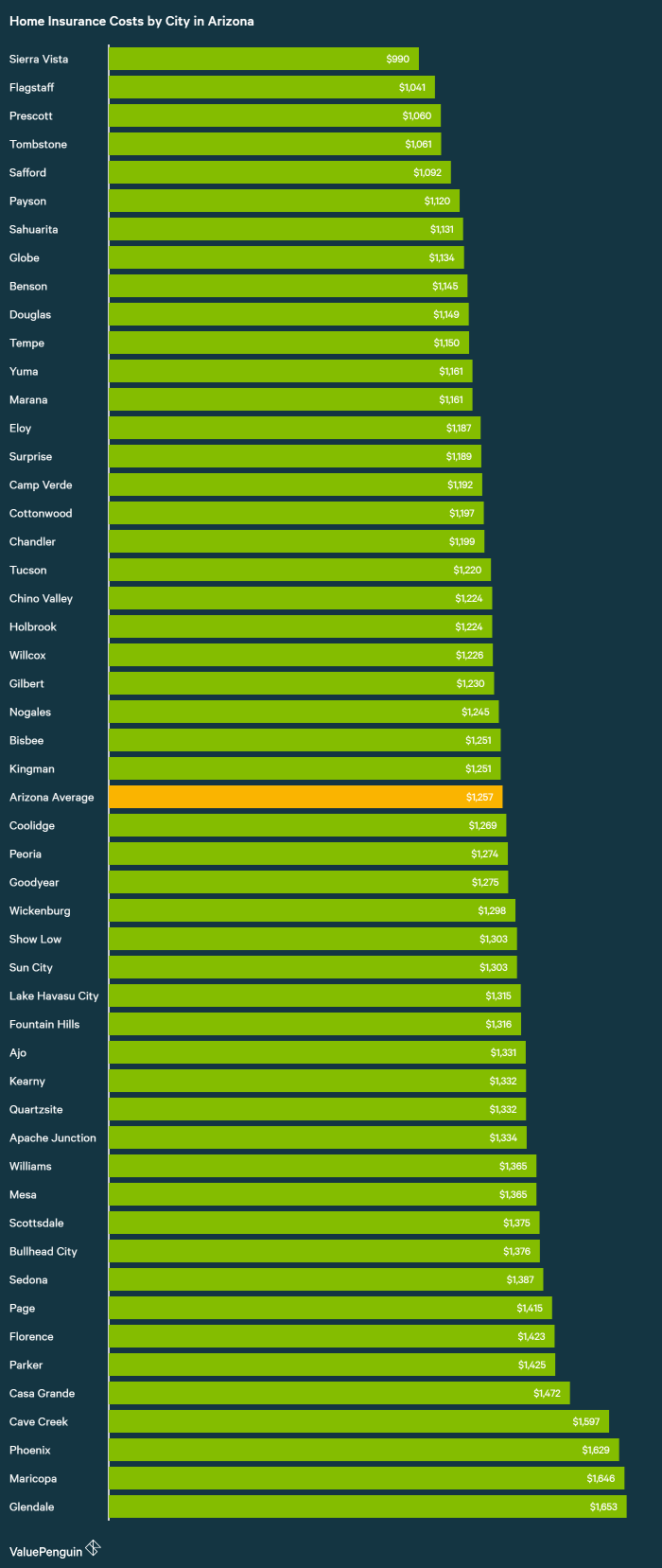 Methodology
We studied 51 cities spread throughout the state of Arizona. In order to obtain the mean annual premiums, the rates of four different home insurance companies (Progressive, Liberty Mutual, State Farm, Farmers) were collected and averaged. The sample property selected for this study was an average home, consisting of 2 stories, 1.5 baths, and approximately 2,000 square feet in size. The houses were valued at approximately $200,000. Additionally, presented below are all of the cities in our study for readers to peruse in alphabetical order. We've presented the average cost in each city for this sample property, and included its increase or decrease compared to the statewide average. The rank refers to its place in an ordered list from cheapest to costliest.
| | | | |
| --- | --- | --- | --- |
| Rank | City | Average Insurance Rates | Change |
| 35 | Ajo | $1,331 | 4% |
| 38 | Apache Junction | 1,334 | 5% |
| 9 | Benson | 1,145 | -10% |
| 25 | Bisbee | 1,251 | -2% |
| 42 | Bullhead City | 1,376 | 8% |
| 16 | Camp Verde | 1,192 | -7% |
| 47 | Casa Grande | 1,472 | 15% |
| 48 | Cave Creek | 1,597 | 25% |
| 18 | Chandler | 1,199 | -6% |
| 20 | Chino Valley | 1,224 | -4% |
| 27 | Coolidge | 1,269 | -1% |
| 17 | Cottonwood | 1,197 | -6% |
| 10 | Douglas | 1,149 | -10% |
| 14 | Eloy | 1,187 | -7% |
| 2 | Flagstaff | 1,041 | -18% |
| 45 | Florence | 1,423 | 12% |
| 34 | Fountain Hills | 1,316 | 3% |
| 23 | Gilbert | 1,230 | -4% |
| 51 | Glendale | 1,653 | 30% |
| 8 | Globe | 1,134 | -11% |
| 29 | Goodyear | 1,275 | 0% |
| 21 | Holbrook | 1,224 | -4% |
| 36 | Kearny | 1,332 | 4% |
| 26 | Kingman | 1,251 | -2% |
| 33 | Lake Havasu City | 1,315 | 3% |
| 13 | Marana | 1,161 | -9% |
| 50 | Maricopa | 1,646 | 29% |
| 40 | Mesa | 1,365 | 7% |
| 24 | Nogales | 1,245 | -2% |
| 44 | Page | 1,415 | 11% |
| 46 | Parker | 1,425 | 12% |
| 6 | Payson | 1,120 | -12% |
| 28 | Peoria | 1,274 | 0% |
| 49 | Phoenix | 1,629 | 28% |
| 3 | Prescott | 1,060 | -17% |
| 37 | Quartzsite | 1,332 | 4% |
| 5 | Safford | 1,092 | -14% |
| 7 | Sahuarita | 1,131 | -11% |
| 41 | Scottsdale | 1,375 | 8% |
| 43 | Sedona | 1,387 | 9% |
| 31 | Show Low | 1,303 | 2% |
| 1 | Sierra Vista | 990 | -22% |
| 32 | Sun City | 1,303 | 2% |
| 15 | Surprise | 1,189 | -7% |
| 11 | Tempe | 1,150 | -10% |
| 4 | Tombstone | 1,061 | -17% |
| 19 | Tucson | 1,220 | -4% |
| 30 | Wickenburg | 1,298 | 2% |
| 22 | Willcox | 1,226 | -4% |
| 39 | Williams | 1,365 | 7% |
| 12 | Yuma | 1,161 | -9% |
Sources:
Census Data for Arizona: https://quickfacts.census.gov/qfd/states/04000.html
Arizona Homeowners Insurance Guide: https://www.azinsurance.gov/consumerhomefaq.html
Image Courtesy of pagedooley / Flickr: https://flic.kr/p/96sy46
Comments and Questions