Who Has the Cheapest Homeowners Insurance Quotes in South Carolina?
Find the Cheapest Insurance Quotes in Your Area
Contents
Thanks to the significant amount of coastal living and properties in near proximity to east coast storms, South Carolina has the 11th highest homeowners insurance rates in the US. But we wanted to take that a step further as not to lump ALL of South Carolina in as one standalone figure. As it turns out, there's a significant difference between the price of homeowners insurance across the state. From $700 per year to over $2,400 annually, and everywhere in between. The rates you can pay to insure your property in SC will vary greatly depending on what part of the state you call home. Read more below, or enter your zip code above to begin finding homeowners insurance quotes.
Cheapest Homeowners Insurance Companies in South Carolina
Interested in knowing which homeowners insurance companies had the best rates in the state? Our team analyzed quotes from 18 companies for sample properties with a masonry and frame construction to see how insurers ranked in the state. Our graph below shows the eight best home insurance companies in South Carolina who have the lowest rates: Universal, Pacific, American Strategic, Federal, Allied, Allstate, PURE, and The Hartford. The table after shows the full list of providers with their rates.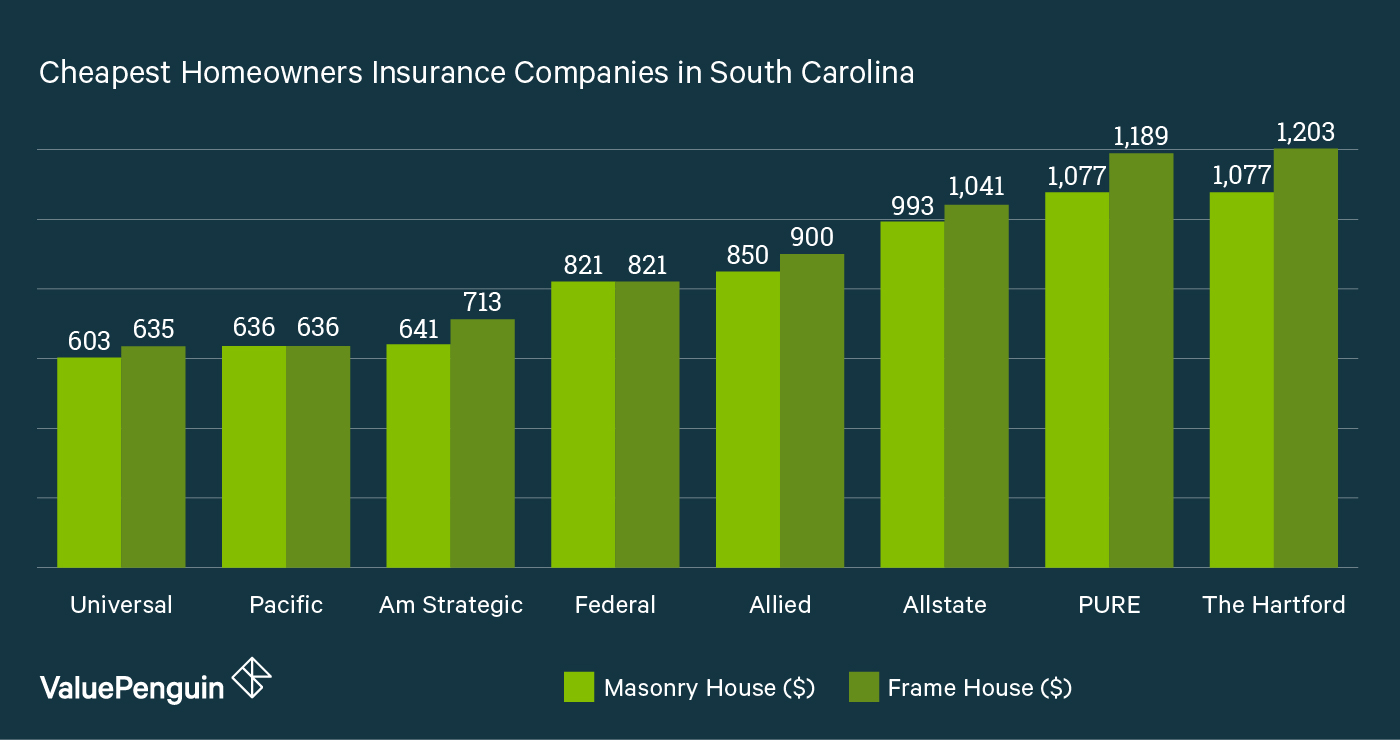 | | | | |
| --- | --- | --- | --- |
| Insurance Company | Masonry | Frame | Average |
| Universal Insurance | $603 | $635 | $619 |
| Pacific Insurance | $636 | $636 | $636 |
| American Strategic Insurance  | $641 | $713 | $677 |
| Federal Insurance  | $821 | $821 | $821 |
| Allied  | $850 | $900 | $875 |
| Allstate | $993 | $1,041 | $1,017 |
| The Hartford | $1,077 | $1,203 | $1,140 |
| Privilege Underwriters (PURE) | $1,077 | $1,189 | $1,133 |
| South Carolina Farm Bureau | $1,077 | $1,237 | $1,157 |
| Safeco Insurance  | $1,085 | $1,142 | $1,114 |
| Chartis Casualty | $1,096 | $1,185 | $1,141 |
| Foremost Insurance  | $1,099 | $1,238 | $1,169 |
| USAA | $1,111 | $1,231 | $1,171 |
| Trumbull Insurance | $1,115 | $1,138 | $1,127 |
| Travelers Insurance | $1,334 | $1,506 | $1,420 |
| State Farm | $1,472 | $1,669 | $1,571 |
| Owners Insurance  | $1,505 | $1,679 | $1,592 |
| Auto-Owners | $1,983 | $2,211 | $2,097 |
Best Homeowners Insurance Rates in South Carolina: by City
It's no surprise that the cheapest counties for homeowners insurance in South Carolina are inland and far away from the large storms that can blow in off the Atlantic Ocean. The two cheapest areas are:
Greenville County
The county of Greenville is home to almost 475,000 people (60,000+ of which live in the county seat of Greenville). The area is no stranger to awards with Greenville has been recognized as a top city for Young Professionals, Job Searchers, and is also one of the Fastest Growing cities in the United States according to CNN. For residents looking to purchase homeowners insurance for their abode, they'll be happy to know that rates in Greenville county are cheaper than any place in South Carolina. Annual premiums average $702 which is 35% cheaper than the state average.
York County
Bordering the state boundary line and North Carolina to its north, York County comes in 2nd place behind Greenville for the cheapest home insurance prices in SC. York County is slightly smaller than Greenville with only 240,000 citizens (although it's still the 7th largest county in the state). According to Trulia.com, the average home price in York County is the 13th highest in the state. Fortunately, while home prices might be on the higher end, home insurance costs are only $708 per year or $59 monthly, on average!
Most Expensive Homeowners Insurance in South Carolina
Our two most expensive counties sit right next door to each other along the coast of South Carolina. With the number of tropical storms and even hurricanes that blow through this area on an annual basis it's not shocking to find out that these parts of SC are more expensive than others. 
Charleston County
Sitting right in the middle of the South Carolina state coastline, Charleston is a beautiful oceanfront town with a rich history, beautful architecture, and loads of adventurous fun to be had. On the flip side, the 350,000 residents of Charleston County pay housing prices that are higher than any other place in the state and unfortunately the news doesn't get better with insurance prices. Average annual premiums for homeowners insurance in Charleston run around $2,410 which is 340% more than in Greenville!
Georgetown County
Charleston's neighbor to the northeast, Georgetown County, is much smaller population-wise with around 60,000 residents, but its insurance prices are still incredibly high because of its location on the Atlantic Ocean. Insurance premiums are $11 cheaper than in Charleston at $2,399 per year or $200 each month.
Average Cost of Homeowners Insurance in South Carolina: by City
We looked at all 46 counties in South Carolina and have listed them from cheapest to most expensive in the chart below. The dollar figures represent the average annual premium a homeowner would pay for their insurance in each respective county.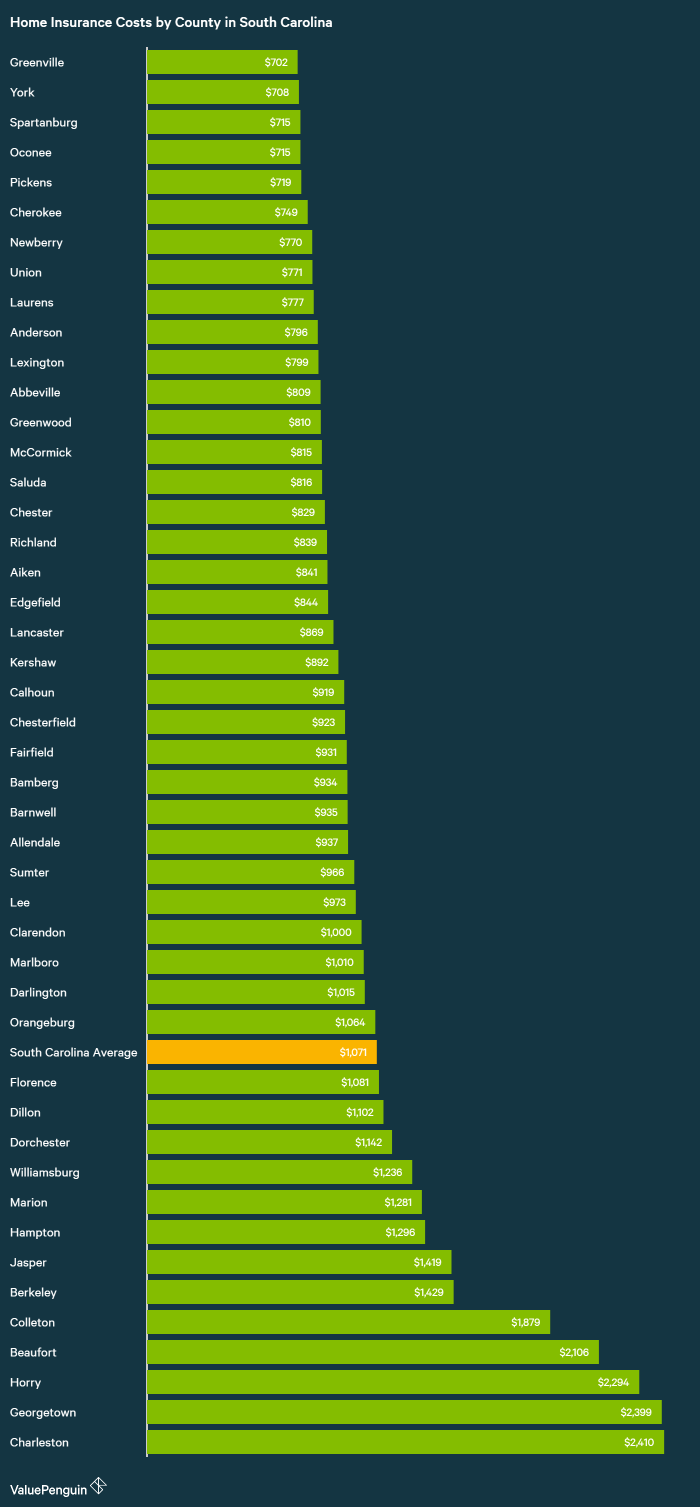 Study Methodology
The premiums we analyzed are for a single familly, owner occupied home with $150,000 of insurance written on Form HO-3 or equivalent with full replacement costs. Our hypothetical owners also has a 5-year loss history that is claim free. The policy has a $500 deductible and the insured home was built in 2005. We looked at rates for both a Masonry house in addition to a Frame house. 
Surveyed homeowners insurance costs in South Carolina are for illustrative purposes only and actual quotes will vary based on your physical residence, claims history, and other factors.
Comments and Questions