Who Has the Cheapest Homeowners Insurance Quotes in Nebraska?
Find the Cheapest Insurance Quotes in Your Area
Nebraska, whose name derives from the Otoe words for "flat water", is in the Midwestern United States. The state lies in the path of the so-called "Tornado Alley", and experiences a wide variety of weather – from severe thunderstorms to tornadoes. Nebraska's economy is largely based around the production of beef, pork, corn and soybeans. Its terrain is made up of largely of vast prairies, which make it perfect for cattle-grazing.
We set out to study homeowners insurance rates in Nebraska, with the intention of brining greater transparency as to the cost of owning a home in the state. Prices can vary widely from city to city – sometimes by as much as 85%. We examined prices in 41 cities throughout Nebraska, always studying the same benchmark home. Our analysis found that the statewide average home insurance rate is $2,982 per year.
Cheapest Homeowners Insurance Companies in Nebraska
To find the cheapest homeowners insurance providers in Nebraska, we collected quotes from major insurance carriers for a sample property of 2,000 square-feet. From our sample homeowners policy, we found that State Farm provided the most affordable average annual rate at $2,742. Below is a table that lists the mean annual premium for State Farm, Farmers, Allstate, and Liberty Mutual from cheapest to most expensive:
| Rank | Cheapest Homeowners Insurance Companies | Average Annual Rates |
| --- | --- | --- |
| 1 | State Farm | $2,742 |
| 2 | Farmers | 2,852 |
| 3 | Allstate | 3,154 |
| 4 | Liberty Mutual | 3,167 |
| | Average | 2,979 |
The above rates were calculated for a sample property. To find the best rates for yourself, we recommend finding quotes from multiple companies and comparing them.
Best Homeowners Insurance Rates in Nebraska: by City
The cities with the cheapest homeowners insurance rates in Nebraska are all found within a very close cluster, to the south of Omaha, in the southeastern corner of the state. The cost of a 1-year home insurance policy in these cities, for our model property, was on average $2,344.
| | | | |
| --- | --- | --- | --- |
| Rank | City | Average Premium | Change vs. State Average |
| 1 | Papillion | $2,060 | -31% |
| 2 | Bellevue | $2,354 | -21% |
| 3 | Lincoln | $2,392 | -20% |
| 4 | Ralston | $2,413 | -19% |
| 5 | Nebraska City | $2,501 | -16% |
Papillion, NE
The cheapest home insurance rates in Nebraska can be found in the city of Papillion, in Sarpy County. The cost of insuring our home in Papillion was, on average, $2,060 – 31% more affordable than the statewide mean. It is no surprise that, in 2010, Bloomberg BusinessWeek named Papillion the 2nd Most Affordable Place to Live in America. Papillion is also the home of the Omaha Storm Chasers, one of the best Triple-A minor league baseball teams in the nation.
Bellevue, NE
From the French for "beautiful view", Bellevue is a city just 10 miles outside of Omaha, Nebraska's largest city. The city grabbed national attention when it was featured on, and won, the "Tournament of Things" on the Late Night with Seth Mayers, in 2015. There it was voted favorite, over a list of random objects and concepts, including universal remotes, oboes, and mason jars. One more thing which Bellevue has beaten is home insurance rates. The average home insurance premium in the city, for our benchmark property, was $2,354.
Lincoln, NE
Lincoln is the state capital of Nebraska, and its second-largest city. Many famous and notable people were either born or lived in Lincoln, including ex-Vice President Dick Cheney, actress Sandy Dennis, and Medal of Honor recipient Richard Cowan. Being a state capital, Lincoln has no shortage of attractions. The city is teaming with tourist attractions - everything from historic sites to museums and Sunken Gardens. One thing to gaze upon, when visiting Lincoln, are its affordable homeowners insurance prices. The home included in our study was typically quoted prices in the neighborhood of $2,392.
Ralston, NE
Ralston is a city of roughly 7,000 residents, in Douglas County. The city is surrounded on three sides by Omaha – despite this, Ralston is an independent city. In 2012, the Ralston Arena opened in the city, becoming a major attraction in the area. The arena serves as a sports venue for the local Omaha Lancers, UNO Mavericks, and the Omaha Beef, as well as occasional musical concerts and performances. Home insurance prices in Ralston are 12% more affordable than the surrounding area, and 19% better than the statewide average. The cost of insuring our model home in Ralston was, on average, $2,413.
Nebraska City, NE
"The Home of Arbor Day", Nebraska City is a city of 7,000 residents. The nation's third Secretary of Agriculture, Julius Sterling Morton, lived and operated out of Nebraska City. It was due to his initiatives that the United States began celebrating Arbor Day – a holiday during which people plant trees to promote caring for the environment. The first of these days, within the United States, was held in Nebraska City on April 10, 1872. Perhaps trees are conducive to low homeowners insurance rates, because Nebraska City has some of the state's lowest. Our study showed the average price for a 1-year home insurance policy in the city was $2,501 – 16% better than the statewide average.
Most Expensive Homeowners Insurance in Nebraska
| | | | |
| --- | --- | --- | --- |
| Rank | City | Average Premium | Change vs. State Average |
| 1 | Broken Bow | $3,810 | 28% |
| 2 | Ord | $3,722 | 25% |
| 3 | Hastings | $3,649 | 22% |
| 4 | Aurora | $3,624 | 22% |
| 5 | Superior | $3,549 | 19% |
The cost of insuring our sample home in the following cities was, on average, $3,671 – or 23% higher than the statewide average. High insurance prices can be a result of a number of different factors – anything from severe weather to the costs of labor or construction in the area. For instance, greater tornado activity correlates with high home insurance rates. These rates mean an increased likelihood of homes these types of areas sustaining damage, for which insurers will have to pay. To cover this greater liability, insurance companies respond by increasing their premium costs. 
Broken Bow, NE
Broken Bow is a city in Custer County, with approximately 3,000 residents. We found the most expensive home insurance rates for our benchmark home, right here in Broken Bow. The average cost of insuring the home here was roughly $3,810 per year – 28% greater than that in a typical Nebraska town. Luckily, the city has plenty of attractions in case you want to get away from high insurance rates. Things such as the Custer County Fairgrounds, hunting grounds, bowling lanes, and golf courses provide entertainment to Broken Bow visitors and residents alike.
Ord, NE
When we examined home insurance rates in Ord, Nerbaska we found the average price to be in the neighborhood of $3,722. For our benchmark home, this made Ord the second most expensive city for homeowners insurance in the state. The city was named after Major General Edward Ord, a prominent Civil War leader who played a pivotal role in events leading to the surrender of Confederate forces. Despite the above average home insurance rates, the cost of living in Ord was 11% better than the national average in 2014, due to housing, food, health, and transportation costs.
Hastings, NE
Hastings is the birthplace of a drink embedded in the childhood memories of millions of Americans, Kool-Aid. It was in Hastings, that in 1927 Edwin Perkins invented the powdered mix. In addition to sugary drinks, Hastings was named the "Greenest City" in America Yahoo, in 2007. The home insurance rates in Hastings are among Nebraska's most expensive. Insuring our benchmark property in the city would cost, on average, $3,649.
Aurora, NE
Aurora is a city of 4,000 individuals, located in Hamilton County. Due to the city's name, which has a strong association with light, it is fitting that one of its most notable residents was the inventor of the strobe light – a light device familiar to anyone who attended a haunted house or a dance club. Flashing lights, however, are not enough to blind us to Aurora's high home insurance premiums. On average, the cost of insuring our sample home here was 22% higher than the typical statewide price, at $3,624. 
Superior, NE
We found the fifth most expensive home insurance rates in Superior, Nuckolls County. The quotes obtained for a sample home in the city, from 4 different insurers, averaged out to $2,501 per year. Superior is a historic city, with many fantastic sights. One of the oldest structures in the city is the Kendall House, an 1898 Victorian era home. The entire downtown area of Superior is listed in the National Register of Historic Places.
Average Cost of Homeowners Insurance in Nebraska: by City
The average cost of home insurance in Nebraska is $2,982. The difference between the cheapest and most expensive cities for homeowners insurance is $1,750 annually. The cost of home insurance represents approximately 1.5% of the total cost of owning a $200,000 property, year to year. A full list of all the cities which we included in our study can be found below, ordered from least to most expensive. The number to the right of each city is its average annual premium.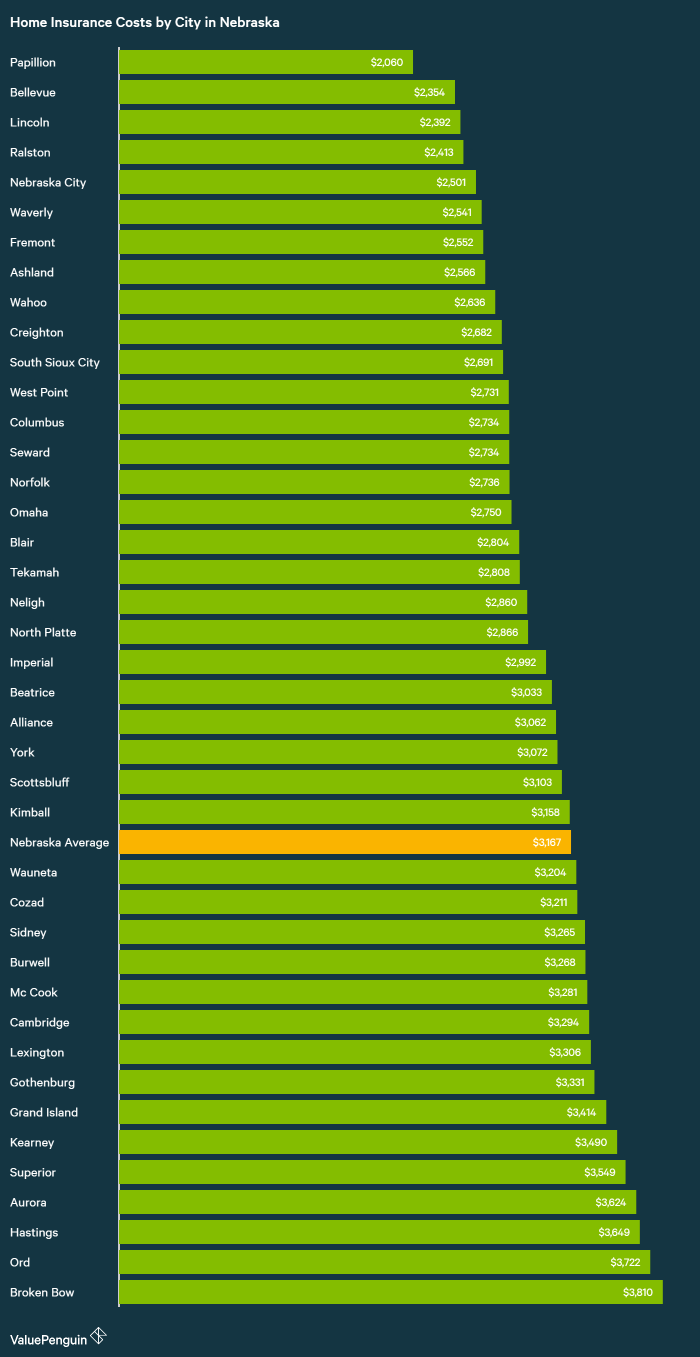 Methodology
Our study consisted of obtaining home insurance quotes for a benchmark property in 41 different Nebraska cities. The quotes were obtained from 4 major insurance companies – Allstate, Liberty Mutual, State Farm, and Farmers. The sample home was 2,000 square feet in size, had 1 and a half bathrooms, was 2 stories tall, and had a garage attachment (with no living space above it). The homeowner in our study was a 41-year-old single male, with a bachelor's degree and no pets. He also is a non-smoker, and is employed. All the cities from our study are listed below in alphabetical order.
| | | | |
| --- | --- | --- | --- |
| Rank | City | Average Premium | Change vs. State Average |
| 23 | Alliance | $3,062 | 3% |
| 8 | Ashland | $2,566 | -14% |
| 38 | Aurora | $3,624 | 22% |
| 22 | Beatrice | $3,033 | 2% |
| 2 | Bellevue | $2,354 | -21% |
| 17 | Blair | $2,804 | -6% |
| 41 | Broken Bow | $3,810 | 28% |
| 30 | Burwell | $3,268 | 10% |
| 32 | Cambridge | $3,294 | 10% |
| 13 | Columbus | $2,734 | -8% |
| 28 | Cozad | $3,211 | 8% |
| 10 | Creighton | $2,682 | -10% |
| 7 | Fremont | $2,552 | -14% |
| 34 | Gothenburg | $3,331 | 12% |
| 35 | Grand Island | $3,414 | 14% |
| 39 | Hastings | $3,649 | 22% |
| 21 | Imperial | $2,992 | 0% |
| 36 | Kearney | $3,490 | 17% |
| 26 | Kimball | $3,158 | 6% |
| 33 | Lexington | $3,306 | 11% |
| 3 | Lincoln | $2,392 | -20% |
| 31 | Mc Cook | $3,281 | 10% |
| 5 | Nebraska City | $2,501 | -16% |
| 19 | Neligh | $2,860 | -4% |
| 15 | Norfolk | $2,736 | -8% |
| 20 | North Platte | $2,866 | -4% |
| 16 | Omaha | $2,750 | -8% |
| 40 | Ord | $3,722 | 25% |
| 1 | Papillion | $2,060 | -31% |
| 4 | Ralston | $2,413 | -19% |
| 25 | Scottsbluff | $3,103 | 4% |
| 14 | Seward | $2,734 | -8% |
| 29 | Sidney | $3,265 | 10% |
| 11 | South Sioux City | $2,691 | -10% |
| 37 | Superior | $3,549 | 19% |
| 18 | Tekamah | $2,808 | -6% |
| 9 | Wahoo | $2,636 | -12% |
| 27 | Wauneta | $3,204 | 7% |
| 6 | Waverly | $2,541 | -15% |
| 12 | West Point | $2,731 | -8% |
| 24 | York | $3,072 | 3% |
Comments and Questions