Who Has the Cheapest Homeowners Insurance Quotes In Kentucky?
Find the Cheapest Insurance Quotes in Your Area
Kentucky, the "Bluegrass State", is located in the southeast region of the United States. The state is technically a commonwealth, one of only four in the nation – its official name being the Commonwealth of Kentucky. Widely known for its horse racing, the state hosts the annual Kentucky Derby – a world famous and renowned horse racing event. Outside of its horses, Kentucky is also well known for its chicken – especially of the fried variety. Kentucky Fried Chicken (KFC) is highly popular fast food restaurant chain, whose headquarters can be found in Louisville – the state's largest city.
We studied home insurance rates in the Commonwealth of Kentucky, in order to help potential homeowners to better understand the costs associated with owning property in this state. To do so we have examined home insurance rates in 95 cities throughout Kentucky, for a single benchmark home, across four different insurers. Our data shows that premiums vary drastically, city-to-city. We found the Kentucky statewide home insurance average to be $2,750, for the model property we analyzed. Read more below, or use our quote tool to begin searching for homeowners insurance quotes.
Cheapest Homeowners Insurance Companies in Kentucky
In order to find the cheapest homeowners insurance companies in Kentucky, our team at ValuePenguin wanted to conduct a study by collecting quotes from multiple insurance companies for a profiled property of 2,000 square-feet. For our sample homeowners policy, Nationwide provided the most affordable average annual rate at $1,253. Below is a table listing the insurance providers used in our study, ranked from cheapest to most expensive: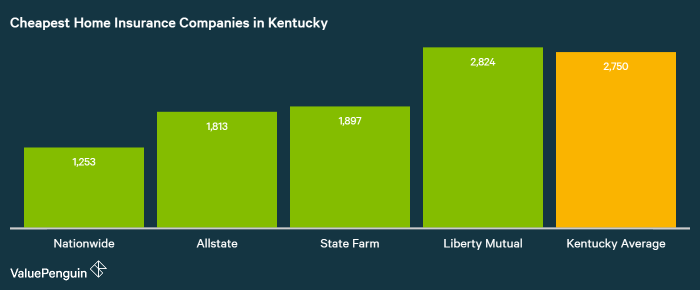 | Rank | Cheapest Homeowners Insurance Companies | Average Annual Rates  |
| --- | --- | --- |
| 1 | Nationwide | $1,253 |
| 2 | Allstate |  1,813 |
| 3 | State Farm |  1,897 |
| 4 | Liberty Mutual |  2,824 |
| | Average | 1,947 |
These rates were obtained for a profiled property. In order to find the best rates for yourself, we recommend searching for quotes from multiple companies and comparing them.
Best Homeowners Insurance Rates in Kentucky: by City
The cities and towns which had the cheapest home insurance prices in Kentucky were spread throughout its territory. Most of them were found to the east of Louisville – Kentucky's largest city. The average cost of insuring our model home in these locations was typically $2,005 – that is 27% lower than the statewide mean.
| | | | |
| --- | --- | --- | --- |
| Rank | Cities | Average Premium | vs State Average |
| 1 | Georgetown | $1,780 | -35% |
| 2 | Somerset | $1,886 | -31% |
| 3 | Brandenburg | $2,102 | -24% |
| 4 | Ashland | $2,124 | -23% |
| 5 | Brooksville | $2,134 | -22% |
Georgetown, KY
The cheapest home insurance prices in the entire commonwealth, for our sample property, were found in Georgetown. The average price of a home insurance premium here was just $1,780 – 35% more affordable than what we typically saw throughout the commonwealth. Georgetown is one of Kentucky's largest cities, with a population of 32,000. The first ever Toyota manufacturing plant in the United States was built in Georgetown, in 1988. The plant has been a major reason behind the city's growth, and to this day it serves as one of its largest employers.
Somerset, KY
Somerset is a city in Pulaski County, Kentucky, with a population of 11,000 residents. The city's proximity to Lake Cumberland attracts a great deal of tourism – historically, this has caused that particular industry to be a chief component of the city's economy. Seven months out of year, Somerset also hosts the monthly Somernites Cruise – a large classic car show. Due to the size and scope of the event, state legislators have dubbed Somerset "The Car Cruise Capital of Kentucky". Home insurance prices in Somerset were among Kentucky's best. The average price for a yearlong home insurance policy, for our model home in Somerset, was $1,886.
Brandenburg, KY
The city of Brandenburg is located along the Ohio River, across the way from the state of Indiana. Solomon Brandenburg, the city's namesake, opened a tavern here in 1804 – as people flocked to the area it eventually became the Meade County seat, 21 years after Brandenburg purchased the land. Since its early days, Brandenburg has grown to be a city of over 2,000 residents. Our home in Brandenburg was quoted homeowners insurance prices or roughly $2,102 per year – a 24% more affordable cost that that of the common Kentucky home.
Ashland, KY
Ashland, a city with a population of 22,000, lies near the Kentucky-Ohio-West Virginia border. It is one part of a designated metropolitan area, which includes the neighboring cities of Huntington and Ironton. Ashland's largest employer is King's Daughters Medical Center – the fourth largest hospital in Kentucky by admissions and employees. When we studied home insurance prices in Ashland, we found it to be among the most affordable in Kentucky. On average, our model home was quoted insurance premiums around $2,124.
Brooksville, KY
We found the fifth cheapest home insurance premiums in Brooksville, Bracken County. The city has a population of just over 600 people, making it the smallest on our list in terms of population. Typical homeowners insurance prices in Brooksville, for our model home, were approximately $2,134 annually – that is 22% below the statewide average. Famous American actor Don Galloway was born in Brooksville – Galloway is best known for his role as Detective Sergeant Ed Brown on the show Ironside.
Most Expensive Homeowners Insurance in Kentucky
We found the most expensive home insurance rates in Kentucky, in cities west of Lexington – near the West Virginia and Ohio borders. Homeowners insurance in these cities and towns was generally 19% more expensive than that in the rest of the state, with an average annual premium of $3,285. The exact reason why these cities have higher insurance prices can be difficult to pinpoint, as often times insurers have complicated means of assessing price. In our studies, we have found things such as labor and construction costs, severe weather statistics, and crime rates to all have a direct correlation with the price of home premiums.
| | | | |
| --- | --- | --- | --- |
| Rank | Cities | Average Premium | vs State Average |
| 1 | Grayson | $3,322 | 21% |
| 2 | Jackson | $3,299 | 20% |
| 3 | Louisa | $3,289 | 20% |
| 4 | Prestonsburg | $3,272 | 19% |
| 5 | Paintsville | $3,241 | 18% |
Grayson, KY
Grayson, located in Carter County, was the most expensive city in which to insure our benchmark home. Average premiums in the city were roughly 21% above the Kentucky state average, at $3,322 per year. Grayson has a population of 4,000 residents, and is currently classified as a Home Rule city. The city is nicknamed "The Heart of the Parks", due to its position near four state parks – Shawnee State Forest, Dean State Forest, Grayson Lake State Park, and Tygarts State Forest. 
Jackson, KY
Jackson, Kentucky, has a population of 2,000 and can be found in Breathitt County. The city has several festivals that occur on an annual basis. The most recent festival, Breathitt County Heritage Festival, was founded in 2005. The average annual price of insuring the home included in our study is $3,299. That makes Jackson the second most expensive city for homeowners insurance in Kentucky. The prices here are, on average, 20% higher than the statewide mean.
Louisa, KY
The third most expensive homeowners insurance prices in Kentucky can be found in Louisa. The city can be found in Lawrence County, near the Big Sandy River. If you find yourself visiting Louisa, the time of the year to do so is the second week of September. During this weekend, the city hosts Septemberfest – a three day festival featuring various state and national acts. One thing not being celebrated during Septemberfest is the city's high home insurance premiums. Our benchmark home was quoted, on average, prices of $3,289 per year.
Prestonsburg, KY
"The Star City of Eastern Kentucky", Prestonsburg is the fourth most expensive city in terms of homeowners insurance, in the Commonwealth. The property we studied, was quoted home insurance premiums in the neighborhood of $3,272 per year, which is 19% more expensive than those in the typical Kentucky city. Prestonsburg, in part, owes its nickname to the vast number of entertainment and entertainers found in the city. The Mountain Arts Center, Kentucky Opry, and Jenny Wiley Theater are all major entertainment venues in the area, hosting both local and national talent.
Paintsville, KY
Paintsville rounds off our list of places with the most expensive home insurance in Kentucky. It would cost, an approximate $3,241 annually to insure our model property here in Paintsville. As of the most recent census, the city has a population of 3,000 individuals. In the past, the Paintsville area has been the birthplace of several country music stars, including Crystal Gayle. The country music legend, Loretta Lynn, was born just outside of Paintsville.
Cost of Homeowners Insurance in Kentucky: by City
Through our analysis, we have found the average price of homeowners insurance in Kentucky to be $2,750 annually. Differences among cities were stark. It would cost as much twice as much to insure a home in the state's cheapest versus its most expensive city. You can find an ordered listing of all the towns and cities included in our study below. The number to the right of each city represents its average annual insurance premium.

Methodology
Our study examined home insurance prices in 95 cities throughout Kentucky. Rates were collected from four major insurers, including Allstate, Liberty Mutual, State Farm, and Nationwide. As above, the premiums were gathered for a benchmark home. This property was 2,000 square feet large, had 2 stories, and 1 and a half bathrooms. The home had a garage attachment, and no pets on the premises. The sample homeowner was a 41 year old male, with no prior home insurance claims history. He was single, did not smoke, and was employed. Below is an alphabetically ordered list of all 95 cities in our study, along with their average annual home insurance premium, and their difference from the Kentucky mean.
| | | | |
| --- | --- | --- | --- |
| Rank | Cities | Average Premium | vs State Average |
| 13 | Albany | $2,355 | -14% |
| 4 | Ashland | $2,124 | -23% |
| 6 | Barbourville | $2,155 | -22% |
| 8 | Bardstown | $2,208 | -20% |
| 15 | Bedford | $2,422 | -12% |
| 20 | Benton | $2,546 | -7% |
| 12 | Bowling Green | $2,346 | -15% |
| 3 | Brandenburg | $2,102 | -24% |
| 5 | Brooksville | $2,134 | -22% |
| 28 | Burkesville | $2,639 | -4% |
| 34 | Cadiz | $2,683 | -2% |
| 11 | Calhoun | $2,319 | -16% |
| 38 | Calvert City | $2,705 | -2% |
| 62 | Campbellsville | $2,914 | 6% |
| 35 | Clay City | $2,690 | -2% |
| 72 | Columbia | $2,954 | 7% |
| 81 | Corbin | $3,088 | 12% |
| 9 | Covington | $2,246 | -18% |
| 24 | Cynthiana | $2,585 | -6% |
| 49 | Danville | $2,760 | 0% |
| 46 | Dawson Springs | $2,750 | 0% |
| 10 | Eddyville | $2,269 | -17% |
| 29 | Elizabethtown | $2,639 | -4% |
| 61 | Eminence | $2,904 | 6% |
| 51 | Falmouth | $2,784 | 1% |
| 32 | Frankfort | $2,662 | -3% |
| 27 | Franklin | $2,636 | -4% |
| 1 | Georgetown | $1,780 | -35% |
| 19 | Glasgow | $2,520 | -8% |
| 95 | Grayson | $3,322 | 21% |
| 75 | Greensburg | $2,969 | 8% |
| 86 | Harlan | $3,151 | 15% |
| 66 | Harrodsburg | $2,920 | 6% |
| 48 | Hartford | $2,758 | 0% |
| 41 | Hawesville | $2,725 | -1% |
| 63 | Hazard | $2,914 | 6% |
| 31 | Henderson | $2,647 | -4% |
| 84 | Hindman | $3,110 | 13% |
| 43 | Hodgenville | $2,735 | -1% |
| 36 | Hopkinsville | $2,695 | -2% |
| 37 | Horse Cave | $2,701 | -2% |
| 60 | Irvine | $2,899 | 5% |
| 94 | Jackson | $3,299 | 20% |
| 77 | Jamestown | $2,998 | 9% |
| 26 | La Center | $2,606 | -5% |
| 67 | Lagrange | $2,931 | 7% |
| 68 | Lancaster | $2,933 | 7% |
| 57 | Lawrenceburg | $2,848 | 4% |
| 78 | Lebanon | $3,043 | 11% |
| 39 | Leitchfield | $2,706 | -2% |
| 7 | Lexington | $2,179 | -21% |
| 82 | Liberty | $3,088 | 12% |
| 90 | London | $3,233 | 18% |
| 93 | Louisa | $3,289 | 20% |
| 44 | Louisville | $2,740 | 0% |
| 50 | Madisonville | $2,780 | 1% |
| 30 | Marion | $2,640 | -4% |
| 88 | Maysville | $3,183 | 16% |
| 79 | Middlesborough | $3,062 | 11% |
| 64 | Monticello | $2,914 | 6% |
| 83 | Morehead | $3,105 | 13% |
| 47 | Morganfield | $2,752 | 0% |
| 65 | Mt Sterling | $2,917 | 6% |
| 33 | Murray | $2,671 | -3% |
| 16 | Nicholasville | $2,429 | -12% |
| 23 | Owensboro | $2,581 | -6% |
| 58 | Owenton | $2,883 | 5% |
| 21 | Paducah | $2,548 | -7% |
| 91 | Paintsville | $3,241 | 18% |
| 74 | Pikeville | $2,961 | 8% |
| 92 | Prestonsburg | $3,272 | 19% |
| 25 | Princeton | $2,598 | -6% |
| 56 | Providence | $2,847 | 4% |
| 18 | Richmond | $2,461 | -11% |
| 85 | Russell Springs | $3,123 | 14% |
| 45 | Russellville | $2,744 | 0% |
| 80 | Salyersville | $3,079 | 12% |
| 22 | Scottsville | $2,576 | -6% |
| 42 | Sebree | $2,733 | -1% |
| 54 | Shelbyville | $2,838 | 3% |
| 69 | Shepherdsville | $2,939 | 7% |
| 40 | Smithland | $2,714 | -1% |
| 2 | Somerset | $1,886 | -31% |
| 70 | Springfield | $2,941 | 7% |
| 76 | Stanford | $2,987 | 9% |
| 71 | Sturgis | $2,942 | 7% |
| 59 | Taylorsville | $2,889 | 5% |
| 73 | Tompkinsville | $2,958 | 8% |
| 89 | Vanceburg | $3,208 | 17% |
| 17 | Versailles | $2,447 | -11% |
| 53 | Warsaw | $2,827 | 3% |
| 87 | Whitesburg | $3,164 | 15% |
| 55 | Whitley City | $2,840 | 3% |
| 52 | Williamstown | $2,823 | 3% |
| 14 | Winchester | $2,404 | -13% |
Comments and Questions