Primerica Life Insurance Review: Promoters of 'Buy Term and Invest the Difference'
Apply Now
Primerica Life Insurance Review: Promoters of 'Buy Term and Invest the Difference'
Standard term life insurance policies with a wide variety of riders.
Good for
Standard term life insurance
No medical exam for less than $300K coverage
Large network of local agents
Bad for
Average premiums
No permanent insurance options
Pushy sales tactics
Find the Cheapest Insurance Quotes in Your Area
Primerica Financial Services, also called Prime America, offers fairly standard term life insurance coverage at rates that are a bit higher than average. While the company's sales tactics receive criticism, Primerica has a great financial strength rating and is prompt in paying claims.
Primerica offers a variety of options when it comes to their term policies but doesn't have alternatives for those that want whole life insurance or other permanent life insurance products. In addition, their agents are captive, meaning agents will only show you policies and quotes from Primerica.
Primerica Term Life Insurance
Primerica just offers term life insurance, not whole life or other life insurance products. However, Primerica does offer two term products: Custom Advantage and TermNow. The primary difference between these is that TermNow has a maximum death benefit of $300,000 and typically doesn't require a medical exam, meaning it's more expensive.
Primerica Life Insurance Coverage
Primerica offers term life insurance coverage for 10-year, 15-year, 20-year, 30-year, and 35-year terms, though the set of term lengths available change according to your age. It's also important to keep in mind that some longer term policies (such as the 30-year and 35-year options) only guarantee level premiums for the first 20 years. So, if your premiums later increase and you're not able to cover the higher cost, you might lose your coverage.
| Term Length | Guaranteed Level Premium | Availability by Age |
| --- | --- | --- |
| 10 years | 10 years | 18-70 years old |
| 15 years | 15 years | 18-65 years old |
| 20 years | 20 years | 12-60 years old |
| 25 years | 20 years | 18-55 years old |
| 30 years | 20 years | 18-50 years old |
| 35 years | 20 years | 18-45 years old |
However, all of Primerica's policies do offer the option of "guaranteed insurability" until age 95, meaning you can renew your policy without undergoing a new health exam or application. Premiums for the new policy would increase solely due to your age. Guaranteed insurability can be an incredibly valuable feature since, for example, you might get cancer or another disease during the original term that would make it incredibly challenging to qualify for a new policy (and, if you did manage to get coverage, the cost would be incredibly high).
Primerica also offers several riders which act as add-ons to their term coverage, allowing you to customize a policy to your financial situation, though each rider will typically increase your premiums by a small amount.
One of the most unique riders Primerica offers is an increasing benefit rider, which allows you to increase the death benefit of your policy up to 10% per year for 10 years. Most insurers only offer decreasing term insurance policies, in which the death benefit becomes smaller over time, because financial obligations tend to decrease with age. For example, say you purchased enough life insurance to cover your mortgage--as you made mortgage payments, the outstanding loan, and therefore your coverage needs, would decrease. Given this, increasing benefit term policies are somewhat rare, and Primerica is an option if you want the flexibility of increasing coverage during the term. Just note that this option is only available up until age 55.
Pros and Cons: Primerica Custom Advantage vs TermNow
Unless you need coverage immediately for some reason, we recommend Primerica's Custom Advantage policy over TermNow. Primerica's Custom Advantage and TermNow policies are similar in that they offer term life insurance coverage with the features listed above. The key differences between the policies are the:
Death benefit
Underwriting
Cost
TermNow is only available if your life insurance policy has a death benefit between $15,000 to $300,000. Since the payout is limited, Primerica offers you the option to go through a simplified underwriting process with no medical exam. Instead, you give them permission to run your personal details through several databases (such as the Medical Information Bureau and DMV) and, if no issues come up, Primerica issues coverage within a few minutes. The key downside to TermNow is that, similar to all simplified underwriting life insurance products, the premiums will be significantly higher.
With Custom Advantage, the underwriting process can take between 1 to 6 weeks, but you have the benefits of being able to choose any face value (death benefits can be over $1 million) and paying lower premiums for comparable coverage. And, while it may sound like a hassle, the medical exam typically takes less than an hour and can be scheduled at your home or work.
Cost of Primerica Term Life Insurance
ValuePenguin compared sample term life insurance quotes from Primerica against 50 insurers and found that Primerica ranged from 11% to 29% more expensive for the same coverage.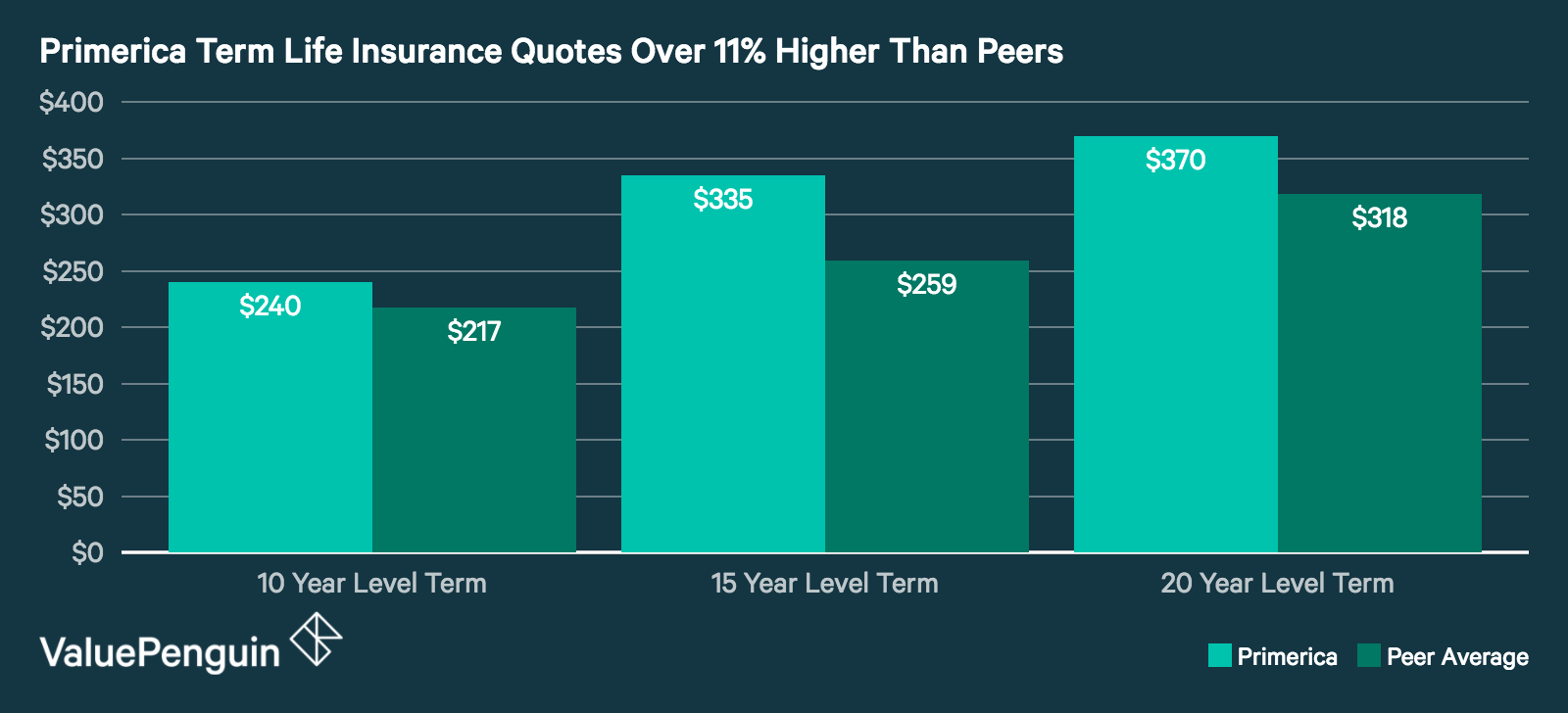 Sample quotes were for a 35-year old non-smoker male in great health. All policies are for $500,00 in coverage.
Consumer Reviews & Complaints
Primerica is rated A+ (Superior) by A.M. Best and the company states that they pay 94% of claims within 14 days, on average. Positive consumer reviews discuss how the company offers a wide range of financial products, such as mutual funds and investment accounts, and some of Primerica's agents are featured as being particularly knowledgeable.
Complaints primarily focus on Primerica's salesforce and sales process, which can best be described as a multi-level marketing operation. Primerica life insurance policies can only be purchased through their captive agents who are not allowed to represent other insurers, meaning you have to check yourself whether better quotes can be found elsewhere.
Additionally, agents are incentivized to not only sell life insurance to friends and relatives, but also recruit them as agents (the "recruiting agent" receives a portion of the commission from each sale one of the recruits makes). Given Primerica has a large number of new agents joining and working part-time (the average pay per licensed agent was $6,088 in 2016), many agents receive poor ratings due to their lack of experience with life insurance.
Comments and Questions