Who Has the Cheapest Homeowners Insurance Quotes in Ohio?
Find the Cheapest Insurance Quotes in Your Area
"The Buckeye State", Ohio is the 7th most populous state in the country and, fortunately for homeowners, has the 6th cheapest home insurance rates nationwide. Unlike the more expensive states for homeowners insurance, Ohio doesn't have a prevalence of large scale natural disasters such as earthquakes, hurricanes, floods, tornados, and wildfires. But even though premiums are relatively inexpensive compared to many other states, that doesn't mean that certain cities in Ohio aren't more expensive than others. To determine which areas had the cheapest (and most affordable) rates for home insurance, we took a deeper dive into the data and have presented our findings below. To find homeowners insurance quotes, you can use our quote tool above. 
Cheapest Homeowners Insurance Companies in Ohio
Using our benchmark property of a 2,000 square foot house worth $200,000, annual premiums averaged $1,177 across 134 cities in the state of Ohio. Costs can vary widely by insurer and by city, however - for example, we found that in West Unity, a policy at the most expensive insurer cost $1,254 more than coverage at the cheapest company. So who has the best homeowners insurance in Ohio? We averaged annual premiums for our profiled house across the cities by the four national insurers in our survey: Liberty Mutual, Nationwide, Progressive, and State Farm.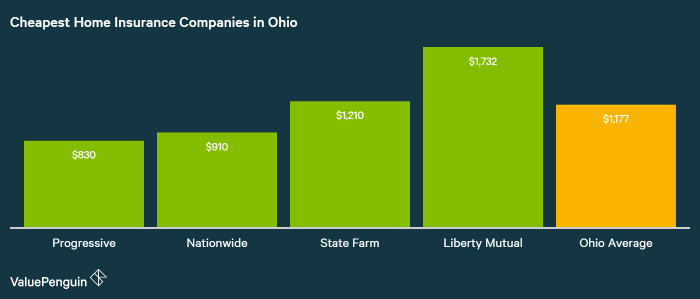 Best Homeowners Insurance Rates in Ohio: by City
The most affordable areas in Ohio for home insurance are clustered through the northeastern reaches of the state (with one exception). What do these five cities have in common? They all have lower than average property crime rates when compared to other cities in Ohio and the United States as a whole.
| | | | | |
| --- | --- | --- | --- | --- |
| Rank | City | County | Average Annual Rate | Average vs. State |
| 1 | Ashtabula | Ashtabula | $972 | -17% |
| 2 | Medina | Medina | $989 | -16% |
| 3 | Willoughby | Lake | $997 | -15% |
| 4 | Westlake | Cuyahoga | $1,010 | -14% |
| 5 | Mason | Warren | $1,011 | -14% |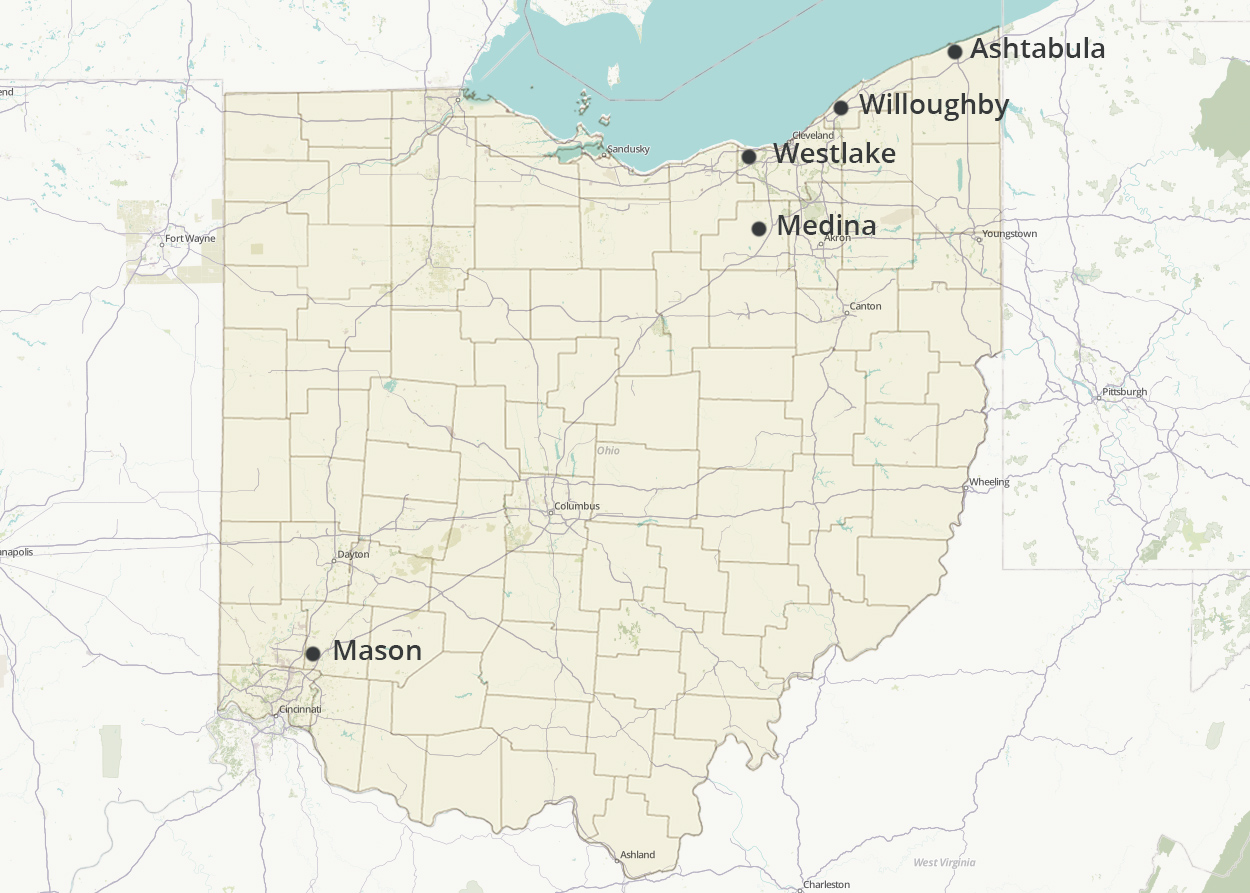 Ashtabula, OH
An hour east of Cleveland and only minutes from the Ohio / Pennsylvania state border, Ashtabula is a lakefront city that is a major coal port for the region. The city's named is derived from an Algonquin Indian term meaning "River of Many Fish" in recognition of the Ashtabula River. The 19,000 residents of Ashtabula are fortunate to have Lake Erie at their disposal as it provides many of the recreational activities that are available through the warmer summer months. They'll also be happy to know that their home insurance rates are the cheapest in the entire state with of $972 per year on average, or 17% less than the state average.
Medina, OH
A town of 27,000, Medina is situated 25 miles south of Lake Erie and to the west of both Cleveland and Akron. The city has been acknowledged as one of the "Best Places to Live" by Money Magazine in addition to the "Best Hometown in Northeast Ohio" by Ohio Magazine. In our recent study of homeowners insurance rates across the Buckeye State, Medina also finished with the enviable distinction of having the second best home insurance rates in Ohio. Homeowners in Medina are only paying $989 per year on average which equates to 16% less than most Ohioans.
Willoughby, OH
The city with the third lowest homeowners insurance rates, Willoughby is a quaint suburb of Cleveland. Residents who call Willoughby home are only a 25-minute drive from the sights and sounds of Ohio's most populous city, making it a great place to own a home and raise a family. Willoughby also boasts a relatively affluent citizenship with a mean home price that's 13% higher than the average Ohioan's home, while still enjoying a cost of living that's cheaper than most American cities. What's more, crime rates in town are low, about half the US average. All of this adds up to a city with home insurance premiums that average $997 per year...good for third cheapest in the state!
Westlake, OH
Just a short twelve miles to the west of downtown Cleveland, Westlake is a city with 33,000 residents as of the 2010 census. In the history of the town, Westlake has changed hands on several occasions, from the Native Americans who ruled the land in the 1600s, to French settlers, and then to English colonial powers in the 1700s. The city is now an education-centric town prided by its Historic Society with major development projects underway, such as the Crocker Park shopping center. Residents owning a home in the city should be happy to know they're saving a substantial amount of money each year with the state's 4th cheapest home insurance rates: $1,010 on average each year.
Mason, OH
The only city in our Top 5 that isn't located in the northeast Ohio, Mason is a suburb of Cincinnati that is known as "Ohio's Largest Playground" for the multitude of activities and attractions within city limits. From the King's Island amusement park, to the Golf Center, to the annual Western & Southern Open, Mason offers a great family lifestyle while still being a short drive from downtown Cincinnati. While the city is no stranger to accolades (it was ranked the 7th Best Place to Live by Money Magazine) they can now add the distinction of being one of the cheapest areas in Ohio to insure your home with average rates of around $1,011.
Most Expensive Homeowners Insurance in Ohio
The 5 most expensive cities in Ohio for homeowners insurance come in at an average of $1,767 per year or 41% higher than the average city in the Buckeye State. Why are these cities towards the top of the list? Generally speaking, these southern Ohio cities have had a higher number of insurance claims due to severe weather events over the past several years, and there is a higher than average amount of property theft which further increases premiums.
| | | | | |
| --- | --- | --- | --- | --- |
| Rank | City | County | Average Annual Rate | Average vs. State |
| 1 | Xenia | Greene | $1,861 | 58% |
| 2 | Jackson | Jackson | $1,553 | 32% |
| 3 | Toledo | Lucas | $1,530 | 30% |
| 4 | Waverly | Pike | $1,517 | 29% |
| 5 | Gallipolis | Gallia | $1,498 | 27% |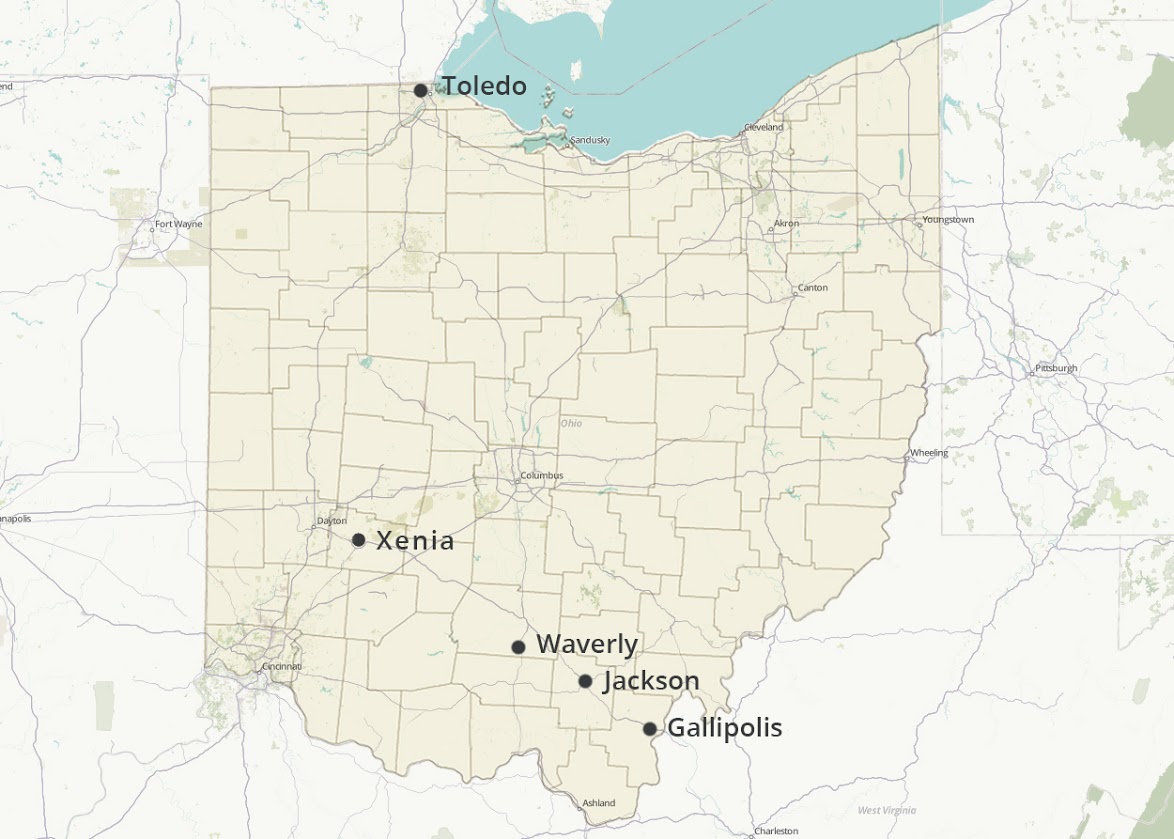 Xenia, OH
Xenia came in as the highest priced city to buy home insurance coverage in the Buckeye State...and it wasn't even close. Xenia prices were a full 20+ percent higher than the next most expensive place, Jackson, OH. One of the factors that is driving up homeowners insurance prices in Xenia is the high property crime rate. In 2012, property crime in the area was 45% higher than the national average. Xenia also has a history of big weather events and is not immune to tornados. In fact, in 1974 Xenia was demolished by an F5 tornado that killed 34 and injured over 1,000. Average home insurance prices in this city of 26,000 people are $1,861 per year!
Jackson, OH
The 2nd most expensive city in Ohio to purchase homeowners insurance, Jackson is also one of the smaller towns on our list with a population of just over 6,000 people. Located at the intersection of US 32 and US 35 in southeastern Ohio, the town is named after Andrew Jackson, the 17th President of the United States. Jackson ranks so highly because of a few factors: recent storms have damaged homes and driven up costs over the past several years, the city and county have one of the lowest per capita income areas in the state (which tends to correlate with higher premiums), and property crime rates are almost double the national average. Homeowners insurance costs in Jackson will average $1,553 per year or 32% more than the Ohio state average.
Toledo, OH
This northeastern Ohio city is the 4th largest in the state of Ohio with almost 287,000 residents living throughout town. It's also the only entrant on our Top 5 list that is from northern Ohio and not the southern half of the state. Historically, Toledo was actually part of Michigan until the Michigan-Ohio War back in the mid-19th century when it was settled that Toledo would become a member of the Buckeye State. When it comes to the cost of homeowners insurance in the city, Toledo's rates are quite expensive. The city mean is $1,530 per year, which ranks it the second most expensive in Ohio and 30% higher than the state average.
Waverly, OH
One hundred miles east of Cincinnati and the second of four southern Ohio cities on our list, Waverly is a quaint town of 4,400 citizens currently living inside city limits. The city is named, or so the tale goes, by an engineer, Francis Cleveland, who was working on the Ohio-Erie Canal. At the time, Mr. Cleveland was reading one of Sir Walter Scott's famous 'Waverly Novels'! Home insurance costs in Waverly are amongst the highest in the state with average annual premiums of $1,517 or $126 each month.
Gallipolis, OH
Another finalist from the southeastern Ohio region, Gallipolis is also the second smallest city making it into the Top 5 with fewer than 4,000 residents. A small and beautiful town situated on the Ohio River, Gallipolis is a city with French roots right down to its name with "Galli" meaning France and "polis" meaning city in Latin. Much like Portsmouth, Gallipolis's location makes it susceptible to flooding after big storms or snowfalls. Insurers address this added risk to homes in Gallipolis by increasing the prices they charge for coverage. Rates throughout the city tend to be about 27% higher than the average Ohio city at roughly $1,498 annually.
Average Cost of Homeowners Insurance in Ohio: by City
In the graph below we've included all of the 134 cities in our homeowners insurance analysis in Ohio. The cities are listed from cheapest to most expensive. The number in the chart represents the cities average annual home insurance rate based on the sample property we profiled.

Methodology
Our study took a look at 133 towns throughout Ohio, both large and small. Insurance rates were gathered from four separate insurance companies (Progressive, Liberty Mutual, State Farm, and Nationwide) and then averaged in order to arrive at our city by city rates. The hypothetical homes that were used as a proxy in our study were all 2,000 square feet with a market value of $200,000. The outside of the homes were constructed of brick veneer and the roofs were asphalt shingle. If you're interested in learning more about homeowners insurance in Ohio, you can always use this handy guide from the Department of Insurance.
We've also included all 133 cities in alphabetical order so its easier to find the town you live in:
| | |
| --- | --- |
| Cities | Average Annual Rate |
| Ada | 1,396 |
| Akron | 1,191 |
| Alliance | 1,106 |
| Antwerp | 1,118 |
| Archbold | 1,150 |
| Ashland | 1,038 |
| Ashtabula | 972 |
| Athens | 1,303 |
| Aurora | 1,157 |
| Barberton | 1,060 |
| Beavercreek | 1,174 |
| Bellefontaine | 1,072 |
| Bellevue | 1,124 |
| Bowling Green | 1,132 |
| Bryan | 1,116 |
| Buckeye Lake | 1,168 |
| Bucyrus | 1,064 |
| Cadiz | 1,142 |
| Cambridge | 1,145 |
| Canton | 1,176 |
| Carey | 1,149 |
| Carrollton | 1,259 |
| Celina | 1,124 |
| Centerville | 1,214 |
| Chagrin Falls | 1,062 |
| Chillicothe | 1,451 |
| Cincinnati | 1,101 |
| Circleville | 1,232 |
| Cleveland | 1,155 |
| Clyde | 1,146 |
| Columbus | 1,150 |
| Cortland | 1,057 |
| Coshocton | 1,232 |
| Dayton | 1,405 |
| Defiance | 1,140 |
| Delaware | 1,135 |
| Delphos | 1,223 |
| East Liverpool | 1,314 |
| Eaton | 1,208 |
| Elyria | 1,061 |
| Englewood | 1,166 |
| Enon | 1,072 |
| Fairborn | 1,186 |
| Fairfield | 1,042 |
| Findlay | 1,139 |
| Fostoria | 1,122 |
| Fremont | 1,120 |
| Galion | 1,035 |
| Gallipolis | 1,498 |
| Georgetown | 1,267 |
| Granville | 1,174 |
| Greenville | 1,129 |
| Hamilton | 1,086 |
| Hicksville | 1,138 |
| Hillsboro | 1,282 |
| Huber Heights | 1,267 |
| Ironton | 1,372 |
| Jackson | 1,553 |
| Kenton | 1,117 |
| Lakewood | 1,045 |
| Lancaster | 1,196 |
| Lebanon | 1,132 |
| Lima | 1,090 |
| Lisbon | 1,352 |
| Logan | 1,290 |
| London | 1,211 |
| Lorain | 1,033 |
| Mansfield | 1,059 |
| Marietta | 1,174 |
| Marion | 1,078 |
| Martins Ferry | 1,076 |
| Marysville | 1,119 |
| Mason | 1,011 |
| Massillon | 1,125 |
| Mcconnelsville | 1,206 |
| Medina | 989 |
| Middletown | 1,106 |
| Millbury | 1,260 |
| Mount Vernon | 1,057 |
| Napoleon | 1,158 |
| New Carlisle | 1,128 |
| New London | 1,102 |
| New Philadelphia | 1,158 |
| Newark | 1,083 |
| Norwalk | 1,126 |
| Ottawa | 1,202 |
| Ottawa Hills | 1,342 |
| Oxford | 1,097 |
| Pataskala | 1,124 |
| Paulding | 1,163 |
| Perrysburg | 1,178 |
| Pickerington | 1,186 |
| Piqua | 1,087 |
| Pomeroy | 1,386 |
| Port Clinton | 1,140 |
| Portsmouth | 1,376 |
| Ravenna | 1,144 |
| Ripley | 1,269 |
| Rossford | 1,227 |
| Saint Marys | 1,078 |
| Salem | 1,247 |
| Sandusky | 1,034 |
| Shelby | 1,049 |
| Sidney | 1,075 |
| Spencerville | 1,166 |
| Springfield | 1,123 |
| Steubenville | 1,138 |
| Stow | 1,083 |
| Struthers | 1,211 |
| Stryker | 1,123 |
| Sunbury | 1,137 |
| Tiffin | 1,122 |
| Tipp City | 1,148 |
| Toledo | 1,530 |
| Troy | 1,093 |
| Upper Sandusky | 1,130 |
| Urbana | 1,102 |
| Van Wert | 1,130 |
| Vandalia | 1,195 |
| Wapakoneta | 1,108 |
| Warren | 1,040 |
| Washington Court House | 1,230 |
| Waverly | 1,517 |
| West Union | 1,497 |
| West Unity | 1,139 |
| Westlake | 1,010 |
| Willard | 1,133 |
| Willoughby | 997 |
| Wilmington | 1,321 |
| Wooster | 1,235 |
| Xenia | 1,861 |
| Yellow Springs | 1,318 |
| Youngstown | 1,345 |
| Zanesville | 1,328 |
Sources:
Ohio Homeowners Insurance Guide: https://www.insurance.ohio.gov/Consumer/OCS/CompleteGuides/CompleteHomeGuide.pdf
Natural disasters: https://usatoday30.usatoday.com/life/graphics/natural_disasters/flash.htm
Ohio Population data: https://quickfacts.census.gov/qfd/states/39000.html
Comments and Questions