Credibility Capital Small Business Loan Review: Speedy Funding for Existing Businesses
Credibility Capital Small Business Loan Review: Speedy Funding for Existing Businesses
We recommend the Credibility Capital term loan for established small business owners with good credit who need a quick funding solution.
Good for
Borrowers with strong credit.
Quick funding.
Expanding businesses.
Bad for
Borrowers with low credit scores.
Loan terms longer than three years.
New businesses.
Borrowers in NV, ND, SD or VT.
We suggest Credibility Capital for high-credit borrowers looking to get financing quickly and relatively affordably. They provide term loans up to $350,000 with term lengths of one, two or three years. The company requires a general lien on business assets (UCC-1 filing) and a personal guarantee, which makes the loan more secure for the lender but can be riskier for borrowers. Credibility Capital's interest rates are higher than bank loan interest rates but tend to be lower or comparable with other online lenders, making it an attractive choice when looking for quick funding.
Credibility Capital Review: Who Should Consider It?
If you have been in business for 18 months or more, have good credit and need funding fast, you should consider applying for a term loan from Credibility Capital. We think these loans are ideal for small business owners who: are looking to grow their company, can qualify or may fall short of qualifying for a traditional bank loan, and need capital within a short period of time.
Pros
Cons

Competitive interest rates for term loans.
Borrowers can receive funds within seven days on average.
Monthly repayments instead of daily or weekly.
If denied, the program matches business needs to other lenders from its network of partners.

Not available in Nevada, North Dakota, South Dakota or Vermont.
All loans require a UCC-1 filing.
A personal guarantee is required for owners with 25% or more ownership.
Not available to new businesses or borrowers with poor credit.
The Pros of Using Credibility Capital
The Credibility Capital term loan is recommended for business owners who have good personal credit. However, even if you apply for a loan and don't qualify, Credibility Capital will match your business needs to a lender from its network of partners, so there's no harm in checking if you prequalify. Credibility Capital offers interest rates that are lower or comparable to other online lenders, although, bank loan interest rates can be significantly lower. However, obtaining a loan from a bank could take months, which makes Credibility Capital a more convenient choice if you need money more quickly than that. Most loans are funded within seven days of filing the application but can sometimes be available within three days.
Credibility Capital loans have fully amortized monthly payments, meaning that each payment is the same and at the end of the term, everything is paid off. In contrast, many other online lenders require daily or weekly payments, which can be difficult to manage for borrowers who don't have consistent or frequent revenue streams. To keep payments low, Credibility Capital has a one-time origination fee rather than a monthly servicing charge. And if you decide to pay off your loan early, Credibility Capital does not charge a prepayment fee, unlike many long-term bank loans. Payments are made automatically each month through ACH transfer, which makes loan payments secure and easy for both the borrower and the lender.
The Cons of Using Credibility Capital
Credibility Capital only supplies term loans, which are available to established businesses with good credit in most states except Nevada, North Dakota, South Dakota and Vermont. The lack of loan products can be limiting for businesses that want to use Credibility Capital but also want to explore a variety of financing options. Additionally, these loans are not fit for some businesses due to some of the requirements. You must have been in business for at least 18 months or more with at least $250,000 in revenue.
The company requires both a UCC-1 filing and a personal guarantee. A UCC-1 lien is essentially a notice to other lenders that you owe money and your assets are claimed. A lien is not placed on any specific item; however, the filing means that Credibility Capital has a stake in your assets if you were to default on the loan. And this is on top of requiring a personal guarantee. So not only are your business assets available to Credibility Capital; your personal assets are as well. Due to these requirements, taking out a loan from Credibility Capital is not recommended for struggling businesses.
Final Thoughts
Credibility Capital is best suited for established businesses with strong-credit borrowers who may either need affordable financing right away or fall just short of qualifying for a bank loan. A loan from this company is not available to low-credit borrowers, new businesses and borrowers who need long-term financing. That said, prequalifying for Credibility Capital is fast and risk-free, so we suggest getting a quote from Credibility Capital and comparing it to other lenders. Even if you apply and are denied, the company will match your business needs to a lender from its network of lending partners.
Eligibility Criteria
To qualify for a term loan at Credibility Capital, you and your business will need to meet the requirements listed below. However, meeting these requirements does not guarantee loan approval.
Minimum personal credit score: 680
Minimum annual revenue: $250,000
Minimum time in business: 18 months
Business owner is U.S. citizen
No commercial or personal bankruptcies within the last 5 years
Features, Rates and Terms
Credibility Capital's term loan is fully amortized with a one-time origination fee of 3% to 5% to cover the cost of servicing and processing the loans. As we have stated above, Credibility Capital requires a UCC-1 bank lien filing and a personal guarantee to qualify for a loan. In the table below, we outline the basic fees, rates and terms to consider when applying to Credibility Capital.
Financing Amount Range
$10,000 - $350,000
APR Range
8.00% - 25.00%
Fees

Origination fee: 3-5%
No prepayment penalty

Financing Terms
1, 2 or 3 years
Repayment Options
Monthly
Collateral Required
UCC-1 filing
Personal Guarantee Required
Yes
Application Process
Most of the loan application is completed online. You can see if you prequalify by clicking "Check Options" and filling out a six-question form. In the form, you'll need to enter the amount of funding needed, loan use, your annual revenue, business start date, estimated credit score and the industry of your business.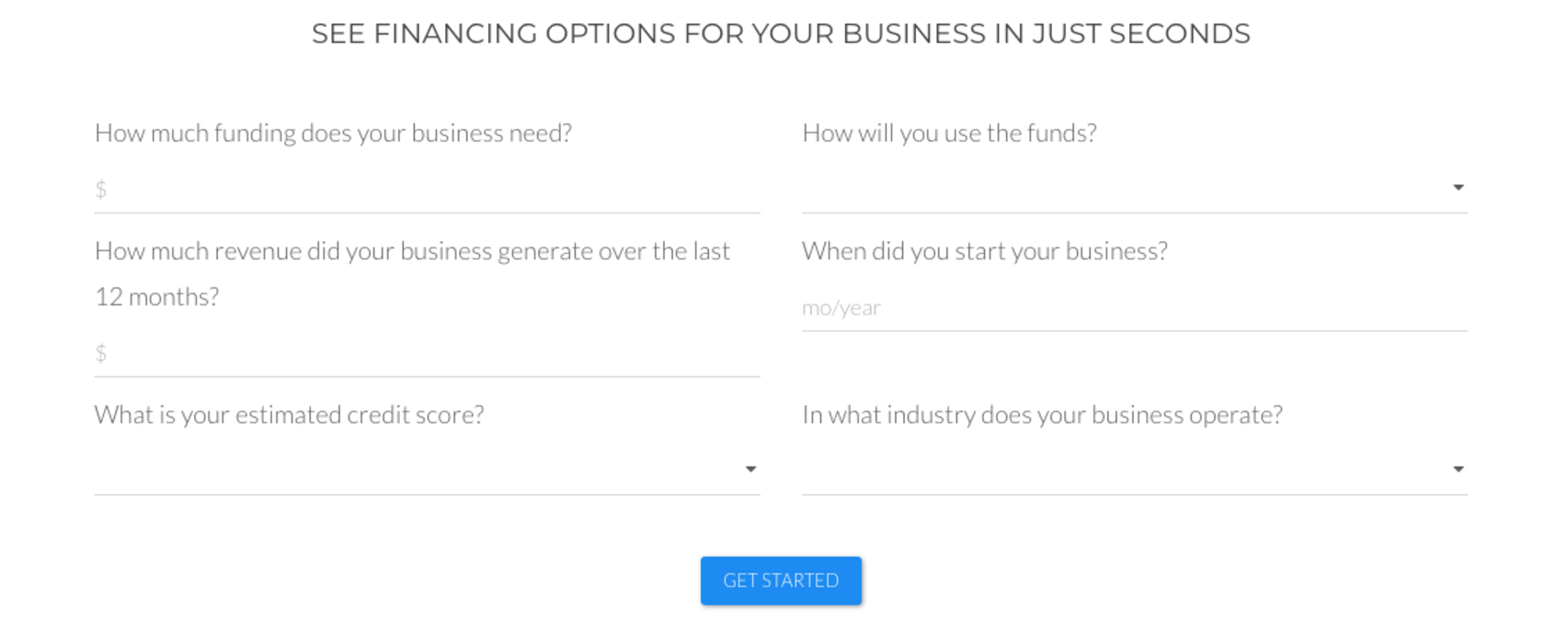 If you qualify, you are then directed to estimates of the rates and terms you can expect to receive based on your financial history. By clicking "Apply," you can complete the online application in less than 10 minutes. In the application, you must provide information on the business, finances and business owners who have 25% or more stake in the company. If you submit the application, you agree to a hard pull on your commercial credit and a soft pull on your personal credit.
To fill out the online application, you'll need:
Company's tax identification number.
Total revenue for the last 12 months.
Social Security number of each owner with a 25% stake in the company.
If approved, Credibility Capital will send a preliminary offer with a request for documents, sometimes within 24 hours. After reviewing your documents, a Credibility Credit representative will contact you to conduct a brief interview. They may ask for additional documentation including bank statements and tax returns. If your application is approved, Credibility Capital will extend a final offer and close on the loan. Funding is generally available within the same day of the loan closing.
Comments and Questions