American Express Merchant Financing Review: Affordable Loans for American Express Merchants
American Express Merchant Financing Review: Affordable Loans for American Express Merchants
While you need to accept American Express cards to qualify for Merchant Financing, we think this is a great option for businesses that need a quick, affordable funding solution.
Good for
American Express merchants
High loan amounts with reasonable rates
Quick funding
Bad for
Borrowers with average or below average credit
Long-term loans
Businesses that cannot afford daily repayment
American Express provides loans to businesses that accept American Express cards through a program called Merchant Financing. These loans combine some of the best features from both bank and online loans. You can borrow more than most online lenders offer without sacrificing funding speed, and you can get an annual percentage rate (APR) that is closer to what a bank loan carries. That said, we think this loan program is best suited for borrowers who can qualify for a bank loan, but need a fast, short-term loan.
American Express Merchant Financing Review: Who Should Apply?
If your business accepts American Express credit cards, and you need funding, you should consider a loan from the American Express Merchant Financing program. We think these loans are ideal for business owners who can qualify for a traditional bank loan, but need quick, affordable funding for short-term working capital needs.
Pros
Cons

High loan amounts up to $2 million.
Competitive interest rates for a short-term loan.
Early repayment discounts up to 25% are available.

Your business needs to process American Express credit cards to qualify.
Daily repayment is required.
The longest term available is two years.
The Pros of Using American Express Merchant Financing
As we have stated above, the American Express Merchant Financing is recommended for business owners who can qualify for a bank loan, or are just shy of qualifying, but need funding quickly and painlessly. Merchant Financing is almost a hybrid between a traditional bank loan and an online business loan, offering the best from each type of financing. This is because you can borrow large amounts of money with reasonable interest rates, but you also benefit from the speed of financing that is common with online lenders. This translates to loan amounts up to $2 million, annual percentage rates between approximately 11% and 25%, and funding as fast as the next business day.
While you will need to make daily payments on the loan, American Express provides a great deal of flexibility in how you repay. You can choose among paying by split funding, a transfer account, or debit ACH payments from your business bank account. Split funding allows American Express to partner with your payment processor to take loan payments from your daily credit card receivables. With a transfer account, American Express will set up a settlement account with Wells Fargo on your behalf. Your credit card processor will submit your daily receivables to this account, and then American Express will take a portion of these receivables before releasing the remaining funds to your business bank account. With the debit ACH payment option, American Express will automatically debit your business bank account on a daily basis.
American Express also offers early repayment discounts of either 10% or 25% depending on how early the outstanding loan balance is paid off after disbursement. For instance, you can receive a 25% discount if you repay a six-month loan in full within 90 days of disbursement. You can see the discounts below.
| Term Length | 25% Discount | 10% Discount |
| --- | --- | --- |
| Six months | 90 days | 135 days |
| One year | 180 days | 270 days |
| Two years | 360 days | 540 days |
The Cons of Using American Express Merchant Financing
These loans aren't a fit for businesses that don't work with American Express or process a lot of credit card transactions. If you want to get financing through this program, you need to have a merchant account with the company and accept American Express credit cards, and your business needs to process at least $12,000 in credit and debit card receivables per year. For the two-year financing option, you'll need to have had an American Express merchant account for at least two years to qualify.
American Express looks for borrowers with good to excellent personal credit. While this means they can offer competitive rates, it also means that borrowers with average or below average credit will likely not qualify. We recommend that borrowers with subpar credit consider an online or alternative lender with relaxed credit requirements, such as Kabbage, OnDeck or Credibly.
The daily repayment can be cumbersome for seasonal businesses or any business that doesn't have a regular cash flow cycle. You may also have trouble getting approved if you can't demonstrate strong, steady cash flow. We recommend considering a financing option that allows monthly repayment.
Final Thoughts
For American Express merchants, this is a great loan option. You can borrow more than what most online lenders offer, but still receive competitive rates and speedy funding. You can also receive significant discounts on your loan for paying it off early. However, if you don't have a merchant account with American Express and don't want to set one up, or don't process a lot of credit card transactions, you'll need to look elsewhere for financing. In addition, seasonal businesses or businesses with irregular cash flow cycles may find the daily repayments to be unmanageable.
Eligibility Criteria
To qualify for the Merchant Financing program at American Express, you and your business will need to meet requirements listed below. However, meeting these requirements won't guarantee approval.
Minimum annual revenue: $50,000
Minimum time in business: 2 years
At least $12,000 in annual credit and debit card receivables
Must have good to excellent personal credit
Must accept American Express cards (must have accepted American Express cards for the past 2 years to qualify for two-year financing)
Features, Rates and Terms
American Express charges a flat, fixed fee on its loans rather than an APR. This means if you borrow $100,000 with a 10% fee, your interest payments would amount to $10,000 (10% x $100,000), and you would repay a total of $110,000. There are no origination fees with American Express Merchant Financing loans. In the table below, we estimated the effective APR to help you more easily compare this loan program to other financing options.
Financing Amount Range
$5,000 - $2 million
APR Range
11.50% - 25.90% (ValuePenguin estimate)
Fees

Fixed loan fee: 4-28% (4-7% for six months, 7-14% for one year, 12-28% for two years)
No origination fee
No prepayment penalty

Financing Terms
6 months, 1 year or 2 years
Repayment Options
Daily
Collateral Required
UCC-1 filing (loans over $35,000)
Personal Guarantee Required
May be required for loans of $35,000 or less
Application Process
The application process takes place online. You can find the application form by clicking "See if You Qualify" or "Start Your Application" on the Merchant Financing webpage. In the form , you'll need to enter your name, email address, phone number, business legal name, business zip code, business tax I.D. or American Express Merchant Account Number, and your business's total annual credit and debit card receivables. During the application process, American Express may ask for certain documents to prove your eligibility, identity and ownership of your business. This may include documents such as tax returns, bank statements, and monthly statements from credit card processors.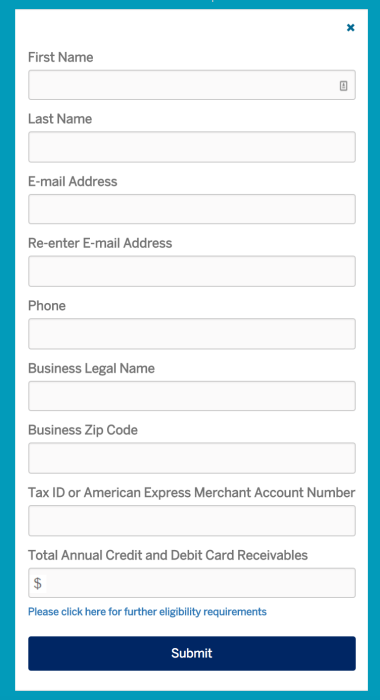 Next business day funding is available in some cases. First, your application will need to be approved on a weekday (Monday to Friday) between 9AM and 6PM Eastern Time, with the exception of federal bank holidays. Second, the availability of next business day funding will depend on your processing arrangement, the repayment method you choose, the loan amount and the loan maturity.
Comments and Questions